The holidays are right around the corner, and that means great times and even better food! Even if you follow AIP, there's no reason why you can't join in the festivities. I've put together this list of AIP friendly side dishes you can make for your holiday meal.
Cinnamon-Coconut Sweet Potato Mash
This sweet potato mash is one of my favorite "go-to's" for a sweet, satisfying, protocol-friendly breakfast, snack, or side. It's both easy and delicious, which is perfect for my busy schedule. I often cook 3 or 4 sweet potatoes at a time and store them in the refrigerator until I'm ready to eat them (they'll stay good for about 3-4 days). I even like eating this mash cold!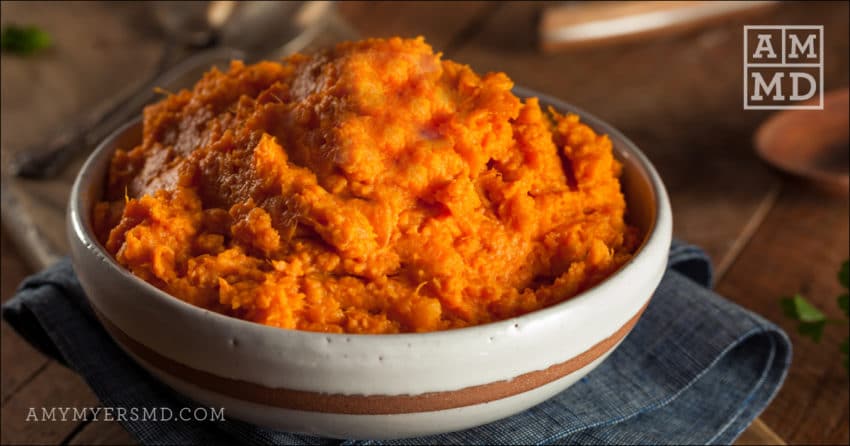 Ingredients
1 sweet potato
1 tsp coconut oil
1 Tbsp coconut butter
ground cinnamon to taste
Instructions
Preheat oven to 375˚F.
Pierce sweet potato with fork and coat with coconut oil, to moisten.
Bake sweet potato in oven until tender, about 45 minutes.
Mash warm sweet potato with coconut butter and cinnamon, to taste.
---
Stuffed Acorn Squash
You don't even need a holiday as an excuse to make this delicious recipe. It can be enjoyed as an entree, a side dish, or even as an appetizer. If you are hosting a vegetarian or vegan, this is a great savory and sweet option. You could also add your meat of choice to this recipe for additional protein.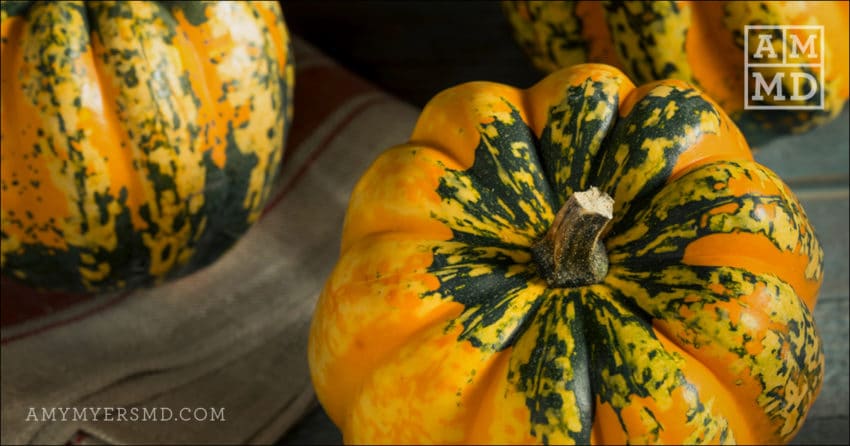 Ingredients
Acorn Squash
3 acorn squash medium
3 Tbsp coconut oil
black pepper to taste
Cranberry Cauliflower Rice Stuffing
1 head cauliflower
1 Tbsp extra virgin olive oil
1/2 yellow onion medium, finely chopped
2 shallots medium, finely chopped
4 stalks celery finely chopped
1/4 cup dried cranberries chopped
1 tsp sea salt
1/2 tsp black pepper
Instructions
Acorn Squash
Preheat oven to 400 degrees.
Cut squash in half lengthwise and scrap out seeds.
Coat flesh of each acorn squash half with 1/2 Tbsp coconut oil and generously season with sea salt and black pepper.
Place the acorn squash halves cut-side up on a baking sheet and roast until fork tender, about 30 minutes. Set aside.
Cranberry Cauliflower Rice Stuffing
Break apart cauliflower into large florets and place in a food processor. Process until the cauliflower is completely broken down into rice-sized granules. Set aside.
In a large frying pan, heat 1 tbsp of olive oil over medium heat.
Add onions, shallots, cauliflower rice and celery to the frying pan. Season with sea salt and black pepper, stirring occasionally for 6-8 minutes.
Remove the stuffing from heat and stir in cranberries.
Divide the stuffing evenly among the roasted acorn squash halves (about ½ of a cup for each half) and serve warm.
---
Cherry Roasted Brussels Sprouts
These Cherry Roasted Brussel Sprouts are warm and savory, with just a hint of sweetness.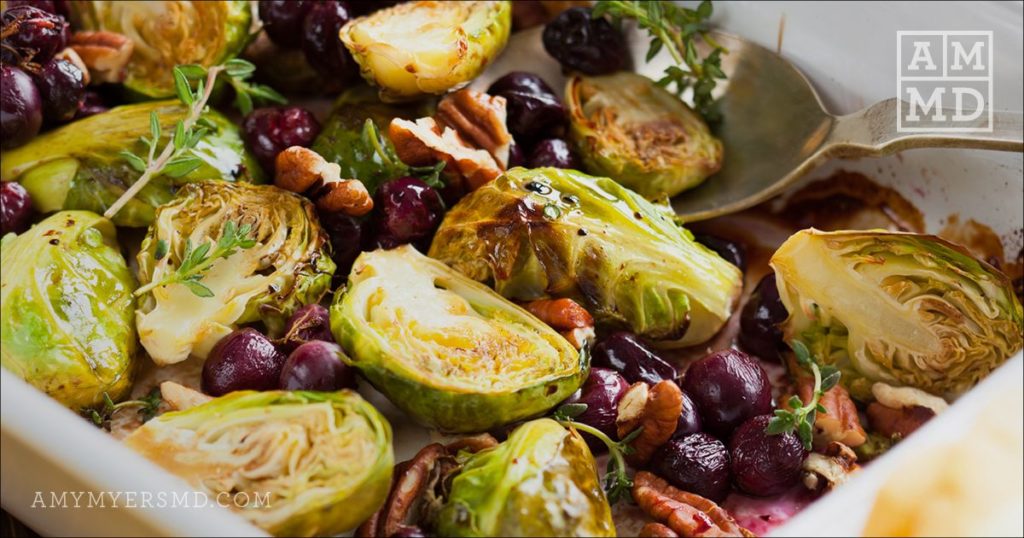 Ingredients
1 lb brussels sprouts stems removed
1/2 cup fresh cherries pitted and sliced
1/2 Tbsp coconut oil plus more for greasing
1/4 tsp sea salt
1/4 cup pecans (optional, avoid on the Autoimmune Solution protocol)
Instructions
Preheat oven to 350 degrees F.
Grease a baking dish with coconut oil.
Cut brussels sprouts in half and mix with cherries, oil, and salt.
Roast 15-20 minutes depending on desired crispiness. Add pecans if desired.
---
Root Veggie Latkes
If you're planning out a menu for your next family gathering or looking for an easy side dish to pair with your weeknight dinner, then this recipe for one of my favorite side dishes is perfect for you. These Root Veggie Latkes will always fit the bill!
They're my The Myers Way®-approved take on traditional Latkes, that are just as mouthwatering and delicious!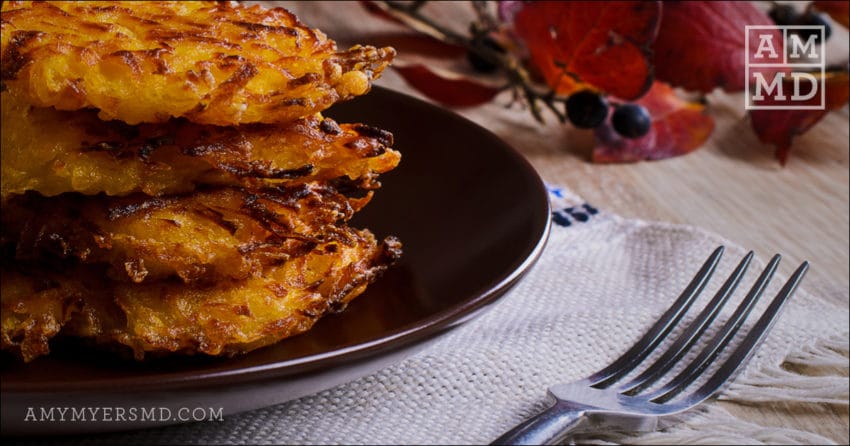 Ingredients
2 cup shredded sweet potato
1 cup shredded parsnips
1 cup shredded beets
1/2 cup onion finely chopped
1/2 tsp salt
1/2 tsp black pepper
2 tbsp cassava flour
1 tbsp The Myers Way® Gelatin
1 tbsp avocado oil
Instructions
In a bowl, combine sweet potato, beets, parsnips, onion, salt, pepper, and cassava flour.
In a separate bowl, combine gelatin with 1 tbsp of water. Add in 2 tbsp of boiling water to mixture and whisk until frothy. Add to sweet potato mixture and combine.
Heat cast iron skillet to medium heat. Add avocado oil and coat pan. Drop ¼ cup of the mixture into the skillet and flatten. Cook for about 2 minutes on each side. Continue with the rest of batter until all the latkes are done!
---