Have you noticed the number of face masks available at the skin care aisle at your local drug store? There's everything from clay masks to the green goop ones that make you look like an alien. They are easy to apply and deliver results. Yet, you may not be applying a detox face mask the correct way to get the full effectiveness.
Everyone should use a face mask. As a matter of fact, men between the ages of 18 to 34 is the fastest growing skincare demographic in the United States.1 However, women are still more likely than men to use a detox face mask.
With all the detox face masks available it can be difficult to know how to choose one, which one will offer the best results, and how to put it on. Don't worry! I'm going to tell you what to look for in a detox face mask, the steps to put one on, and tell you some big news about how you can find a toxic-free detoxifying face mask that includes probiotics to exfoliate, reduce puffiness, and clean away excess oil to keep you looking radiant. First, let me tell you why you should use a face mask.
Why You Should Use a Face Mask
There's nothing wrong with a simple skincare routine. I use a Replenishing Vitamin C Cleanser, Age-Defying Hyaluronic Acid Serum, and a Hydrating Ceramide Cream every day in the morning and evening. There are so many toxins that come in contact with your face it's important to have a morning and evening skincare routine. 
However, if you are one of the millions of people that have a skin condition such as overly dry skin, excess oil, or regular breakouts then you want a boost to your skincare routine.2 Facials and cryotherapy can get pricey. Enter a detox face mask. 
A detoxifying face mask traps the moisture in the skin and creates film that helps moisturize, hydrate, exfoliate, or dry the skin depending on the ingredients used and its purpose. I'm going to talk about the different types of detox face masks in just a second.
Detox face masks allow ingredients to penetrate into your skin in a short amount of time, typically 10 to 15 minutes. Whether it's salicylic acid for acne, vitamin C for fine lines or retinoid for brightening dark spots, a face mask can offer a more concentrated dose and more intense version of its ingredients compared to other forms of applications. Now, let's talk about the different types of detox face masks.
Types of Detox Face Masks
There are a lot of different types of face masks available from clay-based masks to plastic sheets you rest on your face. Each of these types of face masks could contain everything from vitamin C, to retinol, to salicylic acid, to sulfur, to charcoal. You can even find probiotics in some face masks. I'll tell you the benefit of a probiotic is for a face mask in just a second.
Typically, you want to use a face mask once a week. Your skin issues or the desired result will help you decide which ingredients to look for in your face mask. For example, a clay-based mask is good for oily and sensitive skin to help reduce inflammation and remove excess oil from the top layer of your skin. If you have dry skin, hydrating cream or sheet masks are more beneficial.3
Here are the three different types of detox face masks:
Overnight Masks
Overnight masks are normally used for dry skin. They are hydrating masks and may contain hyaluronic acid. Your body naturally produces hyaluronic acid to keep your tissues well lubricated and moist. After the age of 35, your natural reserves of hyaluronic acid begin to take a nosedive, resulting in dull, wrinkled skin.  These masks are sheet masks that you sleep in and remove in the morning. You should only use an overnight mask once or twice a week.4
Sheet Masks
Sheet masks are used to help reduce inflammation, if you store them in the refrigerator.5 Vitamin C is a popular nutrient in sheet masks because it helps reduce oxidative damage caused by free radicals. Vitamin C lightens dark patches of skin, protects against sun damage, helps sooth wrinkles, and may help diminish scars. Sheet masks are easy to apply and remove and stay on for about 10 minutes. It's recommended that you use a sheet mask 1 to 2 times per week. 
Clay- or Mud-Based Masks
People have used clay masks to improve skin health for hundreds of years. They have several benefits including being able to absorb oil from your skin to support healthy-looking skin. Acne develops when sebum, an oily substance that lubricates your hair and skin, plugs hair follicles, and causes inflammation. 
One of the more promising benefits is clay's detoxifying properties. Our bodies are burdened with exposure to toxins every day. We breathe them in, we eat them, and we absorb them. Each exposure adds to that burden. Clay has a negative electrical charge, which helps it bind to positively charged toxins and heavy metals such as lead and mercury.6
Clay masks also support hydration by helping your skin retain moisture.7 However, overusing clay masks can dry out your skin.8 Regardless of whether or not you have dry skin, it's recommended that you use a clay mask 1 to 2 times a week. They are easy to apply and remove and you should leave them on for 10 to 15 minutes to get the full benefits.
Now that you know about all the types of masks, how do you choose one? I have some exciting news I can't wait to share about a new and exciting detox face mask. Before I tell you about that, let's talk about how to choose a detox mask.
How to Choose a Detox Mask
With all the face masks available it can be hard to determine which one is right for you. The best place to start is to make sure it's toxin-free. You should always look for products that are toxin-free, hypoallergenic, fragrance-free, dye-free, and paraben-free. 
Once you've found a clean detox face mask, you will want to find one that fits your skincare goals. For example, if you are prone to acne and have dark spots, then a clay-based mask is perfect for you. If your skin is irritated and dry, then you'll want a face mask that contains aloe vera and kale protein to keep your pores hydrated.
Finally, you'll want to find a detox face mask that contains probiotics. Yes, you read that right. You might believe that probiotics are only to help balance your gut microbiome. Well, they also help balance the bacteria in your skin and remove excess sebum buildup from the top layer of your skin. Let's talk more about the benefits of probiotics for your skin.
How Probiotics Support Skin Health
You likely know that yogurt is a great food for gut health. You'll be happy to know the same can be said for your skin. Your skin has a microbiome the same way your gut has one. Your skin microbiome regulates an inflammatory response and protects it against pathogens, toxins, and foreign invaders. 
I like to think of your skin microbiome as a rainforest with a lot of different microorganisms living in a delicate balance. When this bacteria of your skin microbiome gets out of balance it can lead to skin conditions such as eczema, acne, dry skin, and skin damage.9
Probiotics are live bacteria to support the healthy bacteria in your body. Probiotics promote the skin's productions of ceramides that help trap moisture while removing excess sebum buildup, which helps reduce acne breakouts.
Skin damage from ultraviolet rays from the sun diminishes the skin's ability to fight free radicals. Studies show that probiotics feed healthy bacteria in your skin's microbiome to help protect it against oxidative damage from free radicals.10
What if I told you that you can get a detox face mask that includes probiotics, is toxin-free, and has ingredients to support hydration to give you a radiant, healthy appearance? Well, I have some exciting news to share with you!
The Best Detox Mask for a Cleansing Facial
I've spent the last year going over mountains of research to formulate a Purifying Probiotic Mask. This physician-formulated, third-party tested face mask is the perfect follow-up after using the Replenishing Vitamin C Cleanser.
The probiotics in the Purifying Probiotic Mask work alongside kaolin & smectite clay to gently exfoliate your skin, reduce puffiness, and clean away excess sebum build up.
The potent blend of probiotics naturally cultured from yogurt, kaolin, and smectite clay, along with salicylic acid found in aloe vera, removes excess dead skin, oil and sebum to reduce outbreaks and calming irritated skin.
I included kale protein and aloe vera in the Purifying Probiotic Mask to provide you with a softer, healthier, and brighter complexion. Kale protein, rich in vitamins A, B, C, and K, is ideal for hydrating, detoxifying, and nourishing your skin resulting in a reduction of fine lines and wrinkles. The aloe vera works to further hydrate your skin while gently exfoliating your pores helping you achieve a more youthful look.
So, how do you use the Purifying Probiotic Mask? Well, I'm going to tell you how to incorporate this detoxifying face mask into your skincare routine.
Steps for Using a Detox Face Mask
Detox face masks are one of the hottest trends in the skincare world. If used correctly, they can improve your skin in many ways. I recommend using the Purifying Probiotic Mask 1 to 2 times a week as part of your skincare routine for optimal results. Here's the best skincare routine for using the Purifying Probiotic Mask.
detox mask – infographic – Amy Myers MD®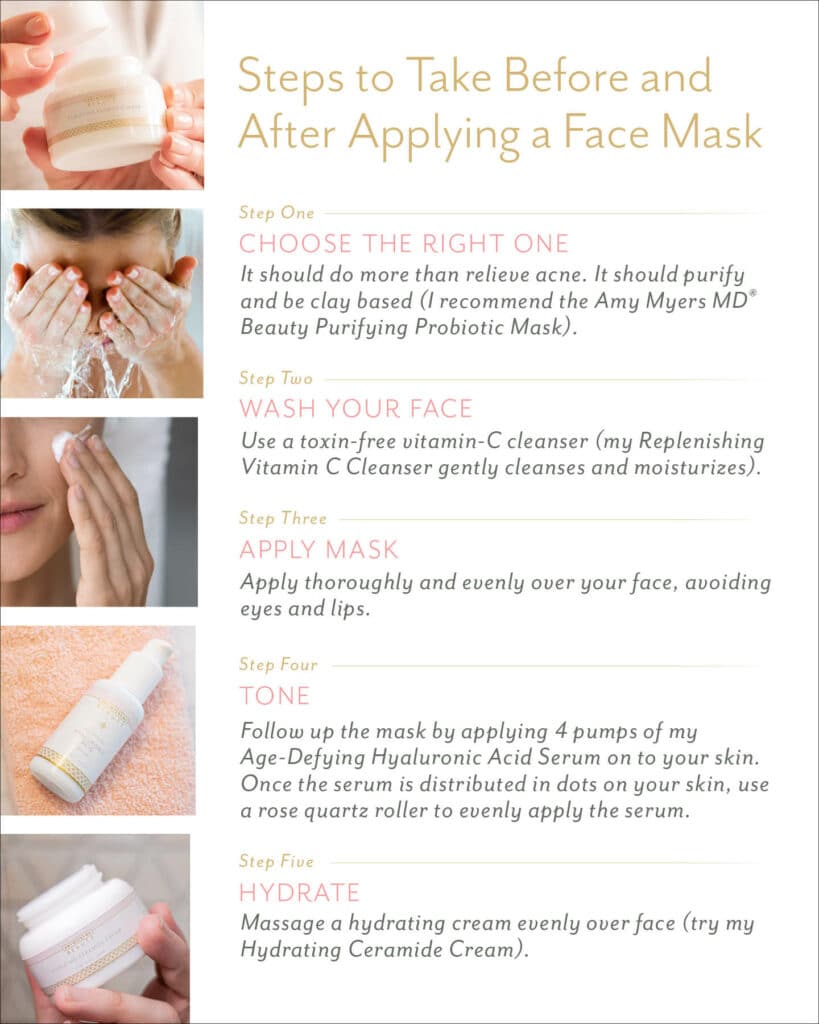 Dr. Amy Myers
April 17th, 2022
https://content.amymyersmd.com/article/detox-mask/
detox mask – infographic – Amy Myers MD®
1. Wash Your Face with a Vitamin C Cleanser
I begin my skincare routine by rinsing your face with warm water. A filtration system for your facets will help keep toxins from the tap water from absorbing into your skin. My house is equipped with under-sink filtration systems from Aquasana. 
Next, I apply 1 to 2 pumps of Replenishing Vitamin C Cleanser onto my hands and massage it into my face in a gentle, circular pattern. After the cleanser is applied, I rinse it off with warm water and pat dry my face with a clean towel.
2. Apply Face Mask
After I've cleaned my face, I apply a generous scoop of the Purifying Probiotic Mask onto my entire face, being sure to evenly distribute it. After the mask is on my face, I relax for 15 minutes and read a book or watch my favorite show. Wash the mask off with warm water and pat dry with a towel after 15 minutes.
3. Tone
I follow up the mask by applying 4 pumps of the Age-Defying Hyaluronic Acid Serum onto my skin. Once the serum is distributed in dots on my skin, I use a rose quartz roller to evenly apply the serum. I concentrate the serum on the places on my face that need the most anti-aging attention such as my forehead and laugh lines. Using a quartz roller can also improve blood circulation in your face and reduce puffiness.11
Age-Defying Hyaluronic Acid Serum contains retinol and hyaluronic acid, two superstar ingredients in skincare products for healthier and younger-looking skin. 
4. Hydrate your skin
The final step into my routine when I use the Purifying Probiotic Mask is to hydrate my skin further with Hydrating Ceramide Cream. I gently massage the cream onto my face and neck to seal in the moisture, soothe dryness, and comfort my skin. I always make sure to apply the cream in an upwards motion so that I'm not tugging on my skin.
To celebrate the launch of the Purifying Probiotic Mask, I've created the Essential Beauty Kit Plus, which includes the Replenishing Vitamin C Cleanser, Hydrating Ceramide Cream, Age-Defying Hyaluronic Acid Serum, and the new Purifying Probiotic Mask. 
This kit includes everything you need to nourish, detox, and protect your skin from signs of aging. These four physician-formulated products replenish, restore, and rejuvenate your skin to reveal a youthful glow and healthier-looking skin.
Every skincare routine should include a detox face mask. You don't have to sacrifice healthy, younger-looking skin as you get older. Giving your skin the nutrients it needs along with pampering will have your skin looking illuminating and smooth.