I get complimented on my clear skin and complexion quite frequently—in fact, people are often amazed that I am nearly 48 years old! I attribute that to both The Myers Way® eating plan and my morning routine. You can learn all about my anti-inflammatory food protocol in my book, The Autoimmune Solution. Today, I want to share with you the things I do each morning to stay refreshed and energized throughout the day.
The average person uses 10-15 body products with an average of 126 ingredients every day, and many of these, such as toothpaste, lotion, and makeup, are part of a regular morning routine. Toxins can enter your body when you eat them, drink them, or breathe them in, but they can also come into your body through your skin. That's why it's so important to limit your exposure to toxic body products.
The Dirty 30 Toxic Body Product Ingredients – Infographic – Amy Myers MD®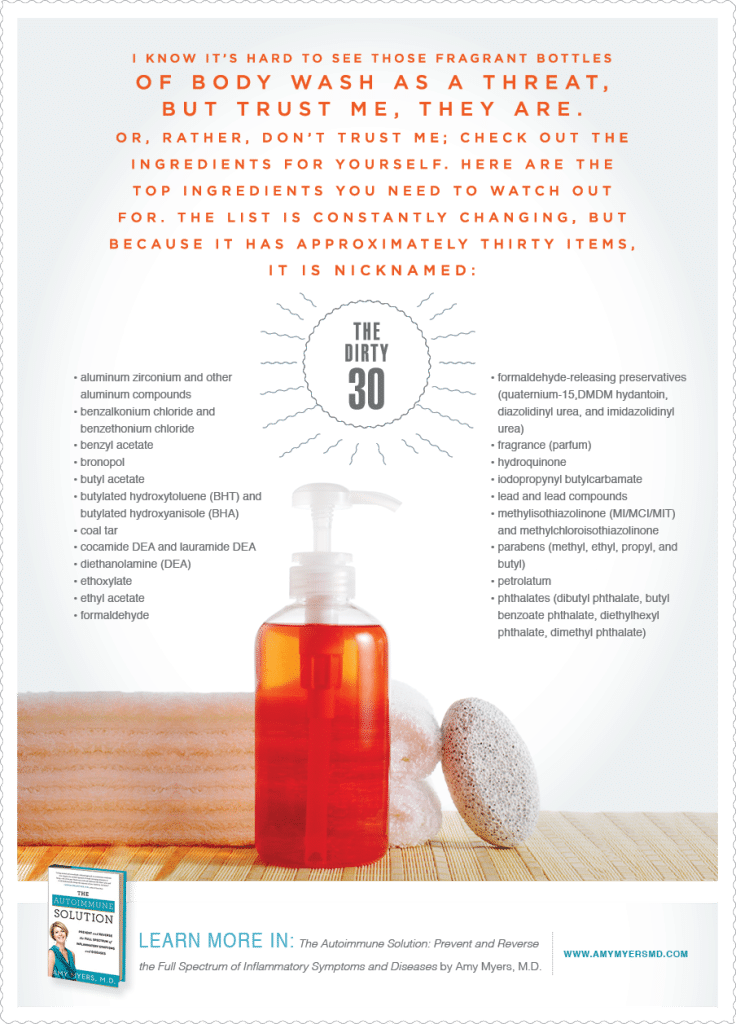 Dr. Amy Myers
May 1st, 2015
https://content.amymyersmd.com/article/doctors-morning-routine-clear-skin-healthy-teeth/
The Dirty 30 Toxic Body Product Ingredients – Infographic – Amy Myers MD®
I love natural, toxin-free products and do my best to support local and like-minded companies. Though most of these companies are local to Austin, you can order their products off their website and have them shipped to you, no matter where you live. A few of these can also be found on my online store or on Amazon. I'm providing links to these amazing products in this article because I'm so frequently asked about the products I use, I want you to be able find them easily, and most importantly I truly believe in them and use them myself daily.
My morning routine prepares my mind and body for my day, whether I'm seeing patients, traveling for conferences or interviews, or spending time with my husband, Xavier, and my energetic puppy, Mocha. Here's how I start my day refreshed, no matter where I am.
My Morning Routine:
1. The first thing I do when I wake up is roll over and immediately take my thyroid medication. During medical school, my thyroid was ablated to treat my Graves' disease, and it no longer produces its own hormones. I now take a combination of Armour and Synthroid. You can read more about my personal struggle with thyroid disease and journey to functional medicine here.
2. Next, I brush my teeth with homemade toothpaste using a Sonicare toothbrush.
3. I drink two large glasses of filtered water. You can add lemon to help flush out toxins. I personally don't do well with lemons, so I just drink plain filtered water.
4. Then, I rinse my mouth with Silver Tongue Oral Disinfectant.
5. I wash my face with Keys Foaming Island Rx or Dr. Bronner's unscented liquid soap.
6. Next, I put in my contacts using a preservative-free saline solution. I prefer Arm & Hammer Simply Saline.
7. I apply a moisturizer to my face. In winter, I use Keys Luminos moisturizer, and I use Keys Solar Rx Sunblock the rest of the year. Keys is a great company that makes gluten-free, preservative-free body products. You can listen to a podcast I did with the Keys founder, Bob Root, here.
8. Next, I put on makeup. I exclusively use Beautycounter. All of their products are toxin-free and rigorously tested to ensure safety.
They have a wide selection of products, and I personally love and use the Lip Sheer, Tint Skin Hydrating Foundation, Smoky Eye Trio, Powder Blush Duo, and Illuminating Trio.
9. Then, I apply body lotion. I use Keys Tortuga in the winter, and Keys Luminos during the rest of the year. If I have sore muscles or pain, I'll apply some CitriSafe glutathione cream in coconut oil.
I recently received a gift bag as a wedding shower gift from my friend and founder of milk + honey Spa, filled with an array of their new body product line. I love the Body Cream with pink grapefruit, bergamot, and cardamom—it's just fragrant enough, but not too overpowering. Their Coconut Vanilla Cream Deodorant is my absolute favorite.
10. Before sitting down to breakfast for a delicious Myers Way approved meal, I have a cup of hot tea with my The Myers Way® Collagen Protein and take 2 capsules of Glutathione to help support my body's detoxification.
There you have it! Those are the little steps I take each morning to get ready for the day ahead. Stay tuned for next week's newsletter where I will be sharing my evening routine, and how I unwind from a busy day and prepare my body and mind for restful, restorative sleep.
Reverse Chronic Illnesses So You Can Take Back Your Health!
Are you ready to beat your symptoms, regain your energy, and feel like yourself again? Whether you have Hashimoto's, Graves', or any of the hundreds of other autoimmune diseases, I want you to know you CAN reverse your condition!
Tens of thousands of people around the world have already taken back their health using my New York Times Bestsellers, The Autoimmune Solution and The Thyroid Connection. Are you ready to join them?
In each book you'll learn how to address the true underlying causes of your symptoms using simple yet proven dietary and lifestyle changes. Best of all, you'll get step-by-step, four-week plans to put all of the principles into practice and truly make optimal health a way of life!