The Covid-19 pandemic has changed our world forever, especially regarding your health. Even after three years, the effects of coronavirus still impact new health and wellness trends.
The definition of wellness is no longer exclusive to fitness and exercise. It now encompasses mental health, skincare, and gut health. In fact, a mind-blowing 75% of Americans say they have a better understanding of the connection between physical activity and mental health.1
From early bedtimes to increased protein intake to streamlined skincare routines, here are the health and wellness trends for 2023.
health and wellness trends – infographic – Amy Myers MD®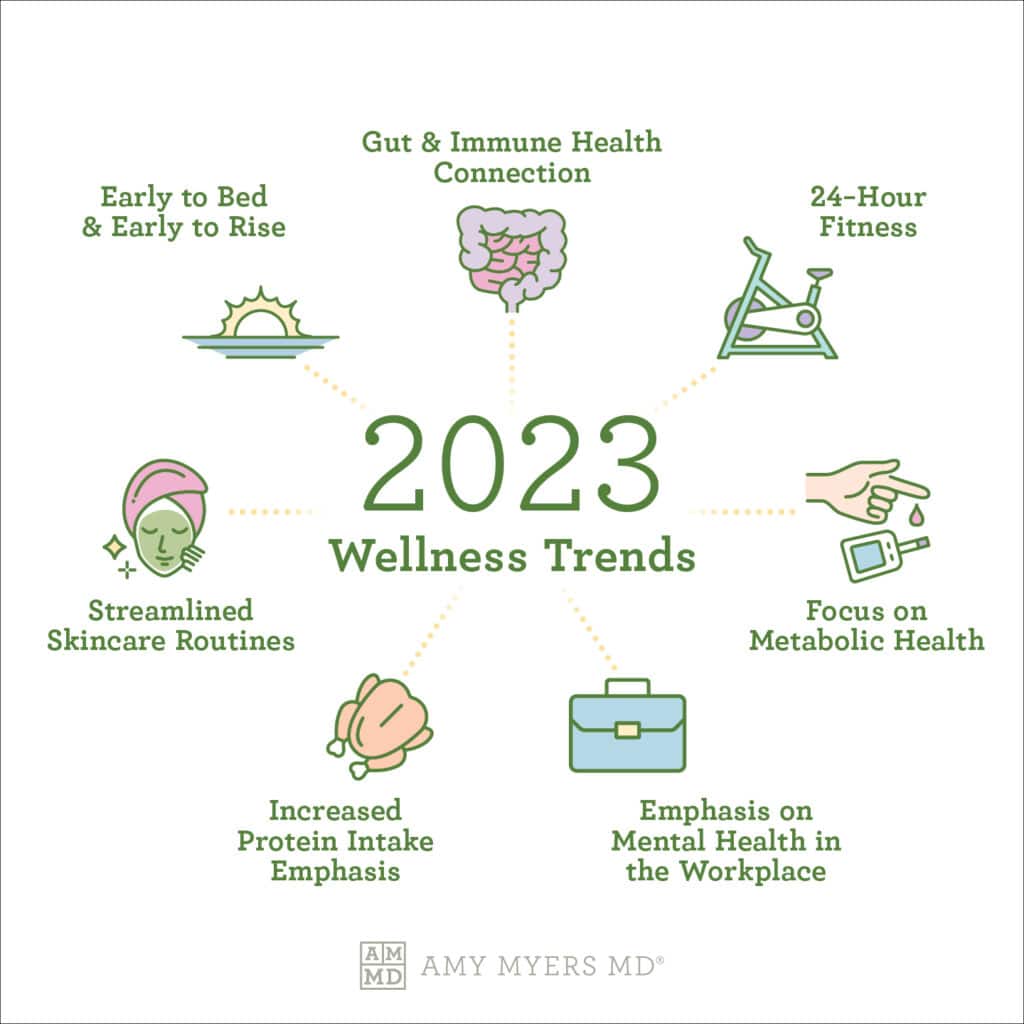 Dr. Amy Myers
January 2nd, 2023
https://content.amymyersmd.com/article/health-wellness-trends/
health and wellness trends – infographic – Amy Myers MD®
Early to Bed, Early to Rise
Late nights are so 2022. If you are like me, you're in bed no later than 9 p.m. A growing health trend suggests people are exchanging working through the night for an early bedtime and earlier evening routines, and science backs this health trend.
Several studies found that being an early bird instead of a night owl improves sleep patterns, benefits digestion, reduces late-night cravings, and promotes weight loss and fat loss.1 Moreover, a good night's sleep positively impacts brain health. The best way to promote healthy sleep patterns is to follow three simple steps for optimal sleep.
Eat foods rich in tryptophan, magnesium, and melatonin. Turkey, chicken, and shellfish are excellent sources of tryptophan, while bananas, avocados, and green leafy vegetables contain a lot of magnesium. Your body naturally produces melatonin. However, you can also get it from pork, salmon, and cherries.
Skip fatty foods, rich proteins, chocolate, alcohol, coffee, and over-the-counter medications that could contain hidden caffeine and sugar. Check your labels!
A regular sleep schedule, waking up early and going to bed early, exercising, and creating a bedtime routine are great ways to promote optimal sleep.
I am a hot sleeper, so I cool down every night with help from my Cube Sleep System with Chilipad® Cool Mesh™ by Sleep.Me. I also take Rest and Restore™ every night to promote a restful night's sleep.
With optimal magnesium levels, Rest and Restore™ even help support relaxation during the daytime by facilitating a healthy stress response and relieving the occasional muscle tension. Being less stressed during the day will increase your sleep efficiency and improve brain health.
A Rise in Virtual Fitness
At-home workouts took center stage during the Covid-19 pandemic, and it looks as though it's here to stay. Global inflation and the rising costs of gym memberships will make at-home workouts a rising wellness trend in 2023. Another reason is the increasing popularity of online virtual fitness classes and available on many more streaming services. Virtual fitness offers a convenient and affordable way to exercise at home because you can do it anywhere in your house at any time of the day.
Virtual workouts offer a plethora of benefits– you don't have to wait on equipment as you would at a gym, it's cheaper, you have more privacy, and you can go at your own pace.
Exercise benefits your overall health, especially your mental and physical health. Exercise also strengthens your immune system and promotes optimal sleep, which is essential for mental and physical health. Not only does exercise improve blood circulation, yet it also strengthens white blood cells and antibodies that fight disease.2
A walk outdoors with your family is the perfect opportunity to move your body. Walking with my daughter, Elle, my husband, Xavier, and our dogs, Moca and Mac, is my favorite at-home exercise. If you're feeling anxious at work, try to take a break and go for a walk. '
Low-impact virtual workouts such as Pilates and yoga are also excellent choices, and there are many free online options on YouTube.
Emphasis on Mental Health In the Workplace
The growing emphasis on supporting mental health has reached the workplace. A 2021 Indeed study found that 60% of Millennial and Gen Z workers are getting burned out.3 An estimated 24 million workers quit their job in 2021. Employers are taking notice, which emphasizes mental health in the workplace as a growing wellness trend.
Some employers are shifting to a four-day work week, adding flexible remote schedules, providing fitness opportunities in the workplace, more nutrition education, and access to healthy foods. A happy workplace goes further than healthcare benefits.
As a CEO, I understand how vital my team's mental health is to a successful company. We have a meditation room, massage chair, smoothie bar with Amy Myers MD® products, free nutrient-dense snacks, a hybrid schedule, and several fun events throughout the year.
Focus on Metabolic Health
In 2023, there will be a movement to ditch the body mass index marker and take steps to optimize metabolic health. You have probably noticed an advertisement for Nutrisense or other continuous glucose monitors (CGMs). Metabolic health will be a health trend to keep an eye on this year.
Using a CGM if you have type 1 or 2 diabetes makes managing your blood glucose levels easier. CGMs offer valuable insight into blood glucose patterns. If you don't have type 1 or 2 diabetes, a CGM could alert you of signs of insulin resistance or how certain foods trigger spikes in blood glucose levels. A GGM also reduces finger sticks and shows you a bigger picture of how certain foods affect your blood sugar.
A CGM allows you to stay on top of your numbers and makes it easier to optimize your health. Sharing your results with your functional medicine provider gives them insight into how your diet, exercise, and lifestyle impact your blood glucose levels.
The Gut & Immune Health Connection
More people will focus on gut health as part of their health and wellness goals in 2023. If you've been following me, you've likely heard me talk about how your gut is the gateway to your health for years now.
It's a significant part of your digestive system, yet it is also a key player in your immune and brain health. If your gut health is compromised, it can lead to an array of issues that you may not know originate in your gut, such as seasonal allergies, hormonal imbalances, mood imbalances, or even autoimmune diseases.
Healing your gut is the first pillar of The Myers Way®. This proven method is a medical approach based on functional medicine that looks at how the body's systems interact and seeks to get to functioning optimally. We look at the body as a whole instead of a bunch of different systems.
If gut health is your focus in 2023, I recommend taking the 4R approach to healing your gut. Here's a quick summary:
Increased Protein Intake Emphasis
Emphasizing high-protein diets is a health trend for 2023 that we in functional medicine have known about for years. Protein is essential to your overall health! It's more than necessary – it's critical. Your body needs protein to perform many functions, from growing and repairing its own tissues to supplying your body with energy. In fact, protein literally makes up your body's structure.
Protein molecules provide structure to many parts of your body, including your muscles, skin, and organs, and even play a role in your hormone function. Protein is a macronutrient, meaning your body needs large amounts of it for optimal health, as opposed to the comparatively small amount of micronutrients your body needs, such as vitamins and minerals.4
Unlike fat, another macronutrient, your body doesn't have protein stores, so you need to consume it daily. How much depends on your activity level and your basal metabolic rate.
One of the best sources of protein is animal protein. I always recommend that you buy organic meats, fruits and vegetables. However, I understand that can be expensive, so at the very least, your meat should come from organic sources such as grass-fed beef, free-range chicken and poultry, and wild-caught seafood.
While all protein powders tout health benefits, the hidden toxins and inflammatory ingredients in many protein powders, such as whey and casein (dairy), gluten, soy, legumes, and sugar, can be counterintuitive to feeling the full benefit of the protein.
I went five years without using a protein powder because I couldn't find one that met my dietary needs. I finally decided enough was enough and formulated The Myers Way® Paleo Protein powders! These Paleo Proteins are the only truly clean protein powders on the market and are sourced from grass-fed cattle.
Streamlined Skincare Routines
There are so many options for skincare products with lots of promises of eternal youth. In 2023, people will streamline their skincare routines with fewer products and more intention. Popular products include hyaluronic acid serums, vitamin c cleansers, and retinol. This is not news to me and is exactly why I developed my skincare line with simplicity and streamlining in mind.
There are so many products on the market, and many of them have ingredients that can do more damage than good. Regarding skincare, there's a lot of information about the best routines, and it can be overwhelming. What about the ingredients? Should retinol be applied before you moisturize? How long should you wait before applying a wrinkle cream or anti-aging serum after washing your face? And most importantly, how many products should you use?
Well, I have you covered! I only use three products daily on my skin – a vitamin C cleanser with vitamin C, an age-defying serum that includes retinol and hyaluronic acid, and a hydrating cream to keep your skin feeling soft and looking youthful. If I'm going outside for any long period of time I also include sunscreen with an SPF of at least 30.
Once a week, after I've cleaned my face, I apply a generous scoop of the Purifying Probiotic Mask onto my entire face, ensuring to distribute it evenly. After the mask is on my face, I relax for 15 minutes and read a book or watch my favorite show. Wash the mask off with warm water and pat dry with a towel after 15 minutes. Every skincare routine should include a mask.
The Final Word
Being mindful of your health is the perfect way to get on the path to optimal health. From earlier bedtime routines to focusing on your metabolic health, it looks like these wellness trends are here to stay, and that's very promising. Whatever your health and wellness goals are, I invite you to try these health and wellness trends as you take back your health in 2023.