Halloween is right around the corner, and some of you have asked how you and your family can stick to The Myers Way® while still enjoying ghoulish get-togethers, spooky soirees, and other frightening festivities. Here are 10 tips for a fun-filled Halloween that won't leave you with any scary side effects.
1. Participate in the Teal Pumpkin Project
Launched as a national campaign by Food Allergy Research & Education (FARE) in 2014, the Teal Pumpkin Project™ raises awareness of food allergies and promotes the inclusion of all trick-or-treaters throughout the Halloween season.
Paint a pumpkin teal and set it outside of your home to let trick or treaters know that you are handing out goodies like stickers, pencils, bubbles, spider rings, and other toys instead of candy. You can learn more and purchase a teal pumpkin goodie bag at the FARE website.
2. Swap Junky Treats for Healthy Sweets
While food shouldn't be the focus of your holiday season (even on Halloween or Thanksgiving), even I indulge in gluten-free, dairy-free treats on special occasions. Don't stress out too much about the rare indulgence and make smart choices. Always go for gluten and dairy-free, and avoid any foods that you know you are sensitive to.
You decide what you put in your body. In addition to some great advice, here are some tips on how to make some delicious treats into healthier sweets that your body will thank you for.
3. Enjoy No-Bake Pumpkin Pie Fudge
This fudge is gluten-free, dairy-free, and egg-free, and it doesn't even need to be baked! It's naturally sweetened with delicious ingredients that are full of their own healthy nutrients to keep your body running in tip-top shape so you can keep up with all of the celebrations. This fudge is the perfect recipe to take as a healthy, protocol-friendly dessert for parties and gatherings throughout the whole holiday season. See the recipe here.
4. Whip Up Vegan Pumpkin Ice Cream
You can find a delicious recipe for dairy-free, egg-free pumpkin ice cream that will indulge your sweet tooth while helping you avoid the hormones and casein in regular dairy ice cream. Dairy is one of the two most inflammatory foods, and even on a day that's all about sweet treats, you don't have to sacrifice your health or the health of your family. See the full recipe here.
5. Balance the Sweet Treats with Protein and Veggies
Whether you're hosting or attending a Halloween party, or just trying to get through the day, make sure to incorporate protein and veggies to balance out your snacking and prevent blood sugar spikes.
I love to include a protein-filled smoothie as one of my daily snacks. It's the perfect way to get a little something sweet while sneaking in healthy ingredients such as fruit, vegetables, healthy fats, and of course — protein! These smoothies can get you over any mid-day shlumps, and even the kids will enjoy them as an "extra treat" on Halloween. They don't have to know how good it is for them unless they love knowing that they're one step closer to being the superhero who inspire their costume.
At this time of year, my go-to protein powder is my Pumpkin Spice Paleo Protein, and who can say no to a pumpkin spice drink on a holiday that displays pumpkins everywhere!
6. Make Bacon-Wrapped "Mummy" Sausages
Use organic, grass-fed beef or pork sausage and nitrate-free bacon for a protein-packed snack that is approved on all of The Myers Way® protocols. Dress it up by making the bacon look like mummy wrapping and anyone stopping by your kitchen will be in for a smile. For a touch of savory and sweet, I like to squeeze two raisins between strips of bacon at one end of the sausage to make these wrapped sausages extra mummified! Find the full recipe at Paleo Leap.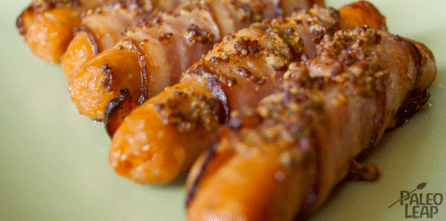 7. Concoct Avocado and Beet Deviled Eggs
If you were able to successfully reintroduce eggs, this fun, healthy snack is a unique and fun mix of vibrant, seasonal colors. It's also full of healthy fats. You might even be able to entice the kids to indulge in something they usually wouldn't. It's too pretty to resist! You can find the full recipe and photo at Amazingly Tasty.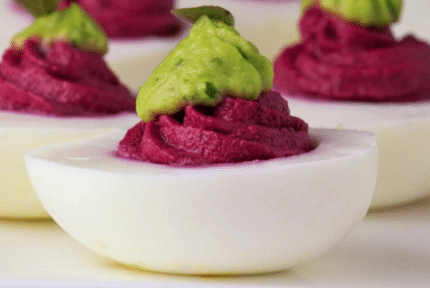 8. Focus on Friends and Family
This time of year is all about enjoying the company of friends and family, and there are plenty of activities you can do together that aren't centered around food. For this tip dedicated to the holiday season, I've included some fantastic additional ways to enjoy this time with family and friends.
9. Go on a Fall Hike
Enjoy the cool weather and soak up some Vitamin D while enjoying beautiful fall colors. Spending time outside is a great way to get in quality time with your loved ones and relieve stress.
10. Make Autumn Leaf Lanterns
While you're enjoying a hike, scoop up some fall leaves to make this cute seasonal craft. Image and instructions can be found here.
Share your own ideas for healthy Halloween treats and activities! Post your photos to Instagram using #TheMyersWay to share your Halloween festivities with other families!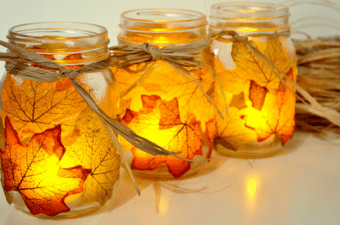 Reverse Chronic Illnesses So You Can Take Back Your Health!
Are you ready to beat your symptoms, regain your energy, and feel like yourself again? Whether you have Hashimoto's, Graves', or any of the hundreds of other autoimmune diseases, I want you to know you CAN reverse your condition!
Tens of thousands of people around the world have already taken back their health using my New York Times Bestsellers, The Autoimmune Solution and The Thyroid Connection. Are you ready to join them?
In each book you'll learn how to address the true underlying causes of your symptoms using simple yet proven dietary and lifestyle changes. Best of all, you'll get step-by-step, four-week plans to put all of the principles into practice and truly make optimal health a way of life!