Today is my daughter Elle's first birthday! I can't believe how fast this year flew by. This time last year Xavier, my mother-in-law and I were in snowy Wisconsin waiting three weeks to take our precious girl home to Texas. This March 3rd we will be celebrating our little girl (who is now walking and blowing kisses) with a party surrounded by family and friends. I am also excited to serve our guests the most delicious homemade grain-free, The Myers Way®, and AIP-approved cupcakes that are featured in The Autoimmune Solution Cookbook!
Becoming a mother has been an amazing experience and the biggest blessing in my life so far! I, just like you, want the best for my child. And for that reason, I spent a lot of time before her birth researching baby products that were all-natural, toxin-free and would help set my daughter up for optimal health. In my research, I was thrilled to find that there are many companies that recognize the importance of healthy, organic, all-natural, and toxin-free products that are readily available at places like Amazon–and at affordable prices too.
And I'll be honest, I'm human just like you and some things during this first year went according to plan, some things did not, and I learned a lot along the way! My goal is always to empower you with information, so I wanted to share this list of the baby products that I found to be "essential" for me and my family during this first year. Of course every family and every baby is different, and what works like a charm for someone may not always work for someone else – this is just what worked for me and my daughter!
[lwptoc]
I hope you find it helpful, and if you know anyone who is expecting a new baby and would appreciate this, please share it with them!
Nursery and Sleeping
Dr. Amy Myers
March 3rd, 2018
https://content.amymyersmd.com/article/must-have-baby-products/
Baby Nursey & Sleeping Products – Amy Myers MD®
1. Babyletto Hudson 3-in-1 Convertible Crib
Let's start with perhaps the most important piece of furniture you'll need for your new baby: the crib. Babies spend so much time in their crib, so you want to make sure it's made with all-natural, non-toxic materials. My husband Xavier and I love the Babyletto Hudson 3-in-1 Convertible Crib for this reason. It is lead- and phthalate-free, and the paint is screened for over 360 volatile organic compounds (VOCs). I am very sensitive to VOCs, chemicals and smells and this crib had no off-gassing whatsoever! One of the other great features is that it can convert into a toddler bed, so you can use it even as your baby grows–which is always great when it comes to baby supplies.
2. Nook Pebble Pure Crib Mattress
I absolutely LOVE this mattress. It is organic and breathable, made with natural coconut husk and Talalay latex, and topped with a super soft cover. Something else I love about this mattress is that it has a bunch of fun colors to choose from! And while you need a very firm mattress for a baby, it also comes with a less firm side so you can just turn it over to use into the toddler years! We chose the sea glass (which is more of a seafoam green–my favorite color!).
3. Snuggle Me Organic Co-sleeper
The Snuggle Me Organic co-sleeper is an absolute must-have for new parents. I've given this as a shower gift to everyone I've known who's had a baby since Elle was born.
We used this in her crib, not as a co-sleeper in our bed. If you own a Halo bassinet, this fits perfectly inside that. This co-sleeper is great because it not only gives your baby a set place to sleep so they cannot roll around, it also hugs your baby, which makes them feel snuggled like a swaddle or your arms. Elle would only fall asleep if she was in my arms, so this definitely helped her feel like she was still in my arms when I put her in her crib! Plus, it has a nice organic removable cover, so if anything happens it can be washed.
4. Halo Organic SleepSack
One of my other must-have first-year baby products is the Halo Organic SleepSack. What I love about this sleep sack is that it not only is it organic, it is a ready-made swaddle with velcro. No trying to wrap your baby in a loose swaddle blanket! I especially love that it zips from the bottom up, making diaper changing (especially in the middle of the night) a breeze! You can have your baby's hands tucked in or have their hands free. Elle loved having the ability to move her arms while feeling nice and swaddled and then hugged by the Snuggle Me Organic co-sleeper.
5. Burt's Bees Baby Bee Essentials Nightgown
The Halo SleepSack pairs great with any type of little nightgown, such as this organic one from Burt's Bees! I, like so many of you like did, bought a ton of cute footie pajamas only to realize that Elle needed her diaper changed twenty-seven times a day. I quickly ditched the cute PJs with snaps and zippers to these organic nightgowns with elastic bottoms. This saved me lots of time and stress. When using the Halo sleep sack and these nightgowns, I was no longer worried about waking her to change her diaper.
6. Babyletto Hudson 3-Drawer Changer Dresser
The Babyletto Changer Dresser matches nicely with Elle's crib and is great because it has the changing table on top that can then be used as a regular chest of drawers. Like the Babyletto Hudson crib, this changer dresser is lead- and phthalate-free, and the paint is screened for over 360 volatile organic compounds (VOCs). I did notice some off-gassing from the wood that was not painted or sealed. Xavier painted a sealant on the raw wood and we left it outside for a few days and all was fine. I do recommend getting your furniture ahead of time so if there is any off-gassing, that happens well before your baby arrives, or you have time to change to another brand.
7. Nook Sleep Niche Feeding Pillow (Boppy)
The Nook feeding pillow or sleep niche is super soft, non-toxic and has a removable cover that comes in a wide range of cute colors just like Elle's mattress. This is a great alternative to your standard foam Boppy you use for breastfeeding or bottle feeding. We left this on our sofa and used it wherever we were hanging out to put Elle in and keep her secure and cuddled as she was napping or sleeping next to us.
8. Baby Deedee Sleep Nest
As Elle has gotten older, she's loved the baby deedee sleep sack. The great part about sleep sacks is that they act similar to a blanket without the dangers of a blanket. We currently have three different sleep sacks of different weights, including the organic one from Halo (that no longer has the swaddle part) since the weather is crazy in Texas and can be winter-like one minute and summer-like the next.
The baby deedee Sleep Nest, which can be used from 6 months all the way up to 18 months, zips from the top down for easy diaper changes, comes in super cute colors, and is very warm and snuggly! Plus, it gets softer and softer with every wash!
Bath
Baby Bath Products – Infographic – Amy Myers MD®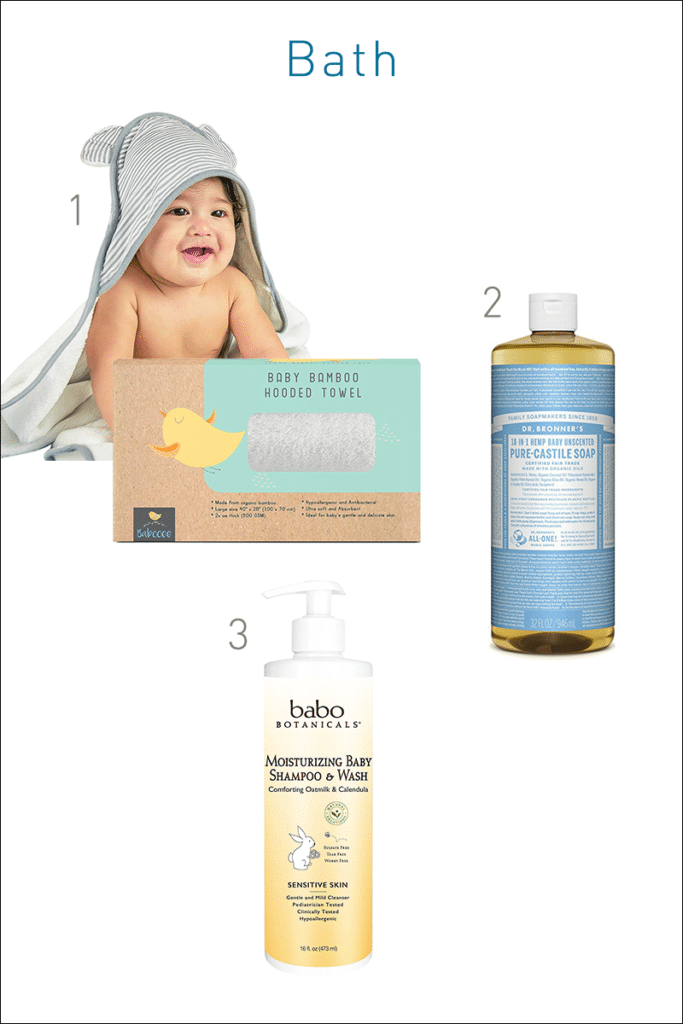 Dr. Amy Myers
March 3rd, 2018
https://content.amymyersmd.com/article/must-have-baby-products/
Baby Bath Products – Infographic – Amy Myers MD®
1. Babooee Hooded Bath Towel
We tried several bath towels during Elle's first year. Most were too small and not soft enough. I finally found this one on Amazon, made from organic bamboo. It has a hood, and is so soft you won't believe it! It's also nice and big, and has been plenty spacious as Elle has grown (literally off the height chart for her age), and it still covers her fully when she gets out of the bathtub.
2. Dr. Bronner's Baby Unscented Liquid Castille Soap
Dr. Bronner's was the first soap Elle ever used for a bath! It's all-natural, organic, and unscented–just what you want for your baby! (See my article on why I recommend delaying your baby's first bath.)
3. Babo Botanicals Baby Shampoo
Babo Botanicals Baby Shampoo is also all-natural, organic, and gluten-free. This one does have a scent and I thought it might bother me. However, it reminded me of Johnson & Johnson's baby shampoo, without all the toxic chemicals. We love it and now that smell really reminds us of Elle.
Changing
Baby Changing Products – Infographic – Amy Myers MD®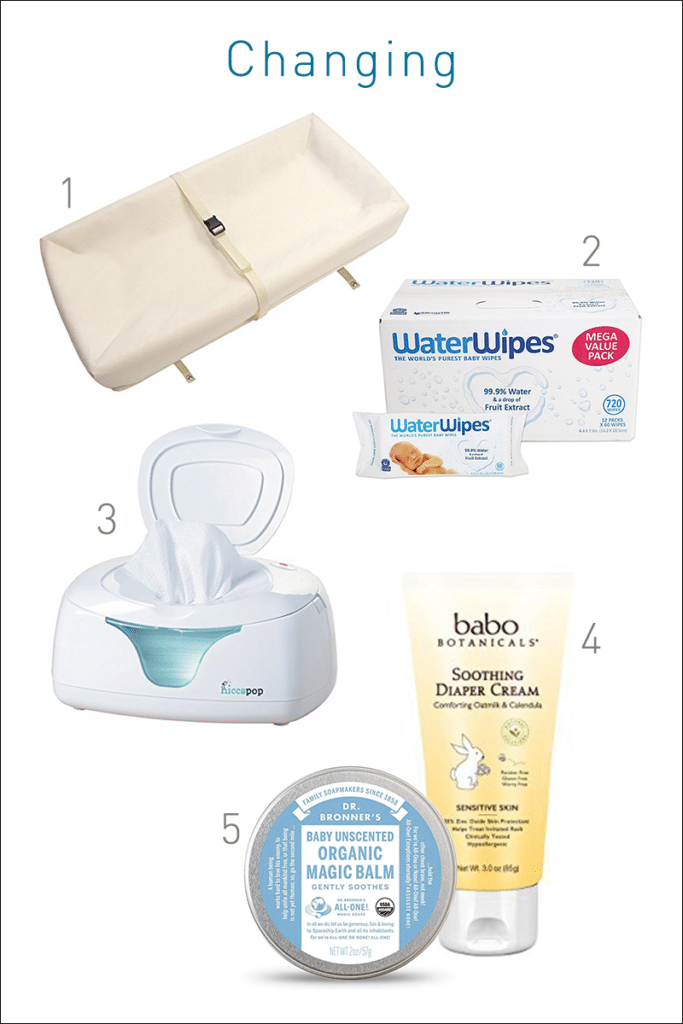 Dr. Amy Myers
March 3rd, 2018
https://content.amymyersmd.com/article/must-have-baby-products/
Baby Changing Products – Infographic – Amy Myers MD®
1. Naturepedic Changing Pad
The Naturepedic Changing Pad is organic, non-allergenic, and easy to clean. We use it with an organic changing pad on top of Elle's dresser.
2. WaterWipes Baby Wipes
I had high hopes that I was going to make my own wipes and started off doing that in the very beginning. As life naturally got too busy to keep it up, I settled into loving WaterWipes. These are the cleanest wipes I've ever found out there, made with 99.9% water and a drop of grapefruit seed extract. I take them with me everywhere and use them for much more than just her bottom. They are great for after meal messes and cleaning hands too.
3. Hiccapop Wipe Warmer
We decided to splurge on a wipe warmer since Elle was born in the winter. When your baby is asleep and you have to change their diaper, you don't want to wake them up by using a cold wipe, so this really came in handy during that time.
Some people are concerned about mold in wipe warmers because of the combination of warmth and moisture. However, we've had this one for a year now and have never cleaned it, and it is still mold-free!
4. Babo Botanicals Diaper Cream
This diaper cream is seriously the BOMB! Whenever Elle has had any slight amount of diaper rash or any type of chafing, we put that on and literally the next day it is gone. It smells delicious too, just like the shampoo. I currently have six tubes of this at home now because we take it everywhere with us.
5. Dr. Bronner's Baby Balm
We use Dr. Bronner's Baby Balm on Elle's bottom, as well as on her face in the winter when it gets windburned.
Feeding
Baby Feeding Products – Infographic – Amy Myers MD®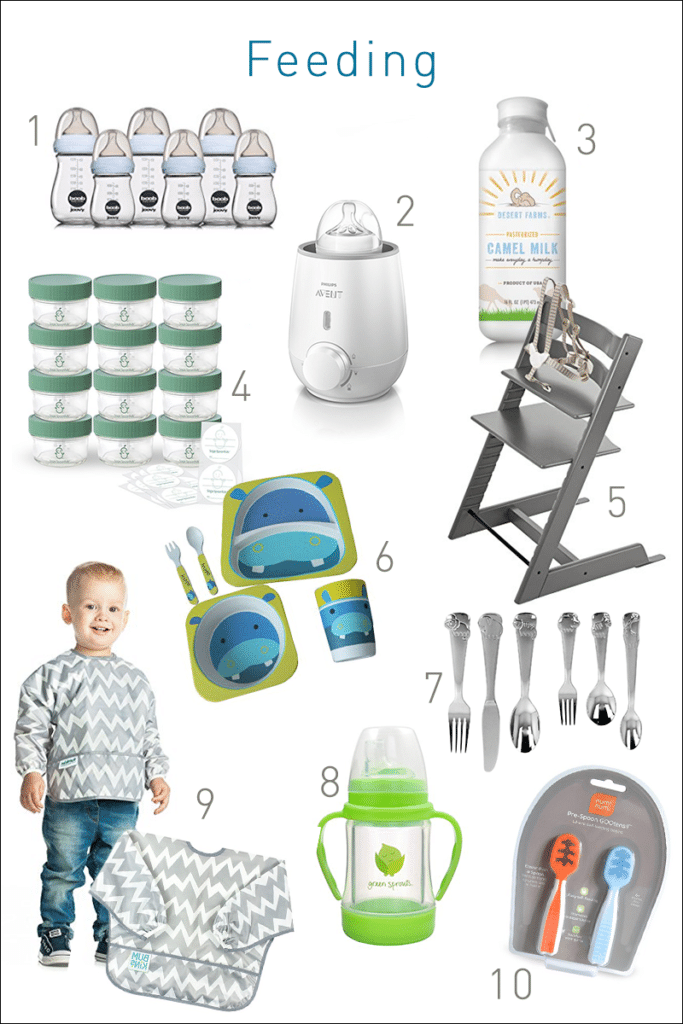 Dr. Amy Myers
March 3rd, 2018
https://content.amymyersmd.com/article/must-have-baby-products/
Baby Feeding Products – Infographic – Amy Myers MD®
1. Joovy Boob Glass Bottles
Glass bottles are super duper important for your new baby. You definitely do NOT want to use plastic bottles when heating up milk that has fat in it because the plastic will get absorbed by the fat.
We love the Joovy Boob 17-piece set and have used everything in it: the different sized bottles and three different sized nipples for when they're little, the 4 oz bottles up the 8 oz bottles that she's using now, the scrubbers to clean it, the extra tops, and now we carry camel's milk in the little container made for snacks.
2. Philips AVENT Bottle Warmer
This bottle warmer is super simple, fairly inexpensive, and heats bottles up very quickly. We've traveled with it and take it everywhere with us.
3. Desert Farms Camel's Milk
Elle started off on breast milk from a surrogate and then we moved exclusively to camel's milk. We love Desert Farms Camel's Milk, which is raw and all natural. Camel's milk is less allergenic than cow's milk, and for that reason I chose it. We buy the raw, freeze-dried powder which is easier to ship and store. In addition, we can make the amount we need. Since it is a bit lower in fat than cow's milk we added a teaspoon of coconut oil to each of her bottles. I also added Vitamin D and Omega 3 to her first bottle of the day.
4. Sage Spoonfuls Glass Jars
Since her first bite, I have made all of Elle's food at home using organic ingredients. I used these glass jars to store the puree in the refrigerator and freezer. A nice feature of Sage Spoonfuls Glass Jars is they have tags that you can peel off to label and re-label your food. You can also feed your baby straight out of the jar–just be sure to hold it yourself or they can get broken by baby's sweeping hand motions.
5. Stokke Tripp Trapp High Chair
This is the high chair that Elle's moved into, and it's awesome! It's all natural and non-toxic, and eventually converts into a chair that you can even use as an adult! It's SO nice to get things that you'll be able to use beyond the baby years.
6. Bambinoco Bamboo Dining Set
As Elle moved into eating, I started off using our glass and porcelain dinnerware, and then those were getting broken because babies love to throw things! So we made the switch to this natural bamboo fibre dining set, which comes in several cute designs. We have the hippo to match the safari theme in Elle's bedroom!
7. Oneida Wildlife Buddies Silverware
We got this silverware set for Elle as a gift and we love the safari theme. It comes with a baby spoon, an itty bitty fork, all the way up to a full-size fork and knife, so it can grow with her from baby food to real food, which is what we're using now. I still have the stainless steel fork and plate that I used when I was little, so I hope Elle will still have hers for decades to come too!
8. Green Sprouts Glass Sippy Cup
Elle learned to drink out of a real cup fairly quickly, so she doesn't use this too much at home. However, the Green Sprouts Glass Sippy Cup comes in handy when we're traveling, which we do a lot!
9. Bumkins Waterproof Sleeved Bib
Let me tell you–when children get into eating, they are the messiest of Marvins! You can't just use a little bib. That's why the Bumkins Bib is so amazing! It's like a shirt that you put on. In fact, we will often use this with a bib on top of it sometimes. It comes in cute little prints, and you can repurpose it too! We've converted one to use when Elle colors, draws, or does arts and crafts.
10. NumNum Pre-Spoon Gootensil
This is the intermediate spoon that we used for Elle before she started using a real spoon. It's great for purees or even soup! It also helped soothe her sore gums when she was teething, so we really liked that.
On-the-Go and Travel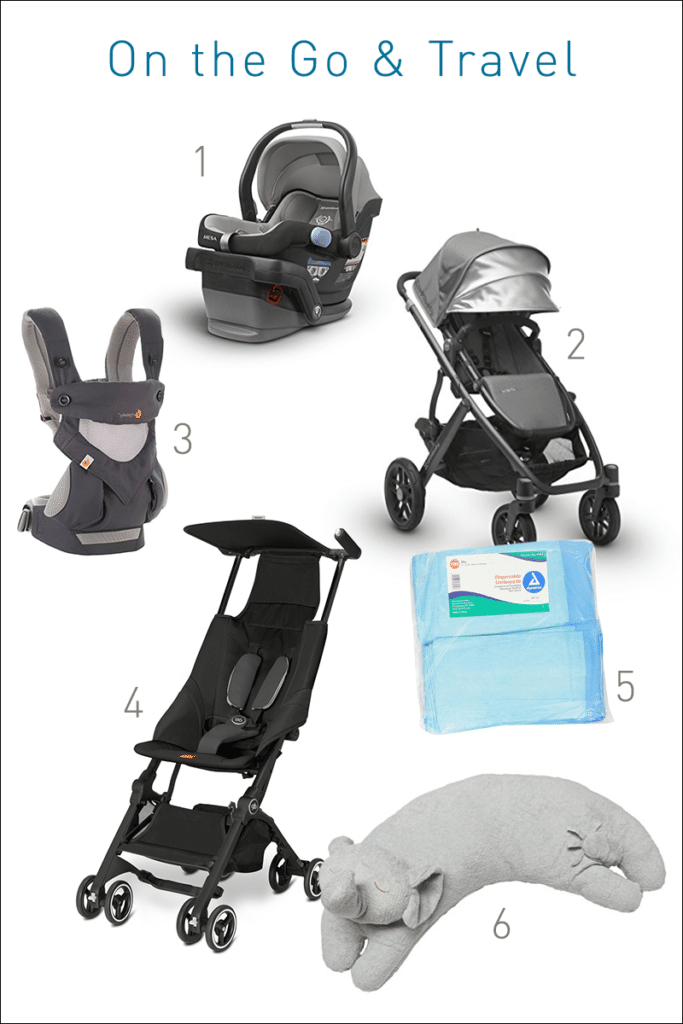 Dr. Amy Myers
March 3rd, 2018
https://content.amymyersmd.com/article/must-have-baby-products/
Baby Travel Products – Infographic – Amy Myers MD®
1. UPPAbaby MESA Car Seat
One of the great features of the UPPAbaby MESA Car Seat is all you need is a base to put it in your car. So I had one base in my car, and Xavier has one in his, and we only had to buy one car seat! It's easily interchangeable and can also attach to a stroller and be used that way.
2. UPPAbaby Stroller
Although it's one of the more expensive strollers out there, the UPPAbaby Stroller is super convenient and has a lot of different features to allow it to grow with the baby. It comes with a bassinet, which we used in our house and when we took Elle out for a walk. The UPPAbaby Mesa car seat also attaches to the base of the stroller and can be used as the stroller 'seat' when your baby is young, then change out for the real stroller seat that comes with stroller.
3. Ergobaby Carrier
If you're a big hiker or somebody whose baby really loves to be on you, the Ergobaby Carrier is a super convenient option. Some people swear by these. Elle wasn't a huge fan, though it was great when she was little and we were traveling with her to use while walking Mocha or through the airport and security.
4. Pockit Travel Stroller
As Elle's gotten bigger we got this Pockit Travel Stroller. It became a life saver since we've been on 11 trips in 12 months and Elle did not like the Ergobaby too much! The stroller folds up and can go in the overhead bin on a plane, so if you're a frequent traveler this is an absolute must.
5. Dynarex Disposable Underpad for Travel Changing
Changing tables in bathrooms are typically icky even in the nicest of places. While you can splurge on some super expensive disposable changing pads, being a doctor I know that they use what they call "chucks" in the hospital, which are basically the same or better than a fancy baby changing pad at the fraction of the cost.
So when you're out and about and need to change your baby, these disposable changing pads are a godsend! You can buy these by the hundreds and use them anywhere icky. They're really great in airports, where we spent a lot of time during Elle's first year!
6. Angel Dear Pillow
Instead of taking the boppy with us when we traveled, we used the Angel Dear Pillow and still use it every night when giving Elle her bottle in her little rocking chair. We use it either under our arm and hold her or use it under her head. And as she gets older, she can use it as her pillow! It's super duper soft and machine washable.
Play
Baby Play Areas & Toys – Infographic – Amy Myers MD®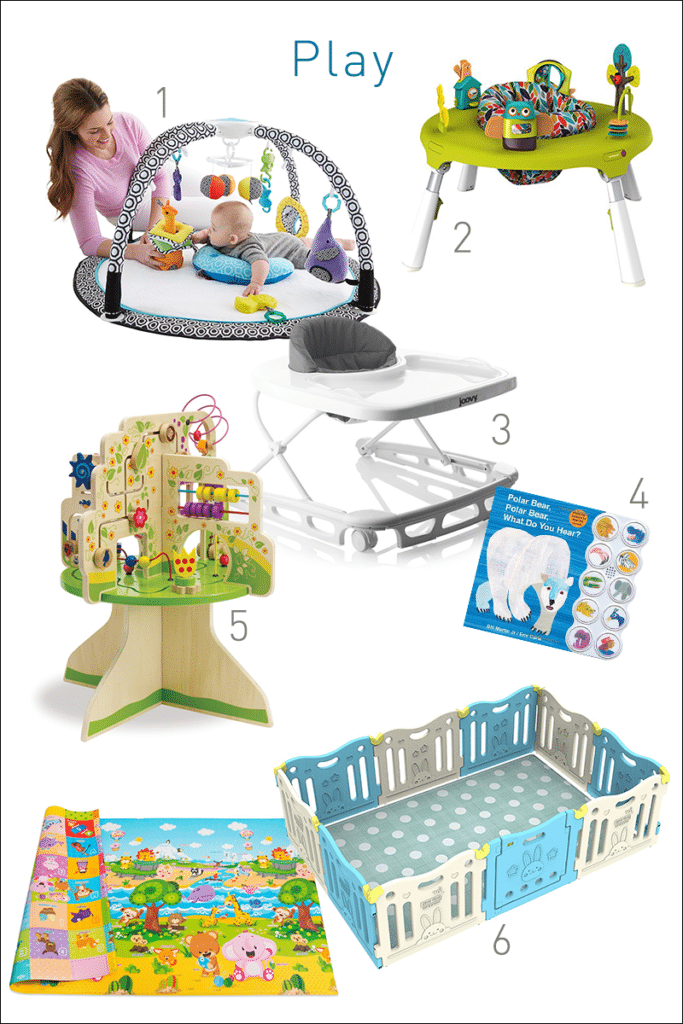 Dr. Amy Myers
March 3rd, 2018
https://content.amymyersmd.com/article/must-have-baby-products/
Baby Play Areas & Toys – Infographic – Amy Myers MD®
1. Fisher-Price Jonathan Adler Activity Gym
One of my mom's best friends gave us this activity gym, which went along perfectly with Elle's safari theme! It has a sort of art-deco architectural feel, and is one of the prettiest play gyms I'd seen. What's cool about this gym is you can take the parts off and use them as stuffed animals or rattles when traveling.
Elle used it for months upon months when she was a baby lying on her back, and even as she got older sitting up. Our dog Mocha loved it too–she would go under there and sleep in it!
2. Oribel PortaPlay Activity Center
As Elle got older and was able to sit up more, she moved into the Oribel PortaPlay Activity Center. This was great for when we were cooking in the kitchen and she could be in there playing. Something else I love about this activity center is now we've converted into a little table that we use for arts and crafts, drawing, and coloring. So again, it's always wonderful when you buy something for the baby that has another use and you don't have to get rid of it after a certain stage.
3. Joovy Walker
Elle moved into the Joovy Walker next as she went from sitting to trying to walk. She still uses it now even though she's virtually walking. It's great for babies to learn how to get their legs stable and strengthened, and has a big tray for snacks or activities.
4. Polar Bear, Polar Bear, What Do You Hear? Sound Book
Elle got this book for Christmas, and it is her absolute favorite! There are buttons you can press to hear the sounds different animals make. We have multiple copies that we keep at home and packed for travel. Now as some of her friends are turning her same age, it's what I've given to them as gifts because she loves it so much!
5. Manhattan All-in-One Play Tree
This Manhattan Toy Tree is an incredible activity center and will keep your child entertained for hours on end! Manhattan Toys is a good company that uses all non-toxic paints and woods.
6. Baby Care Gate and Play Mat
Usually with rubber and plastic I will have real issues with off-gassing. However, I had no trouble with this playmat whatsoever because it is made to European safety standards! It's two-sided, with activities on one side, and the alphabet on the other. Plus, it's super padded for when your baby is trying to stand up and they fall down, or when they're crawling and rolling around.
The Baby Care Gate goes with the play mat. A nice feature of this gate is it has a lot of little suction cups on the bottom so it doesn't topple over very easily.
Your choice in baby shampoo or opting for glass bottles may seem small, however remember that each toxin exposure adds up over time and even minimal exposures can make a big impact on your baby's developing body. As a new mom, functional medicine physician, and someone who has struggled with my own autoimmune thyroid condition, I am so glad that these organic, healthy, and toxin-free (and adorable!) products are readily available, and that I'm able to ensure that all of Elle's baby products will help set her up for optimal health. My hope is that this information will save you, your sister or a friend from having to spend the hours researching like I did–and that it will inspire you to make healthier choices for our next generation.
What are your favorite year one baby essentials? Share in the comments!