I'm going to start with what I've told thousands of patients in my clinic: Eat fresh, organic foods. That's the focus of a Paleo meal plan which is based on what hunter-gatherers ate, and take-out food is often the exact opposite of that.
Yet today we're in a very strange place that we just never expected. Some cities are under a complete "shelter-in-place" rule while others have different restrictions in place. Everyone is limiting contact with others and practicing social distancing. A lot of people are working from home, and many businesses have shut down, hopefully just temporarily.
While many of you know I don't normally advocate eating out — and especially not at fast-food places — the fact is that in many regions those are the only places open. So if you want to get out of the house, and support your local economy, hopping in the car and hitting the drive-thru is one of your very few options. That's provided, of course, you make good choices!
Remember though, that even the best quick and healthy dining options are unlikely to provide the full range of nutrients your body needs to thrive. For example, fast food can contain 30-42% more calories and significantly fewer nutrients than home-cooked food.1
That's why I recommend having a stash of my handy bars and my Paleo Protein or Organic Greens powders. Depending on the flavor, my Paleo Proteins contain 21-26 grams of protein per serving and are made with organic, non-GMO beef. My Organic Greens is chock-full of organic superfoods and adaptogens. They're both satisfying, clean Paleo choices.
My bars are an even easier option. My Chewy Chocolate Paleo Bar is packed with 12 grams of protein, and my Coconut Joy Bars have a satisfying 11 grams of fiber in each delicious bar. Additionally, I now offer delicious Double Chocolate Brownie Collagen Bars with 11 grams of protein and 6 grams of fiber. They taste so good, it makes it easy to skip the donut shop drive-through.
4 Paleo Takeout Options
The good news is that Paleo fast food options and healthy dining are actually more readily available than you might think. Here are some popular foods, chains that serve them, and the best options to choose at each one.
The Best Paleo Take-Out Options – Infographic – Amy Myers MD®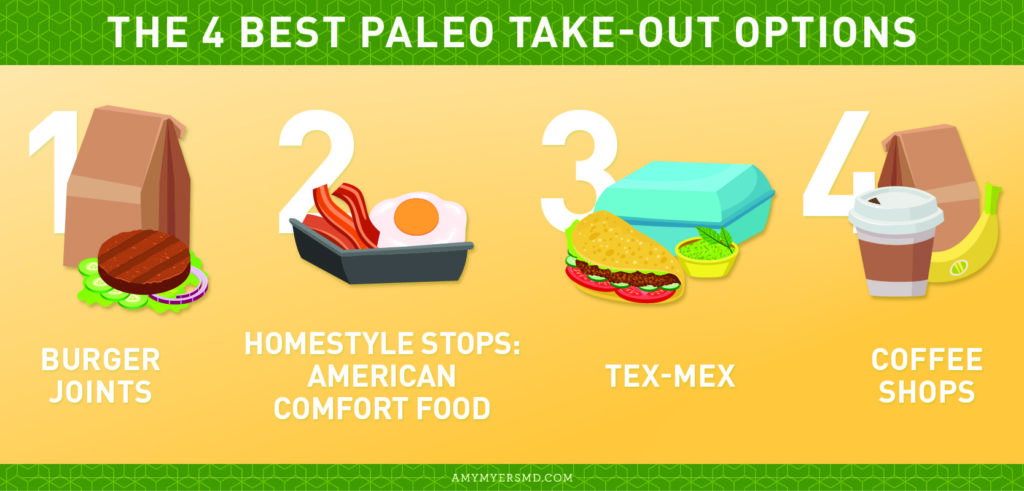 Dr. Amy Myers
March 29th, 2020
https://content.amymyersmd.com/article/paleo-take-out/
The Best Paleo Take-Out Options – Infographic – Amy Myers MD®
1. Burger Joints
One of the best keto fast foods that's also a great Paleo takeout option comes in the form of a high-fat, bunless burger. In N' Out has 300 locations in California, Arizona, Nevada, Oregon, Texas, and Utah. Five Guys Burgers and Fries can be found at over 1,500 locations worldwide. Shake Shack operates in more than 162 locations across 12 countries and 20 U.S. states, plus Washington D.C.
If you're familiar with In N' Out, you know that their food is never frozen and their restaurants don't even have microwaves, heat lamps, or freezers. If you want to grab something on the go and stick to your diet, In N' Out's classic hamburger, "protein style," without the spread is a great choice. Feel free to add extra tomato, grilled onions, and some mustard while you're at it.
On the plus side at Five Guys, your bunless burger can be ordered in a box and eaten with a fork to eliminate a messy hands situation.
Shake Shack makes your burger to order from antibiotic- and hormone-free grass-fed beef, so it's easy to get a bacon burger on lettuce with tomato and onion. This option can work at many places, provided they don't serve shredded lettuce!
2. Homestyle Stops: American Comfort Food
As long as you can call ahead to order and pay, and pick it up curbside, Denny's could be an option. That's because this is the kind of diner where you can customize your order no questions asked. In fact, they encourage it with their "Build-Your-Own" options for both the Grand Slam™ and the omelets which offer some paleo diet foods. Additionally, they offer a Fit Fare® Veggie Sizzlin' Skillet which is made with potatoes, egg whites, and a lot of veggies!
Other stopping points to consider for paleo takeout include Cracker Barrel and Sizzler® as long as you can call ahead and have the meal brought to your car. These fast-casual restaurants also offer more customizable, all-day menus with paleo-friendly ingredients such as grilled meats.
At these fast-casual restaurants with set menus, opt to select your own sides. Restaurants can always prepare steamed vegetables or a side salad for you. Ask about cooking oils used in the kitchen and nutritional information guides. Keep in mind that these locations cannot always guarantee "gluten-free" menus, as they may not meet the FDA's guidelines and there is the risk of cross-contamination.
3. Tex-Mex
Chipotle is a widespread chain with more than 2,400 locations including 27 sprinkled in Canada, the UK, and other European countries. Some of these now have drive-thru lanes. While you have to skip the rice, beans, cheese, sour cream, and corn salsa, you can still get a yummy burrito bowl. Double up on the meat or chicken, and add guacamole atop your lettuce and fajita veggies. Add red or green salsa and you're good to go.
Another paleo takeout option is El Pollo Loco. It has 401 locations in Texas, Arizona, Louisiana, Nevada, and California, and their menu is incredibly Paleo-friendly. All along the West Coast and throughout the South, their grilled chicken plates can be catered to your diet. Forgo the beans and rice and opt for steamed broccoli — you'll actually be setting yourself up for a relatively healthy (and quick) meal.
El Pollo Loco is just one example of a fast-food restaurant that serves grilled chicken plates for a healthy paleo takeout meal on the go. Other Mexican-style stops where you can customize your order include Moe's Southwest Grill, and Baja Fresh®. Moe's even has a keto menu if you're trying to keep your net carb count low.
If you're really in a pinch you can customize your order at fast-food chains such as Taco Bell® and Del Taco. You'll have to replace any rice and beans with extra lettuce, and ditch the cheese and sour cream.
4. Coffee Shops
Coffee shops are everywhere! Starbucks® alone has over 15,000 locations in the U.S. and 78 in markets around the world. And this coffee shop is not alone in offering quick, thirst-quenching options.
Starbucks® and others such as the Coffee Bean & Tea Leaf® have some fair options when you're in a pinch. You can order iced or hot black coffee (I advocate decaf if you must have coffee!), herbal tea, or a latte using unsweetened almond or coconut milk. Make sure you don't add any artificial sweeteners to your drink. Additionally, coffee shops offer great options for a quick bite including single-serve bags of mixed nuts, fresh fruit, and hard-boiled eggs.
Paleo Takeout Tips for All Locations
You probably understand which foods and drinks aren't compatible with a Paleo diet. Yet it's easy to get caught up when you're making a quick choice at the drive-through window. This is particularly true if you follow a ketogenic diet as well as Paleo. Keep these healthy rules in mind no matter where you end up eating:
You still need to practice social distancing–order online or by phone; pay in advance; and have the food brought curbside.
Drive-thrus are another great option.
Opt for water or sparkling water if available.
Pass on the sauces — they add A LOT of calories, and most often it's not clear what's in them.
While deep-fried is bad in general (and of course you have to pass on the French fries), breaded and fried is worse; skip the onion rings, poppers, and fried chicken sandwiches!
Buns are out! Luckily, many restaurants are happy to serve your meal without the bun. If they aren't, simply leave it on your plate or give it away.
If you're also following The Myers Way®, see the Foods to Enjoy and Foods to Toss ebook for further refinements.
Note: Many chains cook with soybean oil or put it in their salad dressings. If this is an issue for you (as it is for me) skip the dressings and opt for something grilled.
A Few Last Thoughts
Remember, not even the best "healthy" fast food restaurant is as nutritionally balanced as a home-cooked meal. Yet with everything going on right now, getting out of the house for a few minutes and doing something "normal" might be just what you need. Remember to stock up on Paleo Protein or Organic Greens powders for satisfying drinks or some of my delicious bars that make it easy to be healthy wherever you are!
I hope you'll all follow the guidelines set up in your community so that we can all return to our usual lives as quickly as possible. Together, we can stop the spread and focus on supporting our optimal health.
For more information
After years of suffering from thyroid dysfunction, Robb Wolf tried going Paleo to help relieve and reverse his condition. That decision turned into a lifestyle, and he now speaks to others about how to balance a Paleo diet with appropriate exercise to support optimal thyroid function.