I cannot believe it's been exactly eight years since I married my soul-mate and best friend, Xavier! The past eight years have been a complete whirlwind for the both of us. I released my first book ,"The Autoimmune Solution," an instant New York Times bestseller, and my second book, "The Thyroid Connection," also a New York Times bestseller. We welcomed our daughter, Elle, traveled to foreign lands, Xavier left his career in construction and joined my team, we've grown our AMMD staff from 5 to 46, we've welcomed a niece and nephew, and said goodbye to Xavier's grandfather.
Below is the blog to recap our The Myers Way® approved reception.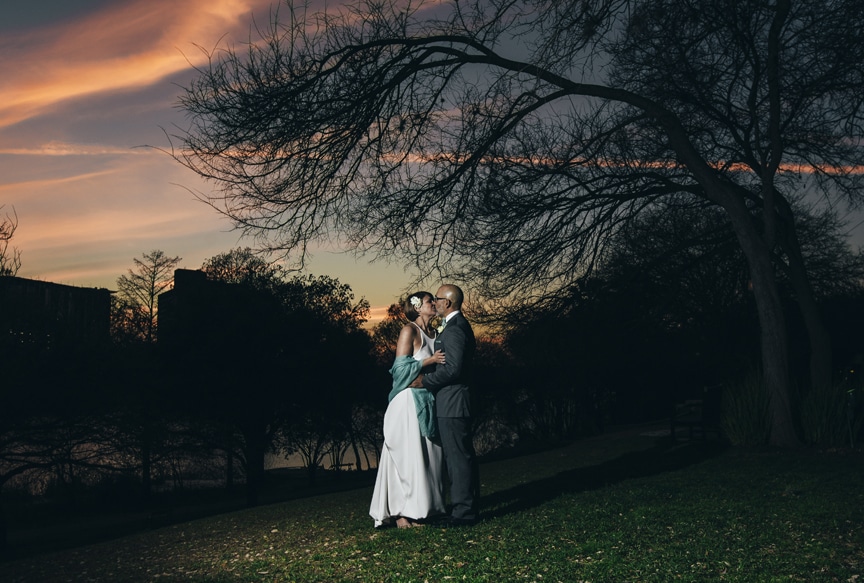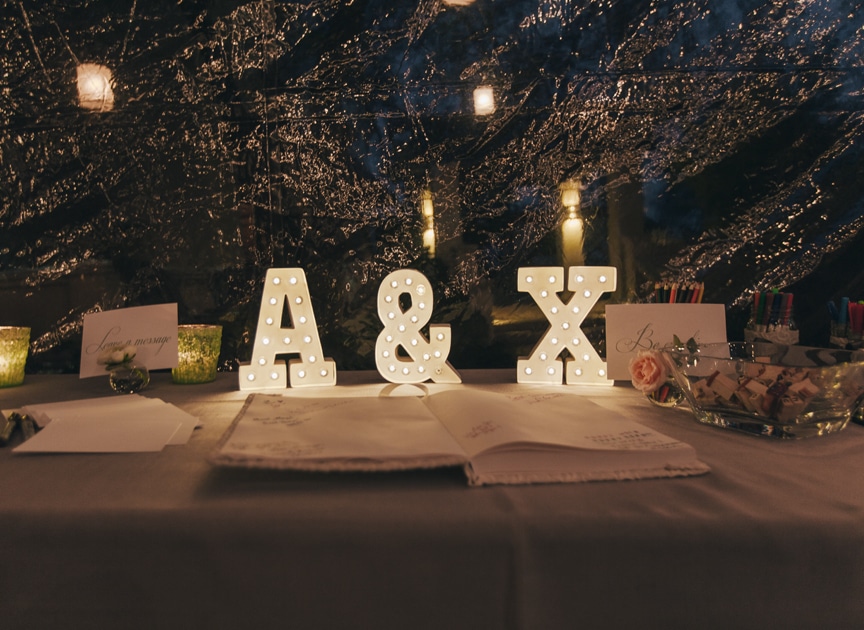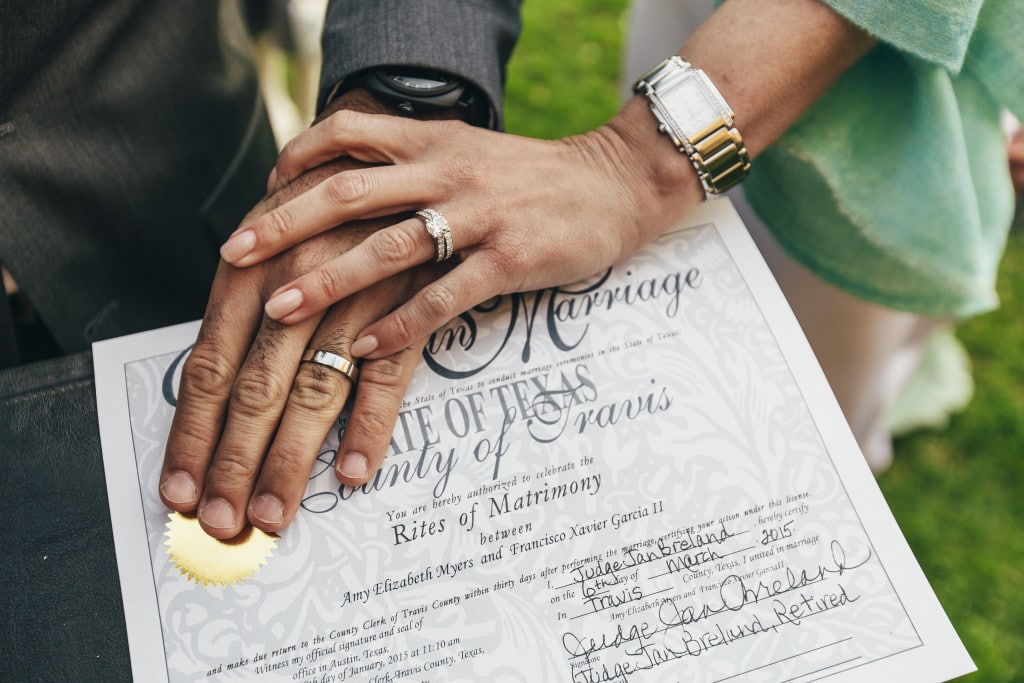 When Xavier and I got engaged, he said to me, "all women dream of their wedding day – what have you been dreaming of?" I had never really dreamed of my wedding other than I knew I wanted to get married outdoors. I figured that together, with whomever I was with, and whatever stage we were in life that together, we would decide what our wedding would look like.
Since Xavier had been married previously, and I had never been married, he said he wanted me to decide what I wanted, and he would go along with whatever I decided. I, of course, wanted it to be our wedding not my wedding, and I wanted us both be involved in the process.
However, since I had never thought about a wedding before, I centered myself and the following came to me as being what was most important to me on our wedding day:
1. Celebrating with family and friends
2. Honoring my mother and making sure that her presence was felt
3. Creating a unique and meaningful outdoor ceremony
4. Serving a simple and elegant dinner that was reflective of my dietary beliefs
Once I was clear on what I wanted, I checked in with Xavier to see if his feelings matched mine and they did. We then quickly sprung into action with only three short months to plan with a book release in the middle of it all.
Celebrating with Family and Friends
Initially we were thinking it would be wonderful to have a destination wedding at an exotic and beautiful outdoor venue. However, I knew I could not get married without my father being there and, because of his illness, where we got married was going to be deeply dependent on him and where he was able to travel. I was thrilled he was willing to fly to Austin since he had not been on a plane in over five years.
For those of you who have ever planned a wedding, you know how difficult it is to coordinate everyone's schedules. My sister was pregnant and due in April, Xavier's sister-in-law was having a baby in June, my nieces go to summer camp then school starts, so after it was all said and done we had to either get married without someone, plan it for October, or dive in and plan a wedding in the spring with only three months to prepare. We opted for diving in and planning in three months.
I also knew that without my mother, I wanted all of her five siblings and her three best friends to be there. And of course Xavier's family, and we each selected a handful of friends from various times in our lives.
We were on track to have everyone there when a storm hit the east coast two days before our wedding and my father and stepmother nearly did not make it in time. They missed the rehearsal dinner but thankfully they made it the next day for the ceremony. One of my aunts got sick and Xavier's uncle could not make it at the last minute. My sister and maid of honor emergently delivered her son August, six weeks before his due date and the day before our wedding. Luckily, my best friend from the Peace Corps and founder of Babo Botanicals stepped in as my maid of honor at the last minute.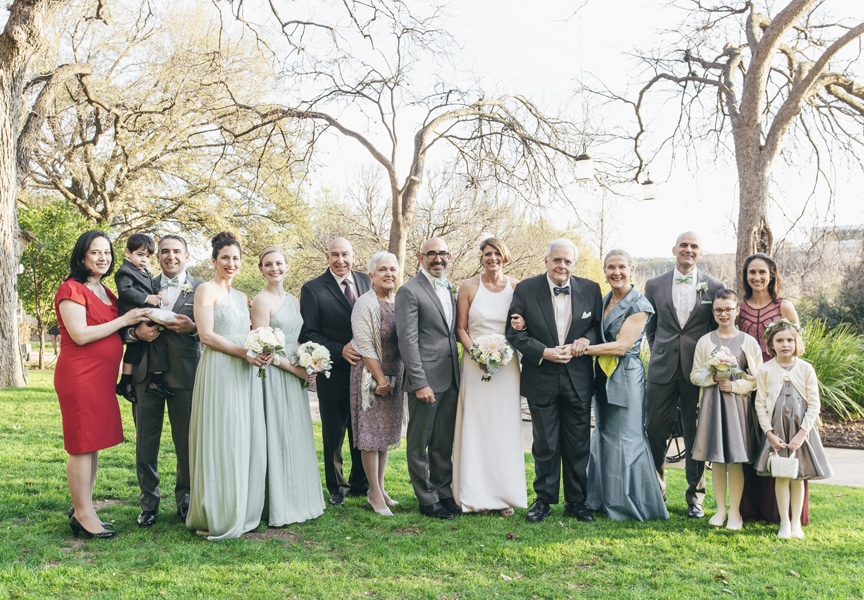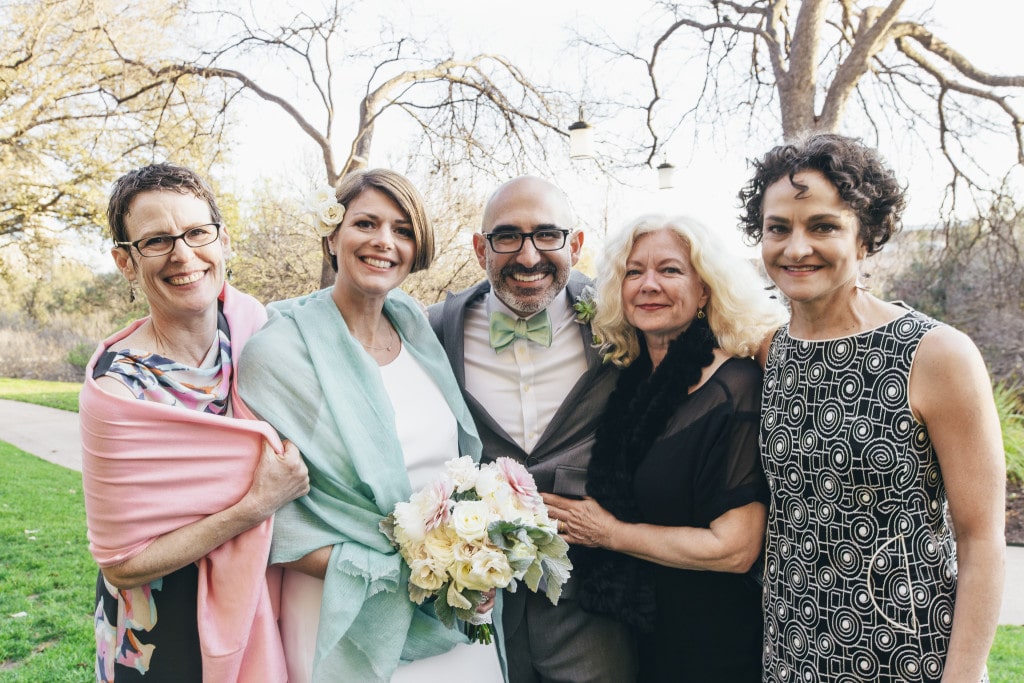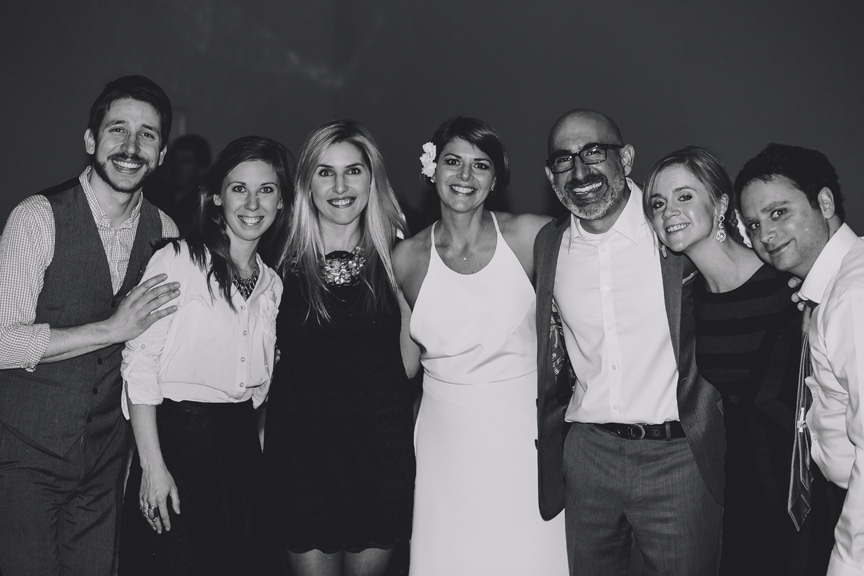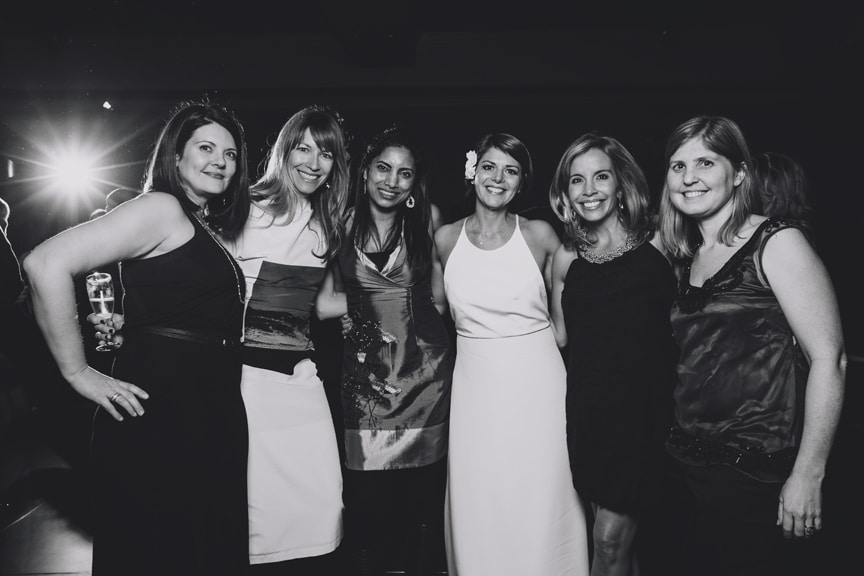 Honoring My Mother
My mother held degrees in fashion design, art, art history and architecture. Growing up we did not have much money and she would make a lot of my clothes. I have wonderful memories of spending Saturdays at the fabric store looking through the Vogue pattern catalogs and selecting fabric, buttons, zippers and ribbons for dresses she was going to make for me. One day after going out alone, she came home with beautiful white linen with embroidered pattern fabric and proudly said' one day I will make you a wedding dress with this fabric. It's very fine embroidered linen and it was on sale"
My mother passed away from pancreatic cancer 24 years ago and I held on to the linen all of these years. Once Xavier and I were engaged I searched through boxes and found the fabric and was surprised to find it in mint condition. After several meetings with a seamstress I wasn't feeling excited about using the linen to make my wedding dress, it just didn't seem to 'be me.' After struggling with what to do, I decided to find a fabric that was 'more me' and to incorporate my mother's fabric throughout the wedding. I covered the ring bearer's pillow, the flower girl's basket and the guest book with my mother's fabric. We also used it on jars and vases throughout reception and on small succulents we gave as wedding favors.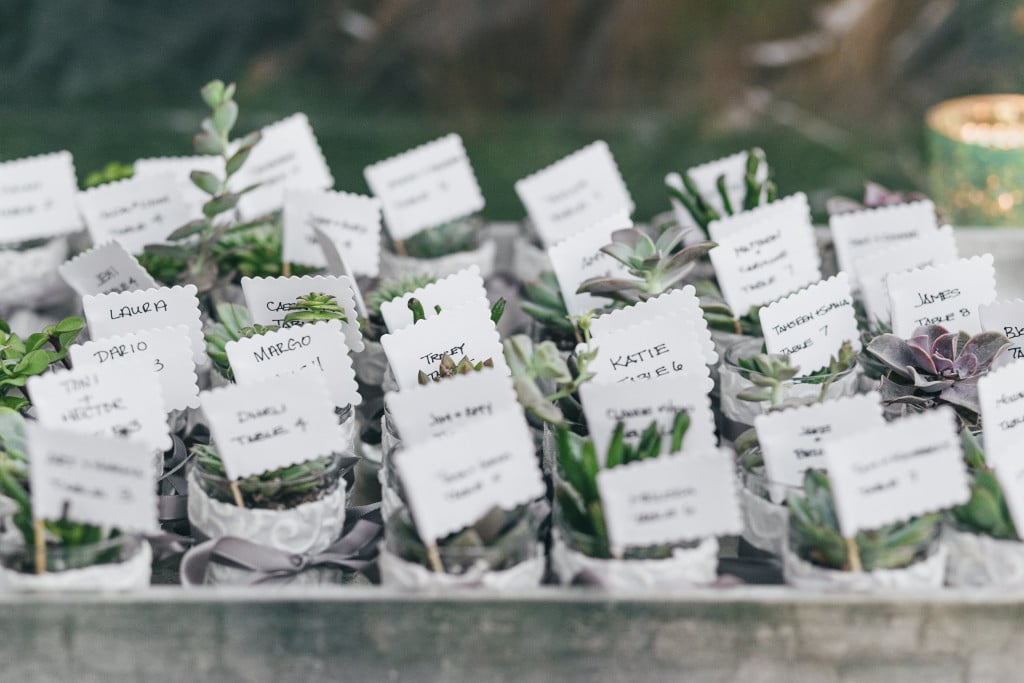 In addition, to honor my mother, I had a table with white roses (my mother's favorite) and a photo of us from a trip to Brazil placed next to where Xavier and I exchanged our vows. As part of the ceremony, I had asked my mother's three best friends to carry an item that represented an important aspect of my mother's life: a crystal pyramid, a crystal globe and a metal cross and place it next to our photo on the table. These are the same items they carried and placed on the altar at my mother's funeral.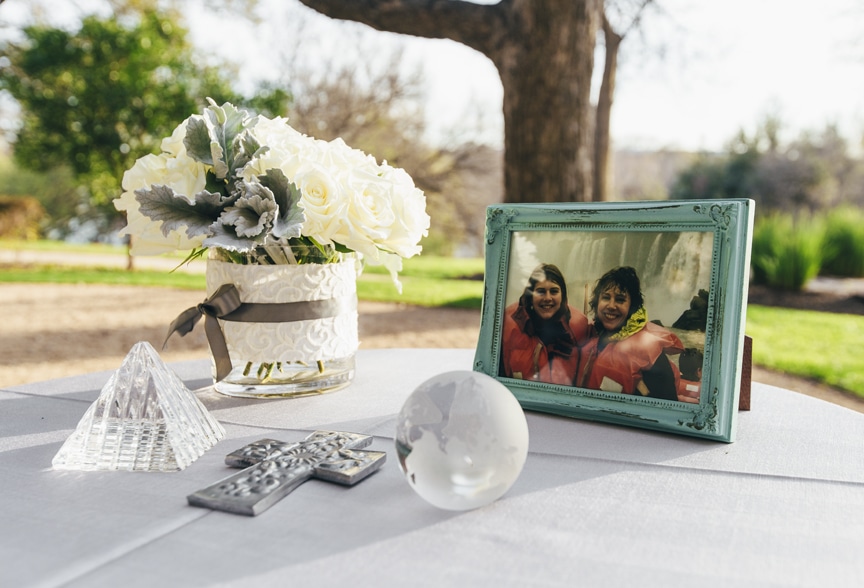 Intimate and Meaningful Outdoor Ceremony
I knew I wanted to get married outdoors. Growing up in New Orleans, I have always had a love for old oak trees.
Xavier and I were so excited to find that the Four Seasons still had an opening in March and we could have our ceremony outside under an oak tree that overlooked the lake, followed by drinks on the patio, and dinner on the lawn under the stars, and almost full moon, and then move inside for dancing and dessert.
The weather in Austin in March can be one of two things, amazingly beautiful and warm, or freezing and raining. We of course were hoping for the former. However, it rained for a solid two weeks leading up to our wedding and it was cold! Three days before the wedding I needed to tell the Four Seasons if we were moving the ceremony and dinner indoors, the weather was expected to sunny but cold.
Now up until this point, things had been almost completely stress-free (the storm had not hit, and my sister had not delivered yet), but I was told even if it stopped raining that day, it might be too muddy to get married on the lawn under the oak tree. And to top it off, the quartet reminded me that they were not required to play if it was below 60 degrees.
I was ok moving the dinner indoors but I was devastated about the idea of getting married indoors. We not only had our hearts set on getting married under the oak tree in a circle of roses with nature and the lake being our backdrop and 'altar.' If we got married indoors we had no flowers, decorations or altar – it would be a backdrop of a wall. I decided, no matter what, I was getting married outdoors, quartet or no quartet. The day of the wedding it was cold and overcast. We set the quartet off to the side and put heaters around them, we held the guests indoors until right before the ceremony and just as the ceremony began the sun came out for the first time in weeks! It was an absolute blessing. It was cold but it was beautifully sunny.
We had another stroke of good karma when the Four Seasons suggested that the wedding party the next night install their tent the day of our wedding because it was predicted to rain the next day. They asked on our behalf if we could use the tent and to our good fortune they let us use their very expensive clear tent with heaters and all we had to do was pay for the heat. I never met this bride, though my stepmother did and thanked her, so whomever you are – thank you from the bottom of my heart.
My dear friend and mentor, Dr. Katie Hendricks officiated our ceremony. Xavier and I stood in a circle of white rose petals and we wrote our own vows, which we pulled from a silk bag and read one at a time. The guests joyously laughed at Xavier's 'vow' to remain gluten free and my 'vow' to always root for the Cowboys and Aggies!
In addition, my aunt read a blessing that my mother had written to me as I left for the Peace Corps. Xavier's father read "The Wedding Song" by Bob Dylan, Xavier's favorite artist.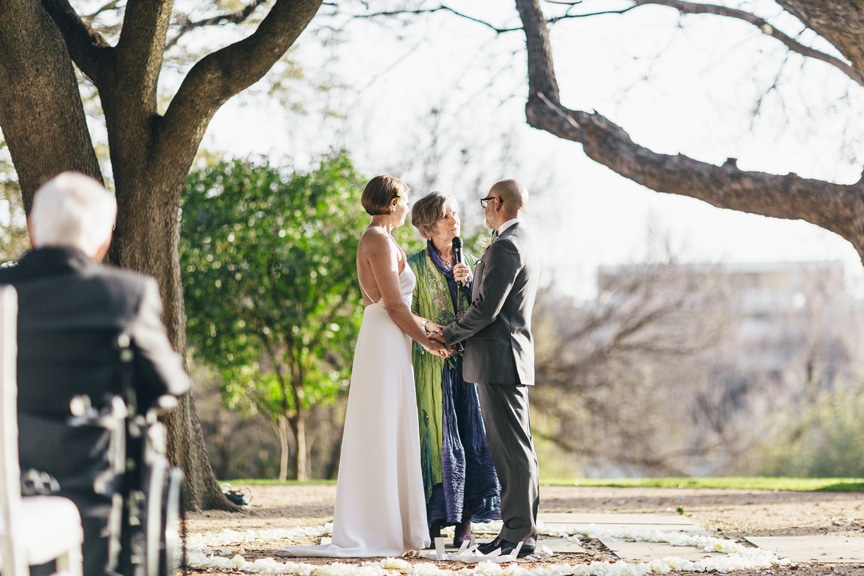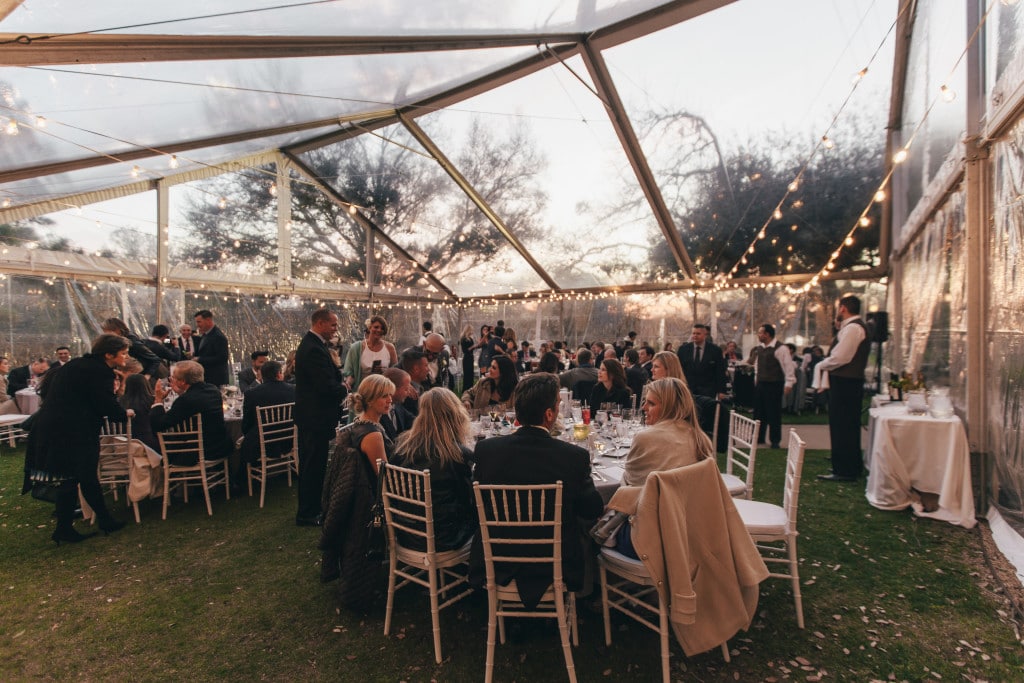 Serving a Simple and Elegant Dinner that was Reflective of My Dietary Beliefs
When we first spoke with the Four Seasons wedding coordinator I told her I wanted to have a The Myers Way® approved wedding menu– 100% gluten and dairy free. Her first response was to say that they had never done a fully gluten free and dairy free wedding, and she suggested that they do that for me and that they prepare something else for all of the guests. I responded that I was committed to demonstrating that a gluten-free, dairy-free wedding could be easy and delicious. And it was! Everyone loved the food and could not believe it was gluten-free, dairy-free, legume-free and essentially grain-free (except the cakes).
During the cocktail reception we had passed hors d'oeuvres of coconut shrimp, lamb meatballs, chicken tenders bites, and spinach and artichoke stuffed mushrooms. Our signature drink was a Moscow mule. Then we served a three course seated dinner of the following:
First course: Crusted lump crab cakes with chipotle aioli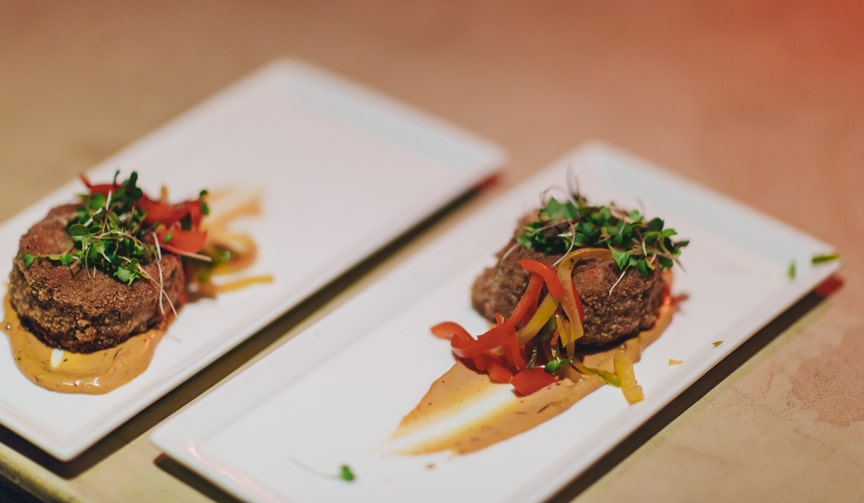 Second course: Salad of organic field greens, spinach, goat cheese, spiced pecans and heart of palm
Third Course: Grass-fed Asian marinated beef tenderloin, organic roasted chicken, twice baked sweet potatoes, and garlic broccolini
After dinner we moved indoors for coffee, tea, and of course wedding cake.
My cake was a traditional almond flavored wedding cake topped with succulents.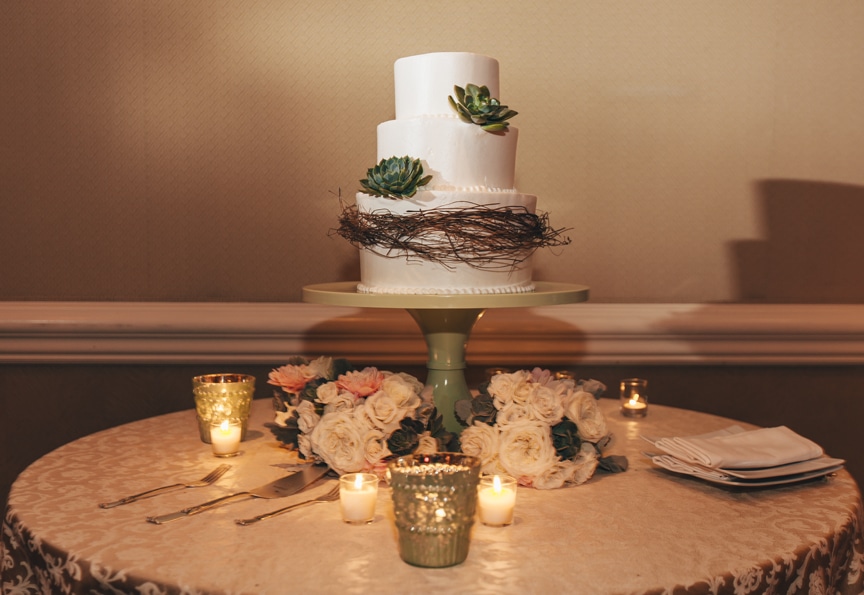 Xavier's cake was an almond flour chocolate cake in the shape of a camera.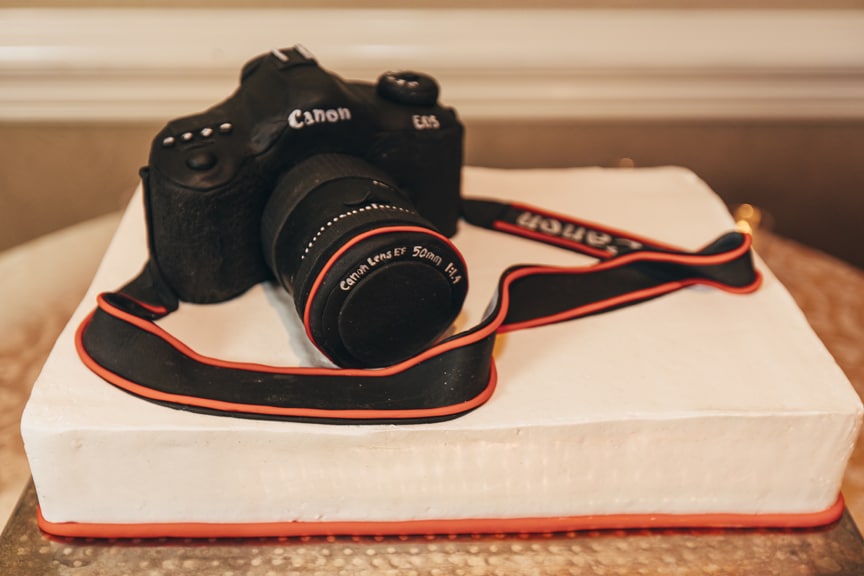 In addition we had a coconut ice cream sundae bar provided by LICK.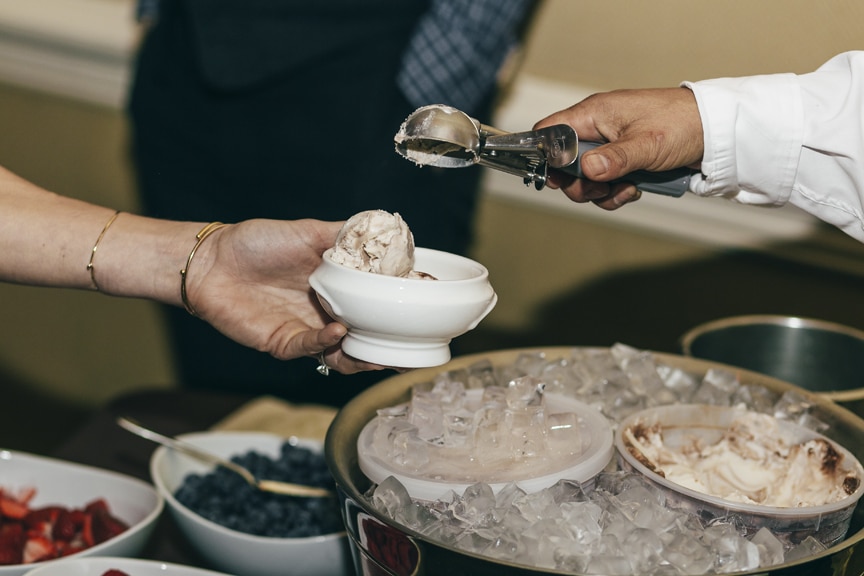 Then it was time for the dancing.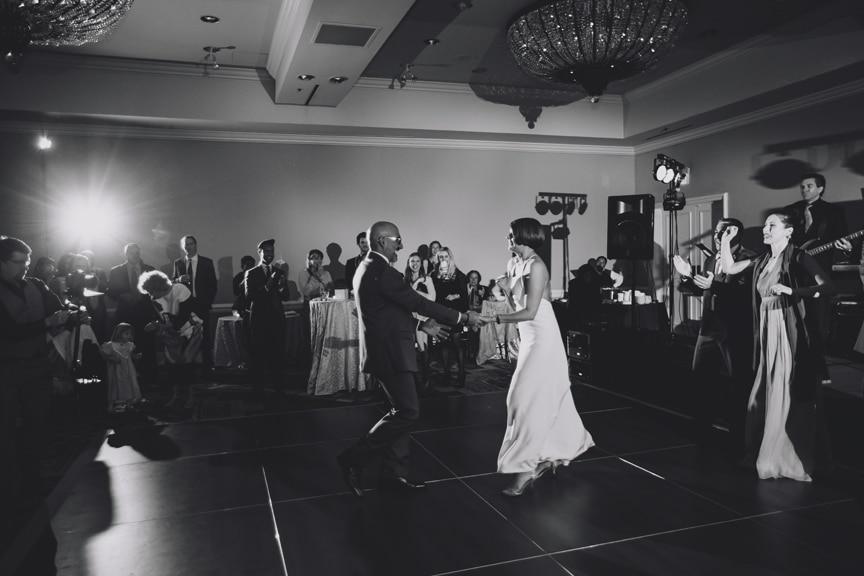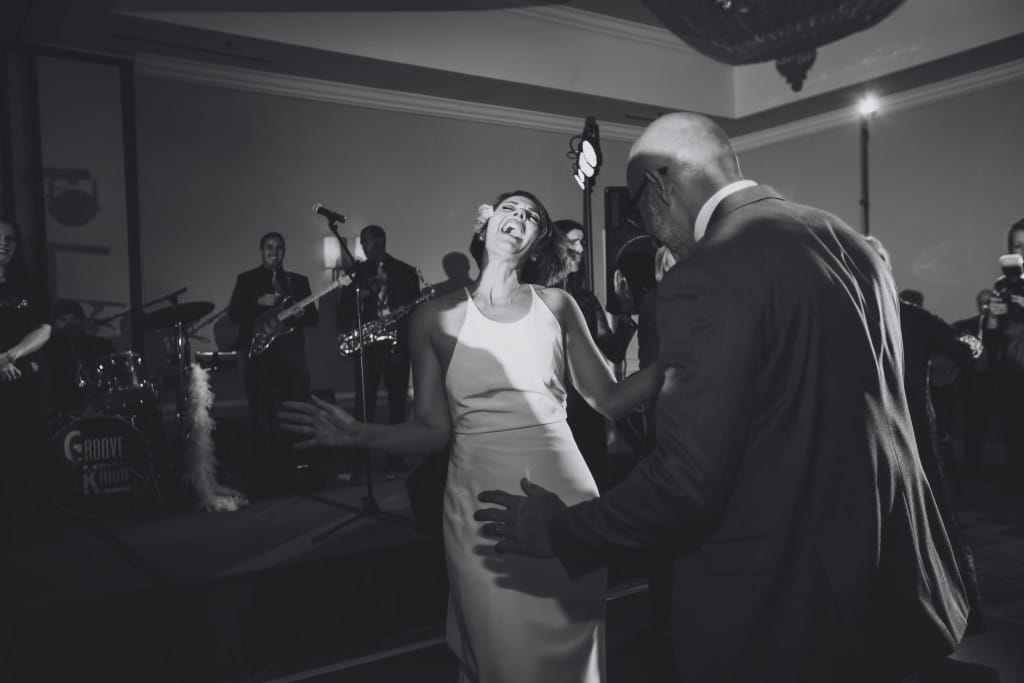 Our wedding song was Eva Cassidy's version of Song Bird and then we danced as a group to a song we each dedicated to one another. I picked I'm The Man for Xavier and he picked This Girl is on Fire for me.
In the end, it was an absolutely perfect day. The weather was cold but beautifully sunny. We had (almost) all of our family and good friends there. The food was amazing! We had a large, warm, clear tent in which to eat dinner outside, and under the stars and look at the almost full moon. And to top it all of I married the most amazing man I could have ever asked for.
Today, Xavier and I are back at The Four Seasons having brunch, looking out at the beautiful oak tree and eating a piece of our wedding cake, and loving one another more now than ever.
This past year has brought us many amazing moments, as well as more challenges than many couples face in a lifetime, and through it all Xavier has continued to be the most patient, kind, generous, tolerant, understanding person I have ever known. Xavier you are an amazing man and husband. You are simply perfect, and I am beyond blessed to have you as my life's partner. I love you more everyday. Happy anniversary babe! Here's to many many more!
You can also watch the video below to see the highlights from our wedding!
Venue: The Four Seasons Austin //www.fourseasons.com/austin/
Officiate: Dr. Katie Hendricks //www.hendricks.com/about/
Invitations: Silver Papery //silverpapery.com
Flowers: Pollen Art //pollenfloralart.com
Quartet: Hill Country Strings //hillcountrystrings.com
Band: Grove Knight //www.grooveknight.com
Photographer: Michael Thad Carter //michaelcarterweddings.com
Videographer: Photohouse //www.photohousefilms.com
Chairs and linens: Premiere Events //premiereeventsonline.com
Lighting: FILO Productions //www.filoproductions.co
Programs, menu & table numbers: Ali Overton
Thank you cards: Tina Johnson //tinaj.com
Bride's dress: Linda O'Krent
Bridesmaid dresses: J Crew
Hair: Irene Perry //www.crimsonhairandskin.com
Makeup: Shirley Pinkson / W3LL People //w3llpeople.com
Catering & Cakes: The Four Seasons
Coconut Ice Cream Bar: Lick //ilikelick.com