AIP Blueberry Crisp
This Blueberry Crisp is my favorite go-to recipe when I need a no-hassle dessert that comes out perfect every time. This blueberry crisp is made without oatmeal or wheat in the crispy topping and uses coconut sugar to make for an AIP-friendly dessert. It can be made with fresh or frozen blueberries, so it is the perfect dessert for any occasion!
Health benefits of blueberries
Blueberries are not only delicious and low in calories, but they are also loaded with healthy antioxidants and nutrients. In fact, they are one of the most antioxidant-rich foods you could eat! Blueberries contain flavonoids, which are antioxidants that help protect the body from oxidative damage and may help reduce the risk of cancer and delay the effects of aging.
Blueberries also help lower blood pressure, reduce bad cholesterol in the body, help prevent heart disease, and lower the risk of diabetes. Not bad for a little berry!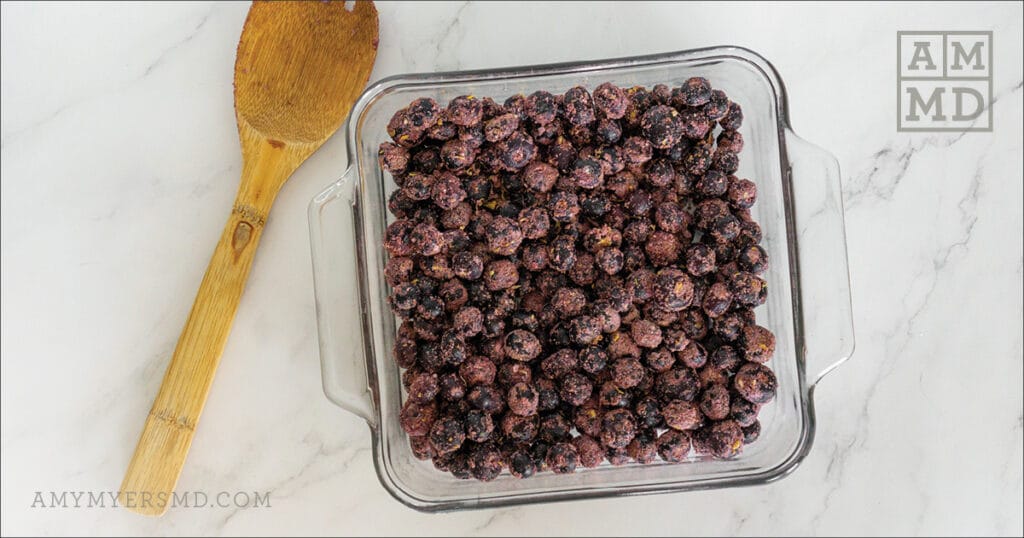 Dr. Amy Myers
May 13th, 2021
https://content.amymyersmd.com/recipe/aip-blueberry-crisp/
Baking pan full of frozen blueberries
Fresh or frozen blueberries
This AIP Blueberry Crisp can be made with fresh or frozen blueberries, so it is a convenient dessert recipe year-round. It's always a great choice to make this recipe with fresh, organic blueberries. However, if you're craving blueberry crisp in the winter when blueberries are out of season, using frozen blueberries is a great option! Frozen berries, fruit, and produce often contain even more nutrients compared to the "fresh" produce we buy in stores because it is frozen immediately after picking, preserving all the nutrients and health benefits of freshly picked berries.
The instructions and cooking time for using fresh or frozen blueberries are the same for this recipe!
Gluten-free AIP crispy topping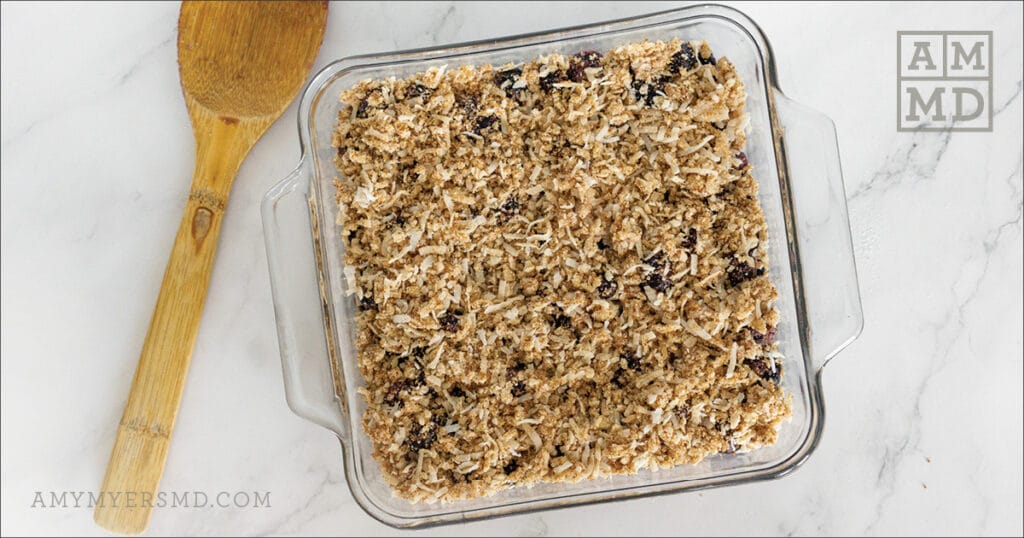 Dr. Amy Myers
May 13th, 2021
https://content.amymyersmd.com/recipe/aip-blueberry-crisp/
baking pan full of blueberry crisp – unbaked
Of course, blueberry crisp is not the same without a toasted, crispy topping on top of the juicy, sweet baked blueberries. Traditional crisp toppings are made with oats, wheat flour, refined sugar, and butter – all of which are not good for the AIP diet.
For this recipe, I used shredded coconut, coconut sugar, and coconut oil to create a crumbly, crispy topping that bakes up perfectly. Shredded coconut is dehydrated coconut. While it is high in calories, it also has a few health benefits and can be a great addition to a balanced diet, when enjoyed in moderation.
Shredded coconut contains coconut oil, which may help reduce bad LDL cholesterol and increase good HDL cholesterol. It also contains medium-chain triglycerides (MCTs), which help us feel full, promote calorie and fat burning, and boost good bacteria in the gut. Coconut also contains a lot of fiber, which helps with bowel regularity and helps us feel full.
Make sure to get unsweetened shredded coconut, because the sweetened one is loaded with refined sugar!
How to make blueberry crisp
This recipe is very easy to make: simply combine fresh or frozen blueberries with coconut sugar, cassava flour, and lemon zest in a large bowl and mix well. The lemon zest helps bring out even more blueberry flavor, but it is completely optional.
The cassava flour helps create that amazing texture similar to blueberry pie filling, once the blueberry crisp is baked! The coconut sugar is optional but adds a little sweetness, which is often necessary if using frozen wild blueberries, which can be a little tart.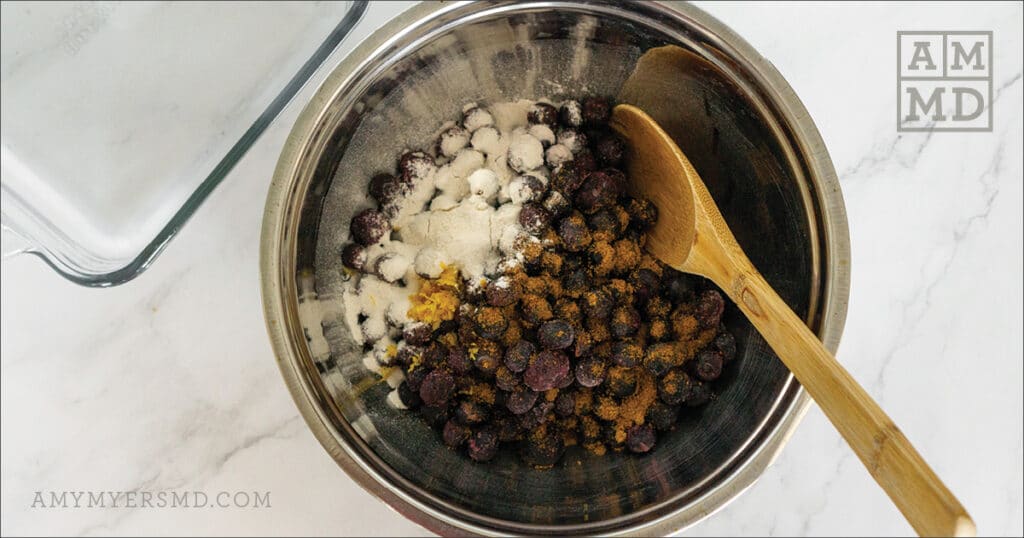 Dr. Amy Myers
May 13th, 2021
https://content.amymyersmd.com/recipe/aip-blueberry-crisp/
Coconut sugar, blueberries, and cinnamon combined in a mixing bowl
Transfer the blueberry mixture to an 8×8 inch baking dish, then make the crispy topping: Combine shredded coconut, cassava flour, coconut sugar, a little cinnamon, and coconut oil in a bowl and mix well with a fork until small crumbles form. The cinnamon really helps boost the flavor of the topping and adds some more antioxidants to this dessert
Spread this mixture over the blueberries and bake at 375 degrees fahrenheit for 35-40 minutes, or until the crispy topping is golden brown and the blueberries and hot and bubbly underneath.
Baking tip: Check on the blueberry crisp in the oven after about 25 minutes. If you notice the crispy topping getting brown but the blueberries are not burst yet, reduce the heat to 325 degrees and bake for another 10-20 minutes, or until cooked to your liking.
Dr. Amy Myers
May 13th, 2021
https://content.amymyersmd.com/recipe/aip-blueberry-crisp/
baked blueberry crisp
Allow the blueberry crisp to cool for a few minutes, then enjoy warm! This dessert would be fantastic with a scoop of Blueberry Lavender Ice Cream on top!
Other desserts you will love:
Ingredients
6

 cup 

1440.00

 ml blueberries fresh or frozen

1/2

 cup 

120.00

 ml coconut sugar divided

1/4

 cup 

60.00

 ml Cassava flour divided

1/4

 tsp 

1.23

 ml ground cinnamon

1

 Tbsp 

14.79

 ml lemon zest from one lemon

3/4

 cup 

180.00

 ml unsweetened shredded coconut

1/4

 cup 

60.00

 ml coconut oil
Instructions
Preheat oven to 375 degrees Fahrenheit.

---

In a large bowl, combine the blueberries with 2 tablespoons of coconut sugar and 2 tablespoons of cassava flour. Add the ground cinnamon and lemon zest, and mix well.

---

Transfer the blueberry mixture to an 8x8 inch baking dish.

---

Combine the rest of the cassava flour, the rest of the coconut sugar, the shredded coconut, and the coconut oil in a large bowl (you can use the same bowl). Mix well with a fork, until the coconut oil is well incorporated and crumbles form.

---

Spread the shredded coconut mixture over the blueberries.

---

Bake at 375 degrees Fahrenheit for 35-40 minutes, or until the topping is golden brown and the blueberries are hot and bubbly. If the topping is getting too brown but the blueberries are not cooked to your liking, turn the heat down to 325 degrees and bake until desired doneness.

---

Allow to cool for 5-10 minutes, and serve warm.

---