AIP Caramel Apples
I am excited to share this easy fall-themed dessert with you: AIP Caramel Apples made with a quick dairy-free, caramel sauce. The caramel sauce is made in under 15 minutes and tastes so rich, you'll never believe that it is dairy-free and completely without refined sugar.
IYou will be reminded of fall festivities from your childhood as you bite into these sticky, tasty, caramel treats!
An apple a day keeps the doctor away
You can feel good about enjoying caramel apples in the reintroduction phase and serving them to your family and friends because they are a healthier treat, as far as desserts go!
Apples are loaded with fiber, which help keep our digestive systems healthy and regular. A lot of the fiber in apples is in the skin, and since caramel apples have their skin on, they are a great way to get your daily recommended amount of fiber. Apples also have a lot of vitamin C to help keep the immune system healthy, which is especially important during cold and flu season which is starting now!
AIP caramel sauce
The AIP-friendly caramel sauce used as the coating for these apples is made with coconut sugar and coconut cream for a delicious dairy-free, refined sugar-free caramel sauce.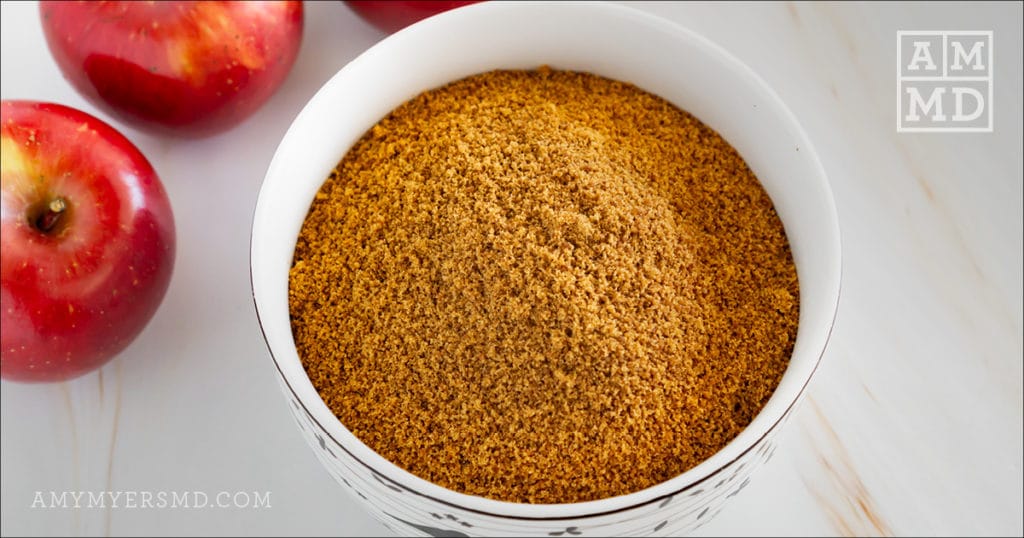 Coconut sugar is a healthier alternative to cane sugar because it has a low glycemic index. This means that coconut sugar does not have as much of an impact on your blood glucose levels and does not cause as large a spike in insulin as cane sugar. It also contains trace amounts of iron, zinc, calcium, and potassium. While the amount of each of these nutrients is small, every little bit helps us achieve our daily recommended amounts!
Coconut cream is used in this caramel sauce to help melt the coconut sugar and to give the caramel sauce a rich flavor. Coconut cream is the cream that rises to the top of coconut milk when it separates into cream and water. Coconut cream is thick and rich. It has the consistency of softened butter without any of the dairy.
You can find coconut cream in most grocery stores, but be careful not to confuse it with cream of coconut, which is a sweetened version of coconut cream. Check the ingredients to make sure there is no sugar added!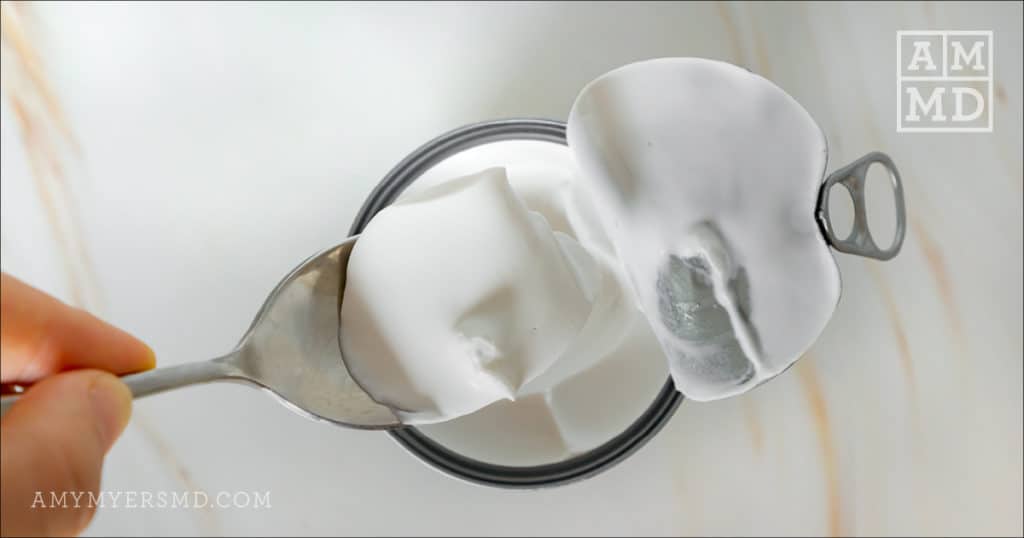 If you can't find coconut cream in stores, you can easily make some yourself: Just get two cans of full-fat organic coconut milk and place them in the refrigerator overnight, or for at least 8 hours. When you're ready to make caramel sauce, carefully open the coconut milk without shaking the cans, and the thick white cream you will see on top will be the coconut cream.
This recipe uses ½ cup coconut cream. Depending on the brand and fat content of the coconut milk you use, you might have enough coconut cream for this recipe from just one can of coconut milk. However, I recommend having two cans chilled and ready just in case one is not enough!
Easy caramel sauce
To make the caramel sauce, simply combine the coconut cream and coconut sugar in a small or medium saucepan and let the sugar melt over medium-low heat. If you wish, you can add a pinch of sea salt for a sea salt caramel sauce!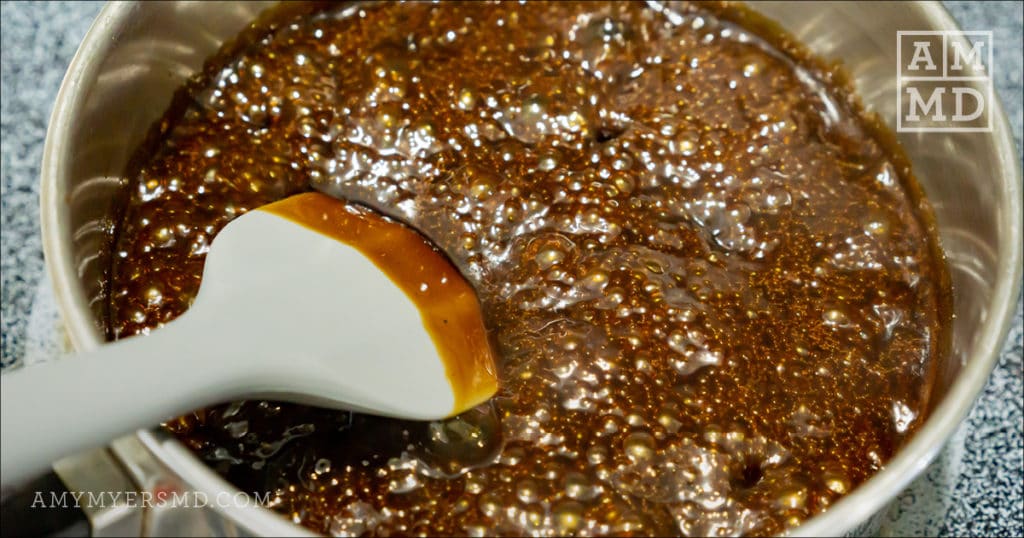 Stir frequently, and allow the melted sugar mixture to come to a boil. Cook over medium-low heat for 10-15 minutes, stirring frequently to make sure that the sauce does not burn on the bottom.
You will know the sauce is ready when it has thickened and coats a spoon in a nice thick layer.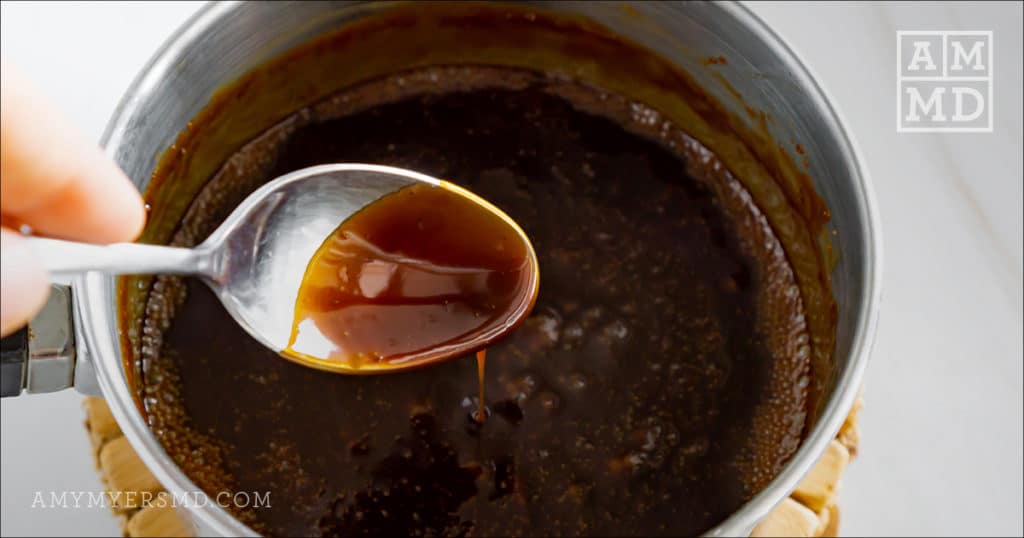 Crunchy caramel apple dips
I like to dip my caramel apples into unsweetened shredded coconut or cacao nibs. These are completely optional to use, but they add a nice crunch and a bit of fiber and antioxidants to these caramel apples.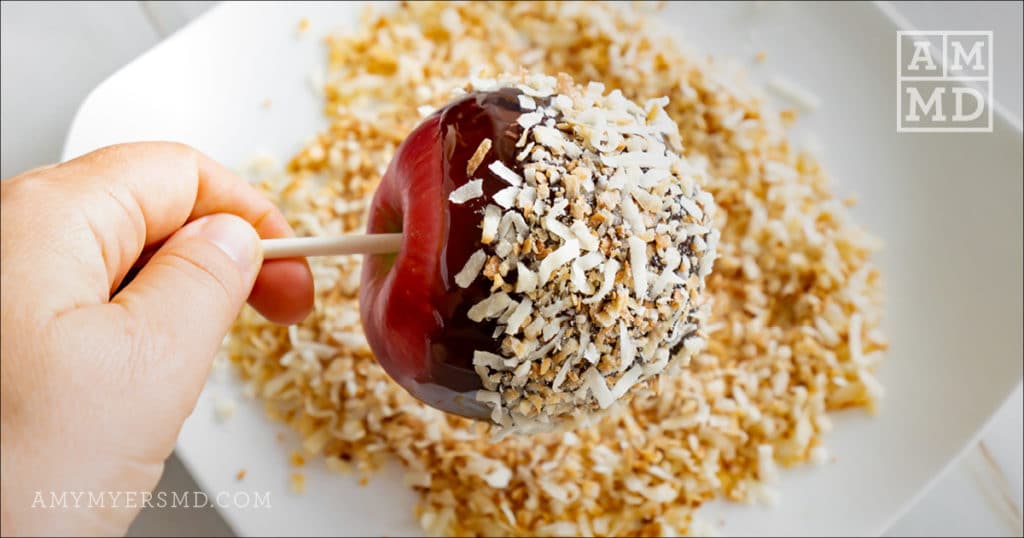 Tips for making the best caramel apples
Test whether the sauce is ready by using a spoon to drizzle a bit of the caramel sauce onto a clean plate. Wait for the caramel sauce to cool completely, then gently touch it with your finger. It should not be sticky. If it is still sticky, continue to boil the caramel sauce for a few more minutes and test it again. Alternatively, you can check if the sauce is ready by dipping an apple slice in it and allowing it to cool before testing it with your finger – this is the tastiest way to check whether the sauce is ready!
Purchase organic apples and wash them thoroughly.
Make sure your apples are completely dry before dipping them into the caramel. If you store apples in the refrigerator, bring them to room temperature a few hours before making the caramel sauce so they don't have any condensation.
After dipping each apple into the caramel sauce, hold the apple over the pot and allow the excess caramel to drip off and cool a little before placing them on a plate.
Spray or brush a plate or parchment paper with coconut oil, and place the caramel apples onto the greased plate or paper. This will prevent them from sticking so you can easily pick them up after!
This recipe calls for 2 cups of coconut sugar because you want to make enough caramel sauce to dip apples. You'll almost certainly have caramel sauce leftover. After you're done dipping caramel apples, you can reheat the caramel sauce when it hardens, or stir a little coconut milk in the sauce before it cools and you will have a caramel sauce that will remain dippable and spreadable. Use leftover caramel sauce as a dip for fruit or as sweetener in your Cauliflower Overnight Oats.
I hope these caramel apples bring a smile to your face like they did to me! Enjoy!
Other Fall desserts you will love:
Ingredients
8

apple

2

cups

480.00

ml coconut sugar

1/2

cup

120.00

ml coconut cream see note 1

1/8

tsp

0.62

ml sea salt optional

1

cup

240.00

ml Cacao nibs

1

cup

240.00

ml unsweetened shredded coconut divided
coconut oil or coconut oil spray
Equipment:
8

lollipop sticks or ice cream sticks
Wax paper or large plate, parchment paper
Small or medium saucepan
Instructions
Toast the shredded coconut in a medium pan for 3-4 minutes, or until golden brown, stirring frequently. Allow to cool.

---

Brush or spray a large plate with coconut oil, or lay down wax paper or parchment paper and brush with coconut oil.

---

Wash and thoroughly dry the apples. Insert the lollipop sticks halfway into the apples. Place the cacao nibs and the toasted shredded coconut into two separate bowls or plates.

---

In a small saucepan, combine the coconut sugar and coconut cream, and cook over medium-low heat for 10-15 minutes, stirring frequently. Stir in sea salt, if using. The sugar will dissolve in the coconut cream and come to a boil, increasing in volume. Continue stirring to ensure the sugar doesn't burn at the bottom. When the sauce starts to thicken, remove from heat and stir. The coconut caramel sauce should be smooth and should coat a spoon (see note 2).

---

Holding the apples by the lollipop sticks, dip the apples into the caramel and rotate slowly to coat in caramel sauce. Hold the apple over the sauce and let the excess caramel drip off as it starts to cool.

---

Immediately dip the apple into the cacao nibs or shredded coconut, then place on the plate or wax paper brushed with coconut oil and allow to cool before enjoying. Store for 3-4 days in a covered container at room temperature.

---