AIP Skillet Brownie with Dairy-Free Ice Cream
Celebrate National Chocolate Day with this gorgeous AIP Skillet Brownie topped with delicious Dairy-free Ice Cream and decadent chocolate sauce! This is an easy dessert that feeds a crowd and satisfies all the chocolate cravings. This AIP skillet brownie is made healthier with a gluten-free flour mix and unrefined sugars. It's so good served warm with vanilla ice cream!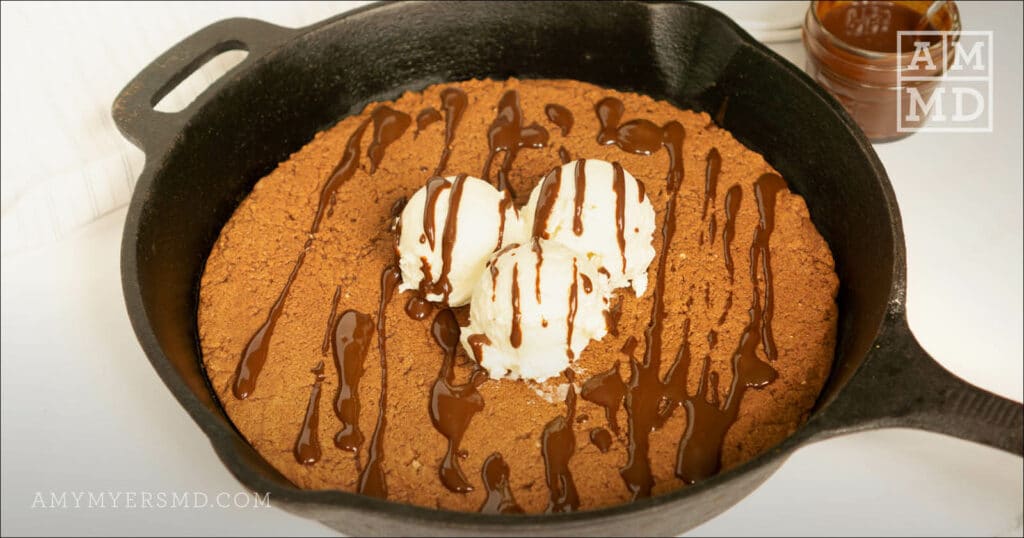 Dr. Amy Myers
July 1st, 2022
https://content.amymyersmd.com/recipe/aip-skillet-brownie-with-dairy-free-ice-cream/
Skillet brownie
If you've never made a skillet brownie, you're going to love this fun way of baking brownies! Instead of baking brownies in a square pan, you bake them in a round cast-iron skillet. To serve skillet brownies, you will slice them into wedges instead of squares.
The best way to serve skillet brownies is to allow them to cool for just a few minutes and then serve them warm, with a scoop or AIP dairy-free ice cream on top. If you cannot find dairy-free, AIP-friendly ice cream in stores, you can easily make some following this recipe for Strawberry Swirl AIP Ice Cream. Drizzle the whole thing with an easy AIP chocolate sauce. What a delicious way to celebrate National Chocolate Day on July 7!
For this recipe, you can use an 8-inch, 10-inch, or 12-inch skillet to bake the brownies. The larger your skillet, the thinner your brownies will be and the quicker the brownies will bake. For example, these brownies only needed about 18 minutes of baking time in a 12-inch skillet, but might need as much as 22-25 minutes in an 8-inch skillet.
Gluten-free AIP brownies
This skillet brownie is made with a combination of gluten-free flours: tigernut flour, cassava flour, and tapioca starch. The combination of these three flours makes for a great chewy brownie texture while keeping this AIP dessert gluten-free. Cassava flour helps reduce inflammation and makes us feel satisfied thanks to resistant starch, which also helps feed the "good" bacteria in the gut. Tigernut flour also contains resistant starch, as well as fiber and vitamin E. The type of fiber found in tigernuts is insoluble fiber, which helps food move through the digestive system easily.
The brownies are made chewy and moist thanks to a cup of sustainably sourced palm shortening. Palm shortening is a great replacement for butter, and this ingredient keeps the skillet brownie completely dairy-free. Palm oil is high in Vitamin E and contains nearly equal amounts of unsaturated and saturated fats for a healthy balance of essential nutrients. If you don't have palm shortening on hand, you can use a cup of coconut oil for this recipe.
This skillet brownie is sweetened with maple syrup, which is a great unrefined sweetener that makes delicious desserts! Maple syrup is full of B vitamins, vitamin C, iron, calcium, and potassium.
I made these brownies with raw cacao powder, which contains a lot of antioxidants, as well as magnesium, calcium, thiamin, riboflavin, and sulfur. These nutrients and phytochemicals have been linked to improving heart function, lowering "bad" LDL cholesterol, and reducing the risk of cancer. If you cannot have cacao, then substitute equal amounts of carob powder to give these brownies a rich brown color and chocolatey flavor.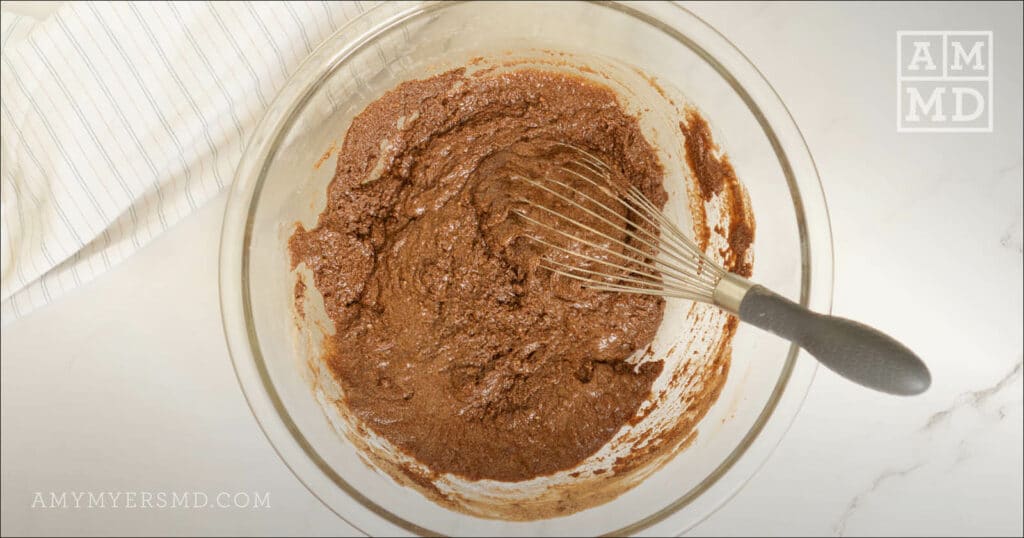 Dr. Amy Myers
July 1st, 2022
https://content.amymyersmd.com/recipe/aip-skillet-brownie-with-dairy-free-ice-cream/
How to make AIP brownies
Making the brownies is really easy! You'll mix all the dry ingredients in one bowl and all the wet ingredients in another bowl. Combine it all together and stir well. Transfer to a cast iron pan and bake in a preheated oven at 350 degrees Fahrenheit. I like to line the bottom of the skillet with a round-shaped piece of parchment paper to make sure that the brownies do not stick.
As the brownies cool down for a few minutes after baking, they should pull away from the sides of the pan a little, making it really easy to slice and serve them.
You can top the whole skillet brownie with a few scoops of ice cream, or slice into wedges and let everyone add ice cream to their own plate. Don't forget the chocolate sauce drizzle!
AIP chocolate sauce
I make a delicious AIP-friendly chocolate from just 3 ingredients: ¼ cup cacao powder (or carob powder), ½ cup coconut milk, and 1 cup coconut sugar. Simply combine all the ingredients in a small saucepan and heat over medium heat until the sugar melts. Continue to cook for 10 minutes, or until the sauce thickens into a syrup. Drizzle the sauce over the skillet brownie, and keep any remaining sauce in a jar in the fridge. It will last for weeks and can be used over parfaits or ice cream!
More chocolate treats to try:
AIP Skillet Brownie with Dairy-Free Ice Cream
---
Ingredients
For the skillet brownie
1

cup

240.00

ml Cassava flour

1

cup

240.00

ml Tigernut flour

1/2

cup

120.00

ml tapioca flour

1/2

cup

120.00

ml cacao powder or carob powder

1

tsp

4.93

ml baking powder

1/2

tsp

2.46

ml sea salt

1/2

tsp

2.46

ml ground cinnamon optional

3/4

cup

180.00

ml coconut oil melted, or shortener

2/3

cup

160.00

ml maple syrup

1

tsp

4.93

ml alcohol-free vanilla extract
AIP ice cream for serving
For the chocolate sauce
1/4

cup

60.00

ml coconut sugar

2

tbsp

29.57

ml cacao powder

1

tsp

4.93

ml water
Instructions
Preheat oven to 350 degrees Fahrenheit. Line a cast iron skillet (8-inch, 10-inch, or 12-inch) with parchment paper.


---

In a large bowl, sieve together the cassava flour, tigernut flour, tapioca flour, carob powder, baking powder, and sea salt. Mix well.


---

In another bowl, whisk together the melted shortening or coconut oil, maple syrup, and vanilla extract until they're combined and are no longer in 2 separate layers.


---

Pour the maple syrup mixture into the dry ingredients and whisk together until well combined.


---

Transfer the AIP brownie batter to the prepared skillet. Bake at 350 degrees Fahrenheit for 18-22 minutes (for larger pans, use less time. For smaller pans, use more time.).


---

Allow the cookie to cool for 5-10 minutes while you prepare the chocolate sauce:

then slice into wedges and serve with a scoop of AIP dairy-free ice cream and a drizzle of AIP chocolate sauce.


---
In a small saucepan, combine the coconut sugar, cacao powder, and water. Heat over medium-low heat until the sugar melts, stirring constantly.

---

Use a spoon to drizzle the chocolate sauce over the cookie. Slice the cookie into 8 wedges and enjoy!

---

---