Summer Asparagus Salad
Need a reason to make a heartier salad this weekend? Here it is: there is nothing better than fresh asparagus when it is in season! This chilled Summer Asparagus Salad highlights the subtle asparagus flavor and texture by pairing crisp yet tender, blanched asparagus with a tangy vinaigrette dressing. This fresh salad is quick and easy to put together in just 15-20 minutes, and is seriously impressive in flavor and presentation.
Plus, this Summer Asparagus Salad is light in calories, high in nutrients, and is autoimmune diet-friendly. It's the perfect side dish to accompany any hearty meal (including Dad's favorite steak.)
The Health Benefits of Asparagus
Although it's available throughout the year, asparagus is a spring and summer vegetable. It is very low in calories and high in many important vitamins and nutrients. As with many greens, it has a high vitamin K content, which supports healthy blood flow and bone health.
Asparagus is high in fiber, aids in digestion, and helps you feel full. Not only is asparagus a fiber-packed veg, it also has prebiotic fiber! Prebiotic fiber helps the microflora population in your gut, and supports the growth of probiotic colonies. Asparagus is also high in vitamins A, C, E, folate, and potassium.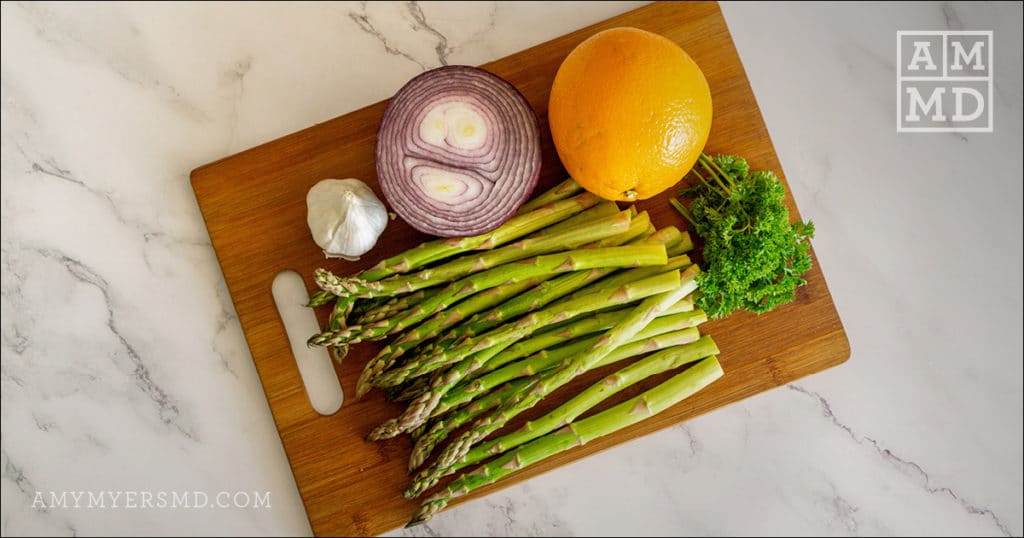 Blanched Asparagus: It's Easy and Delicious!
Fresh asparagus tastes best when it still has a bit of a crunch to it, so I blanch the asparagus for this recipe: I boil it in hot water for 2-3 minutes, then place the asparagus directly into a large bowl of ice water to stop the cooking. This makes crisp and tender asparagus that retains much of its nutrients because it does not get overcooked. I know crisp and tender may sound contradictory, so you'll have to trust me — it's delicious!
For this blanched asparagus salad, I cut off and discarded the rough ends of the asparagus and left the rest of the vegetable intact for a nicer presentation. You can leave the rough end on the stalk and chop the asparagus into 1-2 inch pieces if you prefer.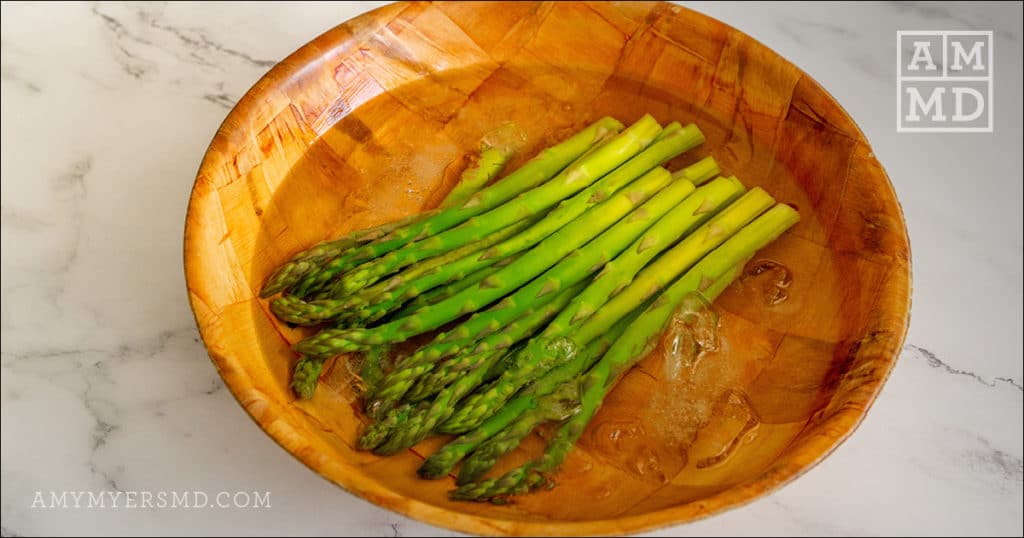 Grapefruit Dijon Dressing
The dressing for this chilled Summer Asparagus Salad is made with the juice and zest of a fresh grapefruit. Make sure to get an organic grapefruit and wash it well, to get the most flavor from the freshly grated zest.
Once the grapefruit is zested, you'll use half of it to make fresh-squeezed grapefruit juice, and the other half to slice into wedges for the salad. The squeezed grapefruit juice gives the dressing a fresh flavor.
The other flavors that go into this dressing are Dijon mustard, minced garlic, fresh parsley, apple cider vinegar, and quick-pickled red onion. You can also add a bit of maple syrup if you prefer a sweeter dressing and have reintroduced natural sweeteners.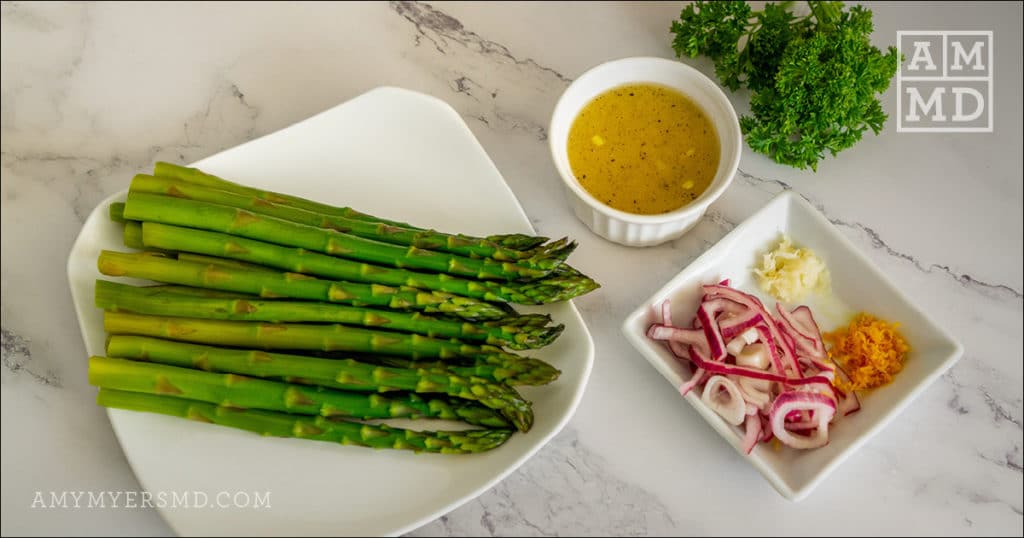 Quick-pickled Red Onion
To make quick-pickled red onion, you can marinate thinly sliced red onion in apple cider vinegar for a few minutes while you work on preparing the rest of the salad. The apple cider vinegar will take on some of the onion flavor, and the raw onion will be a little more mellow in flavor, making a more delicate salad dressing.
This recipe makes a small amount of extra dressing, which is great because it keeps well in the refrigerator for up to 3 days, so you can use it on other salads as well.
This salad is best served fresh and chilled so it's perfect for warmer months — that's why it's called Summer Asparagus Salad! If you need to prepare it in advance, then blanch the asparagus and keep it refrigerated for up to 24 hours until you're ready to serve. You can prepare the dressing ahead of time, however, it's best to wait to garnish your salad until just before swerving. Give the dressing a shake to combine the oil and vinegar, and toss with the asparagus before serving.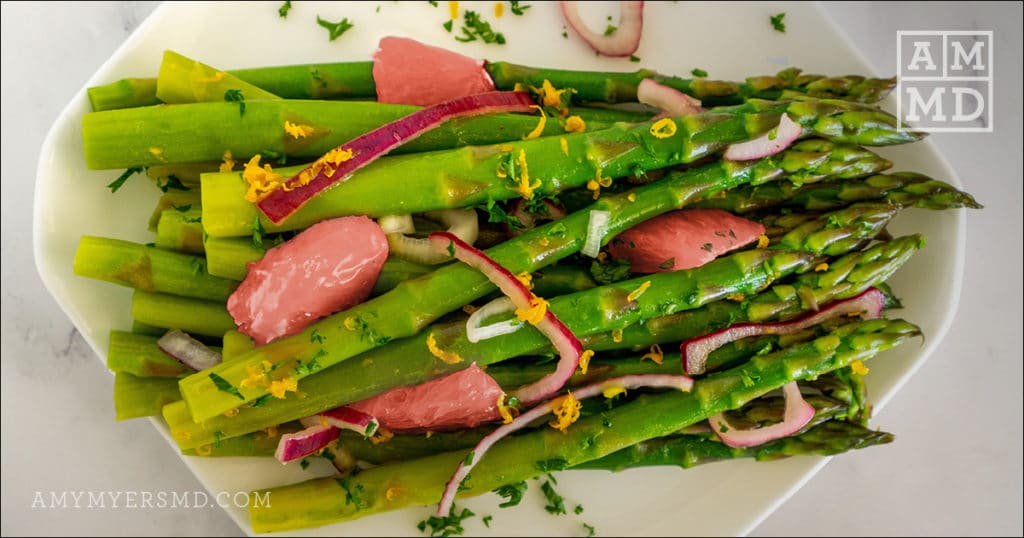 Need a recipe to serve with this salad? I've got some suggestions:
Ingredients
1

lb

454.00

g asparagus

3

quarts

2838.00

ml water salted, for blanching

1

large bowl water iced

1/2

red onion thinly sliced

1/4

cup

60.00

ml apple cider vinegar

1

grapefruits

1

cloves garlic minced

1

Tbsp

14.79

ml dijon mustard

1

Tbsp

14.79

ml extra virgin olive oil

1

tsp

4.93

ml parsley finely minced

1

Tbsp

14.79

ml honey or maple syrup (optional)
ground black pepper to taste
sea salt to taste
Instructions
Trim 1-2 inches off the bottom of the asparagus and discard.

---

Boil 2-3 quarts of salted water in a large pot. Carefully place the asparagus in the boiling water for 2-3 minutes, or until the asparagus turns a vibrant green color. Use tongs to carefully transfer the asparagus directly into a bowl of ice water. Drain the water and pat the asparagus dry with a clean kitchen towel or paper towel.

---
Combine the apple cider vinegar and thinly sliced red onion in a small bowl and mix. Allow to marinate for a few minutes while you prepare the rest of the salad.

---

Zest the grapefruit using a zester or a microplane grater and set aside. Slice the grapefruit in half. Juice one half of the grapefruit and set the juice aside. Cut the other half into slices and set aside.

---

In a small jar or bowl, combine ¼ cup grapefruit juice, 1 teaspoon zest, 2 tablespoons of the apple cider vinegar, 1 tablespoon Dijon mustard, 1 tablespoon olive oil, minced garlic, minced parsley, salt, and pepper. Mix well. Add up to a tablespoon of honey, if you prefer a sweeter dressing, and mix well.

---
Toss the dressing with the blanched asparagus and grapefruit slices and serve chilled or room temperature.

---