Birthday Cake Pops
These no-bake Birthday Cake Pops are the perfectly celebratory treat. You don't even need to turn on the oven! Made with ingredients such as cassava flour and naturally sweetened with maple syrup, this easy cake pop recipe can make any wish come true. Birthday Cake Pops are gluten-free and dairy-free, which makes them suitable for a variety of diets, including Paleo.
So grab your dessert sticks and get ready for a delicious celebration The Myers Way®.
Can a no-bake cake pop really be healthy?
No-bake Birthday Cake Pops are great for an occasional treat to put down on the dessert table. They're made with nutrient-dense, whole food ingredients. They are also gluten-free and dairy-free, so there's no need to worry about inflammatory ingredients here. If you're following the AIP protocol, this recipe will be great after you reintroduce chocolate first. Here are some of the healthier swaps in this no-bake cake pop recipe.
Cassava Flour
Cassava flour is a fantastic, gluten-free substitute for healthier baking. Not only is it Paleo, it's also AIP compliant and fits perfectly into The Myers Way® for life. Cassava flour helps bind the ingredient together in this egg-free recipe.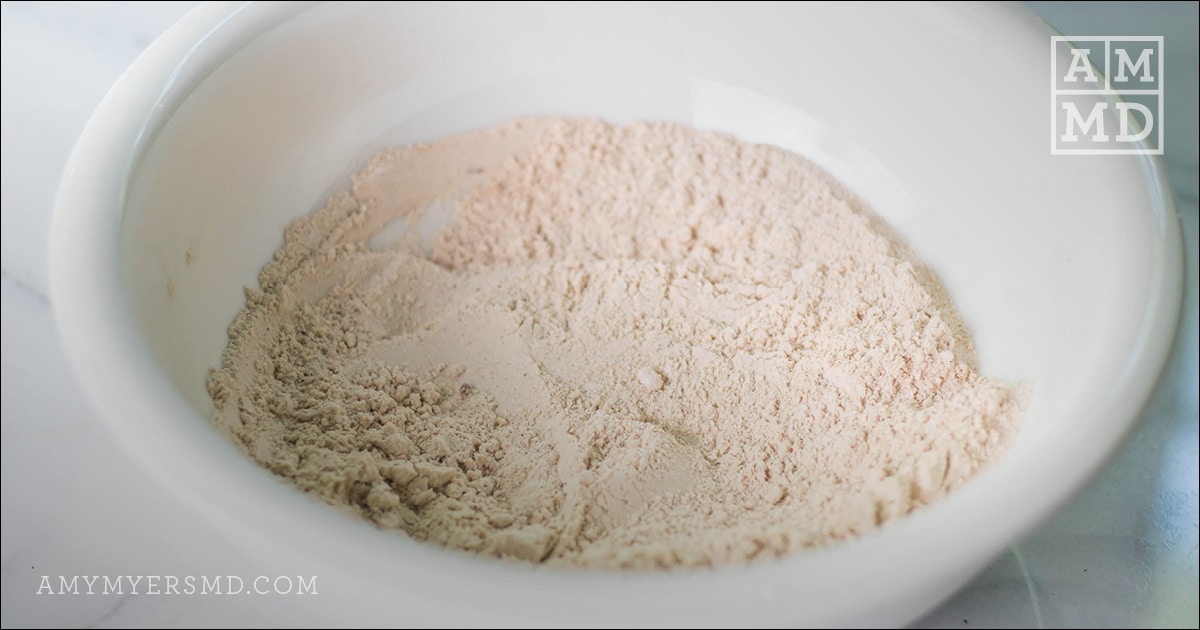 Coconut Butter
Coconut butter, or coconut manna, is excellent for a healthy, sugar-free icing. Coconut butter takes the place of cream cheese or frosting in this cake pop recipe.
High in medium chain triglycerides, coconut butter is naturally sweet, and gives these no-bake cake pops an incredibly rich and tender texture.
Golden Maple Syrup
Golden maple syrup is an excellent, all-natural sweetener. It's full of beneficial enzymes, vitamins, and minerals. Grade A golden maple syrup may seem high in natural sugar, however, this recipe uses only ¼ cup for 10 cake pops, so it's really a delicious, low-sugar treat.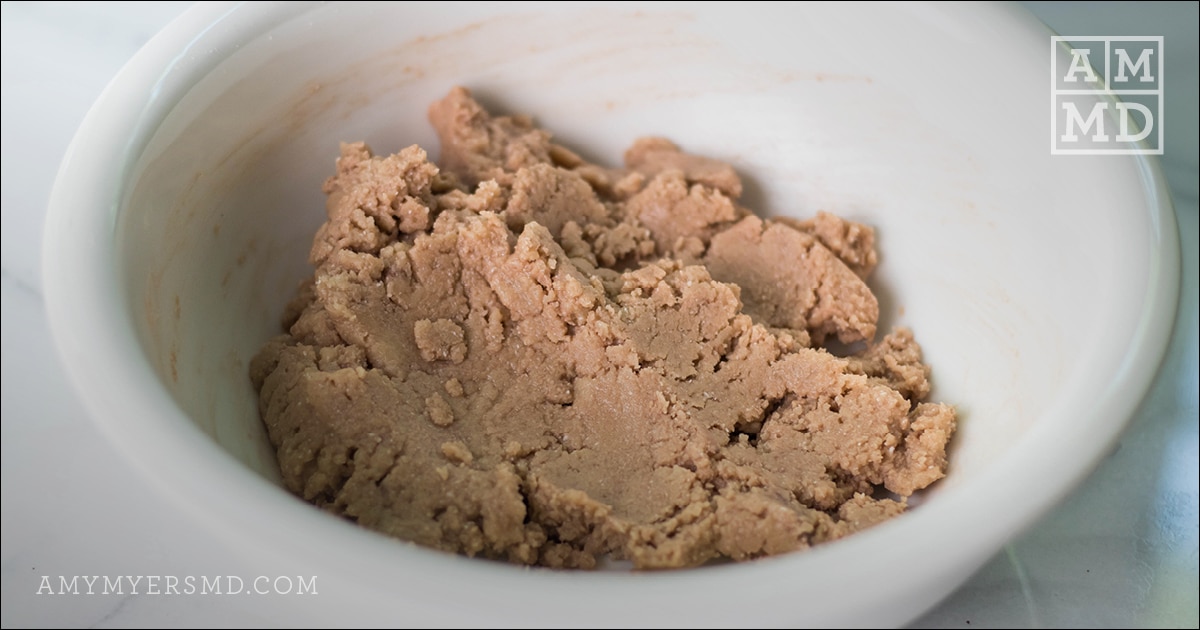 Sugar-Free Chocolate Chips
Sugar-free chocolate chips ensure this recipe remains low in sugar. Make sure you use sugar-free chocolate chips that contain a natural sweetener. Chocolate serves as an icing for the cake pops and makes these feel even more like an indulgent treat.
Chocolate chips are not compliant with the strict elimination phase of the AIP protocol, so only use them after the reintroduction phase.
How to make no-bake Birthday Cake Pops
These no-bake cake pops come together in under 30 minutes — 20 minutes of which are completely hands-off.
First, add your cassava flour, protein powder, and 1 tablespoon of sugar-free chocolate chips to a medium bowl. Omit the chocolate chips if you have yet to reintroduce chocolate. Stir together.
Prepare coconut butter by making sure it's at room temperature. It should be soft, not melted. At this point, your coconut butter can be easily scooped onto a spoon and not crumbly or runny. If your coconut butter is solid, set the jar in a bowl of hot water for about 10 minutes, checking periodically to make sure it doesn't get too thin.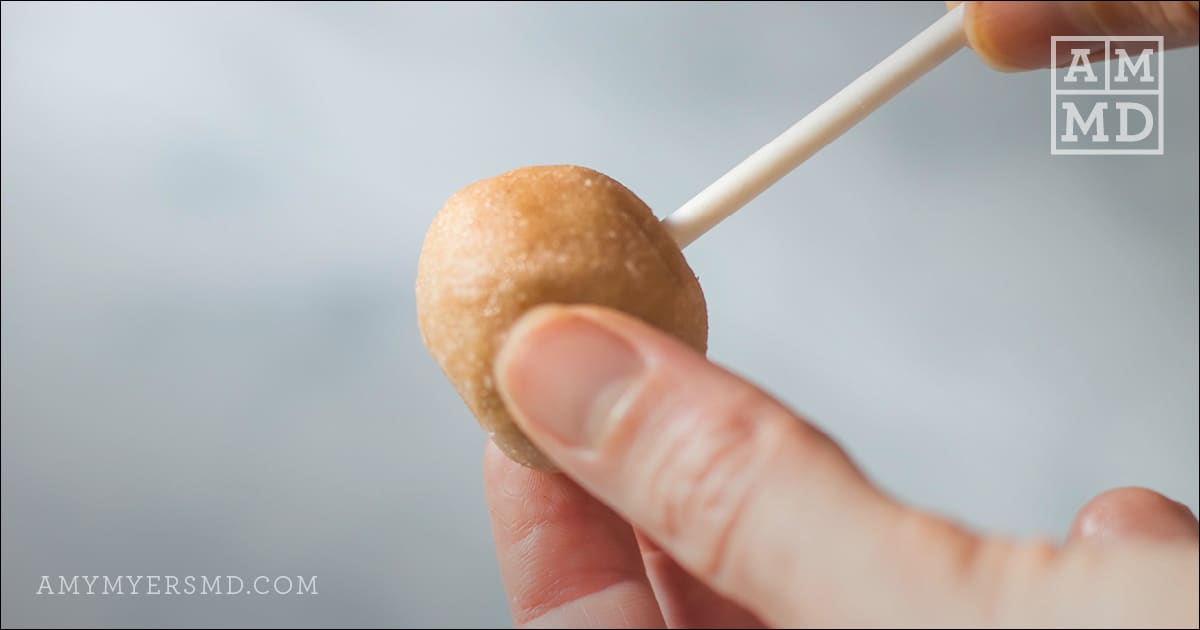 Add coconut butter and golden maple syrup to the dry ingredients and stir until a batter forms. It should be thick, almost dough-like. Use your hands to roll into 10 equal balls and refrigerate for 10-20 minutes to harden.
To melt the chocolate chips, I prefer using a double boiler method on the stovetop over low heat. Add chocolate to double broiler, stirring constantly until melted. However, you could also use a microwave. Microwave for 10 second increments, stirring each time, until melted.
Remove your cake pops from the refrigerator and place a decorative treat stick halfway through each cake pop. Carefully dip each one in the melted chocolate, coating completely. Let the chocolate harden before sprinkling with coconut butter dots or crushed, freeze dried raspberries for garnish, if desired.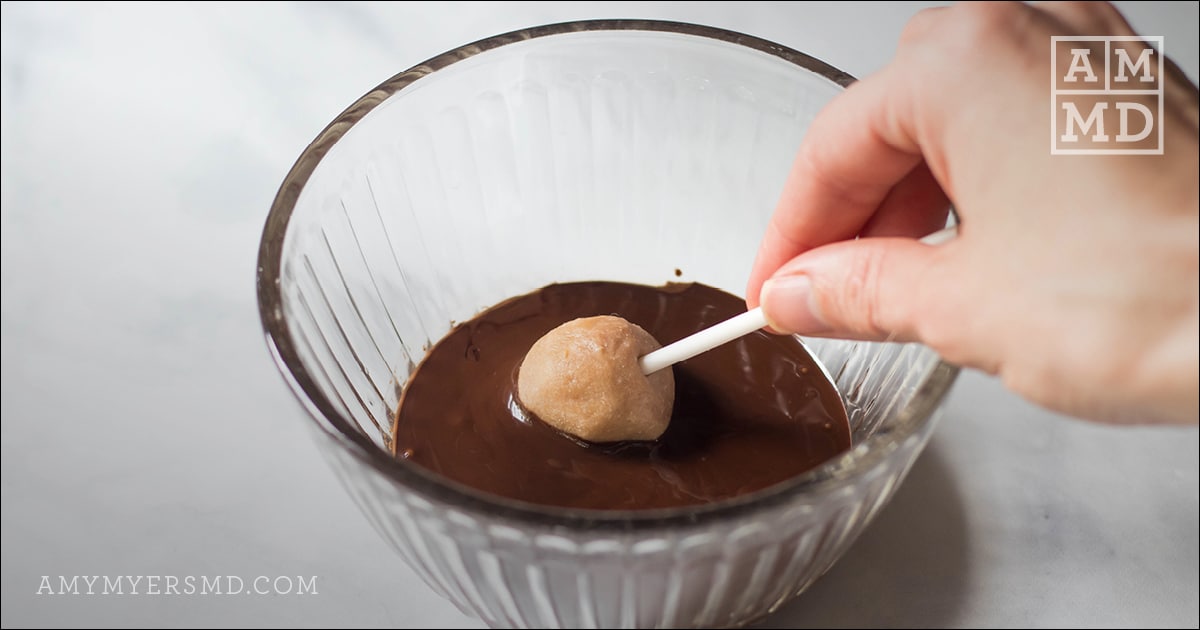 How long will cake pops last in the fridge?
These cake pops are best stored in the refrigerator, though they should be okay kept at room temperature for a few hours (don't be afraid to take them out to share!) If these no-bake cake pops get too warm, they'll melt or the texture will change.
Store them in an airtight container in the refrigerator for up to one week. I do recommend setting them out at room temperature for a few minutes before eating, for the best texture.
Can I freeze my Birthday Cake Pops?
You can freeze any extra cake pops, but I recommend preparing a batch that you're able to finish within a week.
Freezing this Paleo treat slightly alters the texture, so move your cake pops to the refrigerator for a few hours to unfreeze them so that they can soften and achieve a better texture.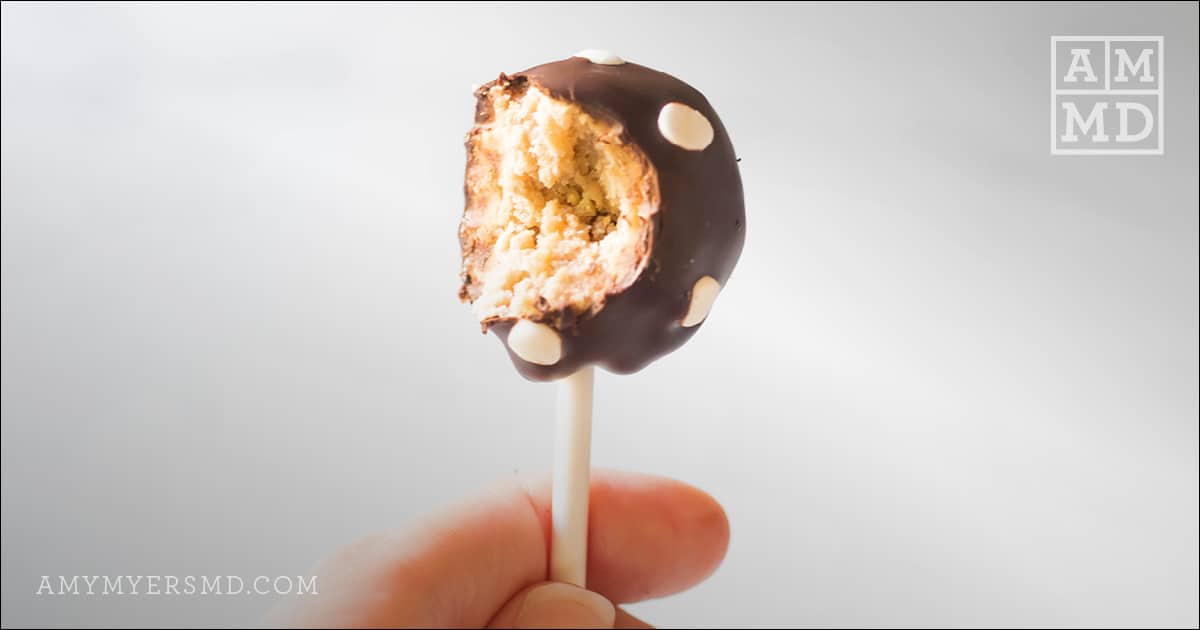 Pro tips to make your Paleo no-bake cake pops:
If you use melted coconut butter to coat your Birthday Cake Pops, instead of melted chocolate chips, dip them twice! To do this, dip your cake pops once and then let the coconut butter harden completely before dipping them again for a second coating. This will ensure you have a thick layer of coconut butter shell.
Homemade coconut butter is softer and more runny than store bought, so it tends to work better in this recipe. I used this recipe to make my own coconut butter, but you can also use store-bought if you're short on time or out of coconut.
You can melt coconut butter and use a piping bag to make white polka dots on dark chocolate-coated cake pops. I added the dots when the chocolate was starting to harden, but was still just barely soft.
Other healthy dessert recipes you'll love:
Ingredients
For the Chocolate Coating
1/4

cup

60.00

ml chocolate chips

1

Tbsp

14.79

ml coconut oil
For the Decorations
coconut butter dots

1

Tbsp

14.79

ml freeze-dried fruit crushed
Instructions
In a medium bowl, stir together the cassava flour, arrowroot starch, Birthday Cake Paleo Protein, Collagen Protein, and gelatin.

---

Add the coconut butter and golden maple syrup to the flour mixture. Mix until a moist batter forms. If your coconut butter is too solid to mix, put the jar in very hot water for about 10 minutes before measuring and adding to the bowl with the flour mixture.

---

Roll into 10 balls, and refrigerate for 10-20 minutes to help them set.

---

In the meantime, make the chocolate coating. Melt sugar-free chocolate chips and coconut oil. I like using the double boiler method, but you can microwave them in 10 second intervals, stirring between each. Melt until the chocolate and oil are completely smooth.

---

Remove the cake pop dough balls from the refrigerator and insert a decorative treat stick about halfway into each ball.

---

Carefully dip each pop into the chocolate coating to completely coat. Sprinkle with optional decorations and let the chocolate harden before serving.

---