Coconut-Chai Gut Soothing Smoothie
An amazing, healthy breakfast is full of protein and healthy fats to keep you satisfied until lunch. This Coconut-Chai Gut Soothing Smoothie combines those elements with comforting flavors of vanilla, coconut, and warming chai spices. It's also full of gut-soothing ingredients! You can drink it on the go or make a smoothie bowl with endless options for exciting toppings. It's the perfect breakfast for when you're stuck in hot weather, yet you crave delicious fall spices. Who says smoothies are just for summer?
If you're someone who skips breakfast because you don't have time, or you don't know what to make, then smoothies may be the way to start your day with a boost of gut-healthy ingredients to fuel your day. You can include nutrient-dense ingredients into a quick and easy meal that will boost your energy. I even recommend sneaking some vegetables into your smoothie. This Coconut-Chai Gut Soothing Smoothie would be great with neutral-tasting cauliflower. Just roast and freeze it ahead of time.
Smoothies are an amazing grab-and-go option for busy mornings, and they only take a minute to make. Fill up that blender and get ready to nourish your day with an on-the-go breakfast to carry you from the end of summer through all of fall.
Tips for Making a Perfect Smoothie
For extra easy mornings, pre-portion your smoothie ingredients in reusable silicone bags or glass jars. This means your breakfast prep only involves adding the pre-portioned ingredients and liquid to your blender. Then you can use the glass jar as your on-the-go drinking glass, or invest in a sturdy tumbler to keep your smoothies refreshingly cold while your driving or starting your day in the office.
Smoothies tend to be really simple recipes. However, I have some great tips for making the perfect, customized smoothie:
Invest in a durable, high-powered blender because not all blenders are created equal, and a quality blender will go a long way.
If you like thicker smoothies, make sure all the fruit is frozen before blending.
If you like thinner smoothies, use more liquid.
You can reduce the amount of liquid or ice you add to make a smoothie bowl that you can eat with a spoon (it's almost like healthy, dairy-free ice cream for breakfast!).
Add fun toppings to your smoothie for a fun twist. My favorite nutrient-dense toppings are cacao nibs, toasted coconut flakes, whipped coconut cream, and sliced fresh fruit.

Is this Coconut-Chai Gut Soothing Smoothie healthy?
This smoothie replaces the conventional sugar-laden, energy-draining chai latte fillers with healthy, gut-soothing ingredients. A smoothie makes a nourishing and energizing morning meal that will carry you through your day, so let's look at some of the health benefits of this Coconut-Chai Gut Soothing Smoothie:
Coconut Milk
Coconut milk is a great source of healthy fats. Fats from coconut products digest easily. Your stomach uses less stomach acid to digest fat from coconut, so coconut products help soothe and calm your gut. Using coconut milk as the main source of liquid in this smoothie makes it thick, smooth, and satiating. It also adds a great flavor.
Collagen Protein
Amino-acid rich collagen protein is an easily digested source of protein that has a host of benefits for your body. It's especially good for your gut, as your body digests and absorbs it easy. Additionally, collagen protein helps repair and seal your gut lining. Collagen is also fantastic for supporting joint, skin, hair, and nail health. Collagen protein is hydrolyzed collagen powder made from the joints and bones of animals, usually cattle. Grass-fed collagen is the healthiest option! The Myers Way® Collagen Protein is tasteless, odorless, and dissolves easily in hot or cold liquids. It's great in all kinds of recipes.
Cinnamon
Cinnamon has been shown to support balanced blood sugar levels. It also helps optimize your immune system. This makes cinnamon an excellent choice for anyone looking to soothe and heal their gut, as well as support the body's stress response.
Ginger
Ginger can help soothe the gut and promote a healthy inflammatory response. It also shows many antioxidant properties to protect against oxidative stress. Most commonly, ginger is soothes the gut and break-ups and expels gas in the intestinal tract.1 As a member of the ginger family, cardamom also supports digestive function. Both ginger and cardamom have potent properties to help support a healthy inflammatory response and overall gut health.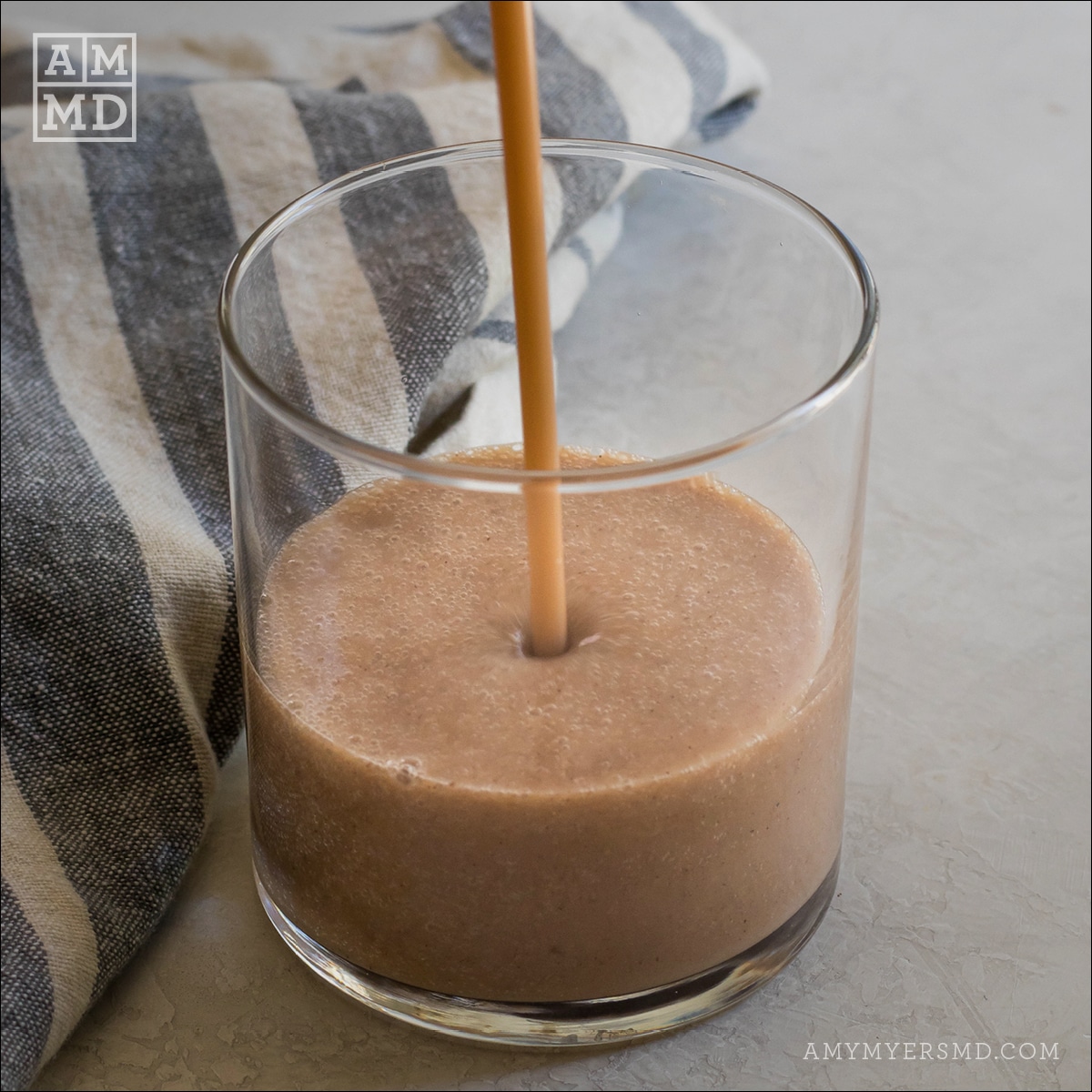 Coconut-Chai Gut Soothing Smoothie
---
Ingredients
1/2

cup

120.00

ml coconut milk

1

banana frozen

1

scoop The Myers Way® Collagen Protein

1

tsp

4.93

ml vanilla extract or 1 (2-inch) piece of vanilla bean

1/2

tsp

2.46

ml ground cinnamon

1/2

tsp

2.46

ml ground nutmeg

1/4

tsp

1.23

ml ground ginger

1/4

tsp

1.23

ml ground cardamom

1/8

tsp

0.62

ml ground cloves

1/2

tsp

2.46

ml sea salt
ice and/or water to desired consistency
star anise (optional)

1

dollop coconut cream (optional)
Instructions
In a high-speed blender, blend coconut milk, frozen banana, collagen, vanilla, spices, and salt.

---

Add ice and/or water to desired consistency. Pour into glass.

---

If desired, add star anise and/or a dollop of coconut cream to garnish.

---