Healthy Cookie Dough Yogurt Parfait
Don't let the "cookie dough" in my dairy-free yogurt parfait fool you. It's definitely decadent, yet this recipe is full of high-quality protein, healthy fats, and essential nutrients. It's part parfait, part trifle, with a light and fluffy yogurt mixture and pillowy textured cookie dough bites. Healthy Cookie Dough Yogurt Parfait is my new favorite, guilt-free, afternoon snack.
Is this yogurt parfait good for me?
The star ingredient in this parfait is my Cookie Dough Collagen Protein Bar. In addition to being absolutely delicious, I formulated these bars with optimal amounts of grass-fed collagen bovine protein, organic almond butter, and prebiotic starch. They're sweetened with monk fruit sweetener, so this parfait won't raise your blood sugar levels. Layered with healthy fat from coconut yogurt and coconut cream, this healthy treat will keep you satiated until your next meal.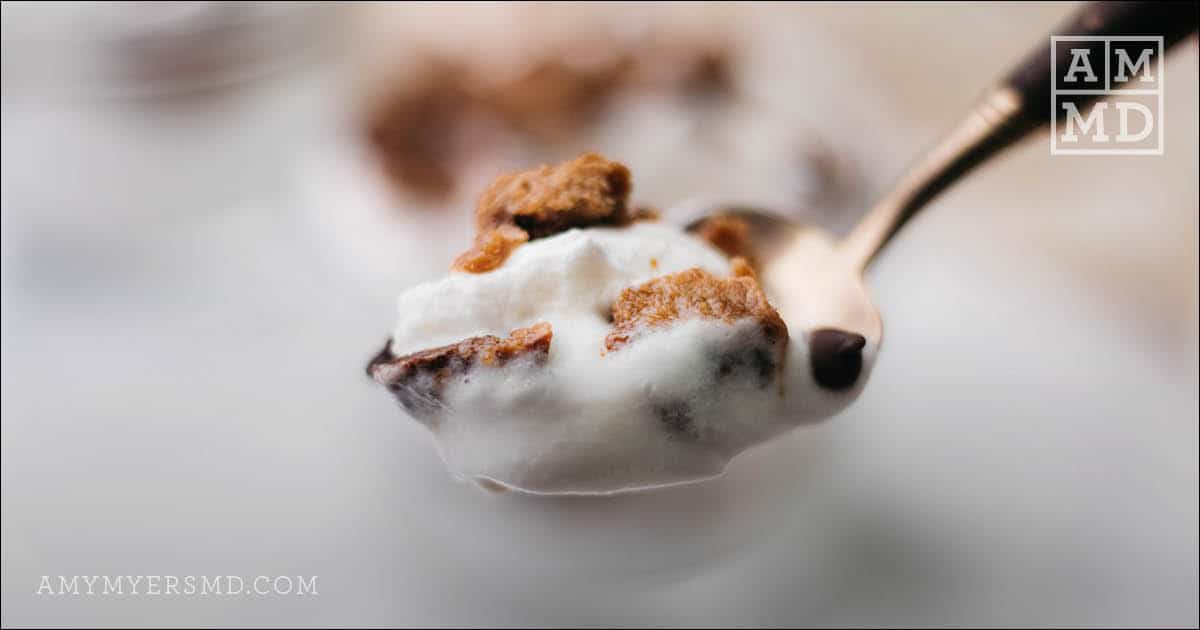 Can I make this parfait in advance?
This healthy parfait is great for meal prep. In fact, I personally think it tastes better when it's been made in advance, and has a chance to sit in the fridge for at least a couple of hours. The cookie dough protein bar gets slightly soft — almost like the texture of a trifle.
How long do these Healthy Cookie Dough Yogurt Parfait last in the fridge?
I suggest eating your parfait within a week of preparing it. It could last more or less time depending on how fresh your yogurt is.
Keep in mind that further you make it in advance, the more the texture of the cookie dough crumble can change. Be sure to store your parfait in the fridge in a sealed container.
What are the key ingredients in this parfait recipe?
Coconut Yogurt and Coconut Cream
Both the coconut yogurt and the coconut cream in this recipe provide your body with satiating and easily digestible medium chain triglycerides. The MCTs in this omega-3-rich saturated fat is quickly absorbed, providing a nice boost of energy during a mid-day slump.
In this particular recipe, I combined coconut yogurt with whipped coconut cream to not only boost health benefits and increase fullness, but also to provide a fluffy texture to your parfait.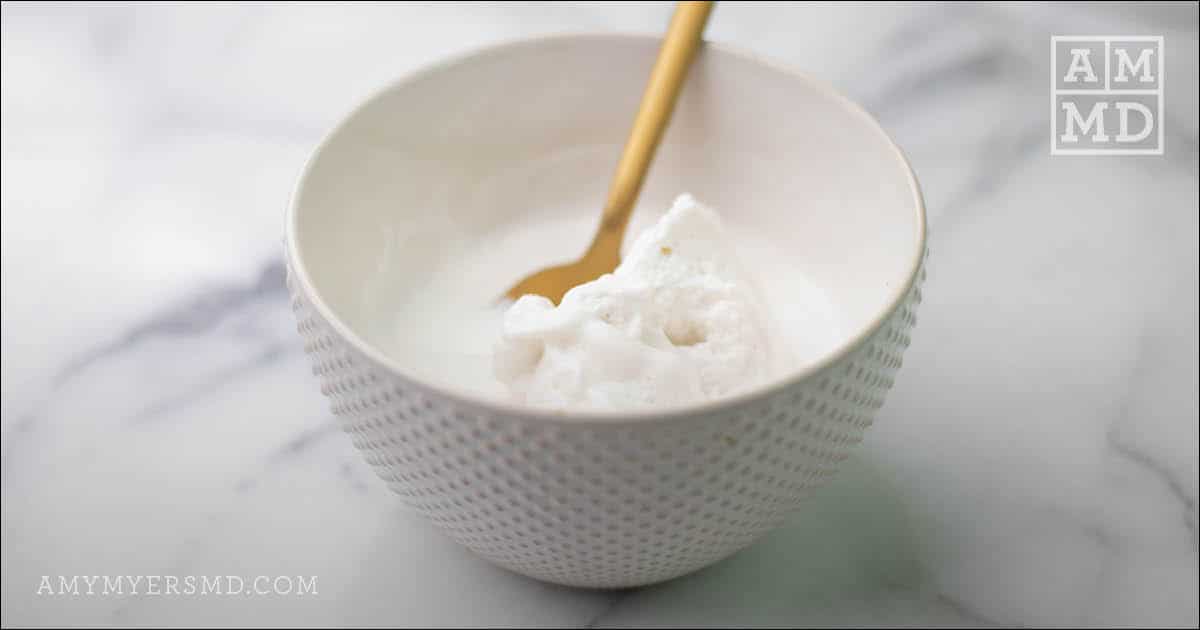 Grass-Fed Collagen Protein
There is an abundance of this protein in my Cookie Dough Collagen Bars. Collagen is one of my favorite, gut-repairing proteins which I like to include in my recipes and products. It's an amino acid your body needs to heal and repair. In addition to promoting gut health, collagen is also an important part of your diet to support healthy joints, skin, hair, and nail growth.
What will I need to make this healthy parfait?
Hand or stand mixer, or a whisk
A chilled bowl
A rubber spatula
Small serving bowl
How do I make this Healthy Cookie Dough Yogurt Parfait?
You'll start by preparing the whipped coconut cream. This will only work with full-fat, canned coconut milk. If you can find canned coconut cream, that's even better. 1-2 days in advance, put a can of full-fat coconut milk into the refrigerator. This will help the cream separate from the water. If you're using a can of coconut cream, put it into the refrigerator 2-3 hours before whipping.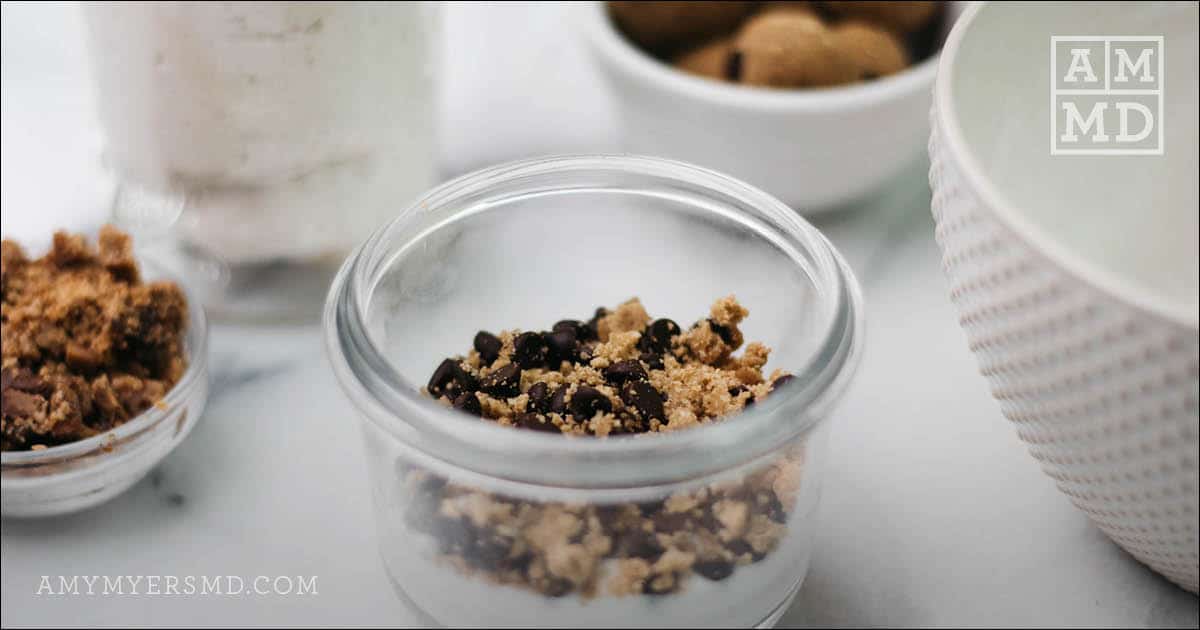 Carefully open the can of coconut milk and scoop out the cream at the top of the can (the cream will float to the top and the water remains at the bottom). Reserve the water in case you need it to thin the cream later. Put the cream into a chilled bowl, and whip with a mixer for 1 minute. If the cream is too thick after whipping, add 1/2 tablespoon of coconut water to it and whip again.
You'll have extra whipped coconut cream, which you can store in a sealed container in the fridge for up to a week.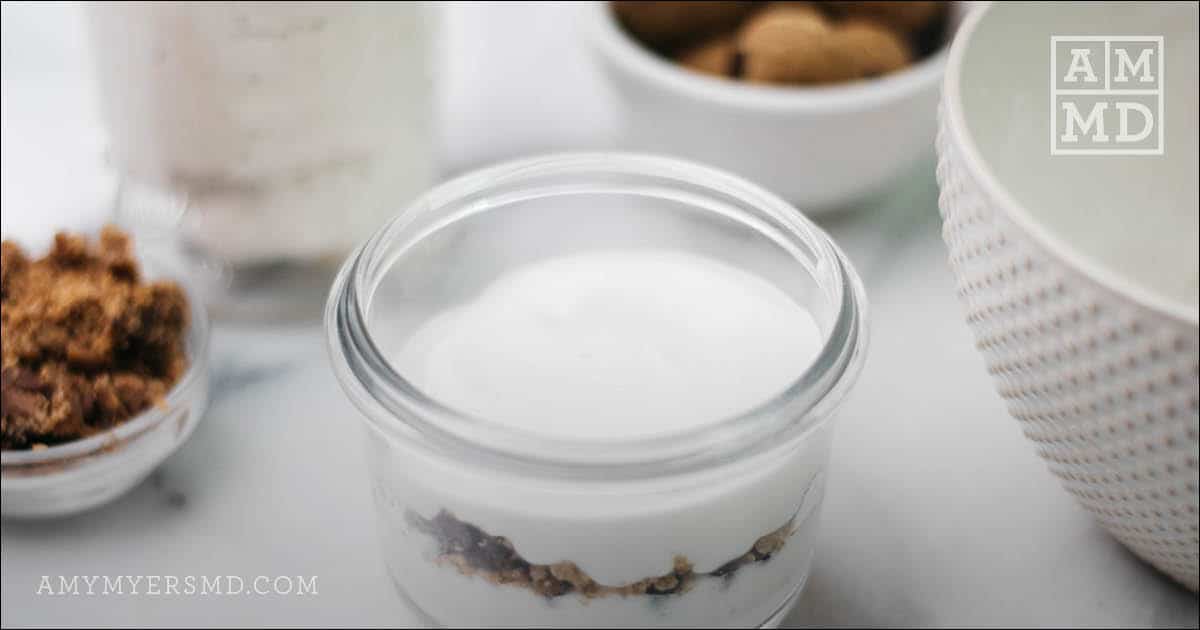 Portion out your fluffy, whipped coconut cream and coconut yogurt, and gently fold them together in a bowl using a rubber spatula. Crumble your Cookie Dough Collagen Bar and proceed to layer it with the yogurt mixture. Sprinkle the top of your parfait with mini chocolate chips if desired, and then serve.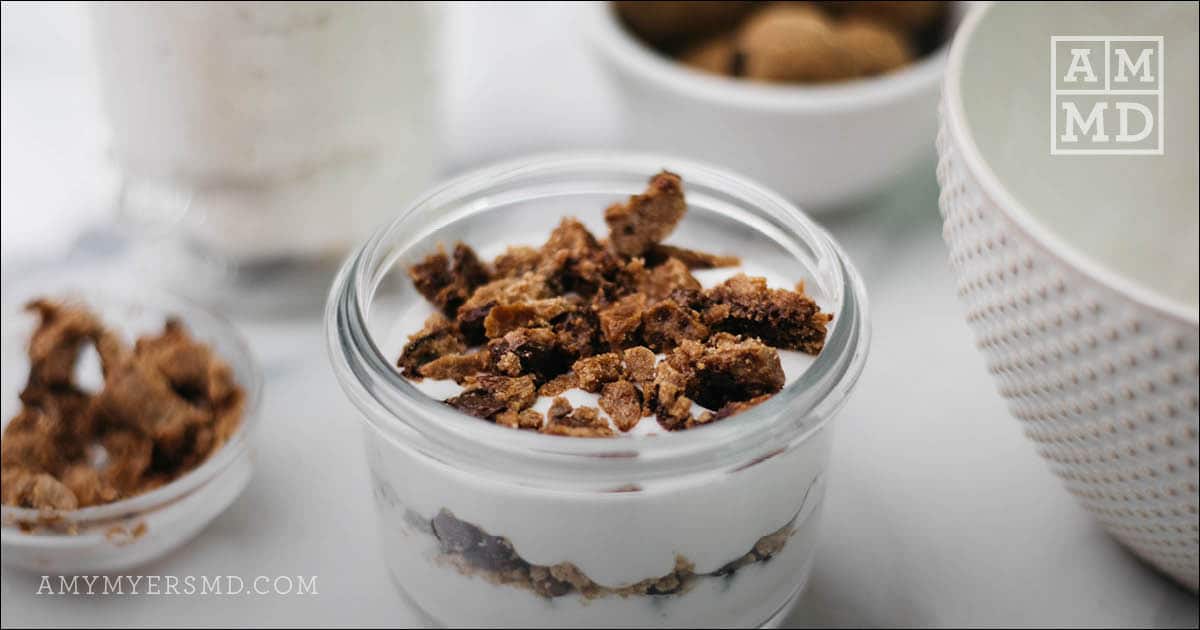 Tips to make the best yogurt parfait:
This parfait is so fun to serve in a clear glass dish so you can see the layers.
The best way to whip your coconut cream is to place the cream into a chilled bowl and use a mixer to whisk for 1 minute.
Be careful not to shake your can of coconut milk before you put in the refrigerator, after you remove it, or when you open it. This will combine the coconut cream with the water, and we need these to be separated.
If you're making this as a meal prep breakfast, snack, or dessert, you'll want to have small containers with lids for refrigerator storage.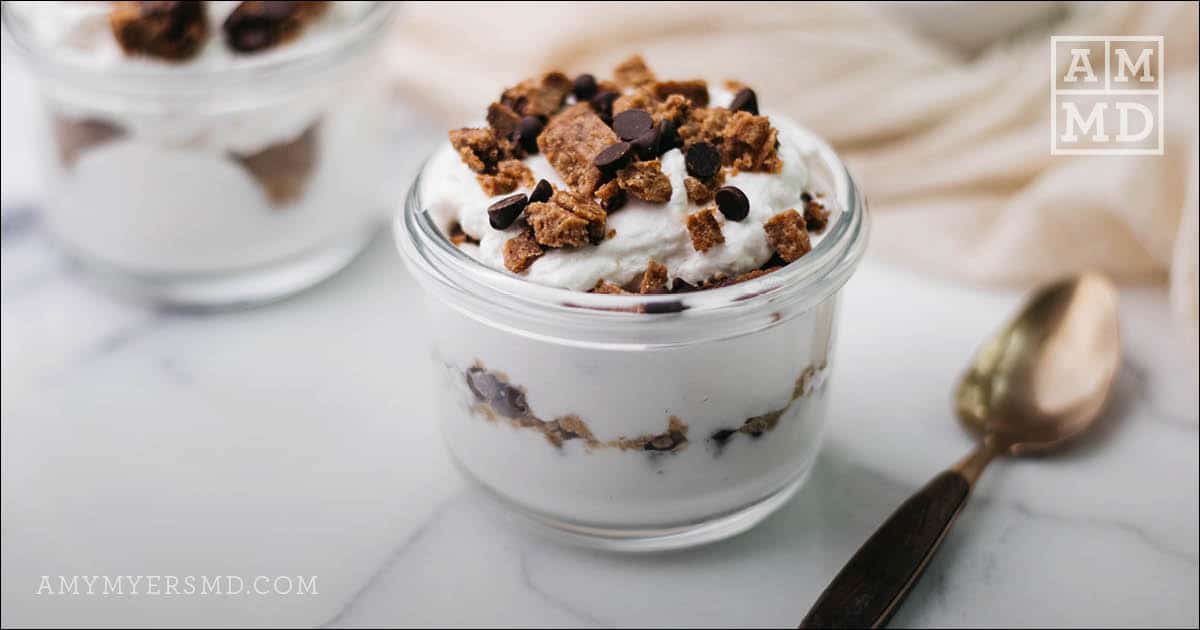 If you like this recipe, you'll love these healthy snacks and desserts:
Healthy Cookie Dough Yogurt Parfait
---
Ingredients
1/3

cup

80.00

ml plain coconut yogurt

1/4

cup

60.00

ml coconut cream whipped

1

Cookie Dough Collagen Protein Bar crumbled
chocolate chips for garnish (optional, omit for Candida)
Instructions
1-2 days in advance, put a can of full-fat coconut milk into the refrigerator to separate the cream and the water before whipping. If you're using a can of coconut cream, refrigerate 2-3 hours before whipping.

---

When you're ready to make your parfait, carefully open the can of coconut milk and scoop out the cream at the top of the can.

---

Put the cream into a chilled bowl, and whip with a mixer for 1 minute. If the cream is too thick after whipping, add 1/2 tablespoon of coconut water to it and whip again.

---
Crumble or chop your collagen bar into bite-sized pieces and set aside.

---

In a small bowl, fold together the whipped coconut cream and coconut yogurt. Scoop half of this mixture into the bottom of a small glass dish.

---

Layer with half the collagen bar, then top with another layer of the coconut mixture. Finish it with the second half of the collagen bar, and top with mini chocolate chips if desired. Serve immediately or store covered in the fridge.

---