Cookies and Cream Brownie Bars
There are not many desserts that satisfy a chocolate craving the way a fudgy brownie bar does. These Cookies and Cream Brownie Bars combine the flavors of a delicious chocolate sandwich cookie with a rich chocolate brownie. These homemade brownie bars take an indulgent dessert and give it a healthy spin with flavorful, wholesome ingredients that are good for your body. This recipe is gluten-free, dairy-free, and fits into a variety of diets.
Are these Brownie Bars Healthy?
The right desserts can certainly be part of a healthy, balanced diet (in moderation, of course). You can enjoy my Cookies and Cream Brownie Bars knowing that they are made with real, good-for-you ingredients that won't derail any health goals. They are the ideal treat for Paleo and AIP diets. Here are some of the healthy ingredients used to make these brownie bars: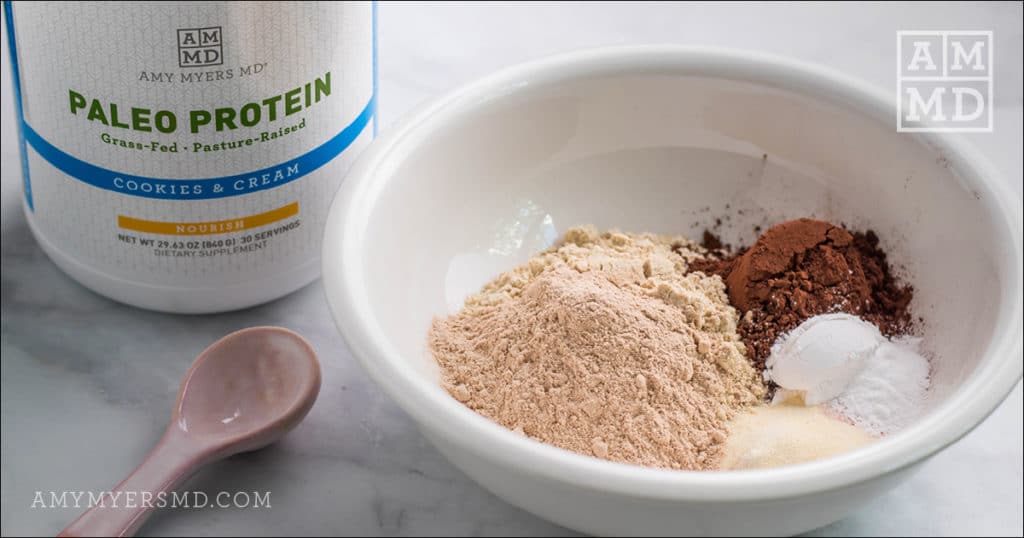 Maple Syrup
These are completely free of refined white sugar. Although it's only suitable for AIP after the reintroduction phase, the sweetener in this recipe is all-nature. This recipe uses real maple syrup, which is rich in vitamins and minerals including manganese, zinc, and even iron. Just ⅓ cup sweetens this entire recipe, so you can enjoy a sweet treat without worrying about the sugar content.
Whipped Coconut Cream
Whipped coconut cream only uses the thick, top layer of a chilled can of coconut milk. Unlike processed, store-bought whipped cream, the whipped coconut cream for these Cookies and Cream Brownie Bars provides you with healthy fats and medium-chain triglycerides. It's not only delicious, it also makes this dessert satiating and rich.
Gelatin
While eggs are certainly a nutrient dense food, they are also a common allergen. An excellent swap for eggs in the kitchen is gelatin. It's also full of the amino acids found in Collagen, which is used to promote healthy hair, skin, nails, and joints. Using gelatin as the binding agent can also help boost your gut health and support healthy digestion.
How to Make Cookies and Cream Brownie Bars
Many brownie recipes can seem intimidating. However, these Cookies and Cream Brownie Bars couldn't be easier to make. They are the perfect sweet treat to bring with you to summer picnics or to keep on -hand for the whole family to enjoy.
You'll start with the whipped coconut cream. 1-2 days in advance, put a can of full-fat coconut milk into the refrigerator. Alternatively, if you use a can of coconut cream instead of full-fat coconut milk, it can be put into the refrigerator 2-3 hours before whipping.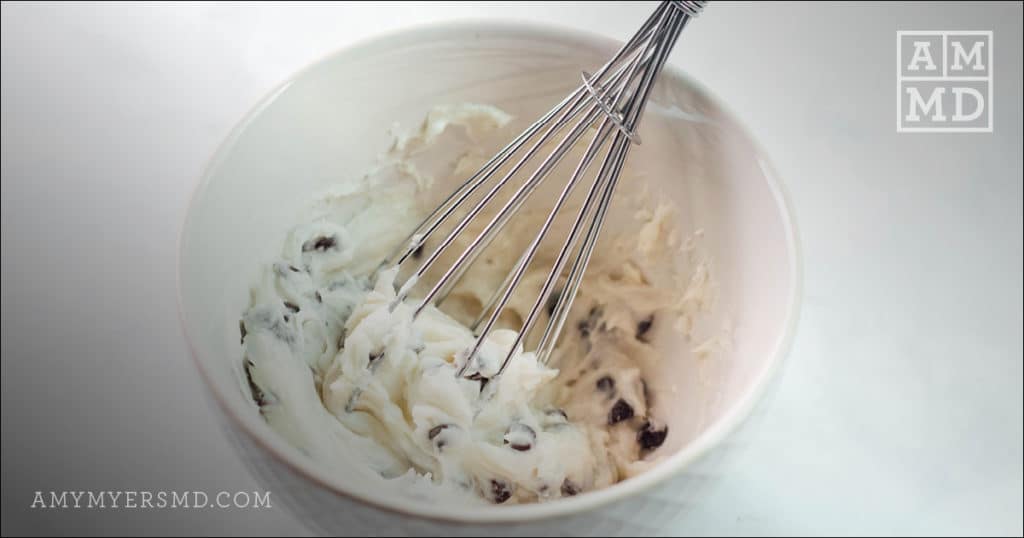 Once chilled, open the can of coconut milk and scoop out the cream at the top of the can (the cream will float to the top and the water remains at the bottom). Put the cream into a chilled bowl, and whip with a mixer for 1 minute. If the cream is too thick after whipping, add 1/2 tablespoon of coconut water and whip again. Store this in the fridge until it's time to frost the brownies.
To begin making your bars, first preheat your oven to 350 degrees and grease an 8" x 8" baking pan.
Then, in a large bowl, whisk together the melted coconut oil or shortening and the maple syrup. Set this aside.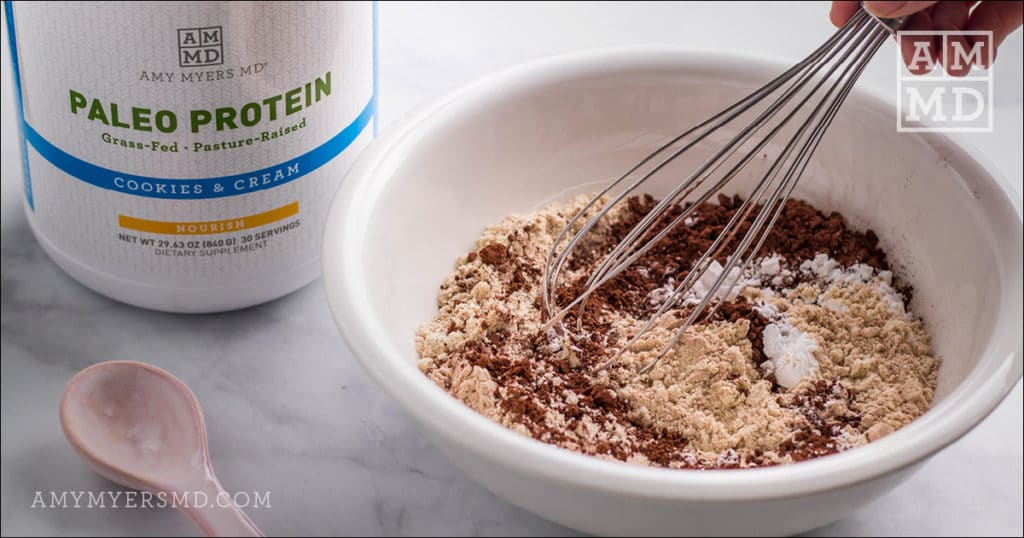 In a separate medium bowl, sift together all the dry ingredients (tigernut flour, cocoa powder, arrowroot starch, protein powder, gelatin, sea salt, and baking soda). Then add the dry ingredients to your wet ingredients in the large bowl, and stir until combined.
The batter should be thick enough to press into your baking pan with a spatula. Once pressed into your pan, bake at 350 degrees for 20-25 minutes or until a toothpick comes out clean.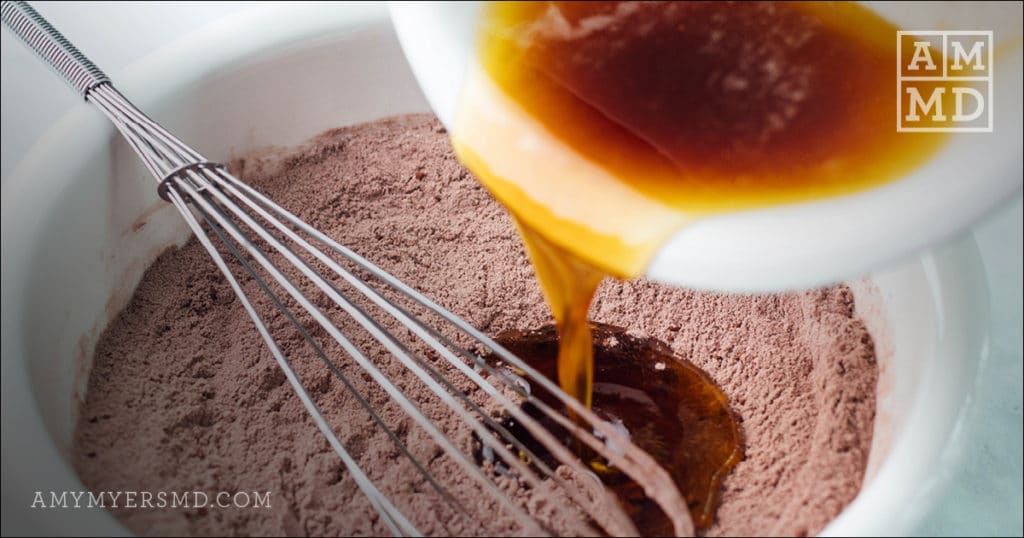 Allow the brownies to cool completely before icing with the coconut whipped cream. To make the icing, gently fold sugar free chocolate chips into the whipped coconut cream. Frost the brownies with the coconut cream mixture and garnish with shaved sugar free chocolate, if desired.
Allow the icing to set in the refrigerator for 10 minutes before serving the brownie bars.
How to Store these Gluten Free Brownies:
These brownie bars make great leftovers. Simply store them in an airtight container in the refrigerator for up to 5 days. They will keep at room temperature, but the texture of the icing will change. I don't recommend keeping them out of the refrigerator for more than an hour.
You can freeze these bars, too. They will keep in an airtight container in the freezer for up to a month. Allow them to thaw in the refrigerator before consuming.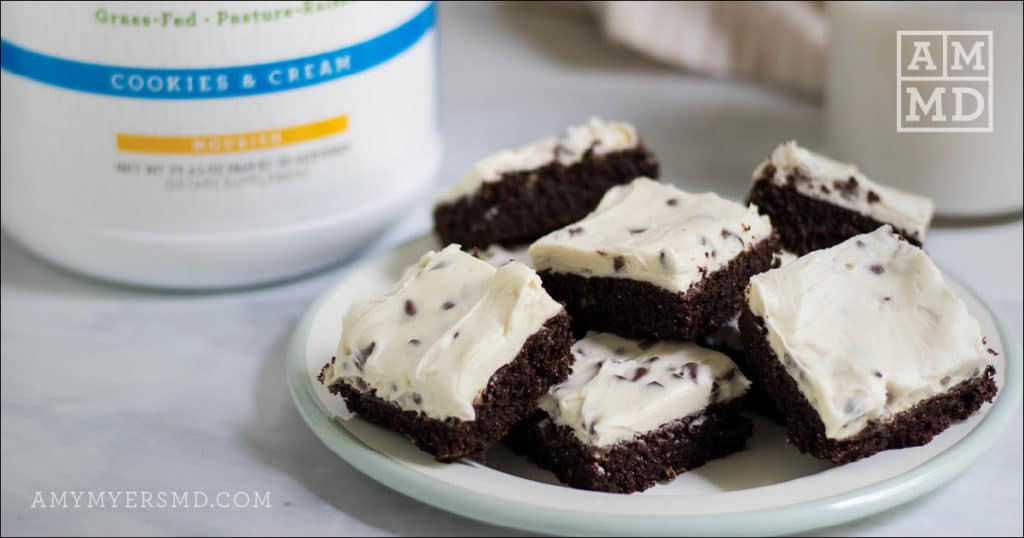 Looking for more Myers approved dessert recipes?
These are some more of my favorite, go-to recipes for when I'm craving something sweet:
Cookies and Cream Brownie Bars
---
Ingredients
1/2

cup

120.00

ml coconut oil or sustainably harvested palm oil, melted

1/3

cup

80.00

ml maple syrup

1

cup

240.00

ml Tigernut flour

1/4

cup

60.00

ml cocoa powder

2

Tbsp

29.57

ml arrowroot starch

1 1/2

scoop The Myers Way® Gelatin

1/4

tsp

1.23

ml sea salt

1/2

tsp

2.46

ml baking soda

1

cup

240.00

ml coconut cream whipped

2

Tbsp

29.57

ml chocolate chips
shaved chocolate sugar-free, for garnish (optional)
Instructions
Make the whipped coconut cream. Open a can of coconut milk that has been chilled in the fridge for at least 24 hours. Scoop out the cream at the top of the can. Put the cream into a chilled bowl, and whip with a mixer for 1 minute. If the cream is too thick after whipping, add 1/2 tablespoon of coconut water and whip again. Store this in the fridge until it's time to frost the brownies.

---

Preheat oven to 350°F. Grease an 8" x 8" square baking pan with additional oil or shortening.

---

In a large bowl, whisk together the melted oil or shortening and maple syrup. Set aside.

---

In a medium-sized bowl, sift together the tigernut flour, cocoa powder, arrowroot starch, protein powder, gelatin, sea salt, and baking soda. Add the dry ingredients into the oil and syrup mixture, and stir until thoroughly combined.

---

Press the batter into the greased baking pan with a spatula and bake for 20-25 minutes until a toothpick inserted into the center comes out clean.

---

Allow the brownies to cool completely.

---

Once the brownies are completely cooled, use a spatula to carefully fold the chocolate chips into the coconut cream. Frost the brownies with the coconut cream mixture and sprinkle with finely grated or shaved sugar free dark chocolate (optional). Place into the refrigerator for 10 minutes to set the frosting before serving.

---