Corn-Free Arepas
If cornbread and tortillas had a baby, it would look a bit like an arepa. However, arepas predate both cornbread and tortillas, and have been a popular dish in Colombia and Venezuela since the pre-Columbian days. The recipe for arepas has remained the same for centuries. Traditionally, arepas are made from a ground maize (corn) dough and fried or grilled in oil. These crispy yet soft discs are the perfect canvas for meat, vegetables, and sauces, meaning that the possibilities are practically endless for meals and snacks using arepas.
If you haven't tried an arepa before, you're missing out! However, if you're trying to eat gut-consciously, you might think arepas are off the menu. It's true that traditional arepas can wreak havoc on your gut lining due to the use of corn. The protein in corn can look like gluten to your body and cause a cross-reaction. Anyone suffering from gluten intolerance should avoid corn. However, thanks to this recipe, skipping corn doesn't have to mean missing out on delicious foods such as these Paleo, corn-free arepas!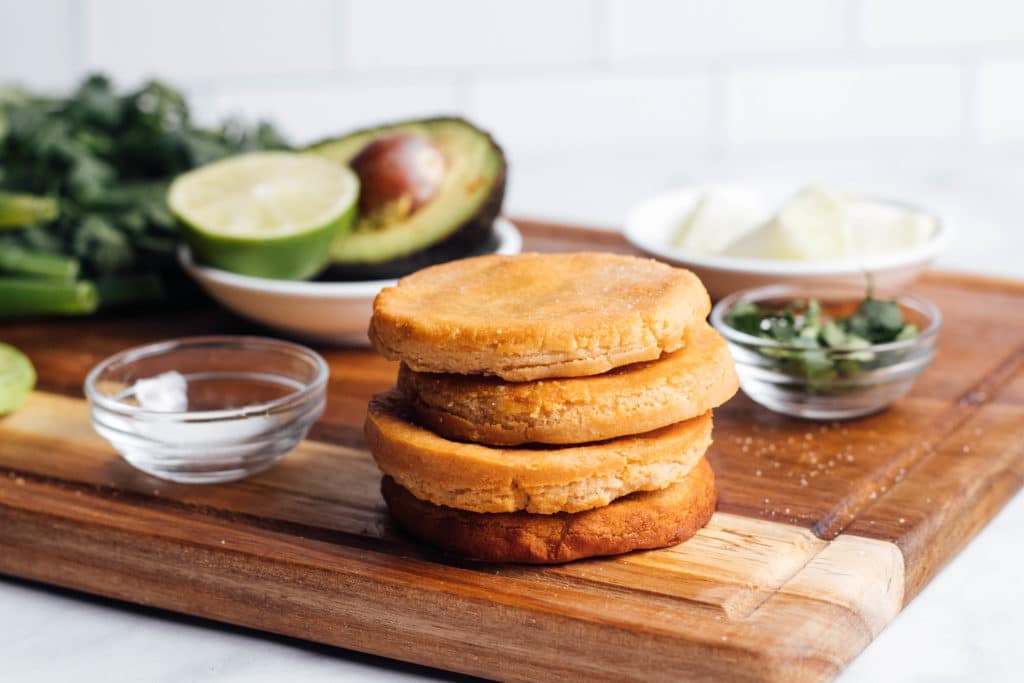 Corn-free arepas made with cassava flour
This recipe for corn-free arepas is safe for both a Paleo diet as well as an elimination diet. The fix is to simply swap out traditional corn with cassava flour. Cassava flour, when mixed with a little egg, mimics the texture of corn meal and holds together just as well. It also fries up nice and crispy while retaining the crumbly, moist texture inside that has made arepas a favorite for centuries. You don't have to sacrifice taste for your health!
What is cassava flour?
Cassava flour is a gut-healthy ingredient that offers many health benefits.Cassava flour, made from the yucca plant, is high in resistant starch. This is a type of starch that has the same benefits as fiber and also feeds "good" gut bacteria, which can help reduce inflammation. Cassava flour is also a good source of vitamin C as well as vitamin B1, which aids in the breakdown of carbohydrates. It also has niacin (vitamin B3), which acts as an antioxidant.
How to make corn-free arepas
With only 6 ingredients, this recipe is incredibly simple and offers a great return on your efforts. Simply combine the cassava flour in a bowl with the salt, egg, oil, and a bit of water until you have a thick dough. Next, roll our the dough as if you were making cookies. You can then cut out circles using the open end of a glass, or you can simply form balls of dough and press them down onto a plate to get the right shape.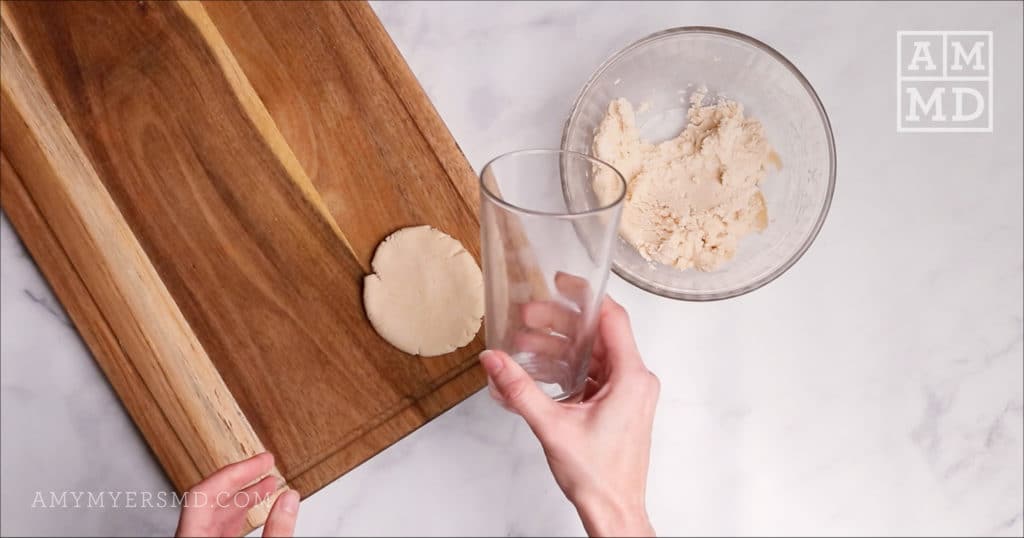 Next, you'll fry the arepas on both sides for a few minutes until they are golden-brown and crispy. Be careful not to burn them and understand that they will still be soft on the inside. That's exactly how you want them!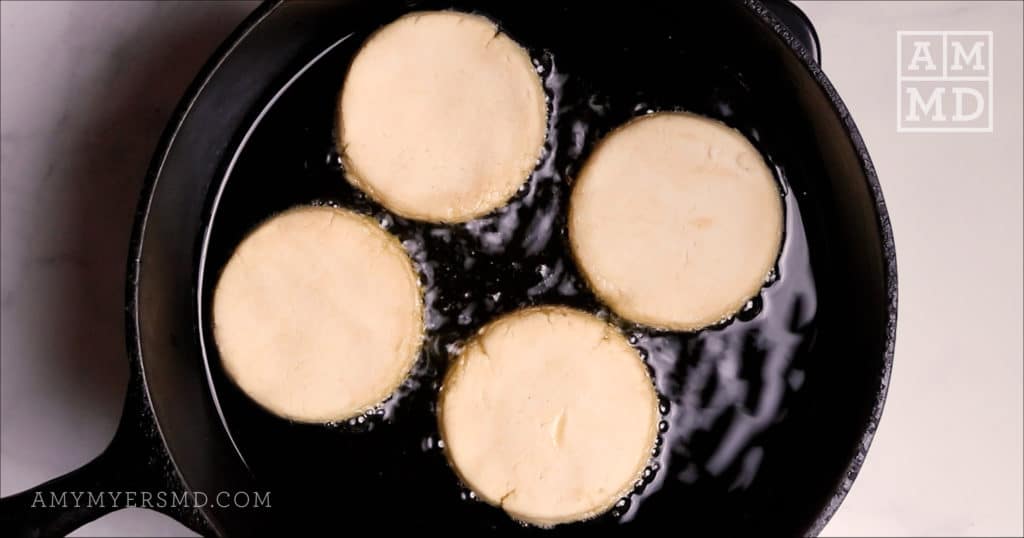 Can I eat egg?
The subject of chicken eggs has long been debated in regards to nutrition. For most people, eating eggs is completely fine and can offer health benefits such as lean protein and vitamin A. However, if you are a person who is sensitive to eggs or who is trying to lower their cholesterol, you should limit your exposure to eggs or cut them out of your diet completely.
How to eat arepas
This is the fun part about arepas: you can eat them with almost anything! For a filling and wholesome dinner, top these arepas with the chicken from this Cassava Flour Tortilla Chicken Tacos recipe. Or, for a quick snack, scoop on some Nightshade-Free Pico de Gallo. This recipe includes a delicious avocado, lime and cilantro topping!
You can even enjoy these tasty fritters plain or with a bit of butter smoothed over them for a satisfying snack that's easy and filling. Arepas are already a popular street food in Latin America, which means they're perfect for on-the-go eating.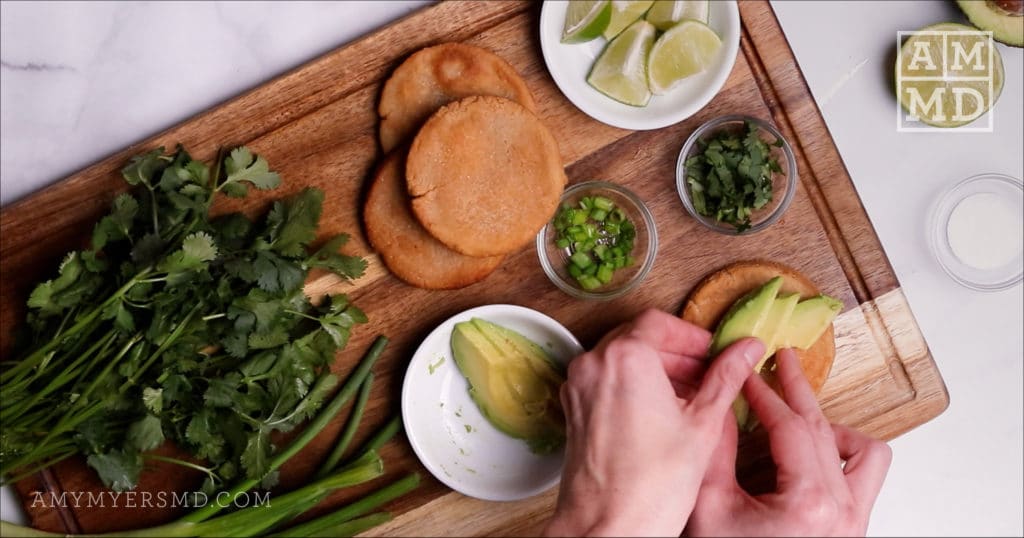 These arepas also store in the freezer if you make more than you'll eat in a day. Simply place them in a container and stick them in the freezer, then pop them in the oven for a couple minutes or re-fry in a pan to bring back all their delicious qualities.
Ingredients
Arepas
1

cup

240.00

ml Cassava flour

1

tsp

4.93

ml sea salt

1

large egg whisked

1/4

cup

60.00

ml Avocado oil

1/2

cup

120.00

ml water

1/4

cup

60.00

ml coconut oil for frying
Toppings
1

avocado sliced

1/4

cup

60.00

ml cilantro diced

1/2

tsp

2.46

ml sea salt

1/4

cup

60.00

ml green onions diced

1

lime quartered
Instructions
Combine cassava flour and sea salt in a bowl. Stir to combine.

---

Add egg and oil, and stir until both are integrated in the dough.

---

Add ⅓ cup of water to the dough and combine. You may need to add up to ½ cup of water total, depending on the brand of cassava flour. You should end up with a moist dough that is very easy to form into balls.

---

Take about ¼ cup of the dough (about ⅙ of the dough) and roll into a ball. Flatten the disk that is about 4" in diameter, and ½" thick. You can use a glass or large cookie cutter to cut a perfect circle if desired. Repeat with remaining dough until you have 6 disks.


---

Heat ¼ cup oil in a large skillet over medium heat until hot. Make sure the oil is very hot before adding the disks.

---

Place disks in the hot oil and fry for about 3-5 minutes per side until golden brown.

---

Serve with avocado, cilantro, green onion, additional sea salt, and a squeeze of lime juice.

---