Gluten-Free Crab-Stuffed Shrimp
If you want to treat yourself and your loved ones to an amazing seafood dinner, you've got to make these AIP, Paleo, and The Myers Way® approved Gluten-Free Crab-Stuffed Shrimp. This recipe is easy, restaurant-worthy, and uses just a handful of fresh ingredients for a flavorful, gluten-free, crab stuffing. It's baked until the large shrimp is perfectly juicy and tender, and ready to please everyone at the table.
A Protein-rich Seafood Dinner
This recipe is loaded with protein, thanks to the shrimp and crab meat. Both of these ingredients not only offer ample amounts of protein, they also provide healthy, omega-3 fatty acids. Omega-3s are essential for optimal heart and brain health.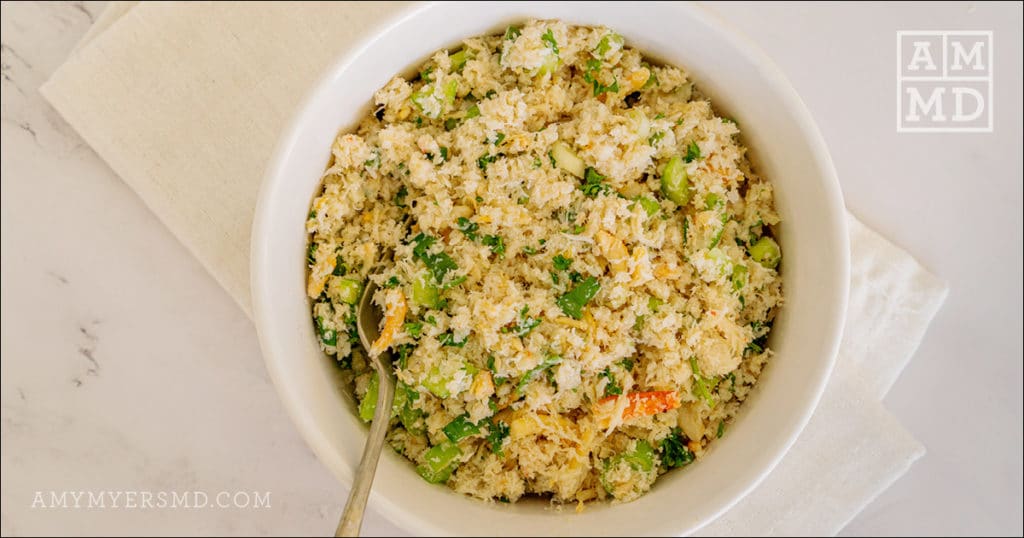 Crab meat is also rich in selenium, which supports the immune system and thyroid hormone metabolism. On top of that selenium is a powerful antioxidant that helps prevent cell damage.
For this recipe, you want to use the largest shrimp you can find: about 12-16 shrimp per pound. This will make it easier to stuff the shrimp. It also makes a more impressive presentation to bring to the table (figuratively and literally).
To prepare the shrimp to be stuffed, you'll need to "butterfly" the shrimp halfway. Carefully use a paring knife to slice underneath the shrimp halfway, so that it can be opened to create a flat surface to hold the crab stuffing.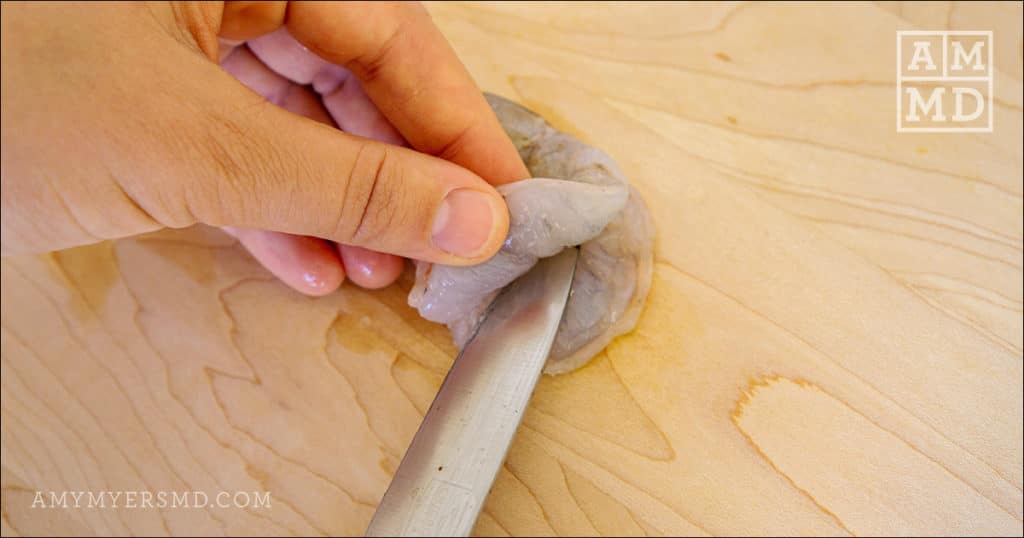 Healthy Ingredients for Gluten-Free Crab-Stuffed Shrimp
Most crab cake and crab stuffing recipes use egg and flour fillers to bind the mixtures together. You won't find those in this recipe. It doesn't need any fillers because each stuffed shrimp only requires a heaping tablespoon of gluten-free crab stuffing. You only need to press the crab stuffing together in your hand to make a ball that sticks together. This ensures that you're only using the best and the healthiest ingredients.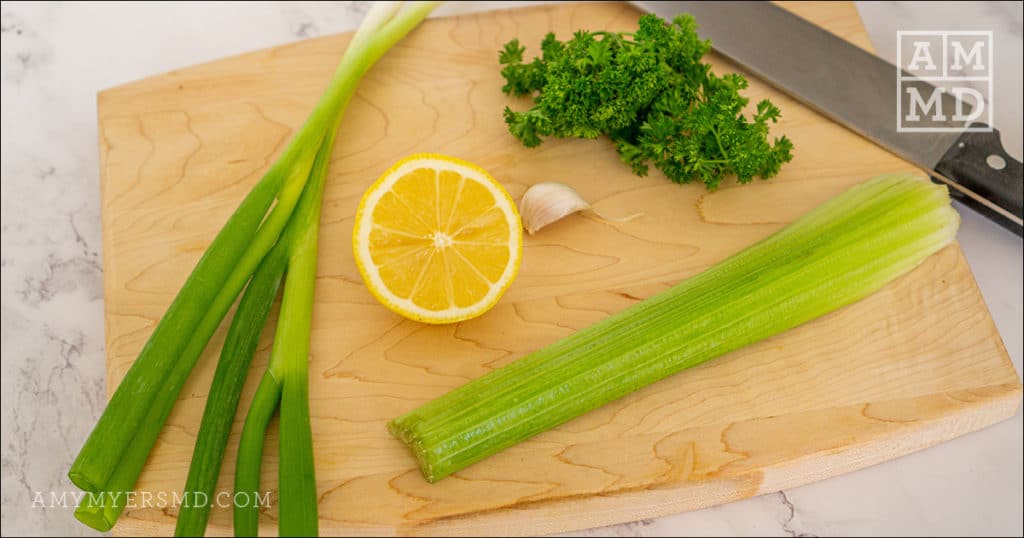 The crab stuffing is flavored with fresh garlic, scallion, parsley, and freshly squeezed lemon juice. Finely diced celery gives the stuffing some crunch and extra nutrients as well as prebiotic fiber. The stuffing is seasoned with salt, freshly ground black pepper, and a touch of olive oil, which adds more healthy fats to this dish and helps the stuffing stick together.
Time-saving Tip:
This recipe requires about half an hour to put together. It's worth every minute! The combination of shrimp and crab meat is absolutely delicious. To save time, you could prepare the gluten-free crab stuffing up to a day in advance and store it in the refrigerator overnight in a sealed container.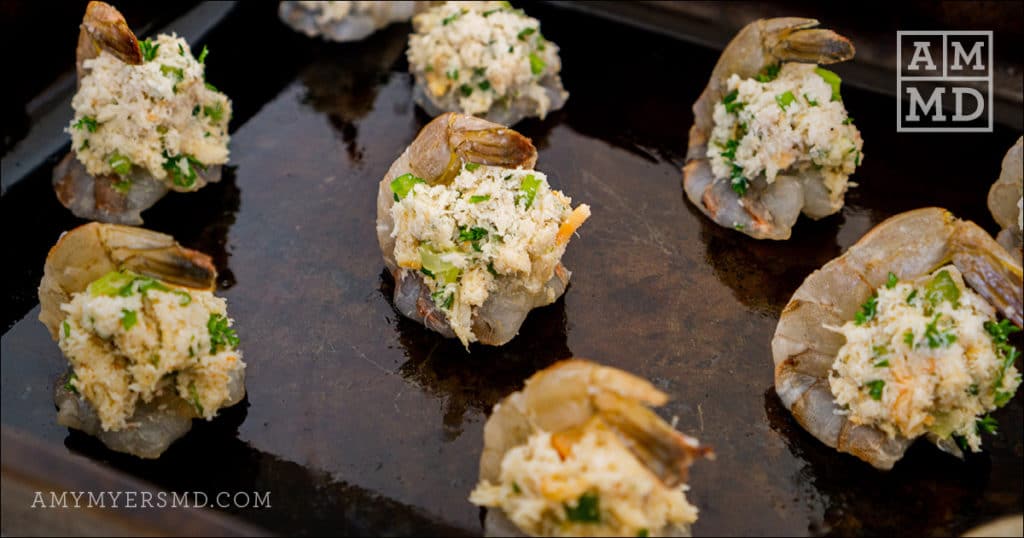 Although I recommend preparing the shrimp day-of, it can also be prepped in advance: simply butterfly the bottom of the shrimp the day before and store it overnight in a separate sealed container in the refrigerator.
When you are ready for dinner, you will preheat the oven while you finish preparing this dish: season the shrimp with salt and pepper, arrange them on an oiled baking sheet, and carefully place about a tablespoon of crab stuffing on each shrimp.
Dinner will be ready in 15 minutes!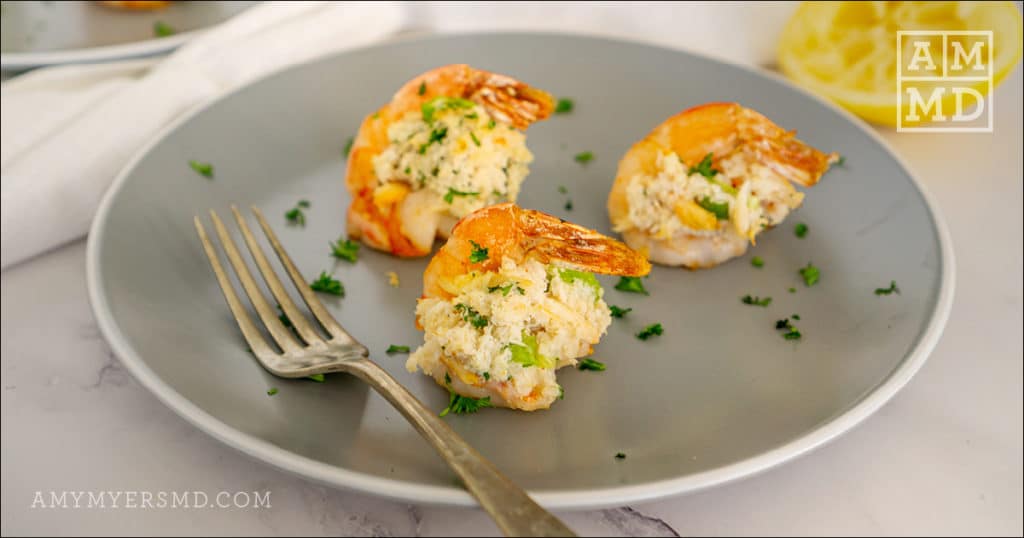 Gluten-Free Crab-Stuffed Shrimp
---
Ingredients
1

lb

454.00

g jumbo shrimp thawed, cleaned, and de-veined (tails on)

13

oz

384.46

ml crab meat canned and drained (about 2 cups, or 9-10 oz fresh crab meat, minced)

2

Tbsp

29.57

ml parsley finely minced

1

stalks celery finely diced

1

scallions finely diced

1

clove garlic finely minced

1

Tbsp

14.79

ml lemon juice

1

Tbsp

14.79

ml extra virgin olive oil plus additional for oiling baking sheet

1/4

tsp

1.23

ml sea salt or more to taste
ground black pepper to taste
Instructions
Preheat oven to 375 degree Fahrenheit. Brush a large baking sheet with olive oil.

---

In a large bowl, combine drained crab meat with minced parsley, finely diced celery, diced scallion, and minced garlic. Add lemon juice, olive oil, ⅛ teaspoon salt, and black pepper. Mix well and taste to see if you need more salt or pepper.

---

Butterfly the shrimp: use a paring knife to carefully slice the bottom of the shrimp halfway, taking care not to cut all the way through. Season the shrimp with salt and pepper.

---

Arrange the shrimp on the greased baking sheet, cut side down and tails up.

---

Scoop about 1 rounded tablespoon of crab stuffing into your hand, squeeze out any extra liquid into a spare bowl, and shape into a small ball. Place the ball onto the "bed" of the shrimp. Repeat until all the shrimp are stuffed.

---

Bake for 15 minutes, or until the shrimp is cooked through fully. Use a spatula to gently remove the shrimp from the baking dish onto a plate. Garnish with parsley and serve warm with a squeeze of lemon juice.

---