Creamy Dairy-Free 'Yogurt' Cheese
This dairy-free cream cheese is inspired by Middle Eastern Labneh, which is a tangy, thick, creamy cheese spread traditionally made from strained cow's milk or goat's milk yogurt. This AIP dairy-free Labneh is made from strained coconut yogurt and tastes very rich and creamy.
This strained coconut yogurt makes a flavorful appetizer when served with traditional Middle Eastern toppings such as olives, figs, and sliced vegetables. It also makes a great dairy-free cream cheese spread for breakfast.
No matter how you decide to serve this AIP strained cheese spread, you'll love how easy it is to make it and how great it tastes.
Coconut yogurt
Coconut yogurt is the only main ingredient in this AIP cream cheese spread. Coconut yogurt is made with coconut milk and probiotic bacteria. For this recipe, look for an unsweetened coconut yogurt that contains live and active bacteria and is thickened with an AIP-friendly starch, such as arrowroot starch or tapioca starch.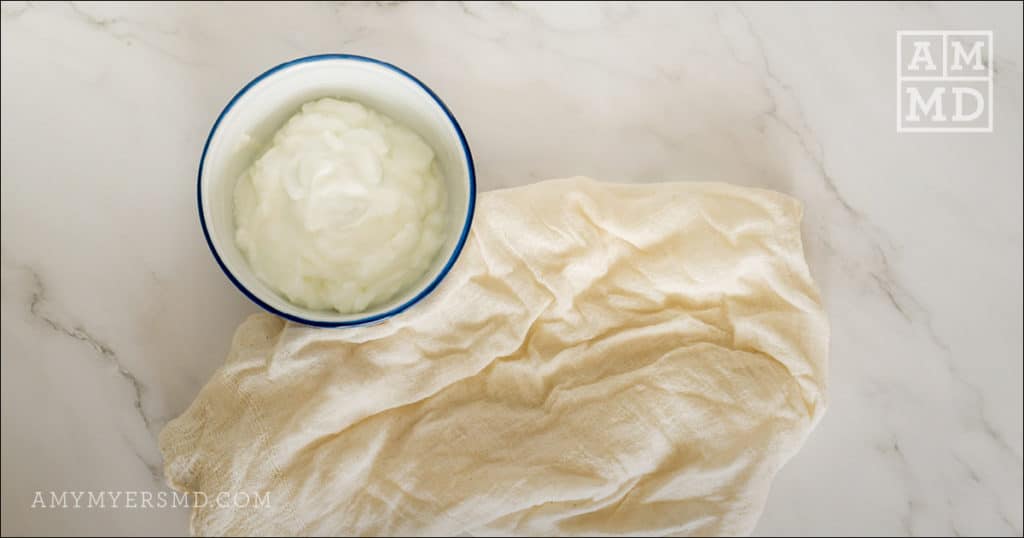 You can flavor the strained coconut yogurt with savory or sweet seasonings.
Straining the yogurt
To strain the yogurt, you'll need a clean kitchen towel or a cheese cloth. If you're using a cheesecloth, fold it 2-3 times to make sure that the yogurt solids don't strain through the cheesecloth into the liquid.
Carefully place the yogurt into the clean kitchen towel or a folded cheesecloth, then place the cheesecloth in a colander that is set up over a large bowl to collect the strained liquid. Place this whole setup in the refrigerator for 12-24 hours and let it strain.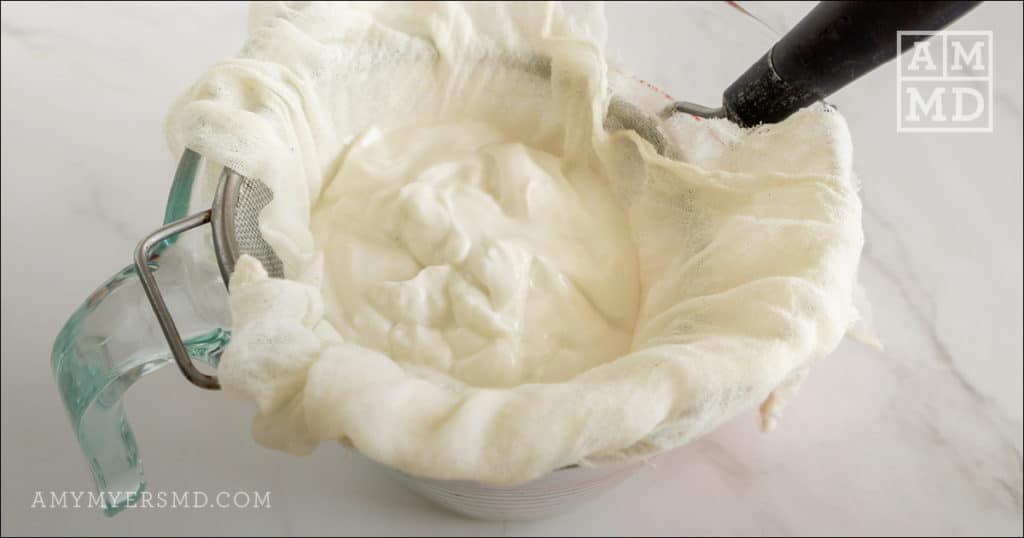 I recommend straining the coconut yogurt in the refrigerator for at least 12 hours. The longer you strain the yogurt, the thicker it will become and the more liquid will separate out from the solids. It's a personal preference how thick you like your strained yogurt!
Straining it for 12 hours will yield a consistency a little thicker than Greek yogurt. Straining it for 24 hours will give it the consistency of cream cheese. Make sure you save the liquid that is strained out! This liquid is rich in probiotics and can be used in place of coconut milk or water in baking recipes.
Is coconut yogurt healthy?
The probiotic bacteria in coconut yogurt is considered good bacteria that help maintain a healthy balance of gut bacteria. Eating probiotics and having healthy bacteria in the gut can help reduce digestive issues, inflammation, obesity, and allergies.
Probiotics may also help maintain the immune system by promoting the production of antibodies, as well as reduce the duration of respiratory infections and the risk of urinary tract infections.
Coconut yogurt is a great way to eat probiotics daily. In addition to the probiotic benefits, coconut yogurt is very healthy thanks to the coconut milk itself.
Coconut milk is high in electrolytes such as potassium, magnesium, and phosphorus. These electrolytes help maintain normal heart, muscle, and nerve function. Coconut milk is also high in iron, which helps prevent anemia and keeps the blood cells healthy.
How to serve this coconut yogurt cream cheese
This coconut yogurt cream cheese can be served both as a sweet and savory recipe. Traditionally, Labneh is a savory appetizer, topped with olives, olive oil, and fresh herbs. It is then served with sliced veggies and pita bread (gluten-free for us, of course!) for dipping.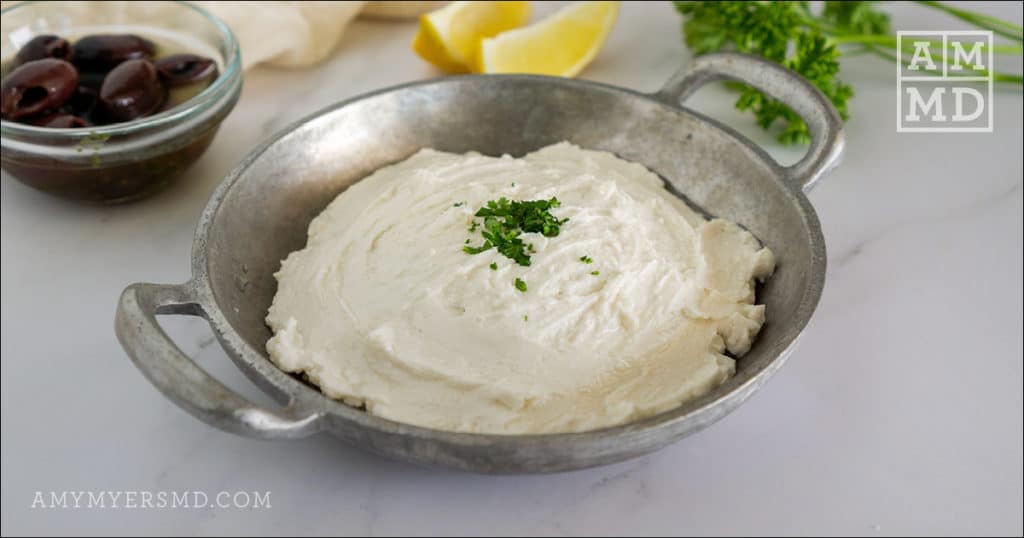 If you want to go the savory route, I recommend seasoning this coconut yogurt with a bit of salt and fresh lemon juice, then topping with olive oil, olives, and serving with sliced cucumbers and radishes.
Savory strained coconut milk makes a great snack or party appetizer. It can be served alongside Artichoke Hummus as part of a Middle Eastern themed spread.This coconut yogurt cream cheese is also great as a sweet recipe, spread on Sweet Potato Toast drizzled with honey, or as a dip for fruit, such as fresh strawberries or figs.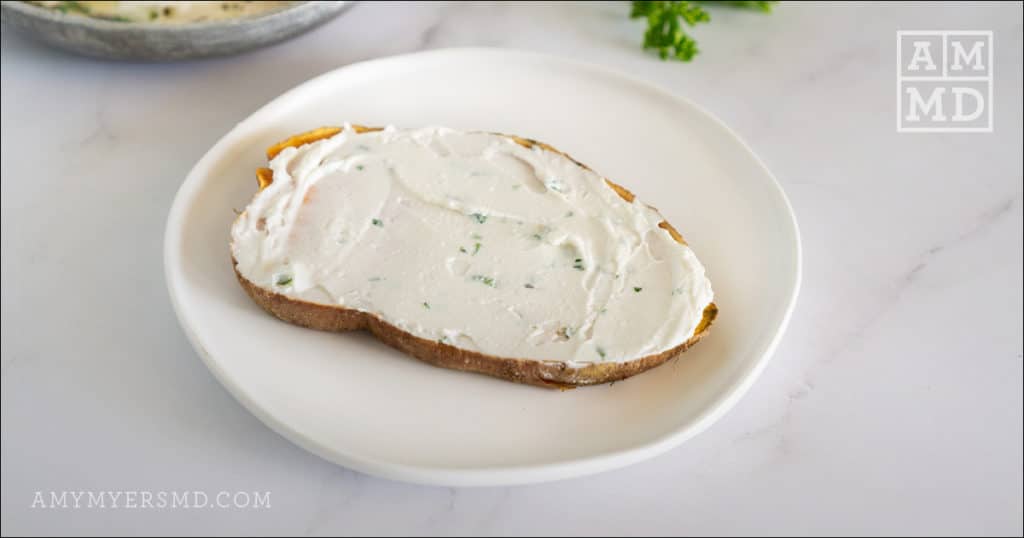 How to store this AIP strained yogurt
This strained coconut yogurt can be stored in a sealed container in the refrigerator for up to a week. If you plan on storing any leftover strained yogurt, then it is better to store it separately from the olives or any other toppings you might want to use. This way you can customize your toppings every time!
Creamy Dairy-Free 'Yogurt' Cheese
---
Ingredients
Coconut yogurt
16

oz

473.18

ml plain coconut yogurt
Savory ingredients for serving
1/4

tsp

1.23

ml sea salt

2

tsp

9.86

ml lemon juice

1

Tbsp

14.79

ml extra virgin olive oil

1/4

cup

60.00

ml olives for topping
cucumber or radishes, for topping

1

tsp

4.93

ml fresh herbs minced
Sweet ingredients for serving
1

Tbsp

14.79

ml honey
strawberries or fresh figs, sliced
Instructions
Place the yogurt in a folded cheesecloth or clean kitchen towel big enough to hold the yogurt. Place the cheesecloth or kitchen towel with the yogurt into a colander, and hang the colander over a bowl to collect the strained liquid. Place in the refrigerator and allow to strain for at least 12 hours.

---

When ready to serve, use a spoon to remove the strained thickened coconut yogurt into a small bowl. Stir in salt and lemon juice. Serve by topping with olives and olive oil, and fresh vegetables for dipping.

---