Glazed Peppermint Mocha Cookies
Get festive for the holidays with these healthy protein Glazed Peppermint Mocha Cookies made with my limited-time only Peppermint Mocha Paleo Protein! These cake-y Glazed Peppermint Mocha Cookies are the perfect low sugar alternative to any dessert for the holiday season. They're Paleo and AIP, plus the cake-like texture and deliciously sweet glaze are reminiscent of your favorite, store-bought donut holes! You could even put these on the menu for a holiday family breakfast.
Are these Glazed Peppermint Mocha Cookies Actually Healthy?
They're healthier than many of the cookies you find at holiday gatherings. While my Peppermint Mocha Cookies certainly shouldn't replace your nutrient-dense meals or snacks, they are a deliciously healthy treat for the season. Here are some of the ingredients that make these treats a cleaner option for your next holiday cookie exchange.
Tigernut Flour, Coconut Flour, and Arrowroot Starch
These flour alternatives take the place of heavy, grain-based flours that lead to inflammation in the body. Tigernut flour is an excellent source of Vitamin E and lends a natural sweetness to the cookie base, while coconut flour is high in fiber and healthy fats to help keep you full. Arrowroot starch may not be as nutritious as the other flour in this recipe, yet it gives these cookies an amazing texture reminiscent of a holiday donut hole.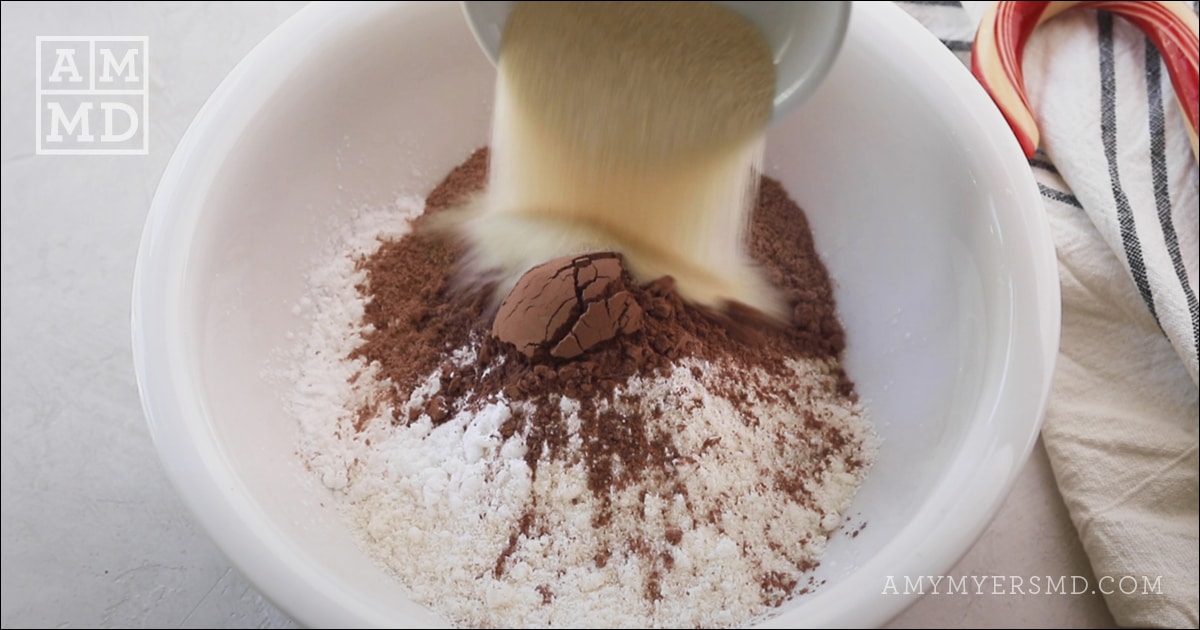 Maple Syrup and Honey
The natural sweeteners in this recipe eliminate the need for highly processed, inflammatory sugar and processed sugar substitutes. Maple syrup is an excellent source of antioxidants as well as nutrients such as manganese and zinc. In addition to maple syrup's powerful nutrients, raw honey contains enzymes that will support your digestion and — if you buy local honey — may even help soothe seasonal allergies.
Coconut Butter and Coconut Oil
Coconut butter and coconut oil are combined with just a touch of honey to make the icing for these cakey cookies. It's so much better for you than the usual royal icing recipe composed of milk and powdered sugar. Coconut products have a natural sweetness and are full of medium-chain triglycerides that help promote energy, blood sugar stability, and nutrient absorption.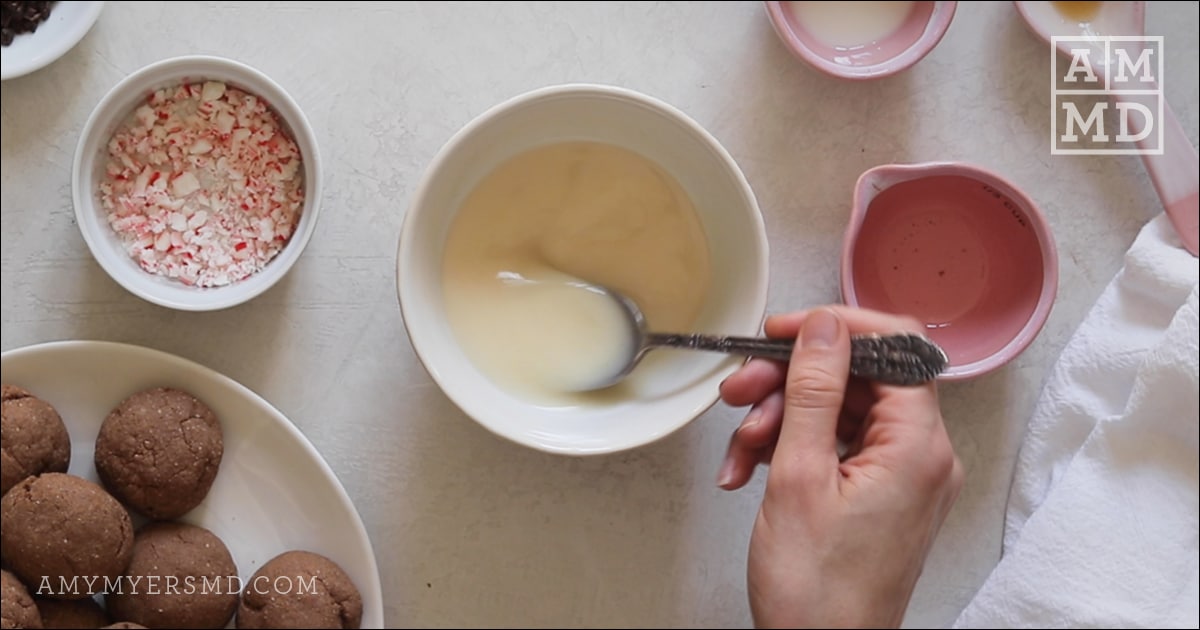 Paleo Protein Powder
My new, limited edition, Peppermint Mocha Paleo Protein not only provides the deliciously festive flavor that makes these cookies perfect for the holiday, but it's also really good for your body. It's gluten-free, dairy-free, and sugar-free, and all of my paleo protein is sourced from non-GMO, hormone and antibiotic-free, grass-fed beef. So you know that the quality of the ingredients in your Glazed Peppermint Mocha Cookies is going to benefit your health more than any other peppermint treat on the dessert tray.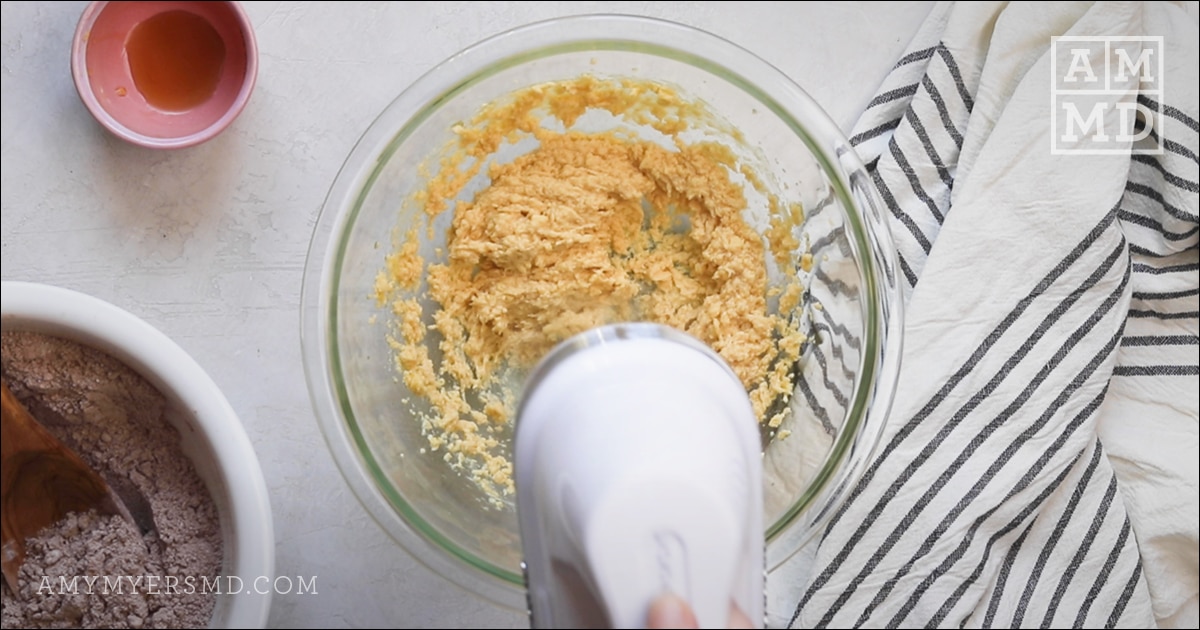 Incidentally, the protein and healthy fats in this recipe are a huge reason why I can recommend starting your day with one of these cookies beside a soothing cup of dandelion root tea. Another drink that would go well with these cookies is an iced peppermint mocha made by blending Peppermint Mocha Paleo Protein with water or non-dairy milk, and pouring over ice!
How to Bake Peppermint Mocha Cookies
To make Glazed Peppermint Mocha Cookies you'll be combining two delicious and healthy parts. There's the chewy, cakey cookie base and the subtly sweet glazed icing. Luckily, both of them are easy to make.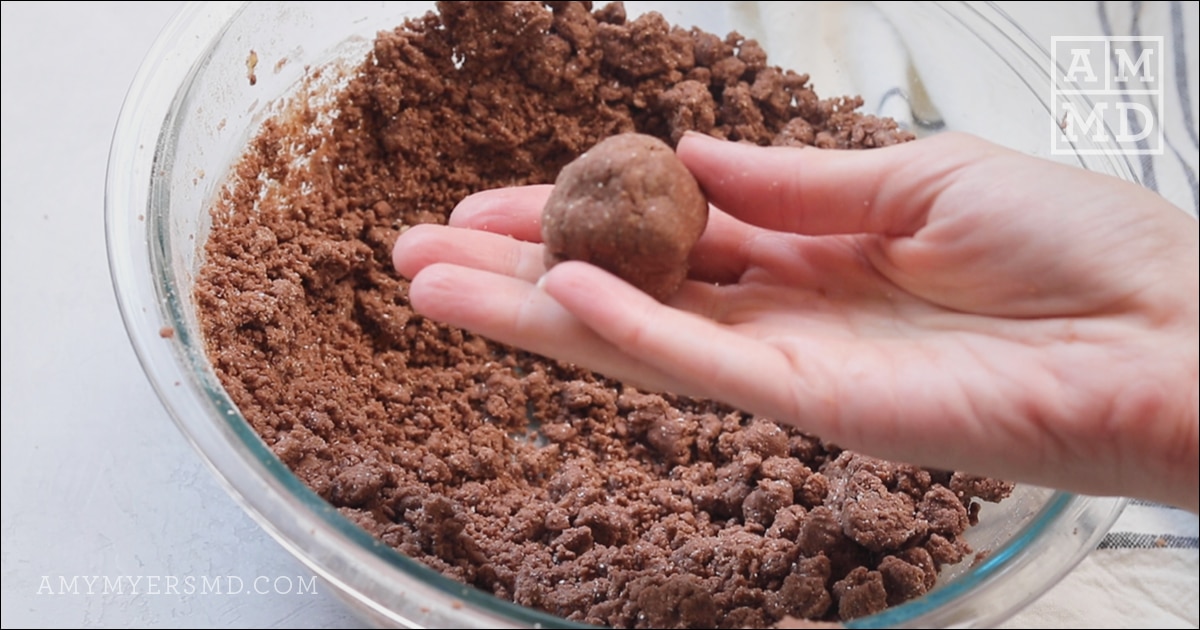 First, you need to make the cookies. Start by whisking your dry ingredients together in a medium-sized bowl. Then, using a hand mixer or stand mixer, cream together the maple syrup and palm shortening until well combined. Slowly add your dry ingredients to the maple syrup and shortening mixture until you get a thick dough.
Form the dough into 10-12 equal-sized balls — you have the option to flatten them if you'd like to make them more cookie-shaped, however, they do not spread, and the texture is more cake-like. Bake them at 350 degrees for about 12-14 minutes. Let your cookies cool completely while you make the icing.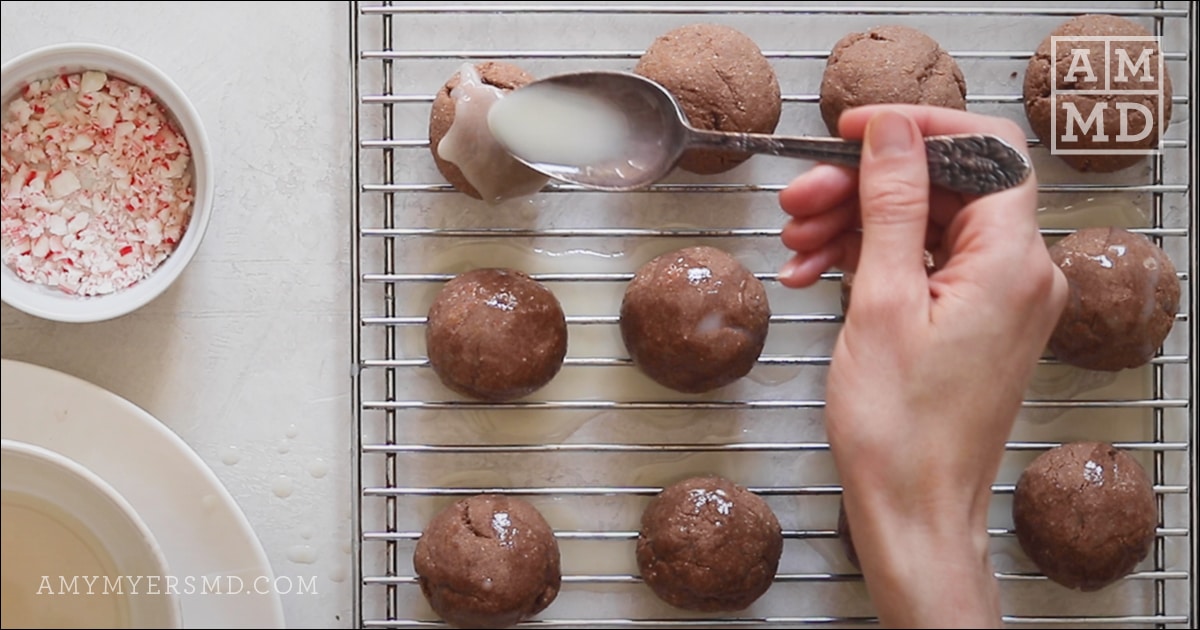 To make the icing, melt together your coconut butter, coconut oil, and honey in a small saucepan over low heat. Set your cookies on a wire rack above a sheet of parchment paper, and drizzle the icing over them. You'll end up drizzling the icing over the cookies in 3 layers before you've used all of the coconut drizzle.
While the final layer of icing is still wet, sprinkle the cookies with your preferred decorations — crushed sugar-free (or naturally sweetened) candy canes, naturally dyed sprinkles, shaved sugar-free chocolate, or just enjoy as is!
Can You Freeze Glazed Peppermint Mocha Cookies?
Yes, you can freeze these Glazed Peppermint Mocha Cookies. The best way to freeze them is to arrange them in a single layer in an airtight container. Allow the cookies to thaw in the refrigerator before you want to eat them.
Alternatively, Glazed Peppermint Mocha Cookies will keep well in an airtight container in the refrigerator for up to one week. Do not store them in an unsealed or poorly-sealed container — the air will cause them to become stale.
That being said, you are going to love these Glazed Peppermint Mocha Cookies during the holidays, and I am going to reiterate that they actually make a fun, comparatively healthy breakfast for the family on special occasions. Enjoy!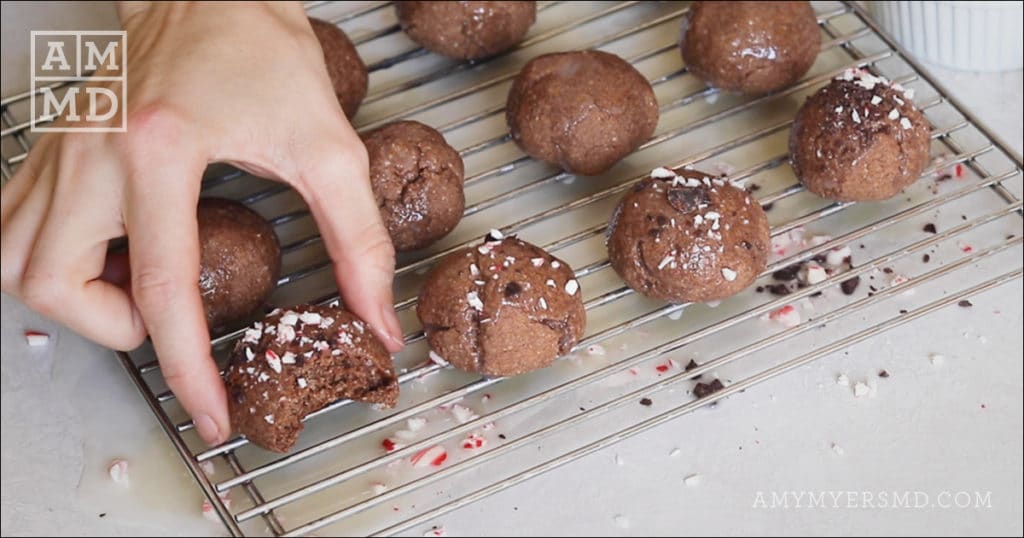 Glazed Peppermint Mocha Cookies
---
Ingredients
For the Peppermint Mocha Cookies
1/2

cup

120.00

ml Tigernut flour

1/3

cup

80.00

ml coconut flour

1/3

cup

80.00

ml arrowroot starch

1

scoop The Myers Way® Peppermint Mocha Paleo Protein

1

Tbsp

14.79

ml cocoa powder

1 1/2

scoop The Myers Way® Gelatin

1/2

tsp

2.46

ml baking soda

1/3

cup

80.00

ml maple syrup

1/2

cup

120.00

ml palm shortening
For the Coconut Butter Glaze
1/3

cup

80.00

ml coconut butter

1/4

cup

60.00

ml coconut oil

1

Tbsp

14.79

ml honey

2

Tbsp

29.57

ml shaved chocolate or other optional toppings (crushed candy cane, naturally dyed sprinkles, etc.)
Instructions
Preheat oven to 350 degrees Fahrenheit.

---

Combine tigernut flour, coconut flour, arrowroot starch, Peppermint Mocha Paleo Protein, cocoa powder, gelatin powder, and baking soda together in a bowl. Set aside.

---

Using an electric mixer, cream together the maple syrup and palm shortening. Slowly add the dry ingredients to the wet ingredients.

---

Form dough into 10-12 round cookies and set on a parchment-lined baking sheet. Bake for 12-14 minutes.

---

Remove cookies from oven and allow to cool completely on the baking sheet.

---

Meanwhile, melt coconut butter, coconut oil, and honey together in a bowl or in a small pot over the stove.

---

Arrange cooled cookies on a wire cooling rack above a sheet of parchment paper, and drizzle them with the coconut butter icing. Be sure to use all the icing for full glaze. It will likely be about 3 layers of icing on each cookie.

---

While the final layer of icing is still wet, sprinkle with crushed organic candy cane, naturally dyed sprinkles, or shaved chocolate (optional). Leave on a wire rack until the icing has hardened.

---