Green Goddess Dressing
This creamy green goddess dress is full of flavor and superfood ingredients. It's loaded with health benefits, while adding a subtle tangy to salads and crudites. It's also vegan and dairy free, making it elimination diet friendly!
Does Green Goddess Dressing have dairy?
Most traditional green goddess dressing recipes do contain dairy, however, I set out to create a vegan, dairy-free version. My recipe features coconut milk yogurt in place of dairy, and it's a delicious substitution!
It's important to note that some coconut milk yogurts have more tang and others have more natural sweetness than others. You'll notice my recipe suggests adding more apple cider vinegar to taste, and this accounts for that variety in yogurt flavors! Use your discretion in adding the vinegar — start with just a little and build from there!
What is Green Goddess Dressing made of?
With all the micronutrients and antioxidants from the fresh herbs, and probiotics from the yogurt and apple cider vinegar, this is a very healthy powerhouse of a dressing. The ingredients are customizable, making it a quick and easy dressing to whip up when you're feeling an energy slump or looking for an immune boost.
Let's look at some of the ingredients in this vegan green goddess dressing:
Fresh Herbs
I suggest adding soft stemmed herbs, but the types you use are entirely up to you! You can make the dressing with whatever herbs you prefer or have on hand. My favorite combination is cilantro, parsley, and basil, but you can just use one type of herb if that's what you have.
Unsweetened, Plain Coconut Milk Yogurt
To keep this recipe dairy free and vegan, I used unsweetened coconut milk yogurt. While you can use any dairy free yogurt you like, keep in mind that other dairy-free yogurts will have a distinct taste that will alter the overall flavor profile. Look for a yogurt option that is free of gums and fillers.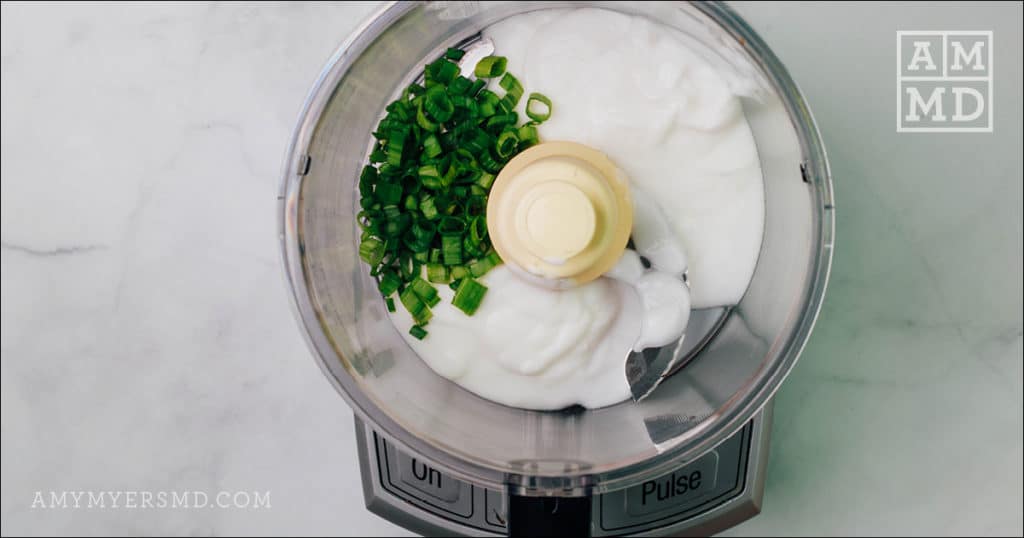 You can also make my recipe for homemade coconut milk yogurt. This will help ensure you're getting an option that is free of gums and fillers.
Organic Greens
This superfood powder adds a powerful nutritional punch to this dressing, and supports your body's inflammatory response. My Organic Greens powder is made from 14 USDA certified organic superfoods, and contains adaptogenic herbs like maca and ashwagandha, as well as turmeric root and ginger root.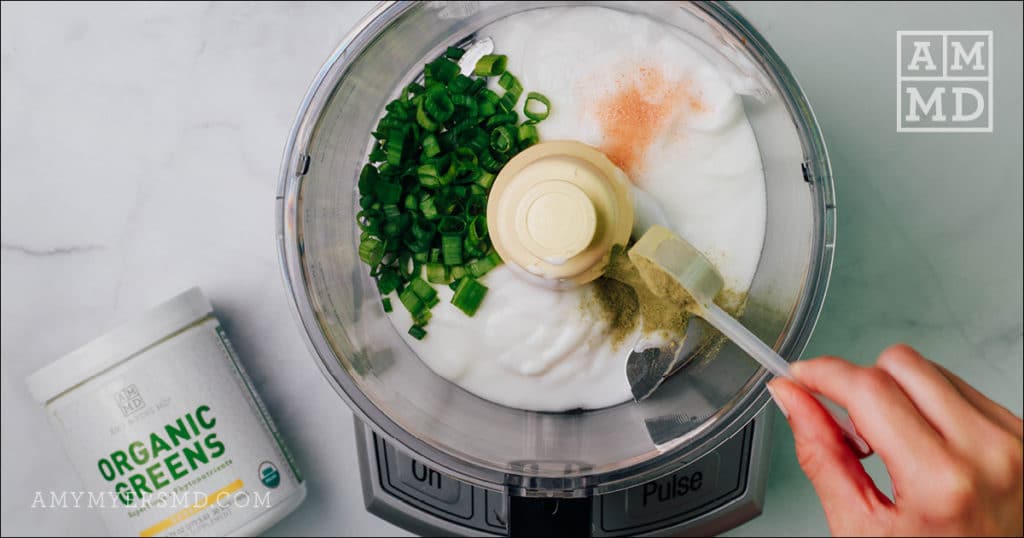 Garlic
The garlic in this dressing isn't only included as a way to spice up the recipe. It's also a nutrient-packed vegetable! Garlic provides B vitamins, vVitamin C, and a range of minerals including manganese and copper.
Can I make this dressing without fresh herbs?
I would not suggest making this dressing with herbs you might find in a tube or with reconstituted dried herbs. Not only will this affect the flavor, but herbs found in a tube often contain questionable ingredients and preservatives such as citric acid, ascorbic acid, and xanthan gum. Plus, dried herbs just don't have the same impact as fresh!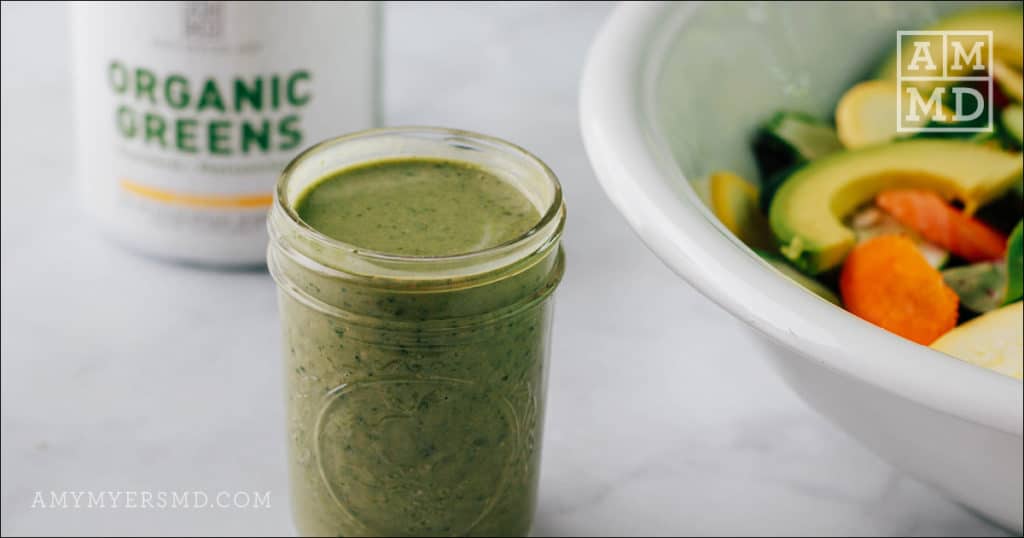 All of these fresh herb alternatives will also have a different flavor, texture, and nutritional value compared to fresh.
Other dressing recipes you'll love:
Green Goddess Dressing
---
Servings
10 servings (2 Tbsp each)
Ingredients
1

cup

240.00

ml plain coconut yogurt

3/4

cup

180.00

ml fresh herbs

1

scoop Organic Greens

2

Tbsp

29.57

ml green onions chopped

2

Tbsp

29.57

ml apple cider vinegar

1

cloves garlic minced

1/2

tsp

2.46

ml sea salt
Instructions
Combine all of the ingredients including just 1/2 scoop of Organic Greens into a food processor. Process until the dressing is smooth with flecks of the herbs.

---

Once processed, taste and add more Organic Greens to achieve desired flavor. You may also want to add a bit more apple cider vinegar or sea salt.

---

Store in a sealed container in the refrigerator for up to a week.

---