Italian Chopped Salad
This outstanding Italian Chopped Salad combines a variety of flavors and textures to make a delicious, nutrient-dense, AIP salad. It is loaded with fresh, whole-food ingredients and takes only a few minutes to put together. It's topped with a homemade Italian vinaigrette that is an easy, protocol-compliant show-stopper.
Serve my favorite Italian Chopped Salad on the side or turn it into the main course with the addition of protein such as grilled chicken, preservative-free ham, or grilled salmon.
What makes this Italian Chopped Salad Special?
The ingredients, of course! All of the ingredients in this Italian Chopped salad are AIP, Paleo, and The Myers Way® approved. This salad is a great way to get some extra nutrients with delicious vegetables and a flavorful dress.
The Fresh Vegetables
The star veggies in this Italian Chopped Salad include romaine lettuce, radicchio, cucumber, and red onion. These tasty ingredients are not only low-carb, they're also full of nutritious benefits.
Romaine lettuce is a leafy green that's high in calcium, phosphorus, magnesium, potassium, and vitamins C and K. It has a neutral, earthy taste and makes a great base for any salad ingredients and dressings.
Radicchio is a chicory vegetable that looks similar to red cabbage. It's deep purple color is an indication that this vegetable is full of antioxidants to provide your body with some much-needed relief.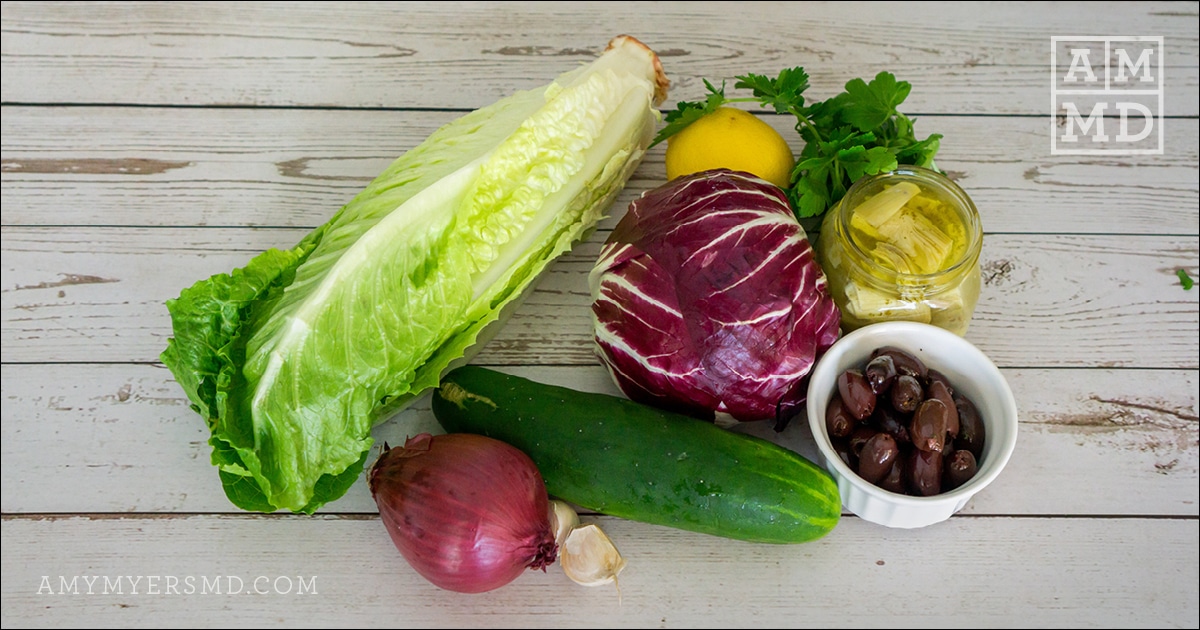 The color of radicchio comes from the antioxidants called anthocyanins, which reduce oxidative stress and may help repair cell damage as well as boost intestinal health. In addition, radicchio is high in zinc, copper, and vitamin K.
To cut radicchio for this Italian chopped salad, slice it in half. Use a knife to carefully cut out the core. Then place the radicchio cut-side down and thinly slice it.
Extra delicious additions to this healthy Italian Chopped Salad
I added olives and marinated artichokes to my Italian Chopped Salad for additional flavor and health benefits.
Olives
Olives are full of healthy fats and rich in antioxidants — just like olive oil! Feel free to use any kind of olives you like — black or green. Just make sure your olives are not stuffed with peppers or cheese and that they're packed in a compliant oil, so that you keep your Italian Chopped Salad AIP-friendly.
I used Kalamata olives marinated in olive oil, which you can find in almost every local grocery store.
Artichoke hearts
By including artichoke hearts in this tasty salad, you bump up the nutrition in your meal to support optimal gut health and digestion. Artichokes are full of fiber! In fact, most of the carbohydrates in artichoke hearts come from fiber.
They're also packed with antioxidants and rank among the top antioxidant-rich vegetables you can include in your diet.
And there's no need to purchase a whole artichoke and prepare it from scratch. You can find artichoke hearts packed in water or olive oil that make it easy to add these delicious vegetables to your healthy Italian Chopped Salad.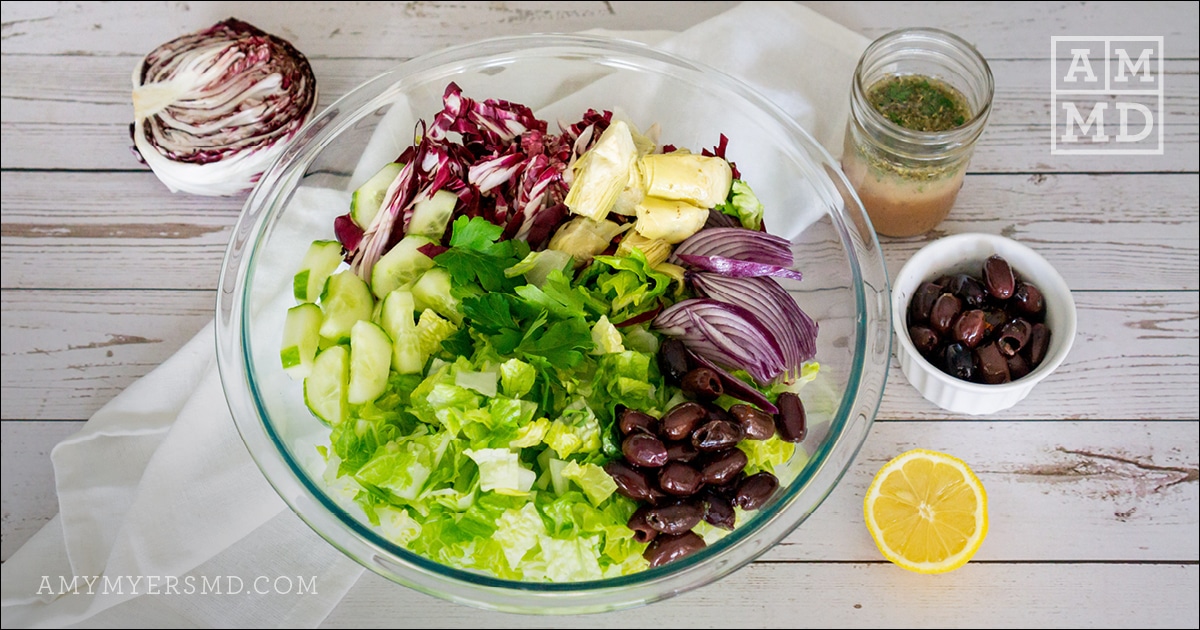 AIP Italian Vinaigrette
My homemade Italian vinaigrette is made with red wine vinegar (yes, it's AIP!), extra virgin olive oil, dried oregano, lemon juice, salt, ground black pepper, and a bit of Dijon mustard. The mustard is included to help emulsify the dressing and combine the oil and vinegar yet doesn't add any mustard flavor to your dish. If you're in the reintroduction phase, you can also add ½ tsp of maple syrup if you enjoy your dressing a bit sweet.
This recipe makes some extra dressing, which will keep in the refrigerator for 2-3 days in a sealed jar.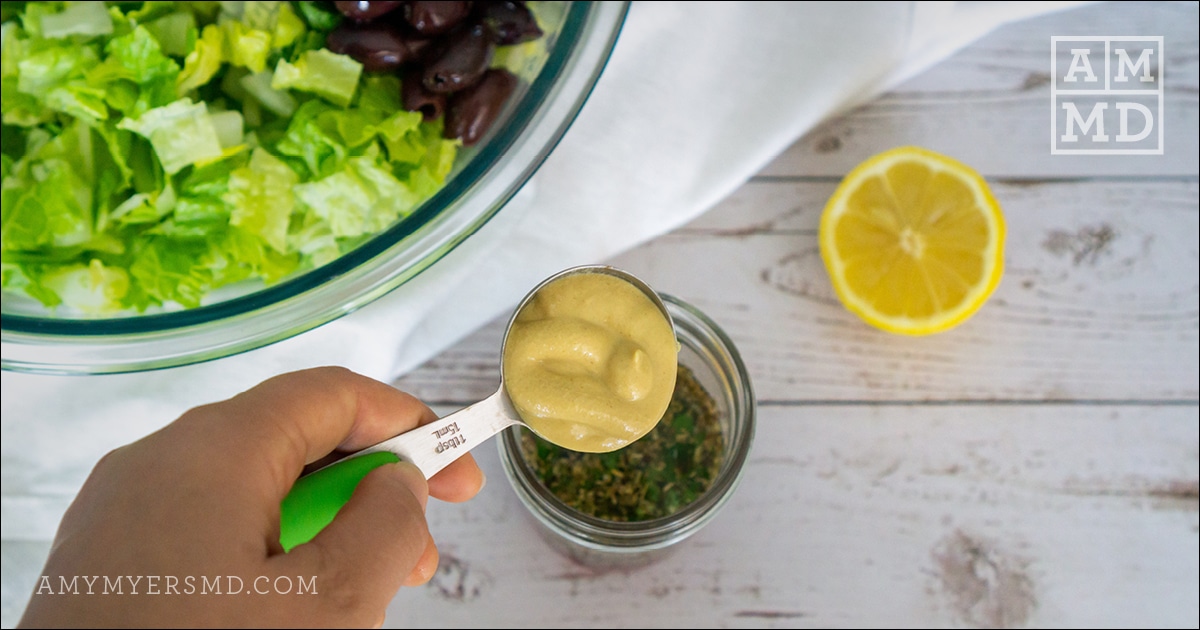 How to make a restaurant-quality Italian Chopped Salad
The trick to making a homemade salad that tastes as good as a restaurant salad is letting all the ingredients dry before adding the salad dressing. When the salad ingredients are dry, the dressing is able to better coat the lettuce and provide much more flavor to your Italian Chopped Salad.
I recommend washing and drying the lettuce well in advance of serving the salad, or using a salad spinner to get your lettuce as dry as possible. I love my salad spinner. I'm always surprised by how much water comes off the chopped lettuce!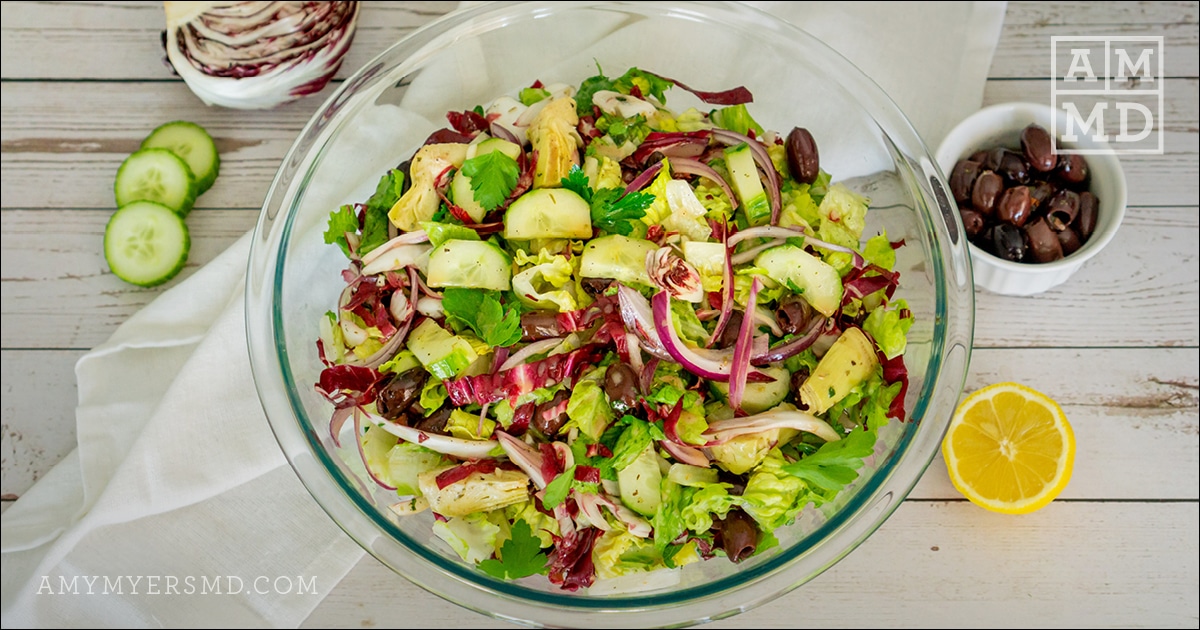 Tips to make your Italian Chopped Salad the BEST way possible:
Serve the salad slightly chilled — not straight from the fridge and not room temperature
If you make the salad within 15 minutes of taking the ingredients from the fridge, it should be just right!
Toss the salad with the dress just before serving to keep the lettuce and radicchio crisp
Only dress what you plan to serve so you can save the rest for later!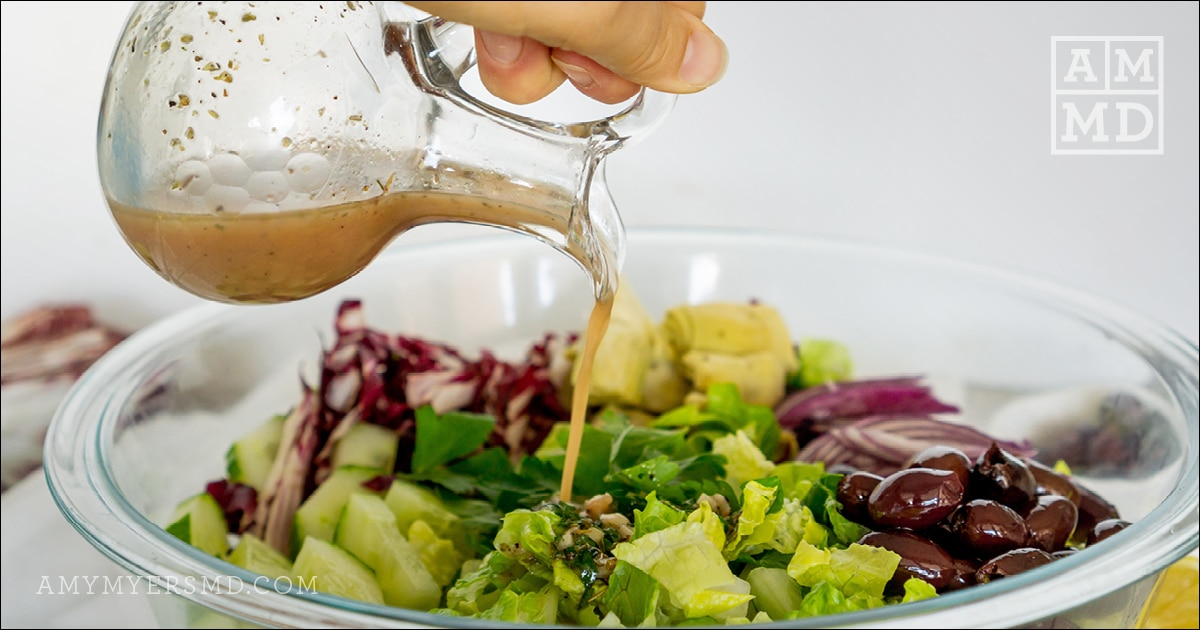 Other tasty salads to include on your weekly menu:
Ingredients
Salad Ingredients
1

head romaine lettuce

1/2

head radicchio

1

cucumber chopped

1/2

red onion thinly sliced

1/2

cup

120.00

ml olives pitted

1/2

cup

120.00

ml artichoke hearts marinated, drained

2

Tbsp

29.57

ml parsley leaves

1

cup

240.00

ml chicken cooked and diced

1

avocado diced
Italian Dressing Ingredients
1/4

cup

60.00

ml red wine vinegar

1/4

cup

60.00

ml extra virgin olive oil

1

Tbsp

14.79

ml lemon juice

1

Tbsp

14.79

ml dijon mustard

1

Tbsp

14.79

ml maple syrup (optional)

1/2

tsp

2.46

ml dried oregano

1/2

tsp

2.46

ml sea salt (or to taste)
ground black pepper to taste
Instructions
Prepare your vegetables. Thoroughly wash and dry them before beginning to chop romaine lettuce and radicchio into small pieces. Chop cucumber. Set aside prepared veggies.

---

Prepare your vegetables. Thoroughly wash and dry them before beginning to chop romaine lettuce and radicchio into small pieces. Chop cucumber and thinly slice the red onion. Set aside prepared veggies.

---

In a small jar, combine all the salad dressing ingredients. Stir with a fork, or cover with a lid and shake well until the dressing is well combined. Set aside.

---

In a large bowl, combine all the salad ingredients. When you're ready to serve your salad, pour the dressing over the salad and mix well.

---