Keto Corned Beef
Corned Beef is great for a family dinner or entertaining year-round, not just for St. Patrick's Day! I'll show you how to make keto-friendly Corned Beef that is not loaded with added sugar. Not only is this corned beef recipe low-carb, but it is compliant with the AIP, paleo, sibo, and candida diets!
Low carb corned beef
Corned beef is traditionally made by marinating brisket in a mixture of salt, sugar, and various herbs and spices, and then cooking it slowly until it is very tender. Brisket is typically a very tough cut of meat, but the marinade and long cooking process helps make the meat very tender, so that it practically falls apart!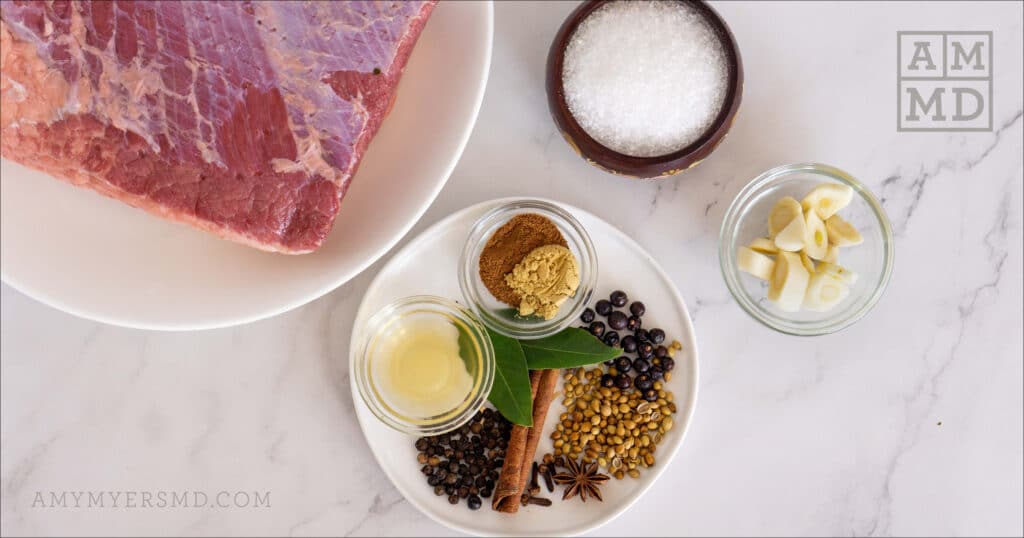 For this recipe, I am eliminating the carbs by removing sugar from the marinade. This simple step makes this corned beef recipe AIP-compliant because it does not use any inflammatory sugars.
While corned beef is pretty high in sodium, it can be enjoyed in moderation and even has important health benefits: Red meat is high in iron, vitamin B12, zinc, and protein. All these nutrients are needed for strong bones and muscles, and a healthy immune system.
Healthy cabbage instead of potatoes
Corned beef is traditionally served with cabbage and potatoes, but I simply skipped the potatoes in order to keep this recipe low-carb and keto-friendly. Instead, I serve this corned beef with loads of cabbage, which is a very healthy vegetable! Cabbage is part of the broccoli family and is very high in Vitamins C and K, which are important for the immune system, reducing the risk of cancer, and proper blood clotting.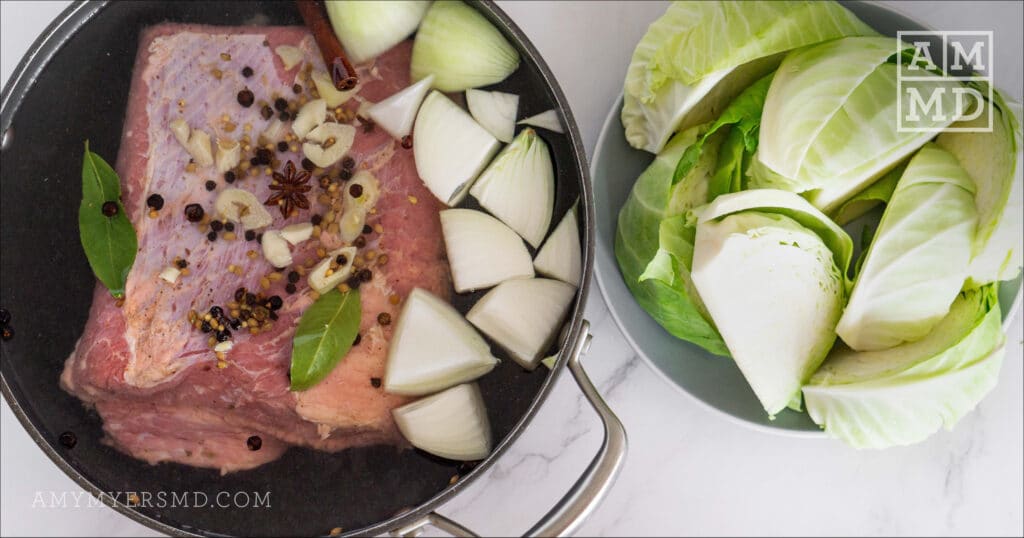 The great thing about this recipe is that if you are cooking for family or guests who are not following a keto or AIP diet, you can simply take some of the cooking liquid from the brisket and use it to boil a few potatoes for your guests, infusing the potatoes with all the wonderful seasonings and spices that we added to the cooking liquid.
How to make corned beef
To make corned beef, you need to marinate a brisket for 5-7 days, and then cook it slowly for about 3-4 hours, so you definitely need to plan ahead for this recipe!
To make the marinade, simply combine all the herbs and spices for the marinade in a small saucepan with 1-2 cups of water, and bring to a boil to dissolve the salt and infuse the water with the spices. Allow the mixture to cool. Then place the brisket in a clean gallon-sized zip lock bag or large bowl with a lid. Add two cups of cold water along with the spiced water, and place in the refrigerator to marinate for 5-7 days, turning the brisket every 12 hours so that it is covered in the marinade.
When you are ready to cook the brisket, strain the liquid through a colander, collecting the spices from the marinade.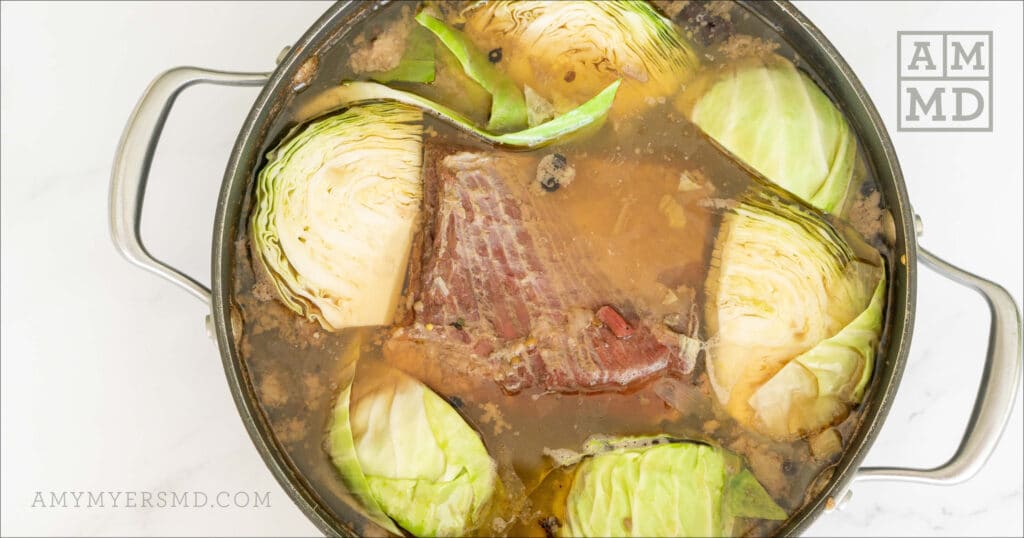 Place the brisket in a Dutch oven or another large pot, add the spices from the marinade, along with some chopped onions, cover the brisket with water, and bring to a gentle boil. Lower the heat and cook for 3-4 hours, or until the brisket is tender and almost falls apart when stirred.
The brisket will swell in size as it cooks, then shrink back down to normal size.
When the corned beef is cooked, carefully add several cabbage wedges right into the cooking liquid and cook for a few minutes until the cabbage is cooked to your liking.
Serving corned beef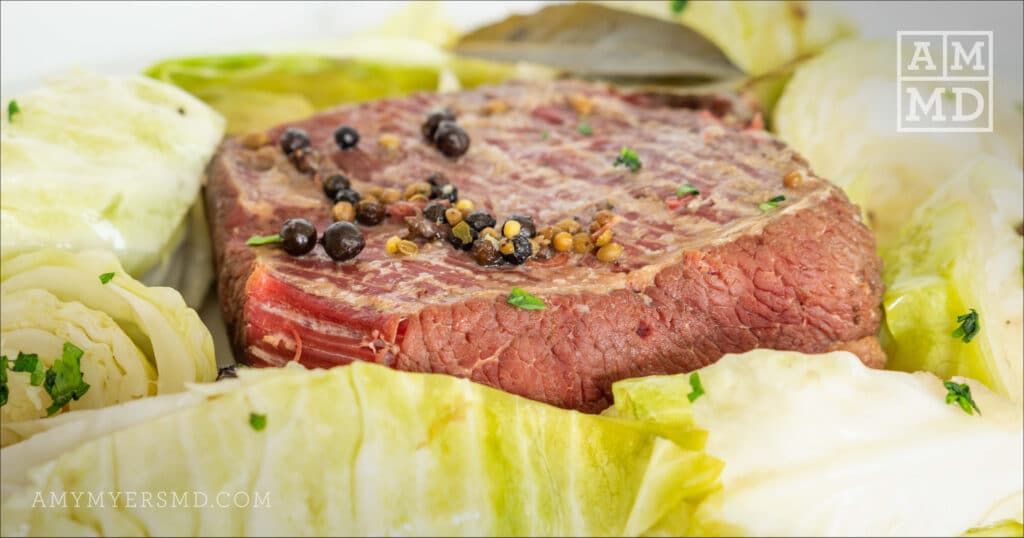 To serve, carefully remove the corned beef and cabbage from the cooking liquid and allow it to cool for a few minutes. Shred the meat, or slice it against the grain. Serve with your favorite low-carb sides, such as:
Keto Corned Beef
---
Cook Time
3 hours, 40 minutes
Ingredients
For the marinade
1

cup

240.00

ml sea salt

4

cloves garlic roughly chopped

2

tsp

9.86

ml black peppercorns

2

tsp

9.86

ml mustard seeds optional

2

tsp

9.86

ml coriander seeds

2

tsp

9.86

ml juniper berries

1

tsp

4.93

ml allspice optional

1

tsp

4.93

ml ground nutmeg

1/2

tsp

2.46

ml ground ginger

3

cloves dried

1

star anise

1

cinnamon sticks

2

bay leaves fresh or dried

4

cups

960.00

ml water divided, more as needed

4

lbs

1816.00

g brisket
For cooking the brisket
brisket

1

onion cut into eighths
water

1

cabbage cut into wedges
Instructions
Combine all the spices for the marinade (sea salt through bay leaves) in a small saucepan with 1 cup of water. Bring to a boil, reduce the heat, and allow to simmer for 10 minutes.

---

Remove from heat, add 3 cups of water to cool down the mixture, then allow to cool to room temperature.

---

In a large zip-lock bag or bowl, combine the water with the brisket. Add more water to completely cover the brisket, if needed. Place in the refrigerator to marinate for 5-7 days, rotating every 12 hours to make sure the whole brisket is in the marinade.

---
Strain the marinade through a large colander, reserving the spices.

---

Place the brisket and the spices into a Dutch oven or large pot. Add the cut onion, and enough water to cover the brisket.

---

Cover with a lid, bring to a boil, then reduce the heat and allow to simmer for 3-4 hours, or until the brisket is very tender. Check on the brisket every 30 minutes and add more water, if needed, to keep the brisket mostly covered in water.

---

When the brisket is tender, add the cabbage wedges and allow to cook for 10-15 minutes, or until the cabbage is cooked to your liking.

---

To serve, carefully remove the brisket and cabbage from the cooking liquid. Shred the brisket, or slice against the grain, and serve with cabbage and other sides of your choice.

---