Keto Green Bean Casserole
A Keto Green Bean Casserole is the perfect, low carb spin on a favorite holiday recipe that you can put on the table for a healthy Christmas dinner. My recipe for this classic casserole features mushrooms and bacon to make it a deliciously savory crowd-pleaser that everyone will reach for. It's also gluten-free and dairy-free, so you don't have to worry about filling your body with inflammatory ingredients that will harm your gut.
Is A Keto Green Bean Casserole Healthy?
There are some questions about whether or not the keto diet is healthy diet (especially during the holidays with all of the dairy-based recipes!) This easy holiday side dish is made with wholesome, low-carb ingredients to keep it keto, yet remains completely dairy-free to keep your gut happy and healthy. These are some of the healthiest ingredients you'll find on your holiday menu with this delicious casserole:
Mushrooms
Edible varieties of mushrooms are all nutrient powerhouses. They're full of vitamins and minerals to support your health and are known for their B vitamin content with riboflavin, niacin, and pantothenic acid. They contain selenium, copper, and Vitamin D, all of which are nutrients that can support a positive mood and energy levels that can help you make it through the holiday season with festive spirit!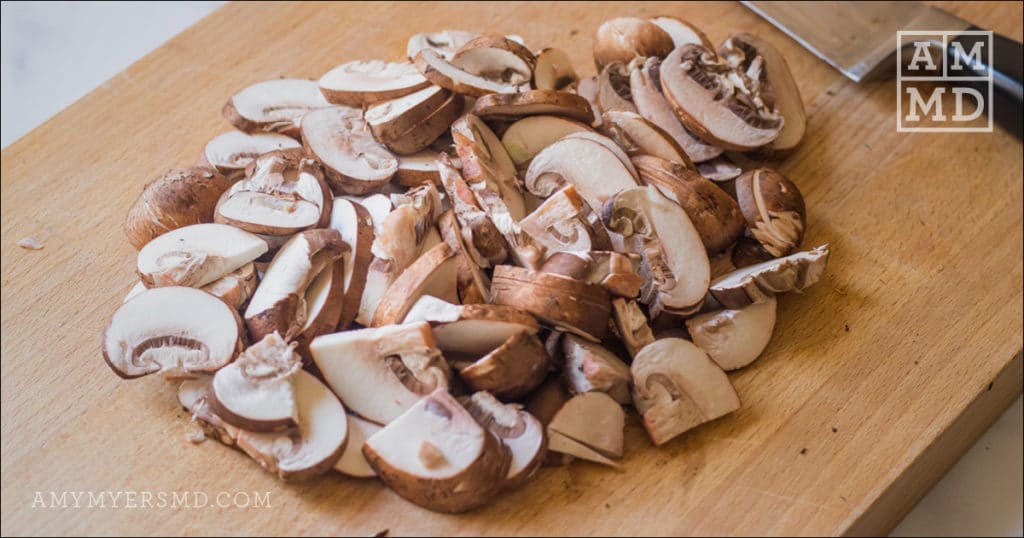 Coconut Milk
To keep this recipe dairy-free, I used coconut milk instead of cream or dairy milk. Coconut milk also provides Keto Green Bean Casserole with an extra boost of healthy saturated fats and MCTs. Full-fat coconut milk is rich and creamy to make it the perfect texture for a decadent green bean casserole. You won't be able to tell the difference between this casserole and the one grandma used to make.
Green Beans
Can you have green beans on the keto diet? Absolutely. Green beans are a great choice for a veggie-rich keto diet. A full cup of trimmed green beans contains around 7 grams of carbohydrates, 4 grams of which are from fiber. That's about 3 net carbs per one cup serving. Even if you don't want to have more than one generous serving of green bean casserole if you're strictly keto, one portion of this delicious side dish is sure to satisfy you.
Green beans are also rich in folate and Vitamins A, C, and K and flavonoids! There's nothing wrong with enjoying a serving of vegetables with other healthy ingredients for flavor and richness. You'll still reap all of the benefits green beans have to offer.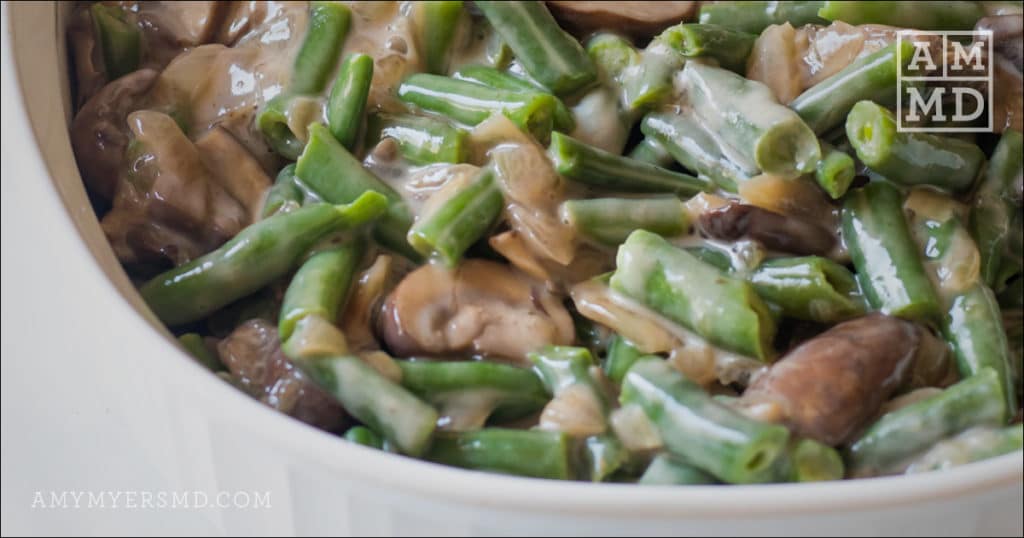 Bacon
Bacon is a staple in many keto diets. It adds the savory, salty crunch to this green bean casserole without any battered and fried onions. Pastured and preferably heritage bacon is incredibly nutrient-dense with an array of B vitamins, selenium, phosphorus, iron, zinc, and magnesium. It's also a healthy source of saturated fat and cholesterol, which we need in our diets in a moderate amount for a good balance.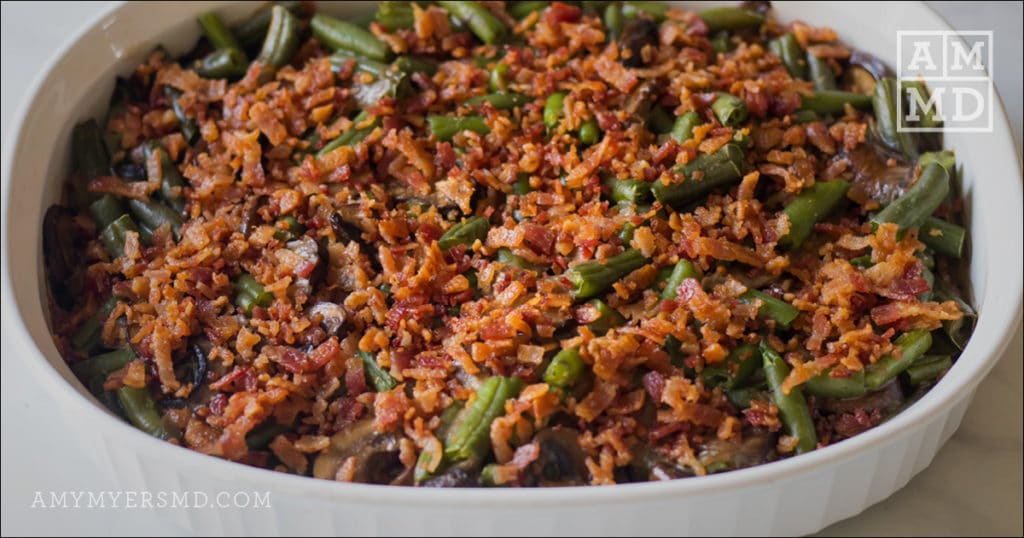 How to Make Keto Green Bean Casserole
My Keto Green Bean Casserole is easy to make and comes together in about 30 minutes.
First, preheat your oven, and chop your veggies and cooked bacon. Once you have these ingredients ready, saute the diced onion and mushrooms in coconut oil over medium heat until browned. Add your coconut milk and salt, bringing them to a boil.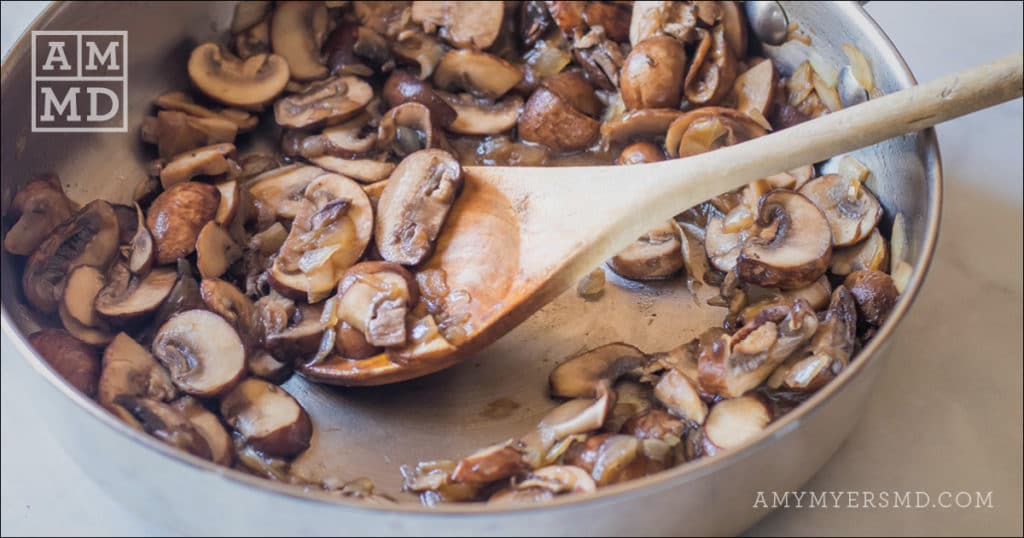 Once your vegetable mixture is boiling, whisk in arrowroot starch until it starts to thicken. Keep cooking over medium heat until your mixture is very thick. At the same time, boil your green beans until fork tender, then submerge them in an ice bath to stop them from cooking more once they're done.
Combine the green beans, coconut milk mixture, and half the chopped bacon together, then add them to a baking dish. Cook for 15 minutes until the mixture is bubbly. Top with the rest of the bacon, bake for another 5 minutes, and serve!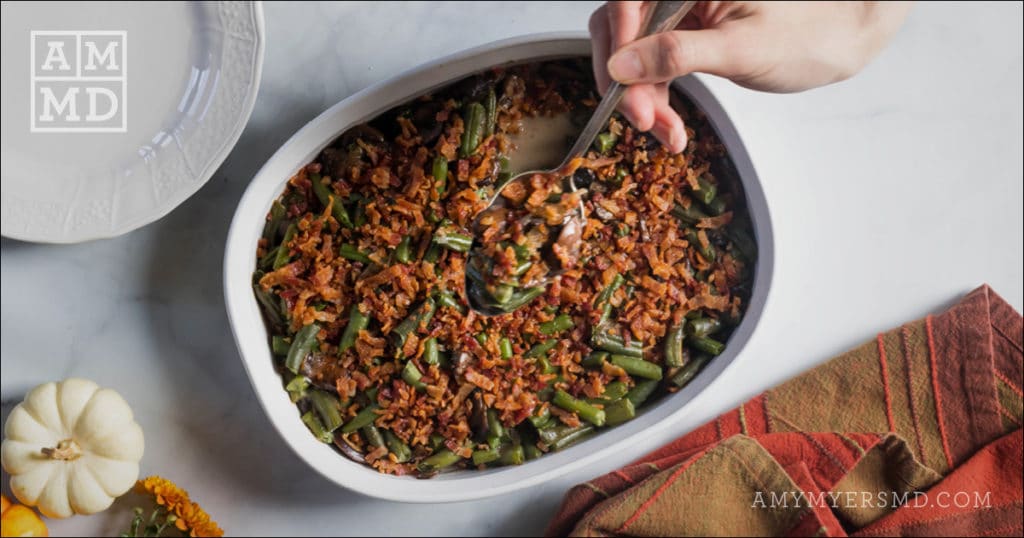 How Do You Reheat Green Bean Casserole?
This Keto Green Bean Casserole makes some delicious leftovers (to be enjoyed with all your favorite holiday leftovers), and is best reheated in the oven. Bake at 350 degrees until warmed through and the casserole is bubbling slightly.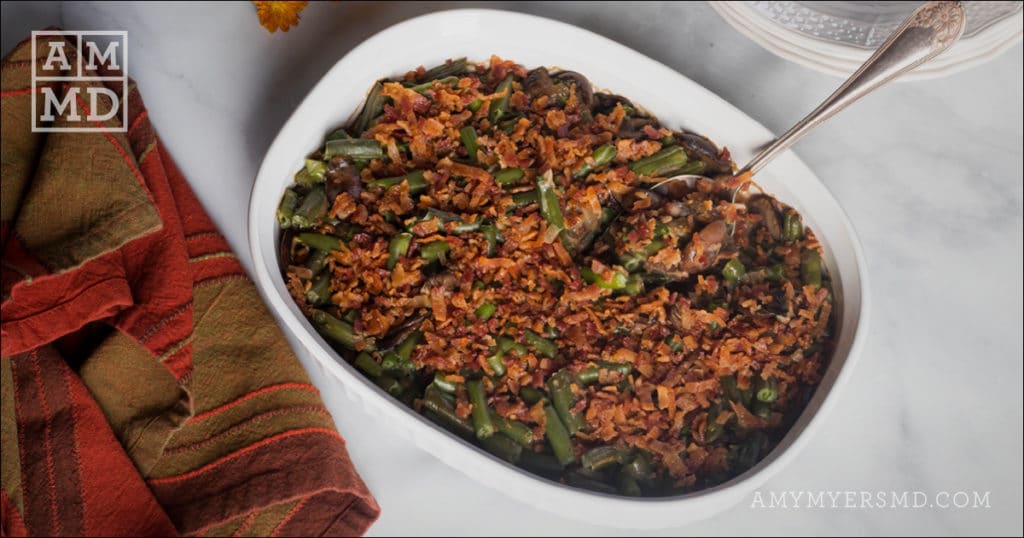 Ingredients
3

onion diced into about 1 cup

8

oz

236.59

ml mushrooms stemmed and sliced

2

Tbsp

29.57

ml coconut oil

1

cup

240.00

ml full fat coconut milk

1 1/2

Tbsp

22.18

ml arrowroot starch

1 1/4

tsp

6.16

ml sea salt

1

lb

454.00

g green beans trimmed

20

slices nitrate-free bacon approximately 1 lb, cooked until crispy
Instructions
Preheat oven to 350°.

---

Heat a stockpot over medium heat, and melt coconut oil. Add the onion and cook, stirring occasionally, until golden brown. Add mushrooms and cook until they turn dark.

---

Add coconut milk and sea salt and bring to a boil. Once boiling, whisk in arrowroot starch until well combined. Whisk until mixture begins to thicken, about 1 minute.

---

Reduce the heat to medium and cook until mixture is very thick, about 5 minutes, stirring occasionally.

---

While the sauce thickens, bring a large pot of water to a boil. Add the green beans to the pot, and cook until they become just barely fork-tender, about 7-8 minutes. Strain green beans into a bowl of ice water to stop them from cooking further.

---

Chop the bacon very finely until small crumbs form.

---

Add the green beans into the sauce, along with half the bacon and stir until well coated. Press into a 9x9 inch pan and cook until bubbly for 15 minutes.

---

Remove casserole dish from the oven, and sprinkle remaining bacon on top of the mixture. Return to oven and bake for 5 minutes.

---