Maple Brown Sugar N'oatmeal
This Maple Brown Sugar N'Oatmeal is by far the most delicious way to add veggies to your breakfast! This grain-free, oat-free "n'oatmeal" is made with cauliflower, maple syrup, and unrefined brown coconut sugar for a healthy AIP breakfast. Give it a try and you'll be amazed at what you can do with cauliflower!
Cauliflower oatmeal – a healthy breakfast
Yes, you read that right! You can make oat-free, grain-free "oatmeal" using cauliflower. Simply combine cooked riced cauliflower with a few seasonings and ingredients and process in a food processor until you get a creamy texture that is similar to oatmeal.
This cauliflower n'oatmeal is a great breakfast hack to eat veggies for breakfast without even noticing it!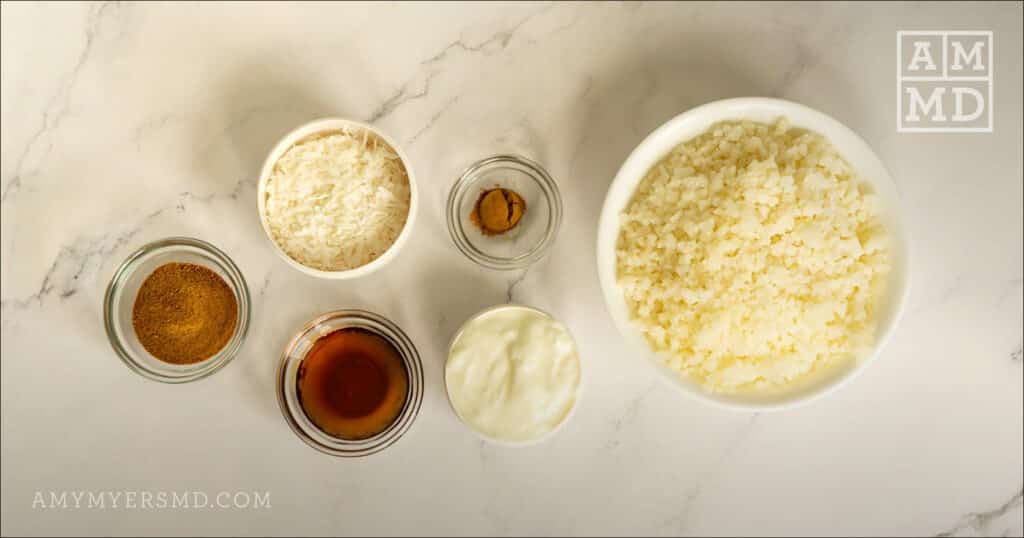 Dr. Amy Myers
July 22nd, 2022
https://content.amymyersmd.com/recipe/maple-brown-sugar-noatmeal/
Cauliflower is very healthy, low in calories, and loaded with fiber and nutrients. The fiber in cauliflower helps keep you full after breakfast and assists with digestion. The Vitamin C in cauliflower strengthens your body's immune system and helps manage blood pressure. Vitamin K aids in calcium absorption and supports healthy bones. Vitamin B6 is essential to creation of red blood cells and the metabolism of macronutrients.
To make n'oatmeal from riced cauliflower, you first have to steam it so it is cooked—this helps get the texture just right. I also add unsweetened shredded coconut flakes, which blend with the riced cauliflower and adds a chewy texture, similar to oatmeal. This recipe also uses coconut milk yogurt, which makes the n'oatmeal creamy without adding any inflammatory dairy. Make sure to choose store-bought coconut yogurt that doesn't have any sweeteners or unhealthy thickeners, or you can make your own.
Coconut flakes and coconut milk add additional fiber to this recipe, as well as potassium, magnesium phosphorus, iron, and healthy medium-chain fatty acids. These healthy fats help increase fat-burning energy in the body and keep you full.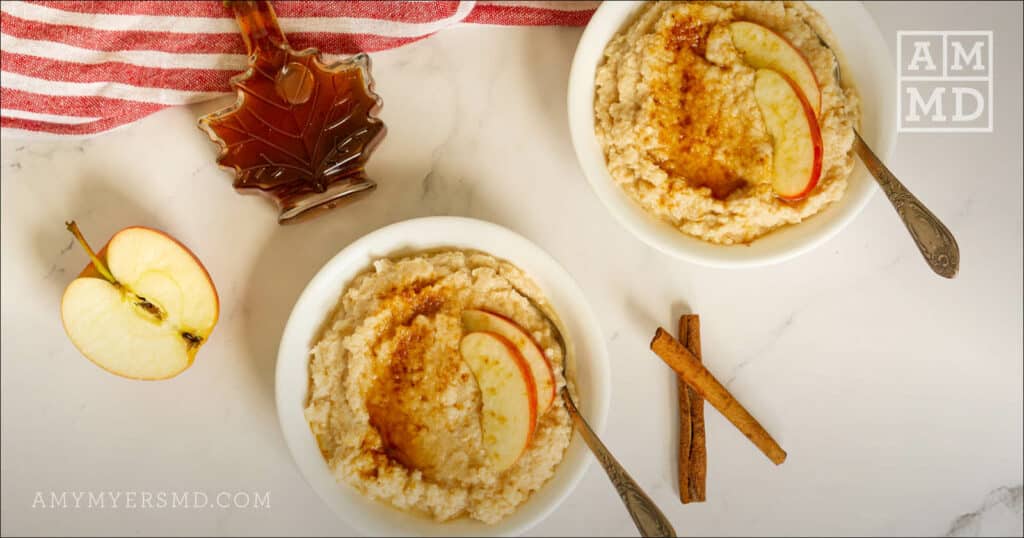 Dr. Amy Myers
July 22nd, 2022
https://content.amymyersmd.com/recipe/maple-brown-sugar-noatmeal/
Maple syrup and coconut sugar: AIP-friendly sweeteners
This n'oatmeal is sweetened with unrefined maple syrup and coconut sugar. These sweeteners do not cause inflammation like refined sugar, and add a lot of delicious flavor to this AIP oatmeal. These sweeteners also pair perfectly with ground cinnamon, which I add to this recipe for a warm flavor. Cinnamon is a very antioxidant-rich spice, and it helps fight free radical damage in the body on top of being delicious.
Serve this n'oatmeal immediately after blending, or keep refrigerated for 24 hours for a make-ahead breakfast. Drizzle the n'oatmeal with additional maple syrup and sprinkle with coconut sugar for serving. I also like to add a few fresh apple slices on top to add some fruit to my daily breakfast!
I hope you get to try this cauliflower AIP oatmeal and are amazed by how well cauliflower can be hidden in your every-day breakfast recipe!
More AIP breakfast ideas
Maple Brown Sugar N'oatmeal
---
Ingredients
10

oz

295.74

ml riced cauliflower steamed

3/4

cup

180.00

ml unsweetened organic coconut yogurt

1/2

cup

120.00

ml unsweetened shredded coconut

1/2

tsp

2.46

ml ground cinnamon

2

tbsp

29.57

ml maple syrup plus extra for serving

1

tbsp

14.79

ml coconut sugar plus extra for serving
Instructions
Steam the riced cauliflower until its cooked, about 5 minutes.


---

Add all ingredients to a food processor and process for 30 seconds to 1 minute, or until the desired consistency is reached.


---

Divide between two bowls and serve with extra maple syrup and brown sugar on top.


---