Moscow Mules
With the weather cooling down, it is a great time to enjoy these ginger-spiced Moscow mules made without refined sugar. These Moscow mules can be made with gluten-free vodka, or served non-alcoholic as virgin Moscow mules.
I'll show you how to make a delicious honey ginger syrup in 10 minutes for these Moscow mules so you can adjust the sweetness and ginger spice to taste!
Refined sugar free Moscow mules
Traditional Moscow mules are made with ginger ale, which is loaded with corn syrup or cane sugar, both of which can contribute to inflammation in the body.
My Moscow mules are made with a homemade honey ginger syrup, which takes just 10 minutes to make and can last in the refrigerator for up to 2 weeks, so you can enjoy a Moscow mule anytime!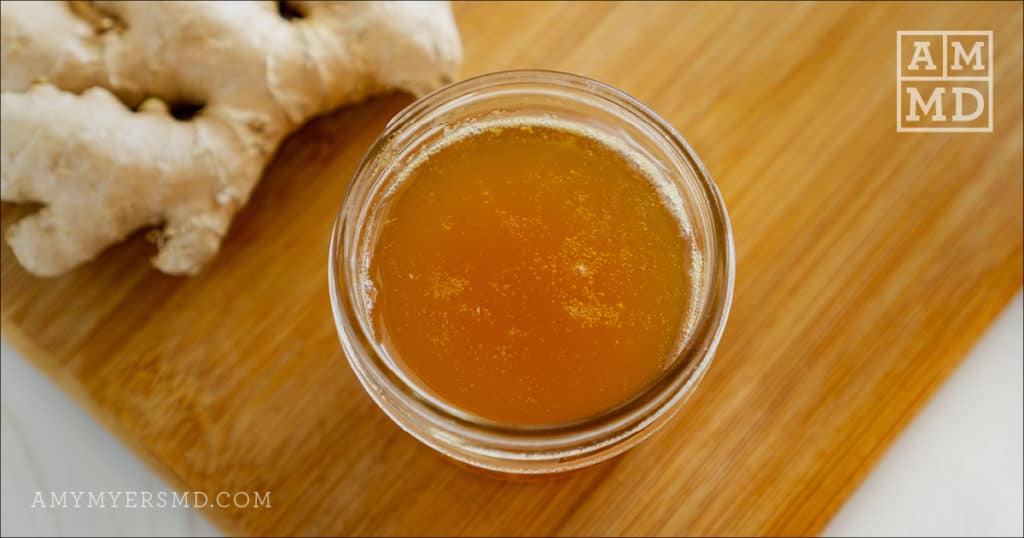 Honey is a natural sugar that does not cause inflammation when consumed in moderation, which is why it makes a great sweetener for drinks. Ginger itself has so many benefits for the body: it helps keep our immune systems healthy by fighting off bacteria and viruses, it is anti-inflammatory and can reduce arthritis swelling, and it may even lower your "bad" or LDL cholesterol levels.
All the benefits of ginger are retained in this homemade honey ginger syrup because it is made with fresh ginger!
How to make honey ginger syrup
To make honey ginger syrup, just peel and thinly slice about ½ cup fresh ginger. Combine with ½ cup water and bring it to a boil in a small saucepan.
Then use a slotted spoon to remove the ginger pieces and add ½ cup honey to the same saucepan. Continue to simmer until the syrup thickens a little, about 5 minutes, then allow to cool.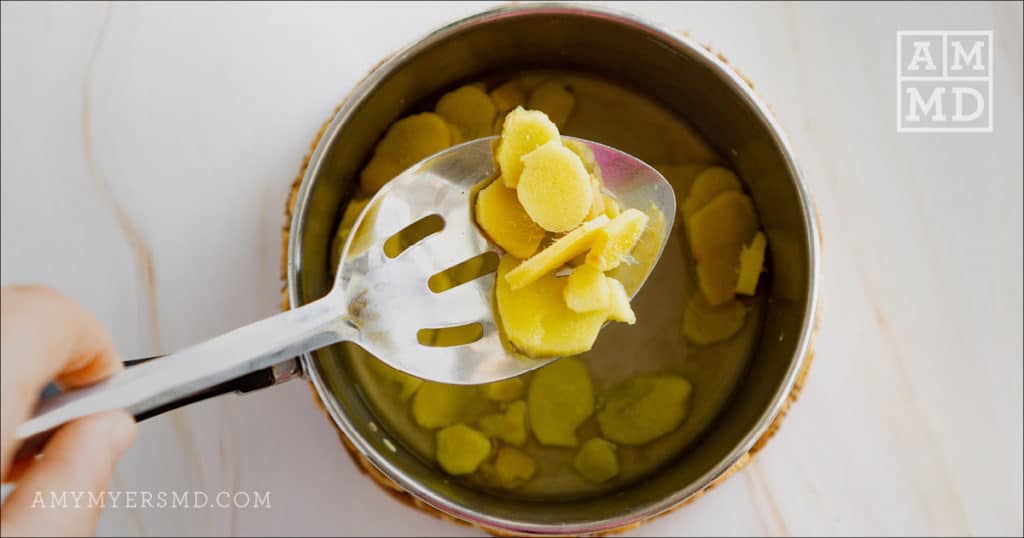 Your syrup is ready to use! It is perfect for these Moscow mules, but also makes a great sweetener for tea, such as this Sleepy Time Tea, or this Hot Toddy.
Gluten-free Moscow mules
Did you know that a lot of vodka is gluten-free? Yes! You can enjoy alcoholic drinks in moderation if you can tolerate alcohol.
Moscow mules are one of my favorite drinks to make with gluten-free vodka.
These Moscow mules can be put together with just a few ingredients:
Unsweetened club soda or seltzer
Homemade honey ginger syrup
Freshly squeezed lime
Gluten-free vodka
Ice
Or skip the vodka for virgin Moscow mules. They are just as delicious!
These Moscow mules make a great drink for the holidays or a special celebration. Enjoy them with these paleo Apple Cider Donuts if you're in the mood for something sweet, or with this Savory Party Mix if you're in the mood for something salty and crunchy to pair with these fizzy drinks.
Ingredients
For the ginger syrup:
1/2

cup

120.00

ml ginger sliced

1/2

cup

120.00

ml water

1/2

cup

120.00

ml honey
For the Moscow Mules:
1/2

cup

120.00

ml sparkling water seltzer water or club soda

3

Tbsp

44.36

ml golden maple syrup or ginger syrup, simple syrup to taste

1

Tbsp

14.79

ml lime juice

1

shot gluten-free vodka or skip for a virgin Moscow Mule
basil leaves or other garnish (optional): lime slices or fresh mint
Instructions
Prepare the ginger syrup: combine the sliced ginger and water in a small saucepan and bring to a gentle boil. Simmer for 5 minutes, then use a slotted spoon to remove the ginger pieces. Add the honey and simmer for another 5 minutes, or until the mixture thickens to your liking. Allow to cool and store in a glass jar in the refrigerator for up to 2 weeks.
Prepare the Moscow mules: fill a copper mug or a glass with ice. Add the vodka (if using), ginger syrup, lime juice, and club soda. Adjust to taste with more ginger syrup garnish with lime slices and fresh herbs, and enjoy!


---