Paleo Apple Cider Donuts
There are some people who never go through the autumn months without fresh, apple cider donuts dusted with cinnamon sugar topping. Unfortunately, those donuts (even the fresh ones) are full of inflammatory ingredients such as gluten and sugar.
However, my recipe for Paleo Apple Cider Donuts is going to make your dreams come true! They're gluten-free, dairy-free, and refined sugar-free too. They're completely delicious, and completely AIP. These cinnamon-spiced, AIP, and Paleo donuts will fill your house with the most delicious aroma as they bake, and you'll be content knowing that they won't derail any of the progress you've made on your journey to optimal health.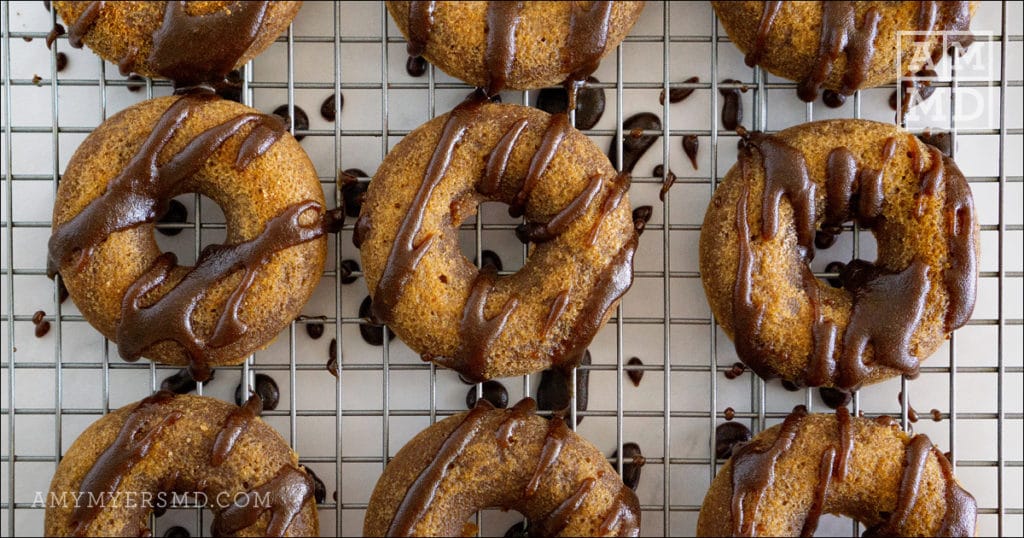 These Paleo Apple Cider Donuts are packed with apple flavor — I used both apple cider AND apple sauce in the batter. The apple flavor is made even better with the addition of warm, spicy-sweet cinnamon. What's extra sweet about these AIP donuts is that they have zero refined sugar. Instead, my Paleo Apple Cider Donuts are sweetened using maple syrup and topped with a delicious coconut sugar glaze. Not to mention, they're made with a special unrefined flour that actually adds a touch of flavorful, nutty sweetness.
Enjoy these Paleo Apple Cider Donuts on a chilly fall day with a hot mug of what's sure to become another house favorite, Dr. Myers' Toddy!
How to make the most delicious Paleo Apple Cider Donuts
These Paleo Apple Cider Donuts get their flavor from concentrated apple cider, apple sauce, and cinnamon.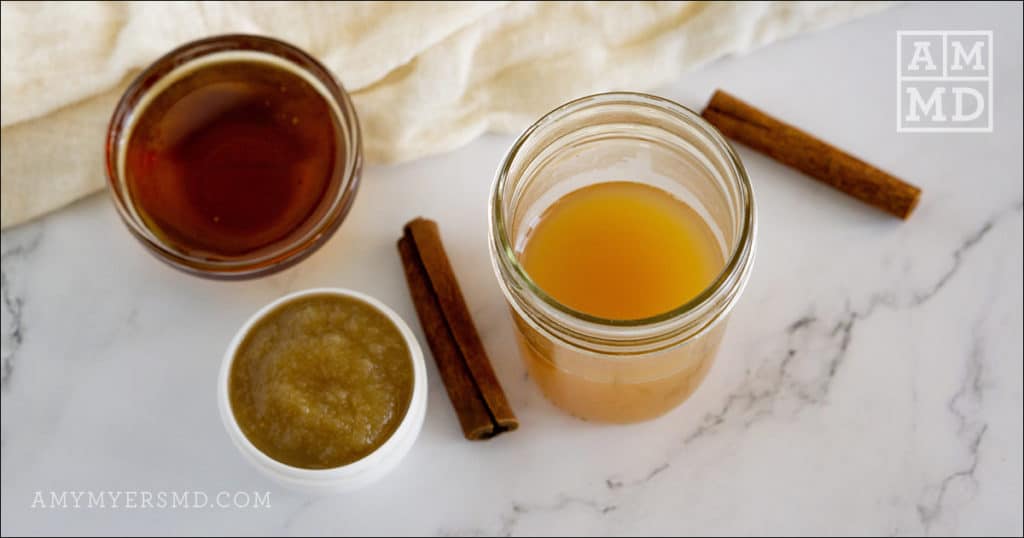 Concentrated apple cider is apple cider that has been simmered on the stove until it reduces in volume. Simmering down the cider really brings out the rich apple flavor. Whenever I make concentrated apple cider the whole house smells amazing, plus it's a sign of the delicious donuts to come!
I also use unsweetened apple sauce for these Paleo Apple Cider Donuts. It adds subtle sweetness and more natural apple flavor.
And, of course, there's the cinnamon. The warm sense of cinnamon enhances everything about these AIP donuts, and it will get you in the mood for all the seasonal fall flavors these Paleo Apple Cider Donuts have to offer.
Cinnamon is filled with antioxidants that protect the body from oxidative stress and free radicals. Cinnamon also has anti-inflammatory properties and can help your body defend itself from inflammatory diseases.
Coconut sugar glaze
These Paleo Apple Cider Donuts are glazed with a simple coconut sugar glaze. I combined coconut sugar with a touch of apple cider and cooked it until the coconut sugar melted into the apple cider.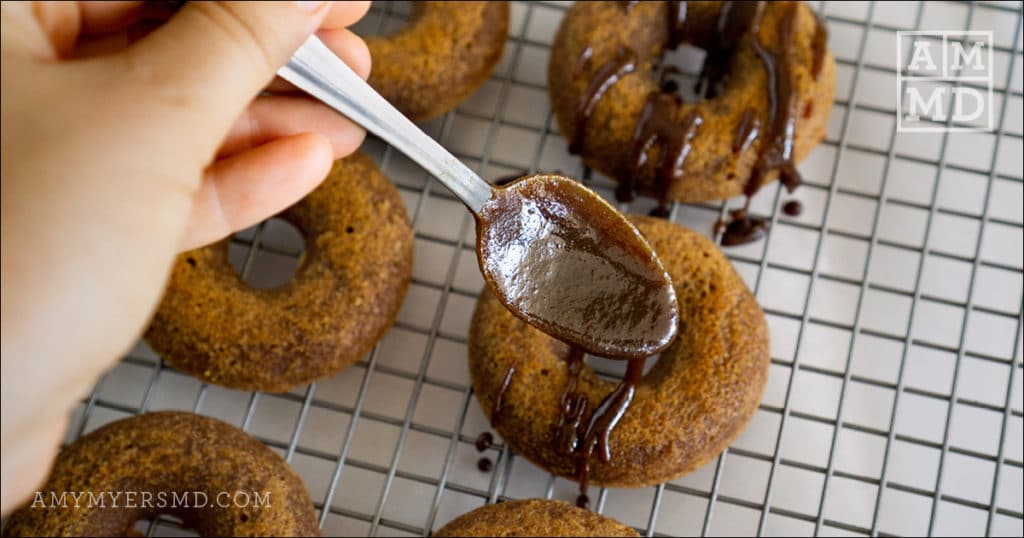 Feel free to add a pinch of cinnamon to the glaze as well!
AIP donut flours
These donuts are made with a combination of AIP-friendly flours: tiger nut flour, coconut flour, and cassava flour.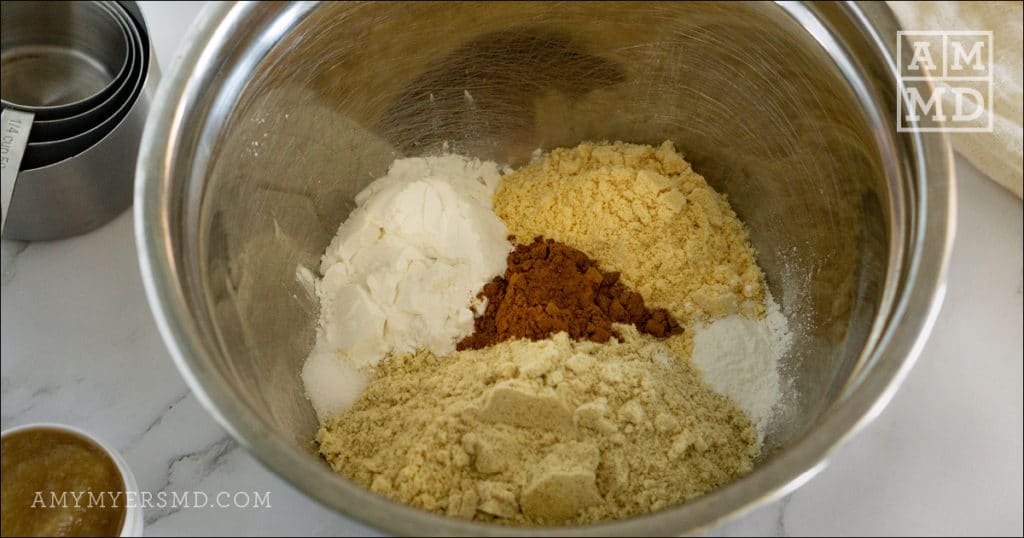 Tigernut Flour
Tigernut flour is packed with fiber, resistant starch, and vitamin E. The type of fiber found in tigernuts is insoluble fiber, which helps food move through the digestive system easily.
Vitamin E is an antioxidant that helps protect cells against free radicals. It also helps boost the immune system and can help cells fight infections.
Cassava Flour
Cassava flour is also high in resistant starch, which is a prebiotic that helps feed the "good" bacteria in your gut.
Coconut Flour
Coconut flour is another flour that has a lot to offer. This is another flour that is full of nutrients (including more fiber!) It's also full of healthy fats that may assist in maintaining heart health by reducing blood cholesterol levels and triglycerides. In addition, coconut flour is high in vitamins and minerals such as iron.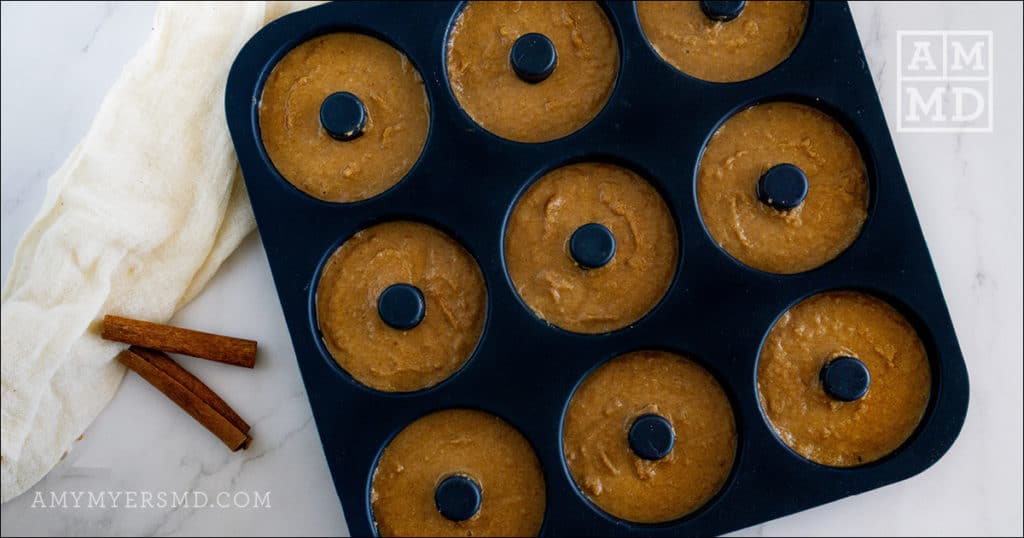 How to store Paleo Apple Cider Donuts
This recipe makes nine medium-sized donuts, or 12 mini donuts.
If you and your family are able to resist eating them all in one go, you can store these donuts in a air-tight container on the countertop for 1-2 days. Alternatively, you could store them in the fridge for 4-5 days, however, it may change the texture of the donut. In any case, I have a feeling these donuts will be gone before then!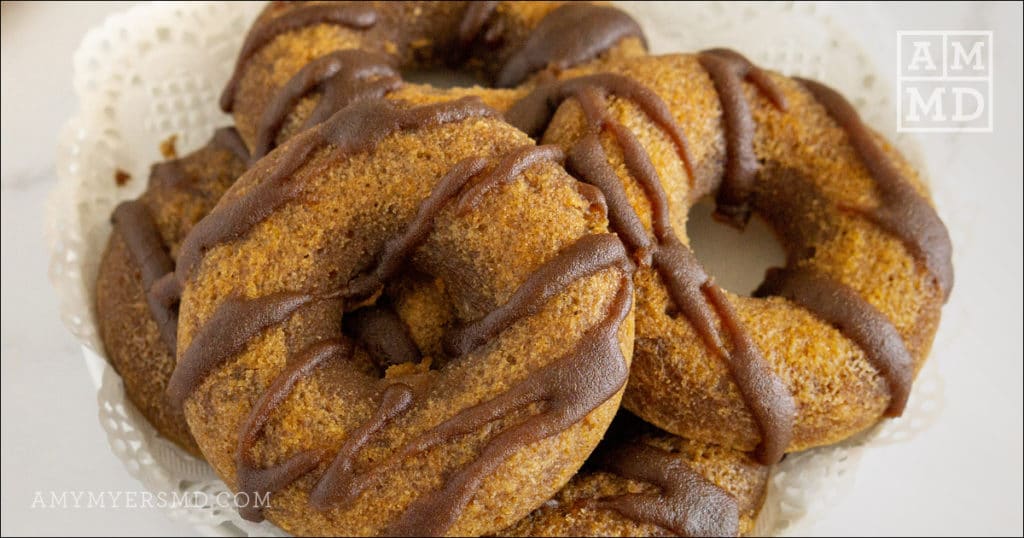 Looking for other fall-flavored, seasonal treats?
Try some of my favorites:
Paleo Apple Cider Donuts
---
Servings
9 donuts (3.5 inch donuts)
Ingredients
Apple Cider Donuts
1

cup

240.00

ml apple cider (or 1/2 cup, see notes)

3/4

cup

180.00

ml Tigernut flour

1/4

cup

60.00

ml Cassava flour

1/4

cup

60.00

ml coconut flour

1/4

cup

60.00

ml coconut sugar

1

Tbsp

14.79

ml ground cinnamon

1

tsp

4.93

ml baking powder

1/4

tsp

1.23

ml sea salt

1

scoop The Myers Way® Gelatin

4

Tbsp

59.15

ml water (for gelatin)

1/4

cup

60.00

ml maple syrup

1/4

cup

60.00

ml applesauce unsweetened

3

Tbsp

44.36

ml coconut oil melted (plus extra for greasing the donut pan)
Coconut Sugar Glaze
1

cup

240.00

ml coconut sugar

2

Tbsp

29.57

ml apple cider

1/4

tsp

1.23

ml cinnamon (optional)
Instructions
Preheat oven to 375˚. Brush a donut pan with coconut oil.

---

In a small saucepan, simmer the apple cider for 10 minutes, or until it reduces down to ½ cup concentrated apple cider (see notes). Don't put away that saucepan, you'll need it to make the glaze.

---

While the apple cider is reducing, prepare the rest of the ingredients: combine all the dry ingredients (tiger nut flour through salt) in a large bowl and mix well.

---

In a medium heat-proof bowl, sprinkle the gelatin into the hot water and stir to dissolve. Add the maple syrup, apple sauce, and coconut oil. Add the ½ cup concentrated apple cider and mix well.

---

Add the wet ingredients into the dry ingredients and whisk to combine. Use a spoon to fill the donut pan halfway.

---

Bake for 15 minutes, or until the donuts are fully cooked and a toothpick inserted into the donuts comes out clean. Allow to cool for 5 minutes, then remove the donuts onto a cooling rack.

---
While the donuts are baking, prepare the glaze: Combine the glaze ingredients in a small saucepan. Cook over medium heat for 5 minutes stirring frequently, until the sugar melts.

---

Use a spoon to drizzle the coconut sugar glaze over the donuts. Allow the glaze to dry and enjoy!

---