Paleo Lemon Blueberry Bread
If you thought you couldn't enjoy a delicious slice of sweet bread on the paleo diet, think again! This Paleo Lemon Blueberry Bread has a wonderful flavor thanks to fresh lemons and blueberries, a great texture from a combination of Paleo-friendly flours, and is very easy to make. I also give you instructions for making this bread AIP-friendly too, so you can enjoy it no matter what your dietary requirements are.
Paleo quick bread
The key to baking with paleo-friendly flours is to use a combination of different grain-free, gluten-free flours to create a great texture for your dessert recipes. In this lemon blueberry bread, I use cassava flour, coconut flour, and arrowroot powder.
Cassava flour is a great substitute for wheat flour in baking. It is high in resistant starch, which helps support the good bacteria in the gut and may help reduce inflammation in the body.
Coconut flour is full of healthy fats that may assist in maintaining heart health by reducing blood cholesterol levels and triglycerides. It is also high in vitamins and minerals, such as iron, which helps prevent anemia.
Arrowroot powder is a light flour that helps thicken and bind the rest of the ingredients in this quick bread.
I also use a combination of gelatin and egg as a binder in this recipe, which helps bind the flours together with the wet ingredients.
Paleo Lemon Blueberry Bread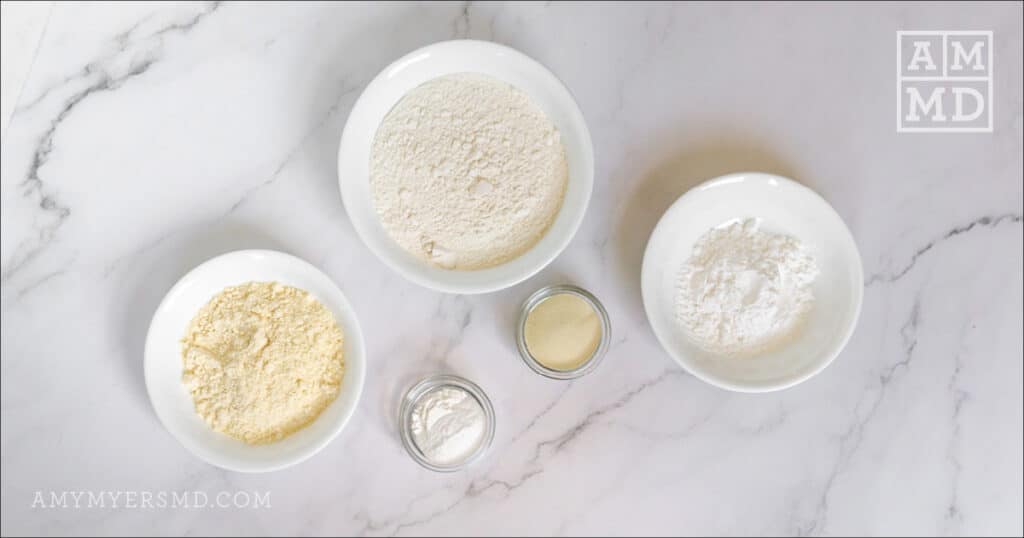 Dr. Amy Myers
October 22nd, 2021
https://content.amymyersmd.com/recipe/paleo-lemon-blueberry-bread/
Paleo Lemon Blueberry Bread
AIP lemon blueberry bread substitution
If you are sensitive to eggs, you can simply skip the egg in this recipe and add 3 tablespoons of water or coconut milk in its place. The gelatin added to the batter helps bind the batter in this recipe even without the addition of the egg.
Fresh lemon and blueberry flavor
This bread has a really bright, fresh flavor thanks to fresh lemon juice and fresh lemon zest baked right into the batter. I recommend always using fresh lemons for cooking and baking because they have the best flavor and do not have preservatives, unlike the bottled lemon juice that you will find in a store.
I use honey as a sweetener for this quick bread to help balance the tartness of the lemon juice and give this bread a nice sweet flavor without being too sweet. Honey is a natural sweetener that has antiviral and antibacterial properties, and its flavor goes perfectly with lemons.
You can use either fresh or frozen blueberries for this bread. Blueberries are very high in antioxidants called flavonoids, which protect the body from oxidative damage and may help delay the effects of aging and reduce the risk of cancer. On top of being healthy, blueberries are also really delicious when baked and add a burst of natural sweetness with every bite of this bread.
How to make Paleo Lemon Blueberry Bread
Making this bread is very straightforward. You simply whisk together all the dry ingredients in one bowl and all the wet ingredients in another bowl. Add the dry ingredients to the wet ingredients and mix well, then add the blueberries.
Transfer the batter to a bread pan lined with parchment paper and bake for 40 minutes at 325 degrees Fahrenheit, or until the bread is no longer jiggly in the center. The bread will rise slightly and turn golden brown. If the bread starts getting too dark but the center is still not set, lower the heat to 300 degrees Fahrenheit and bake for another 5-10 minutes, or until the center is set.
Remove the finished bread from the oven. Let it cool for about 10 minutes before removing it from the bread pan and slicing it. You can enjoy this bread warm, or wait for it to cool and drizzle it with lemon icing.
Paleo Lemon Blueberry Bread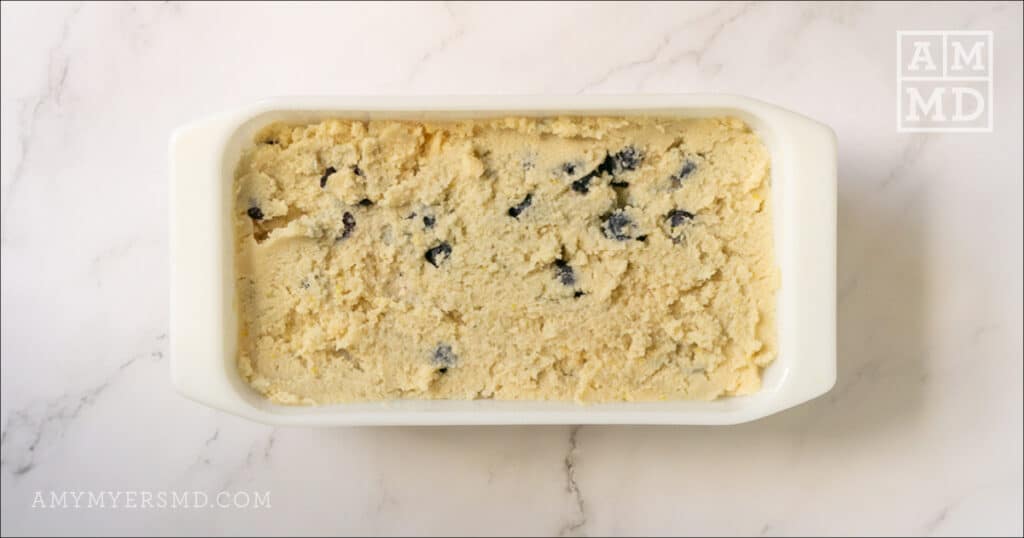 Dr. Amy Myers
October 22nd, 2021
https://content.amymyersmd.com/recipe/paleo-lemon-blueberry-bread/
Paleo Lemon Blueberry Bread
Easy lemon icing
To make Paleo and AIP lemon icing, add palm shortening with lemon juice, lemon zest, and honey to a small bowl and whisk to combine.
This icing is optional, but it adds another layer of lemon flavor to this bread, and I love drizzling it on as a treat!
Enjoy this lemon blueberry bread as dessert or breakfast with a hot cup of ginger tea.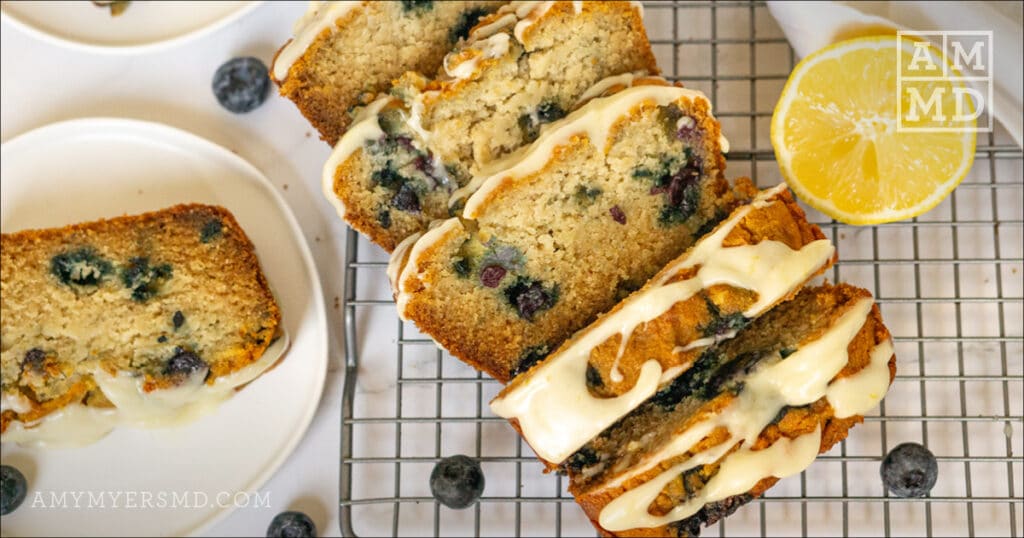 Dr. Amy Myers
October 22nd, 2021
https://content.amymyersmd.com/recipe/paleo-lemon-blueberry-bread/
Paleo Lemon Blueberry Bread
More blueberry and lemon desserts you will love:
Paleo Lemon Blueberry Bread
---
Ingredients
For the bread
1 1/4

cups

300.00

ml Cassava flour

1/2

cup

120.00

ml coconut flour

1/4

cup

60.00

ml arrowroot powder

1 1/2

tbsp

22.18

ml gelatin unflavored

2

tsp

9.86

ml baking soda

2

tsp

9.86

ml cream of tartar

1

cup

240.00

ml coconut milk

1

egg Can substitute with 3 tbsp. water or coconut milk for AIP blueberry banana bread

3/4

cup

180.00

ml palm shortening melted

1/2

cup

120.00

ml honey

3

tbsp

44.36

ml lemon juice
lemon zest from 1 lemon

2

tsp

9.86

ml vanilla extract

1

cup

240.00

ml blueberries fresh or frozen
For the icing
3

tbsp

44.36

ml palm shortening

2

tbsp

29.57

ml honey

1

tbsp

14.79

ml lemon juice
lemon zest from 1 lemon
Instructions
Preheat the oven to 325 degrees Fahrenheit. Line a bread pan with parchment paper and brush with palm shortening.

---

In a large bowl, whisk together the dry ingredients (cassava flour through the cream of tartar).

---

In another large bowl, whisk together the wet ingredients (coconut milk through vanilla extract).

---

Add the dry ingredients to the wet ingredients and whisk together to combine. Stir in the blueberries - the mixture will thicken quickly as you keep stirring, but that's OK.

---

Transfer the batter to the parchment paper-lined bread pan and gently press down. Bake in a preheated oven at 325 degrees Fahrenheit for 40 minutes, or until the bread is golden brown on top and a toothpick inserted in the center comes out clean, or with just a few crumbs. Remove from the oven and allow to cool completely before drizzling with icing.

---

While the bread is baking, make the icing: in a small bowl, combine all the ingredients and whisk together. If the shortening is not mixing into the liquid ingredients, melt the shortening partially and whisk together then place the icing in the fridge to thicken. If the shortening separates in the fridge, just whisk it together to combine.

---

Drizzle the icing on the cooled bread and slice to serve.

---