Peppermint Hot Cocoa
Enjoy a mug of hot, steamy Peppermint Hot Cocoa this holiday season! This hot cocoa is very easy to make in under 5 minutes and is high in protein, thanks to my Peppermint Mocha Paleo Protein powder. The rich chocolate and mint flavor is so tasty and makes a delicious cup of hot cocoa. You can also make a quick chocolate sauce and dairy-free whipped cream to top the hot cocoa if you want to treat yourself to an even more special drink.
Paleo- and Keto-friendly Hot Cocoa
The main ingredient in this peppermint hot cocoa is my Peppermint Mocha Paleo Protein powder. The protein powder is made with non-GMO beef protein sourced from grass-fed, pasture-raised beef, cocoa powder, natural peppermint flavor, and stevia leaf extract for just the right amount of sweetness without adding any refined sugar. It has no added hormones or antibiotics, and it's rich in collagen-specific amino acids that support gut barrier function and muscle growth and repair.
To make the hot cocoa, simply simmer water or coconut milk with the protein powder and whisking, until you have a rich, chocolatey drink. For a creamy hot cocoa, use coconut milk. For a lighter hot cocoa, use water, or a mix of 1:1 water and coconut milk.
I like using coconut milk for this hot cocoa because coconut milk has a few unique health benefits: it is high in electrolytes such as potassium, phosphorus, and magnesium. These electrolytes help maintain normal nerve, muscle, and heart function. Coconut milk is also high in iron, which helps keep the blood cells healthy and prevent anemia.
You can use full-fat or light coconut milk for this recipe, depending on your calorie needs. Make sure to look for coconut milk that doesn't have any preservatives or sugar added to it.
Peppermint Hot Cocoa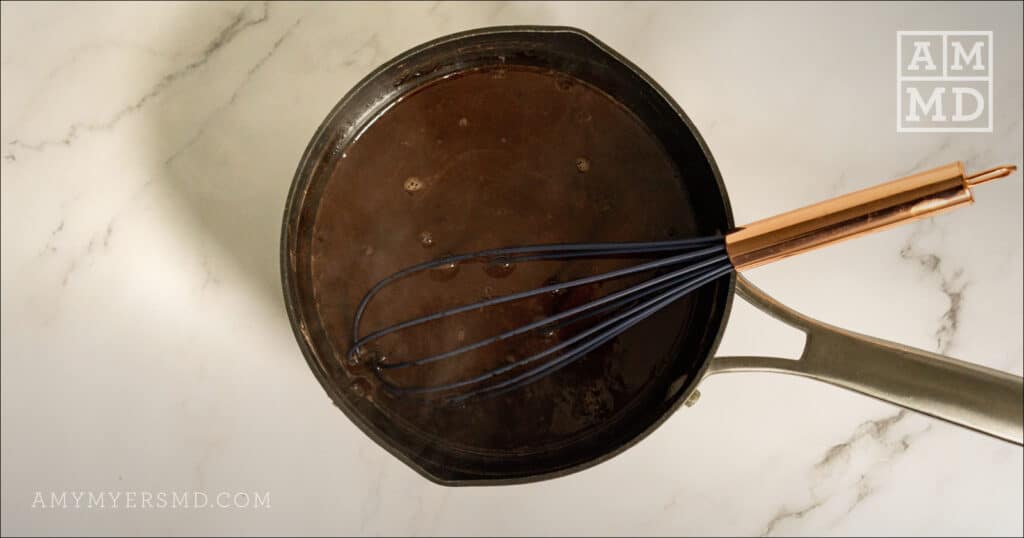 Dr. Amy Myers
November 7th, 2021
https://content.amymyersmd.com/recipe/peppermint-hot-cocoa/
Peppermint Hot Cocoa
Hot cocoa toppings
You can enjoy the hot cocoa as is, but I like to add a dollop of dairy-free coconut whipped cream and a drizzle of peppermint chocolate sauce on top.
To make the whipped cream, you'll need to chill a can of coconut milk in the refrigerator overnight, or for at least 4 hours. Carefully open the can and scoop out the thick coconut cream from the top, taking care not to get any coconut water from the bottom (use the coconut water for smoothies, or to make hot cocoa!).
Use an electric mixer to beat the cream until it forms a light and fluffy texture of whipped cream. Add a tablespoon of honey or maple syrup, if desired, or use a keto sweetener for a low-carb hot cocoa, and beat in with the mixer. Keep this whipped cream refrigerated until serving, and stir in a dollop of whipped cream on top of the hot cocoa for a delicious creamy treat.
To make the mint chocolate sauce, simmer ¾ cups of coconut milk or water in a small saucepan. Whisk in 2 scoops of the Peppermint Mocha Paleo Protein powder and simmer until a syrupy consistency is reached, whisking constantly to prevent burning. Use a spoon to drizzle the chocolate sauce over the whipped cream.
Store the mint chocolate sauce in a glass jar in the refrigerator for up to 1 week. It will thicken as it cools, but you can gently heat it and stir to get it to a saucy consistency again. The sauce is amazing on top of pumpkin ice cream or chocolate banana nice cream. It is also great drizzled on top of cookies and cream brownie bars or in crepes.
Enjoy this hot cocoa on a chilly night, or anytime you're in the mood for a tasty, yet healthy, treat!
Peppermint Hot Cocoa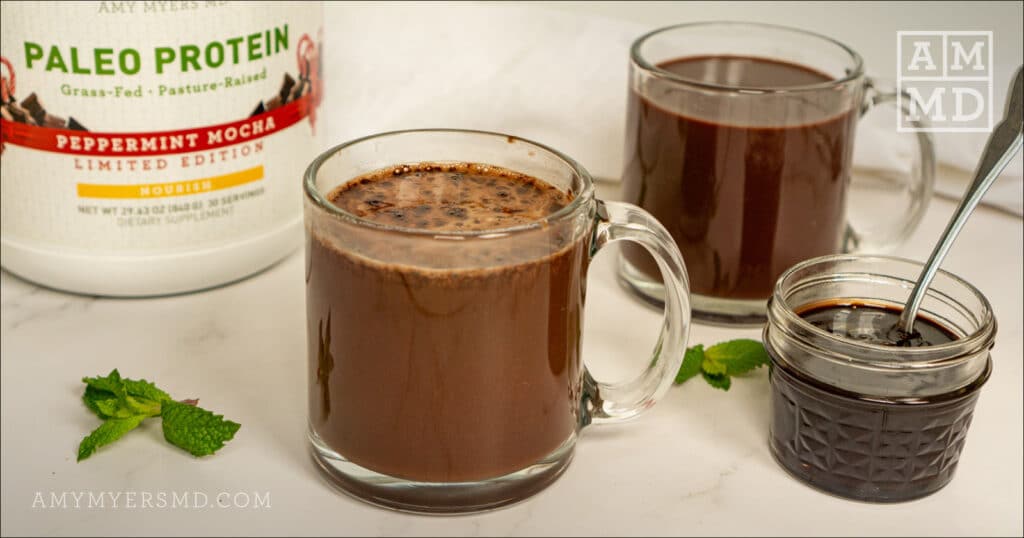 Dr. Amy Myers
November 7th, 2021
https://content.amymyersmd.com/recipe/peppermint-hot-cocoa/
Peppermint Hot Cocoa
Ingredients
For the hot cocoa
2 1/2

cups

600.00

ml coconut milk unsweetened, lite

2

scoops The Myers Way® Peppermint Mocha Paleo Protein
For the chocolate sauce
3/4

cups

180.00

ml coconut milk light

2

scoops The Myers Way® Peppermint Mocha Paleo Protein
For the whipped cream
1/2

cup

120.00

ml coconut cream cooled

1

tbsp

14.79

ml honey
Instructions
Combine 2 ½ cups of coconut milk and 2 scoops of Peppermint Mocha Paleo Protein in a medium saucepan and heat until simmering, whisking constantly to remove clumps. Serve hot as-is, or top with a dollop of coconut whipped cream and mint chocolate sauce.


---

Prepare the chocolate sauce: Combine ¾ cups of coconut milk (or water) and 2 scoops of Peppermint Mocha Paleo Protein in a small saucepan and whisk together until a syrupy consistency is reached and no lumps remain. Keep warm until serving. Store leftovers in the refrigerator for up to 1 week, and reheat to soften and serve.


---

Prepare the coconut whipped cream: In a bowl, mix together the coconut cream and honey with an electric mixture until whipped and light. Keep refrigerated until serving.

---