Pumpkin Pie Coconut Parfaits
If you're craving pumpkin pie, you're going to love these Pumpkin Pie Coconut Parfaits. They are very easy to make and make a great breakfast or dessert. These parfaits have the texture of pumpkin pie filling without any unhealthy or inflammatory ingredients, and they are topped with a toasted coconut "cookie"crumble that is gluten-free and grain-free. They're AIP and paleo-friendly and loaded with healthy nutrients.
Pumpkin Pie Coconut Parfaits
My favorite part about these pumpkin pie parfaits is that they have the texture of baked pumpkin pie without having to turn on the oven. The pumpkin filling is made with 5 simple ingredients: pumpkin puree, pumpkin spice, coconut milk, maple syrup, and gelatin.
Simply whisk them together and bring to a gentle boil on the stovetop. This activates the gelatin, which will thicken the mixture as it cools, giving it a perfect pumpkin pie texture. Carefully pour into your parfait cups or jars and chill in the fridge, and your parfaits will be ready to serve!
Not only are these parfaits delicious, but they're also loaded with healthy ingredients: pumpkin is rich in beta-carotene, which converts to Vitamin A in the body and helps keep the immune system healthy. In addition, it is low in calories: a cup of pumpkin puree has about 100 calories.
The other main ingredient in dairy-free parfaits is coconut milk. You can use full-fat or light coconut milk for this recipe, depending on your calorie needs. Make sure to look for coconut milk that doesn't have any preservatives or sugar added.
Coconut milk is high in electrolytes such as phosphorus, potassium, and magnesium. These electrolytes help maintain normal muscle, nerve, and heart function. Coconut milk is also high in iron, which helps prevent anemia and keeps the blood cells healthy.
The parfaits are sweetened with a touch of maple syrup, which is a natural, unrefined sweetener that gives them a wonderful Fall flavor.
pumpkin pie coconut parfaits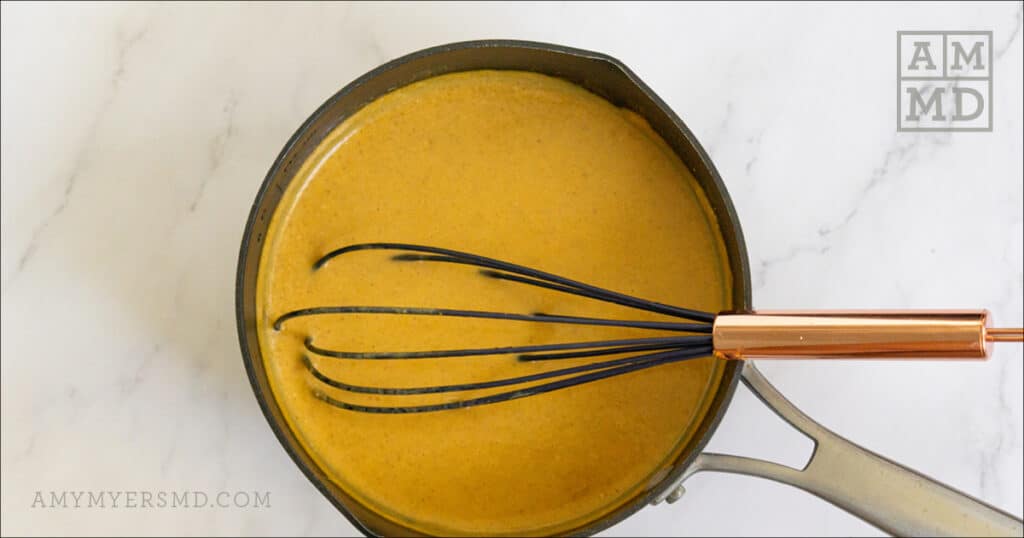 Dr. Amy Myers
October 1st, 2021
https://content.amymyersmd.com/recipe/pumpkin-pie-coconut-parfaits/
pumpkin pie coconut parfaits
Homemade pumpkin spice
The pumpkin pie parfaits are generously seasoned with pumpkin pie spice. I recommend making your own so you can control what you put into the spice mixture and make sure there are no preservatives or inflammatory ingredients in it. To make homemade pumpkin spice, combine 2 parts ground cinnamon, 2 parts ground ginger, 1 part ground nutmeg, and 1 part ground cloves, and stir together.
The spice mixture will keep for months if you store it in a sealed spice jar, so you can mix together a large batch to keep on hand.
Gluten-free, grain-free "cookie" crumble
These parfaits are topped with a crispy, coconut-flavored crumble that reminds me of crushed cookies. The crumble is made by combining unsweetened shredded coconut, tiger nut flour, and a little coconut oil in a pan and toasting for a few minutes over medium heat until the coconut and the tiger nut flour are golden brown and fragrant. I like to add a pinch of cinnamon to the mixture too, to give it a warm cinnamon cookie flavor.
Top the parfaits with this gluten-free crumble before serving, and enjoy!
pumpkin pie coconut parfaits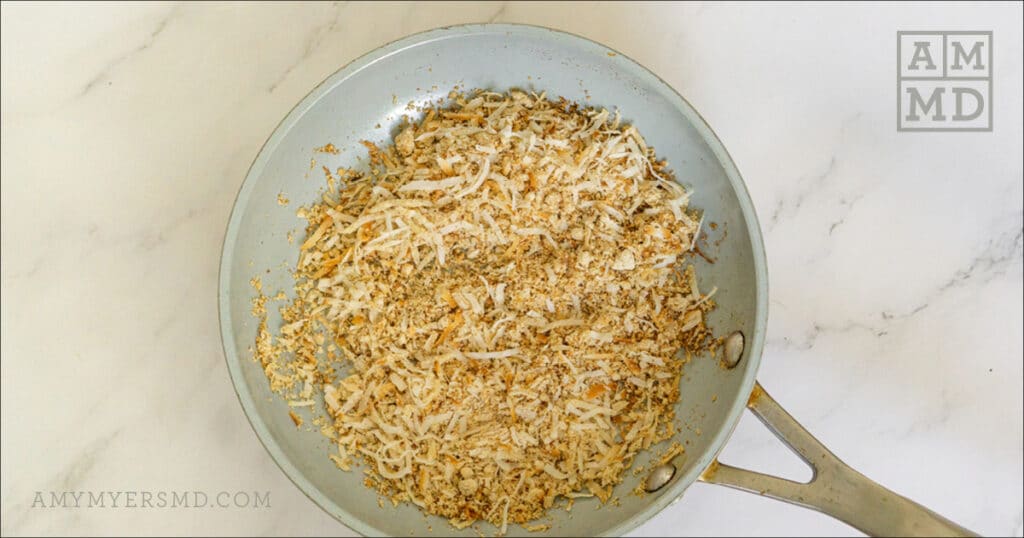 Dr. Amy Myers
October 1st, 2021
https://content.amymyersmd.com/recipe/pumpkin-pie-coconut-parfaits/
pumpkin pie coconut parfaits
Variations of pumpkin pie parfaits
You can add layers to the parfait by adding unsweetened coconut yogurt and more cookie crumble and layering those with the pumpkin pie mixture.
To do this, just add 1-2 inches of the pumpkin pie mixture to the bottom of a jar, then carefully spoon an inch of yogurt on top, add some toasted coconut cookie crumble, and repeat. Let the jars chill in the fridge to allow the pumpkin pie to set.
More pumpkin recipes and dairy-free parfait ideas:
If these parfaits sound good to you, you will also enjoy these easy recipes:
Pumpkin Pie Coconut Parfaits
---
Servings
2 large parfaits or 3-4 small parfaits
Ingredients
Cookie crumble
1/2

cup

120.00

ml unsweetened coconut flakes

1/4

cup

60.00

ml Tigernut flour

1

pinch cinnamon

1

tbsp

14.79

ml coconut oil
Instructions
In a medium saucepan, combine all the ingredients for the pumpkin parfait. Whisk together, and bring to a gentle boil over medium heat. Remove from heat and allow to cool for a few minutes.


---

Pour into a heat-safe glass jar, allow to cool to room temperature, then place in the fridge for at least 4 hours or overnight to allow the pumpkin mixture to set.


---

Make the cookie crumble by adding all the ingredients to a medium skillet. Toast over medium heat, stirring frequently, for 2-3 minutes, or until golden brown. Remove from heat and allow to cool to room temperature. Sprinkle onto the pumpkin coconut parfaits before serving. The coconut cookie crumble will keep well at room temperature in a sealed container for up to 2 weeks.


---