Ranch Parsnip Fries
If you're looking to add a new side dish to your menu, you need to try these addictive Ranch Parsnip Fries! They're very easy to make, healthy, and have an amazing flavor thanks to an homemade AIP ranch seasoning.
I like to eat these baked parsnip fries by dipping them into an easy dairy-free Ranch dip that takes just two minutes to make. It's a great combination of warm, savory, crispy, caramelized parsnips and creamy, delicious dip. I know you will enjoy these parsnip fries as much as I do!
AIP-friendly dairy-free ranch seasoning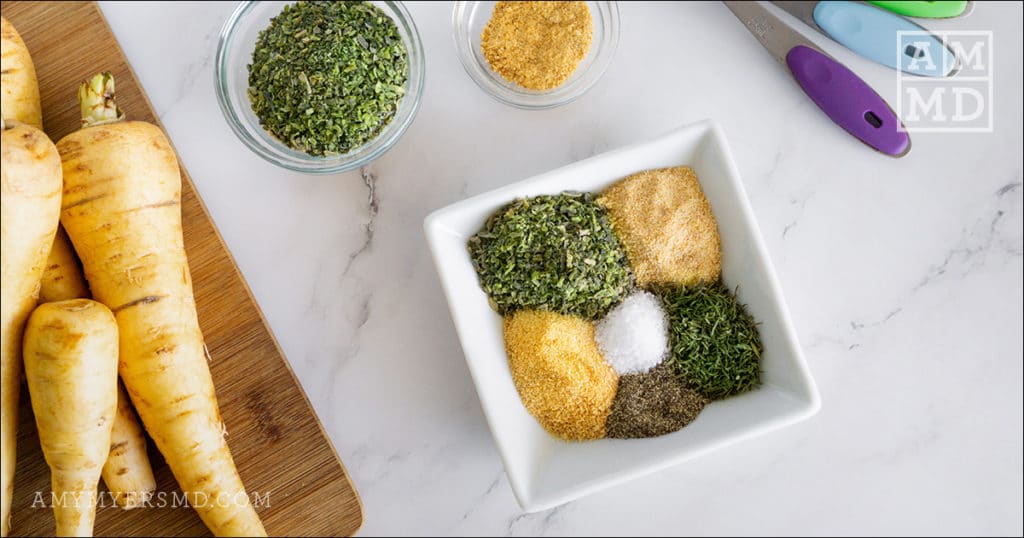 These parsnip fries are seasoned with my homemade ranch seasoning, which is AIP and Paleo, and is also Candida and SIBO-friendly. It is made up of a few spices and herbs that you probably already have in your pantry:
Dried parsley
Dried dill
Garlic powder
Onion powder
Black pepper
Sea salt
Because all these seasonings are dried, you can make ranch seasoning in just a few minutes and keep it in a jar anytime you get a craving for addictive ranch parsnip fries.
Store-bought ranch seasoning usually contains buttermilk powder. I always skip the buttermilk powder and make this a dairy-free ranch seasoning because dairy has an inflammatory effect on the body.
Healthy dairy-free ranch dip
I use my homemade ranch seasoning to quickly mix up a dairy-free ranch dip by combining the ranch seasoning with dairy-free coconut yogurt. This dairy-free ranch dip made with coconut yogurt makes the best dip for parsnip fries!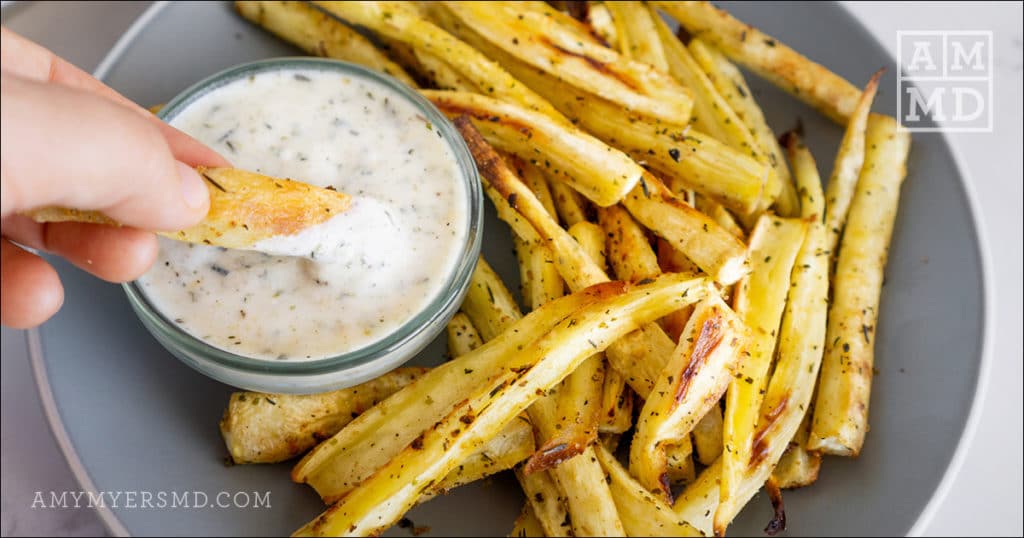 Coconut yogurt is filled with probiotics and "good" bacteria, which help maintain a healthy balance of gut bacteria. Having healthy bacteria in the gut can help reduce digestive issues, inflammation, obesity, and even allergies.
Probiotics may also help keep the immune system healthy by promoting the production of antibodies, and may reduce the duration of respiratory infections and the risk of urinary tract infections.
Coconut milk is high in electrolytes such as potassium, magnesium, and phosphorus. These electrolytes help maintain normal heart, muscle, and nerve function. Coconut milk is also high in iron, which helps prevent anemia and keeps the blood cells healthy.
Are baked parsnip fries healthy?
Parsnips are a starchy root vegetable that is a healthy alternative to potatoes. They have a subtle sweet flavor and a really nice texture that is perfect for baking.
Parsnips contain a lot of fiber, which helps maintain gut health and reduce inflammation of the digestive tract. Parsnips are high in antioxidants like Vitamin C and polyacetylenes, which may help prevent chronic conditions such as cancer, heart disease, and diabetes. Parsnips are also high in folate, which is necessary for the production of red and white blood cells, and magnesium, which helps regulate the nervous system, among many other health benefits.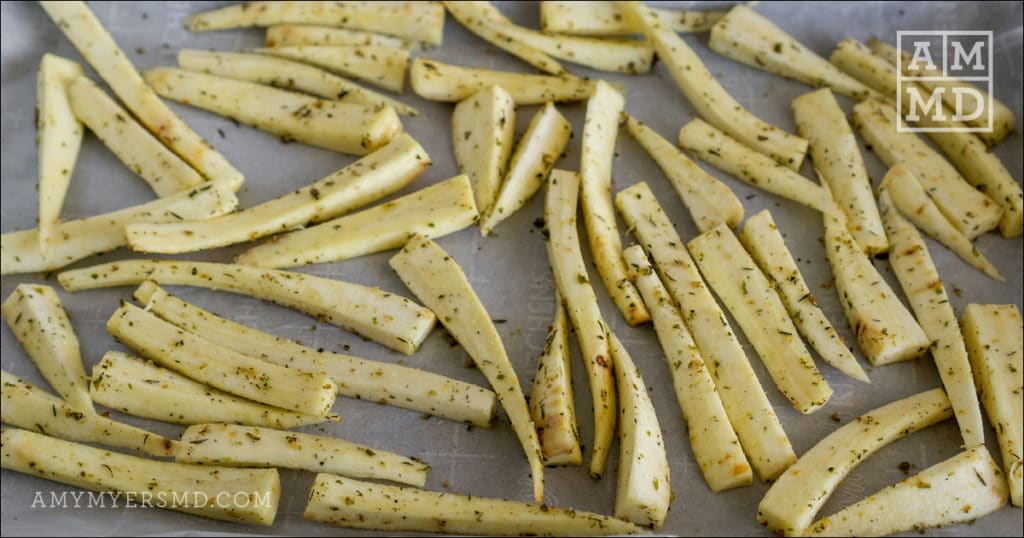 These parsnip fries are baked in the oven to give them a nice crispy texture, instead of deep frying them in oil, making them a healthier, lower-calorie side dish option.
Easy parsnip fries
To make parsnip fries, I peel parsnips and slice them into long, thin pieces that resemble French fries, about ½ inch thick.
Then I coat them in olive oil – a healthy plant-based fat, and a generous amount of my homemade ranch seasoning.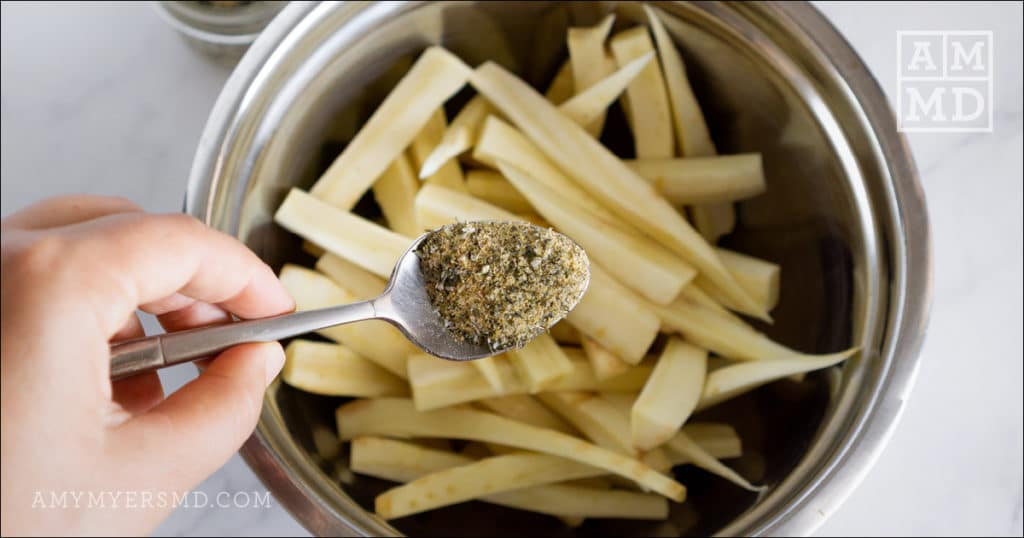 I bake these parsnip fries at 400 degrees Fahrenheit for about 25-30 minutes, or until they are golden brown and crispy on the ends. They will have a wonderful caramelized flavor! Enjoy these ranch parsnip fries as a side dish with one of these recipes:
Ingredients
4

parsnip approximately 1 lb

1

Tbsp

14.79

ml extra virgin olive oil

2

Tbsp

29.57

ml parsley dried

1

Tbsp

14.79

ml dill dried

1

Tbsp

14.79

ml garlic powder

1

Tbsp

14.79

ml onion powder

1

tsp

4.93

ml sea salt

1/2

tsp

2.46

ml ground black pepper

1/2

cup

120.00

ml plain coconut yogurt
Instructions
Preheat oven to 400˚. Line a large baking sheet with parchment paper.

---

Peel and rinse the parsnips. Cut the parsnips into long pieces about ½ inch thick.

---

Prepare the ranch seasoning: In a small bowl or jar, combine the dries parsley, dill, garlic powder, onion powder, salt, and black pepper, and mix well.

---

In a large bowl, combine the sliced parsnips with 1 tablespoon olive oil and 2 teaspoons of the ranch seasoning. Mix well to distribute the seasonings evenly.

---

Place the seasoned, oiled parsnips on the prepared baking sheet, and bake at 400˚for 25-30 minutes, or until desired doneness, tossing halfway through.

---

Prepare the dairy-free ranch dip: Stir together the coconut yogurt with 1-2 teaspoons of the ranch seasoning, or to taste. Serve with warm parsnip fries.

---