Savory Sweet Potato Toast
If you're looking for a fun way to include nutrient-dense vegetables such as sweet potatoes in your diet, you'll be surprised to hear that breakfast is a great place to start! You can make Savory Sweet Potato Toast with a variety of toppings. They're one of the most delicious ways to enjoy vegetables, let alone a delicious breakfast.
Toast is a breakfast staple around the world. However, it is made with bread (obviously,) and even the gluten-free varieties can be packed with things you don't want such as sugar and chemicals. So even that "healthy" avocado toast on a restaurant menu will wreak havoc on your gut. Enter my new favorite pseudo-bread — a sweet potato… sliced lengthwise. It's brilliant!
This Savory Sweet Potato Toast is a gluten-free, AIP-friendly way to enjoy all of the traditional toast toppings you love on a delicious and nutritious base. I'll show you a few different gut-friendly toppings for Savory Sweet Potato Toast that you are sure to love.
Sweet potatoes
Sliced sweet potatoes make a great base for "toast" because they hold up well to baking. Once roasted, sweet potato toasts can be picked up with your hand even when they're loaded with toppings.
On top of being a sturdy base for delicious and healthy toppings, sweet potatoes bring their own nutrients to the table. They are full of fiber, vitamins, minerals, and antioxidants. The fiber in sweet potatoes will help keep you satiated and promote healthy digestion. Not least, sweet potato nutrients also benefit the good bacteria in your gut.
Sweet potatoes are high in Vitamins A, B6, and C, as well as manganese and potassium. In fact, with just one serving of sweet potato, you may be able to reach at least half of the recommended daily value of Vitamin A. That's because beta-carotene, the richly pigmented antioxidant that makes sweet potatoes so orange, converts to Vitamin A in your body.
Manganese is a nutrient essential to bone mineral density and supports a healthy inflammatory response. And potassium can support blood pressure levels, help regulate muscle and heart contractions, and help maintain healthy nerve function.
Just one or two slices are all that you need — they can be as thin as you like, even thinner than a slice of bread!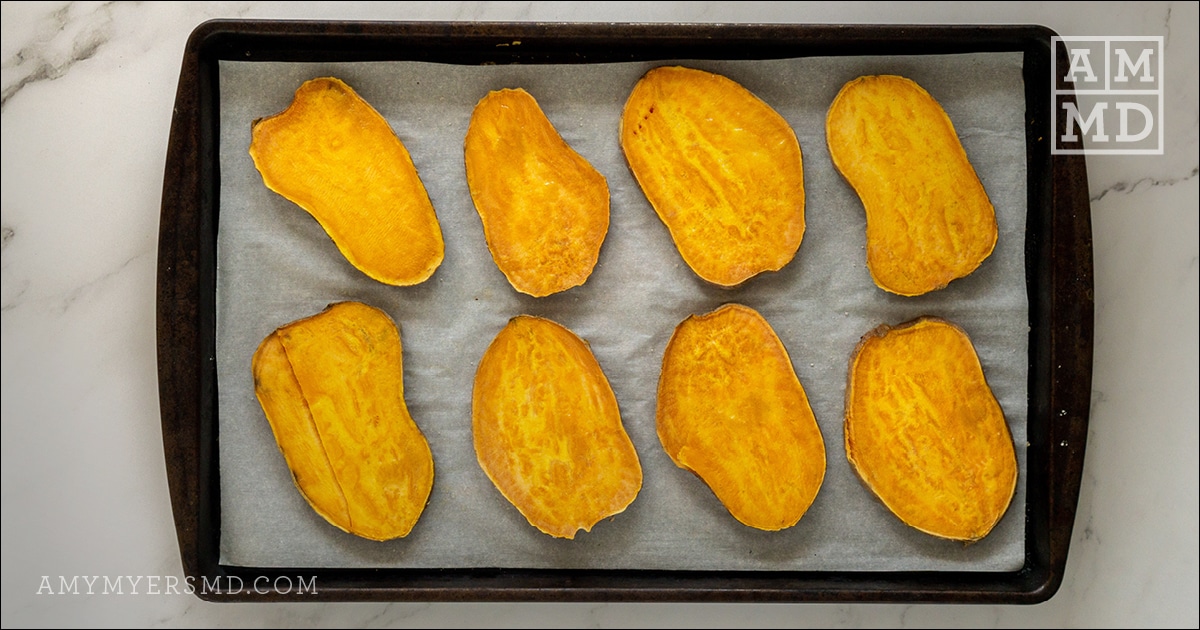 Keep the skin on
The skin is left on these sweet potato toasts to help maintain structure, and it ramps up the nutritional value. Sweet potato skin contains additional fiber and vitamins, which helps make this recipe even healthier.
Scrub the sweet potatoes well with a brush to remove any dirt before slicing them to make your Savory Sweet Potato Toasts.
Savory sweet potato toast toppings
In this recipe, there are four different options for your Savory Sweet Potato Toast:
Sliced cucumbers
Sliced avocado
Mashed avocado
Strained, unsweetened coconut yogurt
With a variety of toppings, Savory Sweet Potato Toast also offers a variety of nutrients. Plus, you'll never get sick of Savory Sweet Potato Toast, when you can top it with whatever you like!
I like to season my Sweet Potato Toast with salt, ground black pepper, fresh lime juice, and fresh herbs. A well-seasoned 'toast' is extra flavorful, making an easy and delicious breakfast or snack.
Now I want to let you in on a secret — these toppings are actually fruit! Cucumber and avocado are technically classified as fruit. However, they're usually referred to as vegetables purely because of how they're used in the culinary world.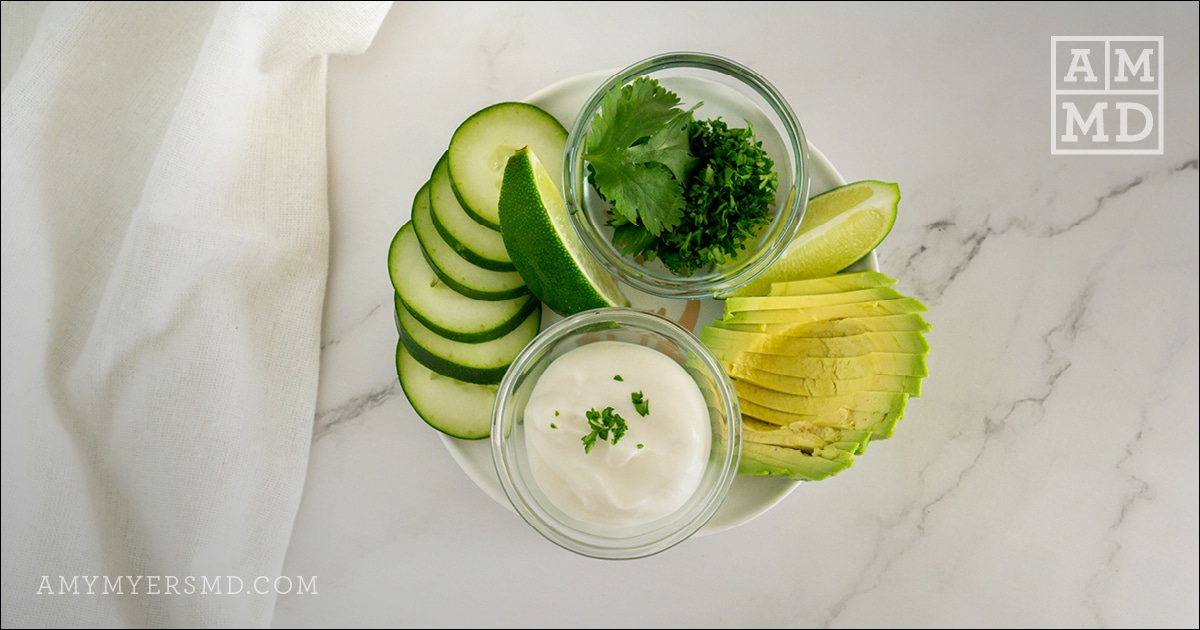 Cucumbers
Cucumbers are a great topping because they add a bit of brunch and additional vitamins to these sweet potato toasts. Juicy, crisp cucumbers pair well with unsweetened coconut yogurt, fresh chopped dill, and freshly cracked pepper on top of soft, roasted sweet potato.
Cucumbers are low in calories and contain phytonutrients, which are known to help fight oxidation in the body. They're also full of water, so cucumber is an excellent food to keep you hydrated. I recommend you keep the peel on to get all the nutrients and fiber from the cucumber.
Avocado
One of my favorite foods, avocado is high in vitamins C, E, K, and B6, and monounsaturated fats. These are the healthy fats that can help balance cholesterol levels, thereby decreasing your risk of developing chronic illnesses such as heart disease and type II diabetes. Not bad for a Savory Sweet Potato Toast topping!
You can top your sweet potatoes with sliced avocado, or mash the avocado with a fork and spread it over the toast. Whichever way you choose to do it, I recommend adding a small squeeze of lime, sea salt, and fresh cilantro on top of the avocado. Or try it with some quick pickled red onion!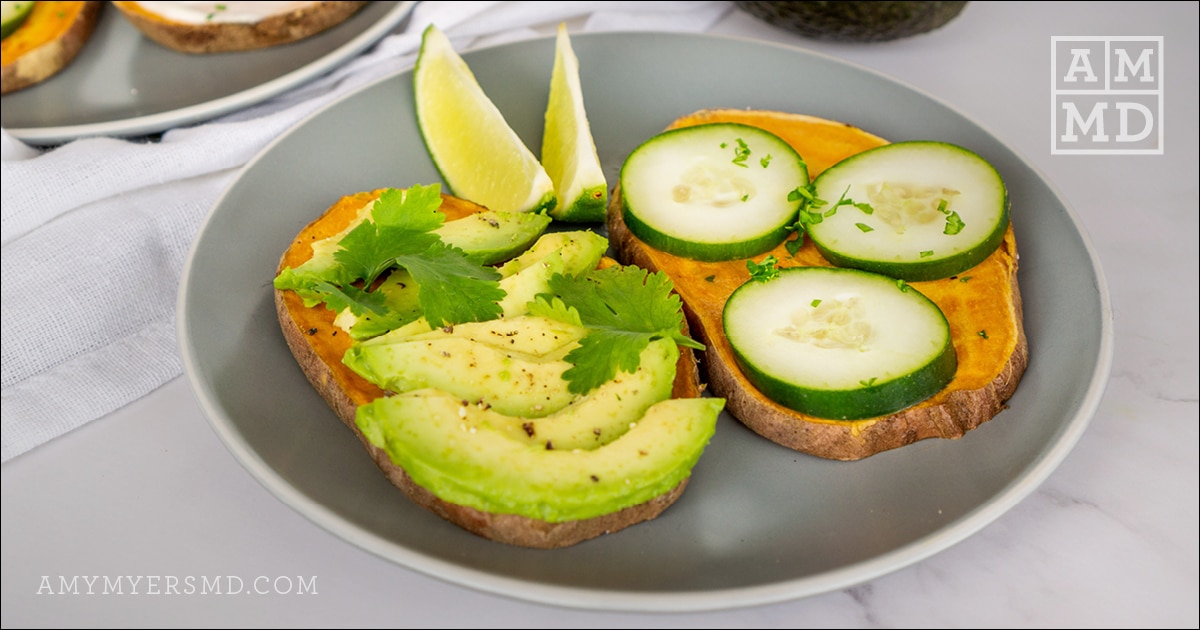 Strained coconut yogurt
Unsweetened coconut yogurt makes a delicious, dairy-free spread for Sweet Potato Toast. With a pinch of salt and some additional seasonings, you can bring more flavor to this tangy, toast topping.
To strain the coconut milk yogurt, place the yogurt in a double layer of cheesecloth and let the extra liquid drain out while you prepare the sweet potato toast. This will give the yogurt a thick, Greek yogurt consistency.
You can also leave the yogurt to strain overnight in the refrigerator, like I do in my favorite coconut yogurt labneh recipe, which will result in an even thicker, almost cream cheese-like consistency.
Coconut milk yogurt that contains live active cultures is rich in probiotics, which support a healthy digestive system. Additionally, you can use the liquid from the strained yogurt in place of water or milk for extra probiotic benefits.
Other topping ideas
Of course, there are endless ways to enjoy Sweet Potato Toast — sweet and savory! Here are some ideas for more Sweet Potato Toasts
Coconut yogurt labneh and sliced olives
Drizzle of balsamic vinegar
Sliced or mashed banana
Sliced strawberries
Coconut yogurt sweetened with maple syrup or honey
Coconut butter
Enjoy your Sweet Potato Toast on its own for breakfast, or with a Strawberry Mango Tropical Smoothie.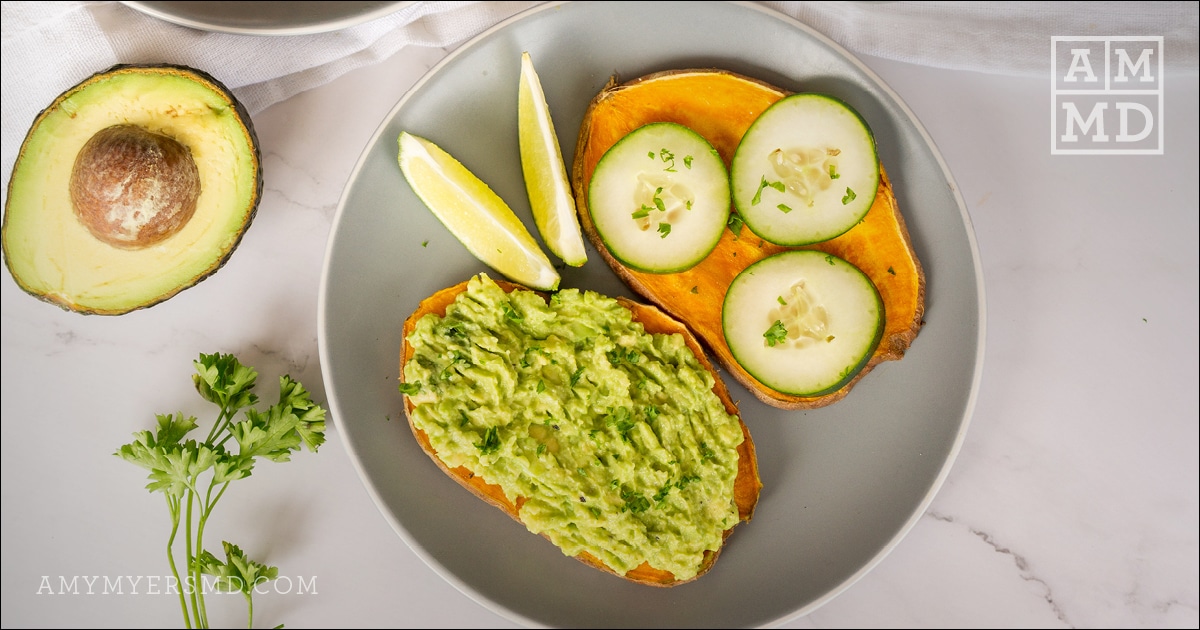 Savory Sweet Potato Toast
---
Ingredients
For the Sweet Potato Toast
2

sweet potato
ground black pepper to taste
sea salt to taste
For the Savory Toppings
1

cucumber

1

avocado

1/2

lime

1

Tbsp

14.79

ml fresh herbs chopped

1/4

cup

60.00

ml plain coconut yogurt strained
ground black pepper to taste
sea salt to taste
Instructions
Preheat oven to 375 F. Line a large baking sheet with parchment paper.

---

Slice the sweet potato into thin even slices, about ⅓ inch wide. Arrange the sweet potato slices on the parchment paper. Bake at 375° F for 15-18 minutes, or until the sweet potato is fully cooked and a fork easily pierces it, but remains firm. Don't overcook it!

---

While the sweet potato is roasting, prepare your toppings. I.e. slice the cucumber, slice or mash the avocado, season coconut milk yogurt, etc.

---

Remove sweet potato slices from oven and allow to cool until you can pick them up with your hands. Top Sweet Potato Toasts with desired toppings, seasoning with fresh herbs, sea salt, and black pepper to taste.

---