Sweet & Spicy Roasted Almonds
These crispy roasted almonds are absolutely addicting! The combination of spicy, sweet, and salty will keep you reaching for more. Luckily, they are made without any refined sugars, and the seasonings used to flavor these almonds have loads of health benefits. If you are able to enjoy almonds as part of your diet, you will love these sweet and spicy roasted almonds!
Almonds health benefits
Even though almonds are not recommended for the AIP diet, they have a lot of health benefits and can be a great addition to your diet if you are in the reintroduction phase and can tolerate almonds.
Almonds are high in Vitamin E, which is a healthy fat and a powerful antioxidant that may contribute to reduced blood pressure and a reduced risk of cancer. Almonds are also high in magnesium, which helps manage blood sugar levels.
Even though almonds are high in calories, they can help with weight loss. This is thanks to the fiber, fat, and protein that are found in almonds, which help keep us full longer.
In addition to all these benefits, almonds contain calcium, manganese, copper, and zinc, which all contribute to bone health and strength.
Not bad for a little nut!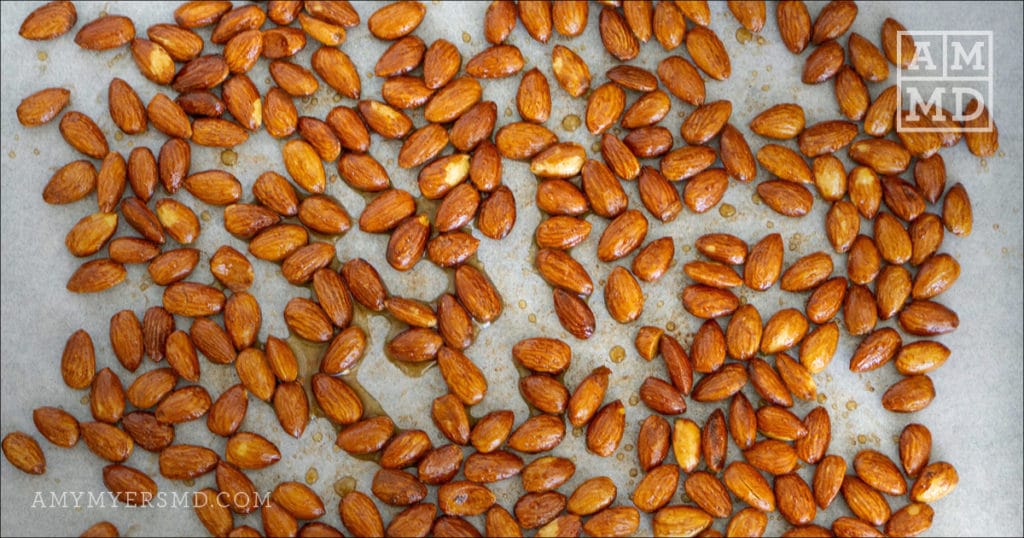 Naturally sweetened roasted almonds
For this recipe, I use maple syrup and coconut sugars to give these roasted almonds an irresistible sweet and crunchy coating. Both of these are unrefined sweeteners and have a lower glycemic index score compared to refined cane sugar. This means that they don't cause as high of a spike in blood sugar or raise our insulin levels, both of which can lead to problems with managing blood sugars, contributing to a higher risk of diabetes.
Maple syrup and coconut sugar are also healthier alternatives to sugar because they do not cause gas, bloating, and indigestion in many people. On top of that, they both contain antioxidants, which help neutralize free radicals in the body and reduce the risk of cancer.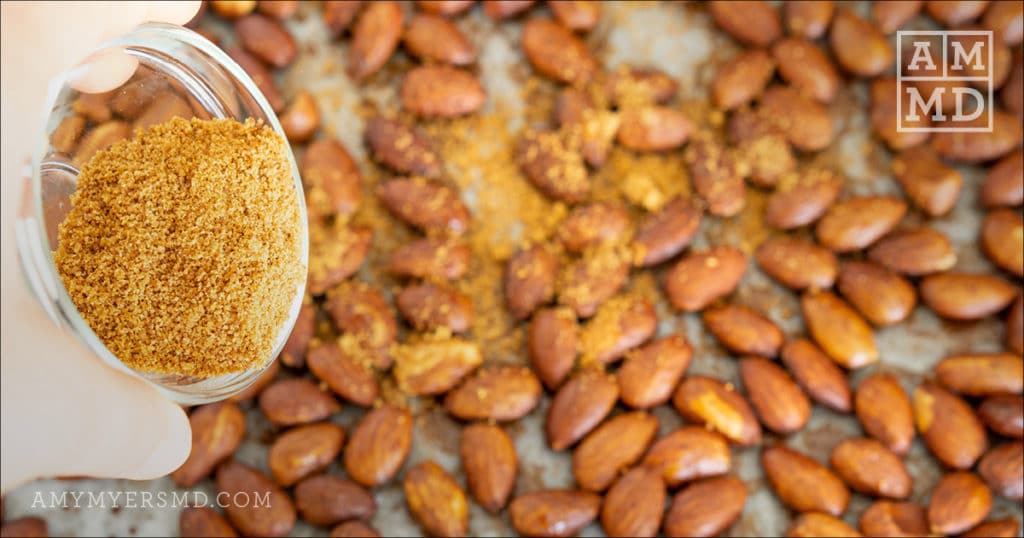 Cinnamon and ginger-spiced almonds
I used ground cinnamon and ginger to give these almonds lots of flavor and a spicy kick! Both of these spices have anti-inflammatory and antioxidant effects on the body. Ginger can help ease nausea, may aid with weight loss, and with arthritis. Ginger also has anti-diabetic properties, making it a great combination with the maple syrup and coconut sugar.
Cinnamon has its own list of benefits: it has antiviral and anti-microbial properties, it helps with gut health by promoting the growth of good bacteria, and it reduces blood pressure. On top of all this, cinnamon and ginger give these almonds a wonderful, warm, spicy flavor!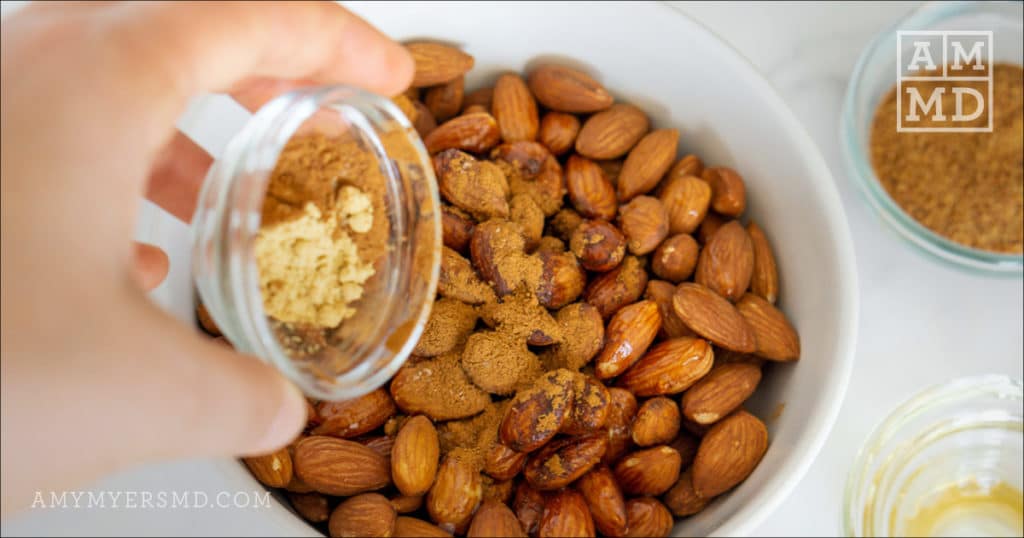 Easy snack recipe
One of my favorite things about these roasted almonds, aside from their health benefits and wonderful flavor, is how simple it is to make these.
You simply mix the almonds with coconut oil, maple syrup, ground cinnamon, ginger, and a pinch of sea salt. Roast them for 12-15 minutes at 350 degrees Fahrenheit, then stir in the coconut sugar, and let them cool. Easy! These roasted almonds make a tasty and healthy on-the-go snack that will keep me full, a great addition to a charcuterie board, and will also make any salad better! Try them on top of any salad that has lots of greens, such as this basil and arugula salad, or this spring greens and cabbage salad.
Sweet & Spicy Roasted Almonds
---
Ingredients
2

cups

480.00

ml almonds unroasted, unsalted

2

Tbsp

29.57

ml maple syrup

2

tsp

9.86

ml coconut oil melted

1/2

tsp

2.46

ml ground cinnamon

1/4

tsp

1.23

ml ground ginger

1/8

tsp

0.62

ml sea salt

2

Tbsp

29.57

ml coconut sugar
Instructions
Preheat your oven to 350 degrees Fahrenheit. Line a large baking sheet with parchment paper, or use a silicone baking mat.

---

In a large bowl, combine almonds with the melted coconut oil, maple syrup, cinnamon, ginger, and salt. Mix well.

---

Spread the almond mixture out on the baking sheet. Bake for 12-15 minutes.

---

Allow the almonds to cool for 2 minutes, then give them a quick stir to loosen any caramelized maple syrup off the pan.

---

Add the coconut sugar, mix well, and spread out on the same baking sheet until completely cooled. Store at room temperature in an airtight container for up to 4 weeks.

---