Turkey Burgers with Caramelized Onions
Turkey burgers with caramelized onions – a delicious, high protein meal
Turkey burgers don't have to be bland or boring! Try my flavorful, juicy turkey burgers with caramelized onions and you'll see what I mean. These turkey burgers are easy to make with just 5 ingredients and cook up quickly so you can enjoy beautifully browned turkey burgers anytime.
I like to top my turkey burgers with a savory caramelized onion topping and serve them over lettuce for a light, high-protein lunch or dinner. These burgers are AIP and Paleo friendly, and suitable for the Candida and SIBO diets too.
Ground turkey nutrition and benefits
Ground turkey meat, just like regular turkey meat, is high in lean protein, which our bodies need to maintain lean muscle mass and keep insulin levels stable after meals. Protein also helps us feel full longer.
Turkey contains the amino acid tryptophan, which helps maintain a healthy level of serotonin in the body, promoting good mood and alertness. Contrary to common belief, a typical serving of turkey does not have enough tryptophan to cause drowsiness!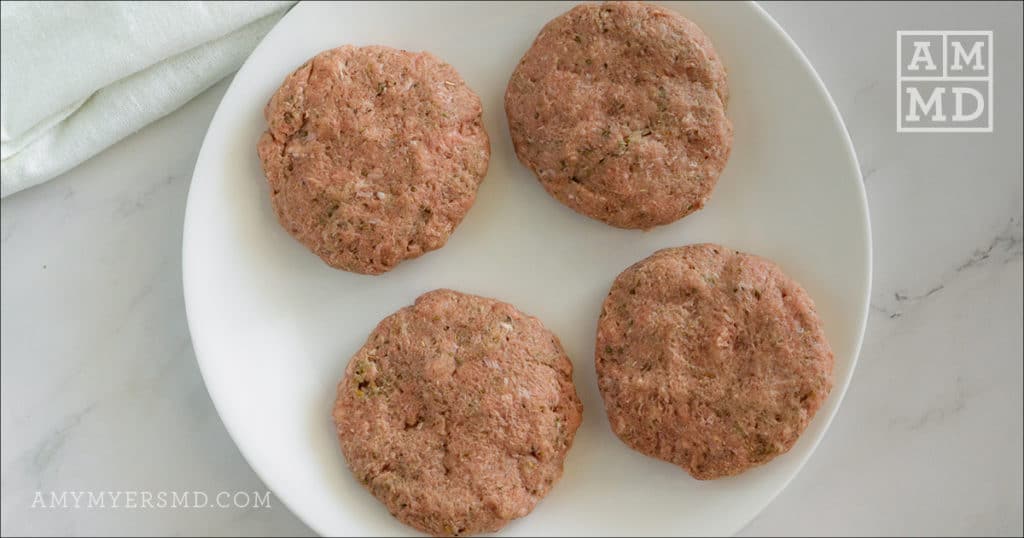 Turkey has high levels of Vitamins B3 (niacin), B6, and B12. These B vitamins are important for efficient production of energy, amino acids, DNA, and red blood cells in the body. Furthermore, turkey is loaded with selenium, zinc, and phosphorus. Selenium produces hormones which help regulate the metabolism, zinc is needed for healthy enzyme reaction and protein production in the body, and phosphorus is important for bone health.
Juicy AIP turkey burgers
These turkey burgers are made with just 5 ingredients: ground turkey, cassava flour, garlic powder, dried oregano, and salt. The cassava flour is a gluten-free flour alternative that helps bind the turkey burgers together without drying them out.
The seasonings in these turkey burgers – oregano and garlic powder – are dried, making them really easy to evenly mix into the ground turkey mixture, giving every bite lots of flavor!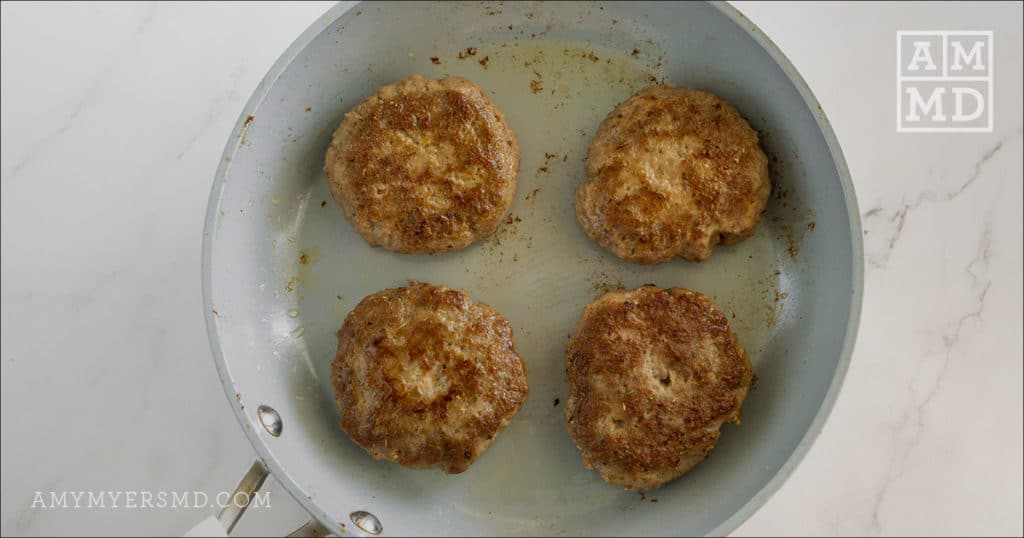 Caramelized onion burger topping
Caramelized onions are one of my favorite burger toppings because they add lots of flavor and juiciness to the burgers. They do take a while to make, but they last for up to two weeks in the refrigerator when stored in a sealed glass jar, so I always make a double batch to have on hand in the fridge for easy flavor-boosting.
This caramelized onion recipe starts with four sliced onions but they cook down a lot, leaving you with delicious, juicy, naturally sweetened and naturally colored caramelized onions. This recipe is made dairy-free with olive oil instead of butter, and deglazed with apple cider vinegar. You can add a spoon of honey, if you like to make the caramelized onions sweeter, but it is usually not necessary.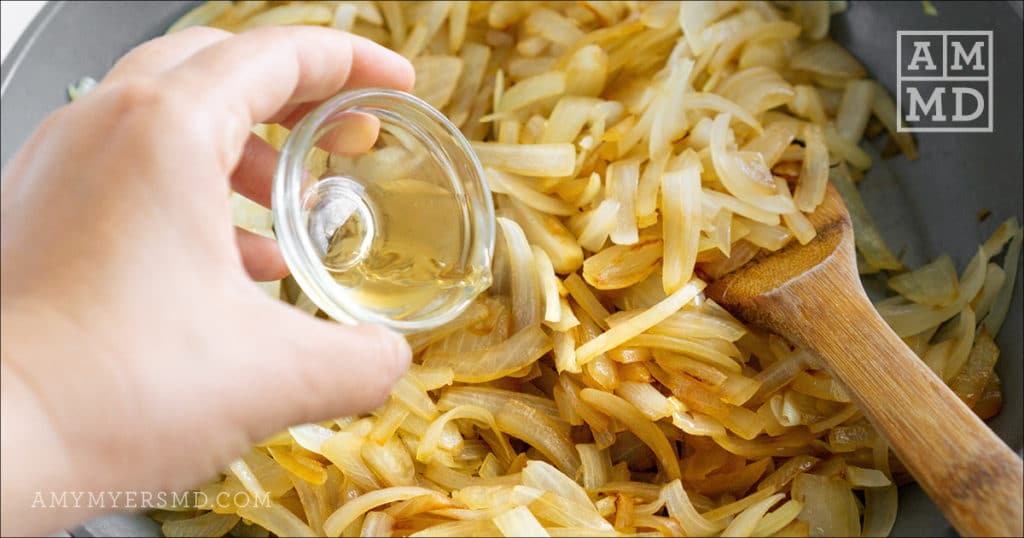 Onions are a very healthy root vegetable. They are low in calories but high in nutrients and antioxidants. Onions contain a lot of vitamin C, which is needed for a healthy immune system, collagen production, and tissue repair. They are high in B vitamins just like turkey, and they are also a good source of potassium, which is an important mineral for healthy kidney function, muscle contraction, and fluid balance.
I hope you get to make these turkey burgers with caramelized onions and love them as much as I do! They are great when served with lettuce buns, but can also be served with any of these side dishes:
Try these other burger recipes:
Turkey Burgers with Caramelized Onions
---
Ingredients
For the turkey burgers:
1

lb

454.00

g ground turkey

1/4

cup

60.00

ml Cassava flour

1

Tbsp

14.79

ml garlic powder

1

Tbsp

14.79

ml dried oregano

1

tsp

4.93

ml sea salt

1

Tbsp

14.79

ml olive oil for cooking
For the caramelized onions:
1.5

lb

681.00

g onion thinly sliced

1

Tbsp

14.79

ml olive oil for cooking

1

Tbsp

14.79

ml apple cider vinegar

1

Tbsp

14.79

ml honey optional

1/4

tsp

1.23

ml sea salt optional
Instructions
Start with the caramelized onions: Add the sliced onions and 1 tablespoon olive oil to a large skillet, and cook over medium heat for 15 minutes, stirring frequently. Allow the onions to brown slightly but don't burn.

---

Add 1 tablespoon apple cider vinegar and 1 tablespoon honey, if using, and continue cooking for 15-20 minutes, stirring frequently, until the onions are cooked and caramelized to your liking. Season with sat, if using.

---

While the caramelized onions are cooking, prepare the burgers: In a medium bowl, combine the ground turkey, cassava flour, garlic powder, dried oregano, and salt. Mix well, making sure the spices are well incorporated into the ground turkey.

---

Divide the ground turkey mixture into 4 parts and form 4 burger patties.

---

Heat a tablespoon of olive oil in a large skillet, and carefully place the patties down into the hot oil, pressing gently in the center with your hand. Cook over medium heat for 4-5 minutes, or until nicely browned. Carefully flip the burgers and cook for 4-5 minutes, or until the internal temperature registers at least 165 degrees Fahrenheit on an instant read thermometer.


---

Serve warm over lettuce leaves, topping with caramelized onions.

---