Valentine's Day Chocolate Truffles
These decadent Chocolate Truffles are the perfect, easy, no-bake treat that's sure to impress that special someone without spending hours in the kitchen. Made with wholesome, clean ingredients, these homemade chocolate truffles are Paleo and vegan. Whether it's Valentine's Day or the first day of spring, these are an excellent treat for any special occasion!
Can Chocolate Truffles Be Healthy?
While these chocolate truffles don't take the place of nutrient-dense vegetables and proteins, they are a fun treat for special occasions (I'm thinking Valentine's Day — how about you?) It's important to have healthier alternatives for desserts and treats for any occasion so that you don't feel deprived. Here are some of the healthier swaps in this homemade chocolate truffle recipe:
Dried Figs
Figs, fresh or dried, are a great source of vitamins and minerals. They're rich in antioxidants such as manganese and Vitamin A. They also contain choline, folate, calcium, and potassium. Dried figs give these truffles a delicious texture and natural sweetness similar to dates. In fact, you could use dates in this recipe if dried figs aren't readily available.
Cocoa Powder
Cocoa powder is a rich source of flavonoids and antioxidants including the aforementioned manganese. Cocoa powder also contains iron, magnesium, potassium, calcium, and even fiber. All of these are essential nutrients which both men and women require for optimal health. However, women are more likely to be deficient in calcium and magnesium, so cocoa powder can help you meet the daily recommended value of these nutrients.
Coconut Cream
Coconut cream provides your body with fat and easy-to-digest medium chain triglycerides. This is a type of saturated fat that is more quickly absorbed by the body and used for body functions. In this particular recipe, coconut cream not only makes these truffles satisfying and healthy, it also provides a rich and creamy texture to your filling.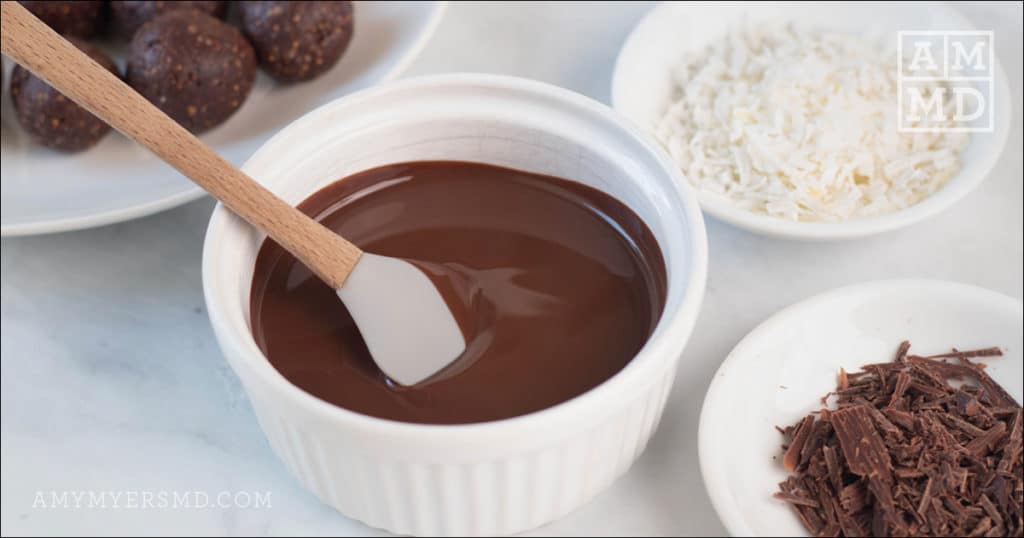 How to Make Chocolate Truffles at Home
These no-bake chocolate truffles couldn't be easier to make. The truffles themselves are just three ingredients, and the optional chocolate coating and toppings only use a few more ingredients. I highly recommend you don't miss out on the optional additions — they're delicious AND pretty!
To make the truffles, you'll need dried figs, cocoa powder, and coconut cream. You can use canned coconut cream or the solidified part of a chilled can of coconut milk. With either option, you want the cream to be slightly solid for structure.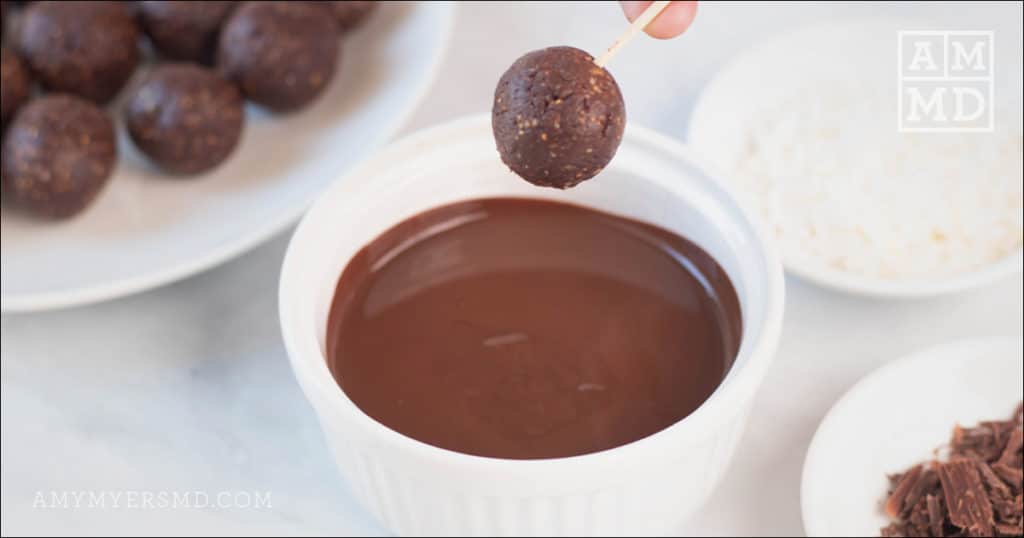 Remove the stems of the figs and add them to your food processor along with your cocoa powder and coconut cream. Process until the mixture is smooth and has formed a ball. Using a spatula, remove the dough-like mixture from the food processor and place it in a bowl.
Using a teaspoon, measure out rounded balls of the truffle dough and place on a parchment paper lined baking sheet or plate. Dip your fingers in water to remove any sticky dough that may have transferred to your fingers from the teaspoon. Don't shape your truffles just yet.
Freeze, uncovered, for about 5 minutes, then roll into balls. Place back in the freezer while you make the coating.
To make the coating, melt your chocolate chips and coconut oil together until the mixture is smooth and combined. You can use your fingers to roll truffles in the mixture, or a toothpick or fork inserted in each truffle for less mess. Place back on the parchment paper and allow to set for about a minute.
Roll or sprinkle your truffles with cocoa powder, shaved chocolate, coconut shreds, or sea salt!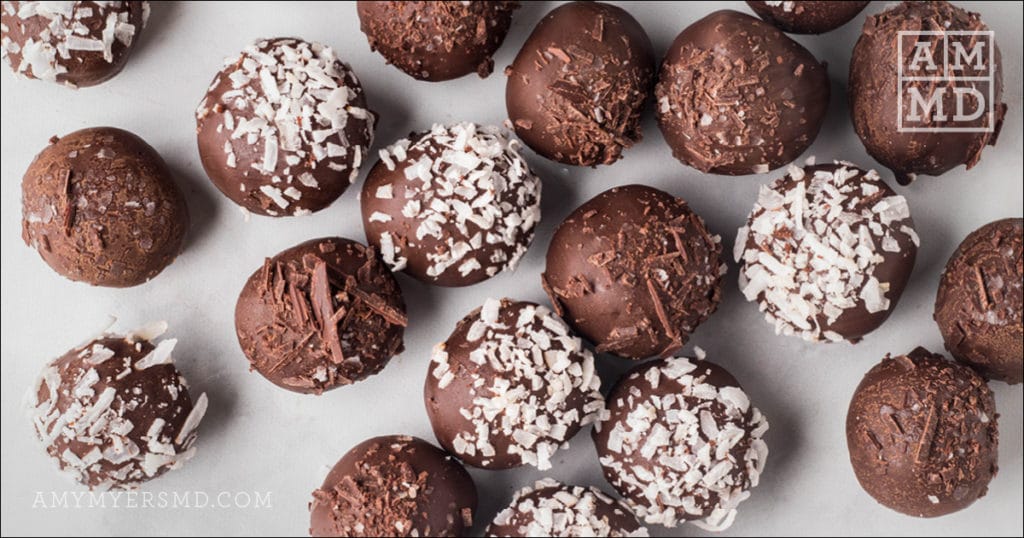 Valentine's Day Chocolate Truffles
---
Ingredients
Chocolate Truffles
1 1/2

cup

360.00

ml dried figs about 17-18 whole, dried figs

6

Tbsp

88.72

ml unsweetened cocoa powder

1/4

cup

60.00

ml coconut cream
Chocolate Coating
1/2

cup

120.00

ml chocolate chips sugar-free, dairy-free

1

Tbsp

14.79

ml coconut oil
Optional Toppings
unsweetened cocoa powder
shaved chocolate
coconut shredded
flaked sea salt
Instructions
Remove the stems from the figs, and place them in a food processor, along with cocoa powder and coconut cream. Process until the mixture is completely smooth and has formed a ball. Remove from the food processor with a spatula, and place into a medium bowl. Store in the refrigerator for 5 minutes.

---

Remove truffle dough from the refrigerator. Scoop rounded teaspoons of the truffle mixture onto a sheet of parchment paper. Do not roll into balls yet. Tip: keep a small bowl of warm water next to you, and dip your fingers in the water to remove truffle mixture from your fingers. This process can be messy and the water helps keep things moving.

---

Carefully slide the parchment paper onto a plate or baking sheet, and place in the freezer for about 5 minutes. Remove from the freezer and roll into truffle balls. When all the truffles have been formed into spheres, place them back in the freezer while you prepare the coating.

---
In a small saucepan, combine the sugar-free chocolate chips and coconut oil. Melt slowly over low heat, stirring continuously until smooth and well-combined.

---

Remove truffles from the freezer. Using toothpicks, skewers, or a fork, pierce 1 truffle at a time and dip the truffle into the chocolate coating mixture. Twirl the toothpick around to completely coat the truffle. Carefully slide the truffle off the toothpick onto a piece of parchment paper or wire cooling rack.

---

Before the chocolate coating dries, sprinkle with optional toppings such as shredded coconut, chocolate shavings, or flakey sea salt.

---

Allow the chocolate coating to cool and solidify completely before serving.

---