Watermelon Bliss
These refreshing Watermelon Bliss drinks are a favorite around here! They are bursting with fresh watermelon flavor and are very easy to make. You can serve these as a cocktail with a little tequila or as a mocktail—they're equally delicious! These drinks are AIP- and paleo- compliant and have no added sweeteners or flavorings.
What is watermelon bliss?
This is a fresh, light drink made by blending fresh watermelon, mint leaves, and lime juice. The lime juice helps bring out the flavor of the watermelon, and mint leaves give this drink an even more refreshing flavor. It can be spiked with tequila or served as a mocktail, depending on your mood and dietary preferences.
This AIP-friendly and paleo-friendly drink contains no added sugars—it gets its natural sweetness from the watermelon.
Watermelon bliss is loaded with nutrients: watermelon contains antioxidants such as vitamin C and lycopene, both of which help reduce free radicals in the body and may help prevent conditions such as heart disease or cancer. Lycopene can also help lower cholesterol and prevent heart disease. Watermelon also contains citrulline, an amino acid that may help relieve muscle soreness and improve aerobic exercise performance.
Watermelon Bliss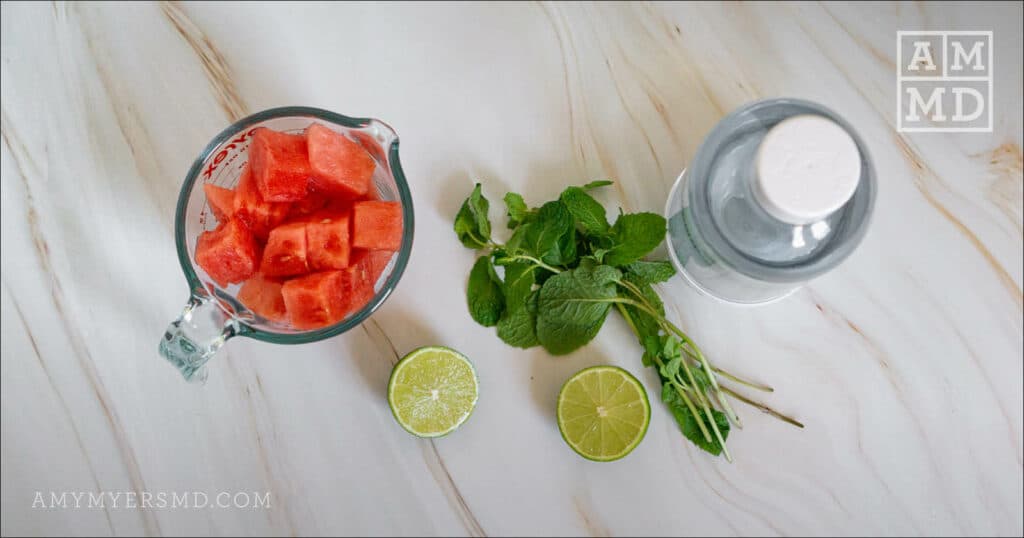 Dr. Amy Myers
December 31st, 2021
https://content.amymyersmd.com/recipe/watermelon-bliss/
Watermelon bliss
How to make watermelon bliss
Watermelon Bliss can be made in a blender in less than 5 minutes! Simply blend together watermelon, fresh lime juice, and fresh mint leaves. Add a shot or two of tequila, if you like. Strain the pulp over a fine mesh strainer, using a spoon to help the watermelon juice along, and pour over ice. Top off with a little sparkling water, or serve as is.
watermelon bliss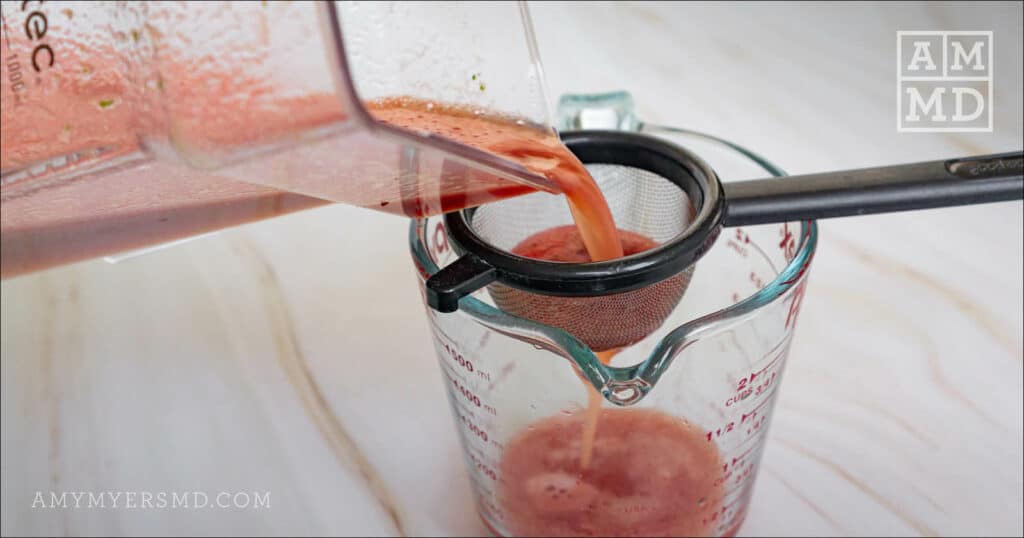 Dr. Amy Myers
December 31st, 2021
https://content.amymyersmd.com/recipe/watermelon-bliss/
Watermelon bliss
Variations for watermelon bliss
Try using a combination of mint leaves and fresh basil leaves in the watermelon bliss. Basil and mint are related herb plants, and basil pairs well with fruity drinks.
If you like cucumber water and cucumber cocktails, you can blend in a few slices of fresh peeled cucumber along with the watermelon.
Either way, this is a very refreshing drink for summer, and all year long!
watermelon bliss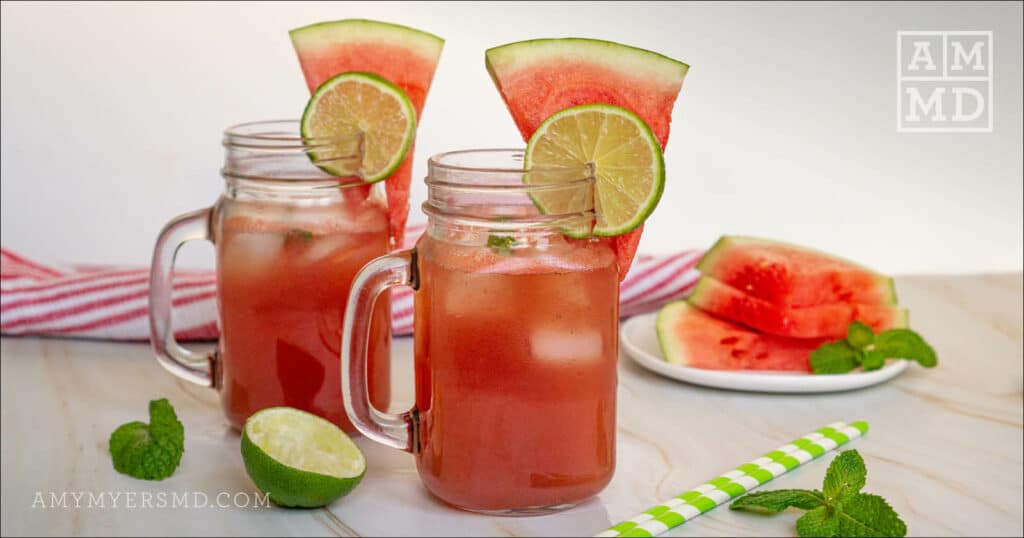 Dr. Amy Myers
December 31st, 2021
https://content.amymyersmd.com/recipe/watermelon-bliss/
watermelon bliss
More drinks to try:
Ingredients
2

cups

480.00

ml watermelon cubed, seedless

10

fresh mint leaves plus extra for garnish

1

tbsp

14.79

ml lime juice plus lime slices for garnish

2

ounces

59.15

ml tequila optional

2

cubes ice

1

cup

240.00

ml sparkling water
Instructions
In a blender, combine the watermelon, mint leaves, lime juice, and tequila, if using, and blend.


---

Optional step: pour over a fine mesh strainer to strain the pulp, use a spoon to help strain the watermelon juice.

---

Add 1 cup of ice to each glass, pour half of the strained watermelon mixture over the ice, and top off with ½ cup sparkling water. Stir and serve with watermelon wedges, mint, and lime slices for garnish.


---