As an M.D., I was sick and tired of curcumin products that weren't working for my patients…





The #1 Problem with Other Turmeric and Curcumin Supplements: SOLVED
Turmeric root powder is actually quite low in the bioactive compounds, curcuminoids, that are responsible for its amazing health benefits.
This means that, because they're not concentrated, the turmeric in your kitchen pantry or the turmeric in most of those health-food store capsules have almost none of the curcuminoids that make it worth your while…
Yes, this also includes many of the so-called "potent" turmeric and curcumin supplements available in the marketplace today.
Here's what Amy Myers, MD has to say about liquid Liposomal Curcumin:
Formulating the most bioavailable Liposomal Curcumin was a huge challenge. Once I'd perfected the delivery method, there was one more big issue I knew I had to tackle…
Flavor. Because I want you to take it every day and change your life, it of course had to taste great.
We had months of taste-testing and formula revisions. The result? We loved it! Even my 2-year-old daughter, Elle, loves it. I had it perfected. My new liquid Liposomal Curcumin tastes just like an orange popsicle!
Now I just need to get you to try it and see for yourself that Liposomal Curcumin can change your entire life. I want you to see and feel the difference it can make…
You already know that inflammation wreaking havoc throughout your body is at the heart of nearly every health issue that can affect you. So please, try my new Liposomal Curcumin today, risk-free, and finally see what the power of curcumin can do for you!
LOVE!
I had a hard time taking Curcumin in pill form, it caused stomach upset for me so I love this bioavailable liquid way to take Turmeric! And it tastes great too! I take it everyday!
—Angela G., Verified Buyer
AWESOME PRODUCT!
I am so impressed with this product! I've never seen a product like it. It's the most effective dosage that I've found, but it also tastes great! Thank you, Dr. Myers for creating such a great product and taking away the guesswork around adding an absorbable curcumin for those of us in need!
—Brenda C., Verified Buyer
My cutting-edge liquid micelle Liposomal Curcumin formula has been shown in studies to absorb 185x better than ordinary turmeric supplements and 5.6x better than the highest quality standardized curcumin supplements available today.
Turmeric and Curcumin Modulate Inflammation Like Nothing Else Can…
Curcumin from turmeric can modulate multiple cell signaling pathways that manage inflammation in your body. Over the last half-century, curcumin from turmeric has proven to be safe, affordable, and effective. It has shown extremely promising human health benefits in dozens of full-scale clinical trials, and thousands of published, peer-reviewed articles. No other supplement helps maintain a healthy inflammatory response like my Liposomal Curcumin.
Pay Attention to What Liposomal Curcumin Can Do For You:
Modulates Inflammation Throughout Your Entire Body
Curcumin modulates cell signal pathways in a variety of ways. Perhaps most importantly, curcumin blocks NF-kB, an important molecule that moves into your cells and turns on genes related to inflammation. Dozens of clinical trials have proven that curcumin modulates your inflammatory response and supports your immune system like no other supplement can.
---
Fights Free Radicals with an ORAC score of 1,500,000
Oxygen Radical Absorbance Capacity scores measure the effectiveness of an antioxidant's ability to scavenge and neutralize free radicals in your body. With an ORAC score of 1,500,000, curcumin scores higher than the highest antioxidant foods on earth, far higher than even goji berries, wild pecans, dark chocolate, and red wine.
---
Supports a healthy heart and cardiovascular system
Not only can curcumin help modulate inflammation throughout your cardiovascular system it also supports normal cholesterol, triglyceride, and blood sugar levels. Studies have also shown that curcumin is just as effective as cardiovascular exercise on endothelial function, supporting strong and flexible vascular tissue and healthy blood pressure.
---
Maintains Brain Health and Cognitive Function
Curcumin supports healthy levels of brain-derived neurotrophic factor (BDNF), which is a growth hormone that helps your brain form new neuronal connections. Because curcumin can cross the blood-brain barrier, as well as support optimal serotonin and dopamine levels, it can also modulate inflammation in your brain and support vascular health, memory, cognitive function, mood, and a sense of well-being.
My Liposomal Curcumin absorbs 5.6x more easily and resists immediate metabolic breakdown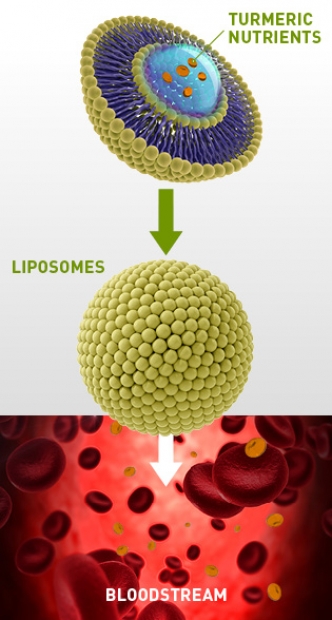 The curcuminoid compounds in turmeric root, namely curcumin, are famously not very bioavailable.
They don't absorb well by your body at all, and what is absorbed is often denatured in your stomach, or metabolized by your liver so quickly that it can't exert any of its amazing benefits.
Because it's fat soluble and so easily metabolized, curcumin needs help in order to be able to be absorbed by your body. The way that I achieved this was to surround the curcumin molecule in a lipid coating or simply put, I surrounded it in a protective pocket of healthy fat.
This serves two very important purposes…
#1 The lipid coating allows the fat-soluble curcumin molecule to safely pass through the acidic stomach, then be absorbed by your gut and travel throughout your body via your bloodstream.
#2 This special lipid coating also protects the curcumin from being instantly metabolized by your liver so that it has time to reach the areas of your body that need it the most.
VERSATILE AND EASILY ABSORBED!
I just finished my first bottle and love this supplement. It's easy to take alone with no stomach upset, and can also mix pretty easily into a quick morning smoothie. I run daily and my joints feel great since taking this. Will buy again!
—Brian P., Verified Buyer
WOW
I tried Liposomal Curcumin for the first time last week. I am very impressed with the taste of this product. I was expecting it to be bitter because of the orange flavoring. NOT AT ALL. This was one of the best liquid supplements I've had in a long time. Not to mention the many benefits you receive. Thank you Dr. Myers for such a great product!
—Bridgette, Verified Buyer
While turmeric root is a powerful food and has been used in India and across Asia for thousands of years, raw turmeric root is actually quite low in the bioactive curcuminoids that are responsible for its many health benefits. I solved this by first standardizing raw, high-quality turmeric to 95% curcuminoids by weight. That's roughly 33x more powerful than raw turmeric on its own!
Next, I took the powerful, standardized curcumin extract and created micelle liposomes using phospholipids from non-GMO sunflower oil, and medium-chain triglycerides from coconut oil.
These micelle liposomes are readily absorbed by your intestinal lining, are protected from digestive breakdown, and travel easily throughout your bloodstream where they also resist immediate metabolism by your liver.
Remember, I've used the power of curcumin myself & with thousands of patients and customers just like you. I've seen firsthand the amazing difference my Liposomal Curcumin can make in your life, and now it's your turn. Seize this opportunity before it's gone!
Choose Your Package
1 Bottle
$32.97
Per Bottle
$30Savings
3 Bottles
$28.02
Per Bottle
$10Savings
2 Bottles
$29.67
Per Bottle
*Offer not valid in conjunction with other offers or promotions.
My 90-Day Satisfaction Guarantee
I'm so confident you'll love my new Liposomal Curcumin, I'm offering a 90-day satisfaction guarantee. Give my Liposomal Curcumin a try. If you're dissatisfied with your purchase for any reason at all, simply reach out to my friendly Customer Success team within 90 days of purchase to find out how to send it back for a full refund of your purchase price… and no hard feelings!