You Are on Your Way to Better Health!
Your FREE BONUS gifts below are packed with practical tips and resources to support you as you follow the 30-day plan in The Autoimmune Solution.
The Autoimmune Solution Food Reintroduction Bonus Chapter
After the 30-day program, learn how to safely reintroduce foods and add more variety into your diet with this handy companion to The Autoimmune Solution!
The Myers Way® Smoothie Recipes eBook
These delicious smoothie recipes are packed with essential nutrients to support your gut and immune system!CLICK HERE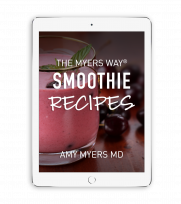 ---
Ready to Get Started Right Now?
If want to get a jumpstart reversing autoimmunity right away, I recommend beginning with an L-glutamine supplement. As I always say, the gut is the gateway to health, and repairing your gut is where I have all of my patients start.

L-Glutamine is an amino acid that is essential for both gut health and immune health. It repairs gut cells and strengthens the gut lining, in order to repair a leaky gut. Plus it helps reduce sugar cravings!