PREVENT AND REVERSE AUTOIMMUNE DISEASE
So You Can Take Back Your Life
It's time to address the root cause of your symptoms and find a true solution to autoimmunity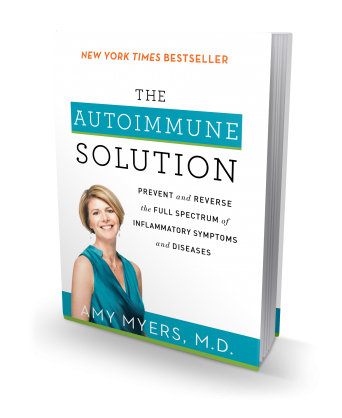 Buy Now and Receive
$75 in Free Bonus Gifts!
Video Series: How to Stock the Perfect AIP Pantry
Thanks to so many of you adopting AIP diets, there are tons of different options available for gluten-free and grain-free flours, healthy cooking fats, autoimmune-friendly sweeteners and more! Find out what products Dr. Myers stocks her own pantry with so you, too, can become a true AIP cooking master!
THE MYERS WAY® GUIDE TO SUPPLEMENTS
Customize your supplement protocol with this simple guide! Learn which supplements to take, where to get them, and how to take them.
THE MYERS WAY® SYMPTOMS QUIZ
& PROGRESS TRACKER
Record your symptoms and track your weekly progress as you reduce your inflammation!
THE MYERS WAY® SMOOTHIE RECIPES EBOOK
These delicious smoothie recipes are packed with essential nutrients to support your gut and immune system!
Real Stories From Readers of the Best Selling
The Autoimmune Solution
I am so much healthier!
"I can't recommend Dr. Myers highly enough! I did The Autoimmune Solution program, and it helped me learn how I came to get PCOS and then MS and that I was high on the autoimmune spectrum. It's very educational, and it helps you reverse and halt your illness through diet.
I have managed to come off 15 prescription drugs in total now, no more fatigue, less pain, no eczema or asthma, no IBS or UTI's–generally I am so much healthier!"
– Louise
How One Reader Took Back Her Health and Reclaimed Her Marriage
Kaley was diagnosed with Lupus, Vasculitis, and Rheumatoid Arthritis at just 21 years old. She spent years in and out of hospitals, with no answers and nowhere to turn.
15 days after starting the program her symptoms started to disappear, and by the 30-day mark they were completely eliminated. She was able to return to work full-time, come off of her medications, and go on her first vacation with her husband since their honeymoon!
My results are amazing and I highly recommend this program!
"I was diagnosed with Wegener's Granulomatosis over 2 years ago. I have been on high levels of prednisone and other steroids ever since.
Since starting the program 5 weeks ago, my C-Reactive Protein levels dropped from 57.3 to 15.3. Another inflammatory marker dropped from 57 to 36. The results are amazing and continuing to go down!
My rheumatologist was thrilled, I would recommend this program to anyone with autoimmune disorders."
– Jane H.
I didn't even know these results were possible
"This book is a must read if you have inflammation problems, skin disease, or allergies.
I've suffered from numerous allergies and a chronic skin condition, since I was a little kid. For over three decades I used steroidal medicine to alleviate the symptoms. Last year, I learned that I could treat the cause, not the symptoms from The Autoimmune Solution.
I started with going gluten-free and dairy-free for 30 days. Amazingly, just by doing that I was able to get off the medicine I used since I was thirteen. The good results motivated me to keep pushing forward, so I did the full 30-day meal plan in the book. I am glad I did. After 30 days, I woke up one day, and I had no joint or muscle pain in my body.
I've lost a total of 14 lbs that I had never been able to shed over the years. Most importantly, I feel both wholesome and content. Also, extra bonuses include, glowing skin, diminished dark circles, and the most fit body I've ever had. Something I had not known was even possible."
– Amazon reader
ABOUT AMY MYERS, MD
Amy Myers, MDhas helped tens of thousands of people restore their gut health and reverse chronic illness as a renowned leader in Functional Medicine. She is a 2x New York Times Bestselling author of The Autoimmune Solution and The Thyroid Connection, and the founder and medical director of Austin UltraHealth.
She has been featured on The Dr. Oz Show, The New York Post, Women's Health, Huffington Post, GOOP, and numerous other television programs, radio shows, and print publications.