Frosted Gluten-Free Christmas Cookies
It isn't Christmas without cutout sugar cookies. Whether they're decorated beautifully by the precise home chef or painted to perfect imperfection with the whole family, these gluten-free, frosted Gluten-Free Christmas Cookies are sure to get everyone excited for the holiday.
Christmas cookie decorating is a classic holiday activity that everyone can enjoy, even if you're following a dietary protocol. To keep these gluten-free Christmas Cookies easy and healthy, I used real food ingredients like cassava flour, fruit tape, and coconut butter. To help you make these Christmas Cookies the best you've ever had, I made a quick video with some decoration ideas for you to follow. Enjoy!
How To Make Gluten-Free Christmas Cookies
These Gluten-Free Christmas Cookies are easy to make which helps keep your holidays stress-free! You need a simple sugar cookie dough like the dough from my gluten-free sugar cookie fruit pizza. Instead of making the recipe exactly as listed in the fruit pizza recipe, though, we'll need to make some modifications. The recipe, which I've also included below, will make about 2 dozen sugar cookies.
First, preheat your oven to 350 degrees. Roll out your sugar cookie dough to about ¼ inch thick. Use your favorite, festive cookie cutters to make various shapes, or get creative using kitchen staples like the rim of a water glass to make a round cookie.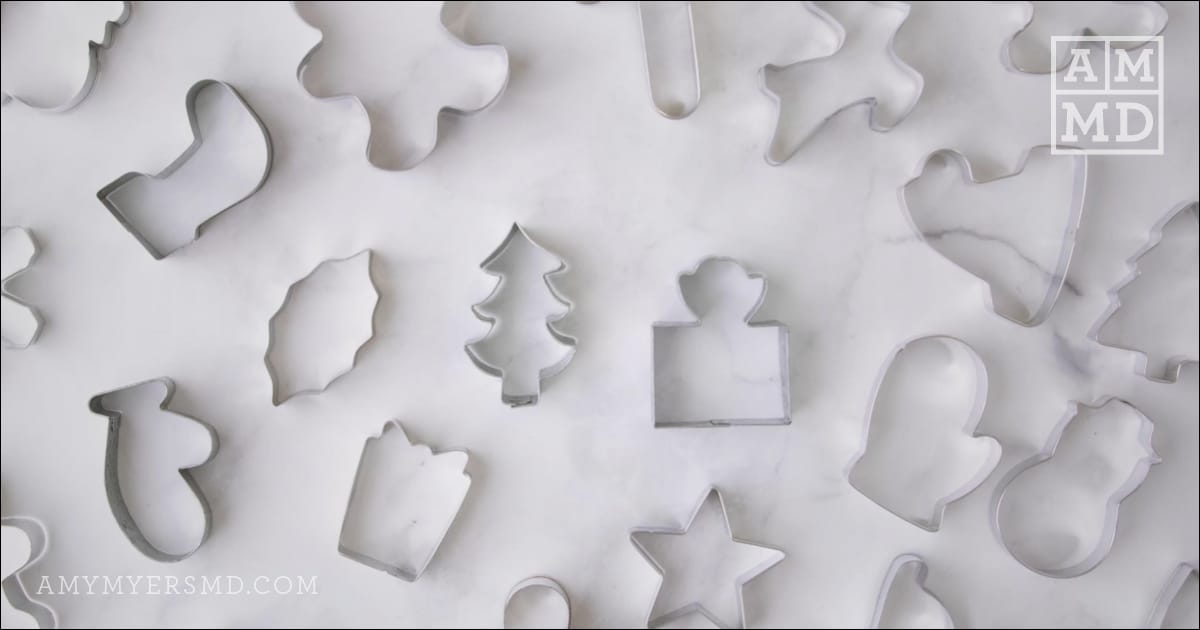 Transfer your cutout cookies to a baking sheet lined with parchment paper. The cookies won't spread, so feel free to take up plenty of space on your baking sheet. Bake your cookies for 6-7 minutes. Timing is important here because you're using an alternative flour and once the cookies turn golden in color, they're overcooked.
Allow cookies to cool completely before handling, or they will crumble (once again, this is because you're working with an alternative flour). Once the cookies are completely cool, it's time to decorate.
How to Decorate Gluten-Free Christmas Cookies
This is the fun part. I recommend preparing a few key decorating components for these Gluten-Free Christmas Cookies. Follow my video to decorate your cookies for the perfect presentation to bring to parties.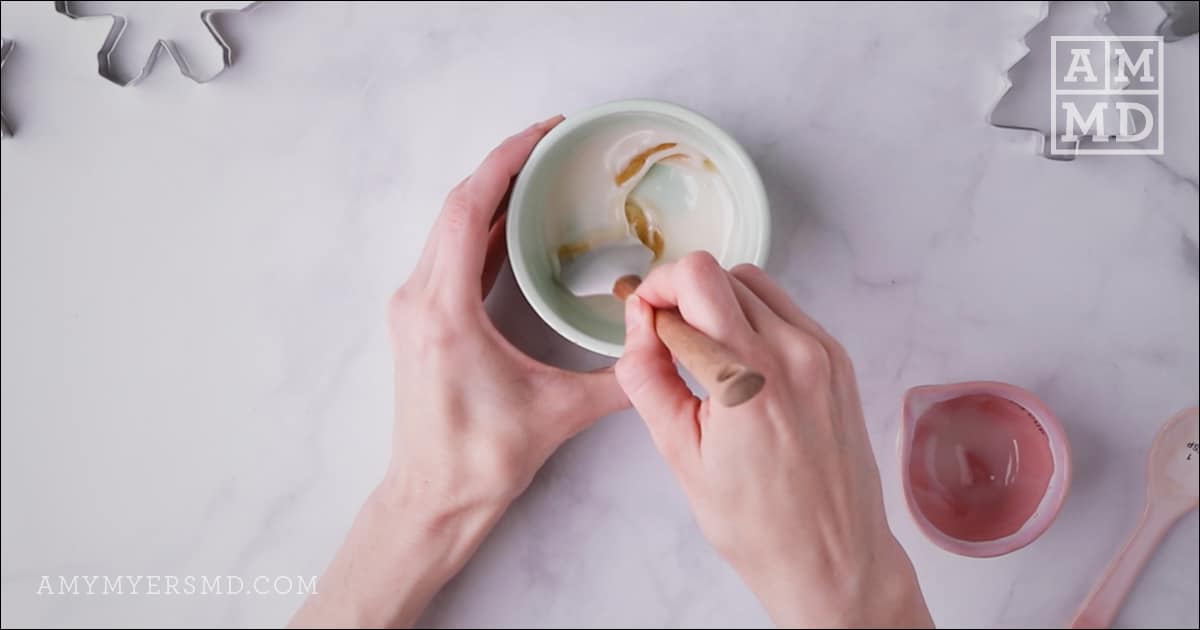 For simple, frosted Christmas Cookies, you need "buttercream" frosting and homemade coconut butter sprinkles. To brighten up your cookies with vibrant colors and sparkle, you can add in some of these fun decorations:
Fruit Leather
As seen in the video, you can cut thin fruit leather into small strips to use for decorating candy cane or ornament cookies. Make sure your fruit leather is gluten-free and only contains, well, fruit!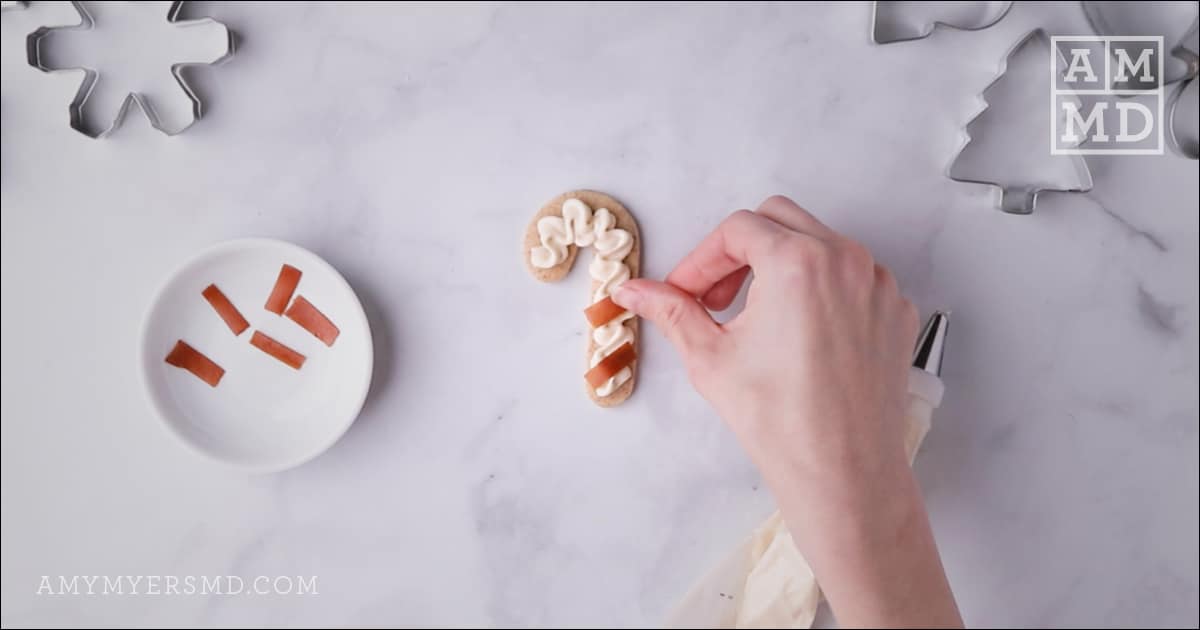 Red Frosting
To make these cookies more festive, add Strawberry Lemonade Leaky Gut Revive®. Fold 1 scoop into your frosting until you reach the shade of red you want. This will make more of a pink color rather than a deep red, yet I think it still looks very pretty and festive on the Gluten-Free Christmas Cookies.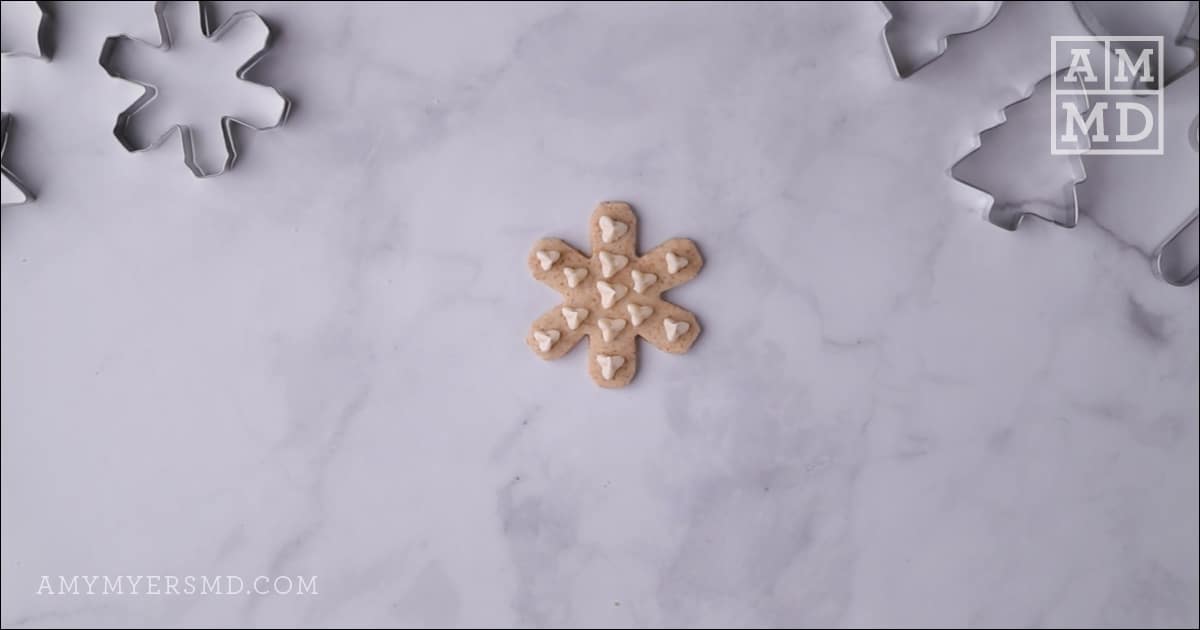 Green Frosting
Another way to bring a festive color to your cookies is to add Organic Greens. Simply fold in 1 scoop to your buttercream mixture until you get the right shade of green. This superfood powder is rich in phytonutrients and delivers a boost of antioxidants, making this a great addition to holiday treats.
Red Strawberry 'Sprinkles'
Just like with the red frosting, I used crushed freeze-dried strawberries to dust my white and green frosted cookies for a "sprinkle" look. Another option is freeze-dried grapes, which has more a twinkle to it than freeze-dried strawberries, but less of the festive red that I was going for.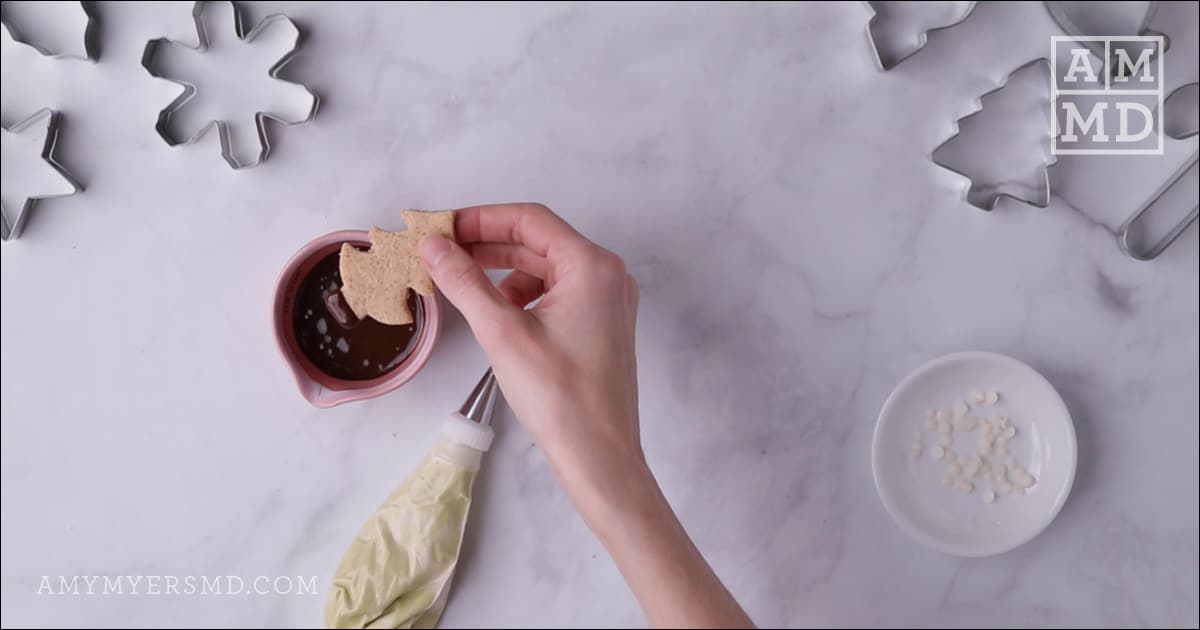 Melted Dark Chocolate
Dark chocolate adds a rich, decadent flavor to your Gluten-Free Christmas Cookies. Drizzle melted chocolate onto your cookies or make a Christmas tree stem by dipping your cookie into the melted chocolate.
A simple idea for a cute, Gluten-Free Christmas Cookie decoration is a round cookie with green "buttercream" frosting, decorated with coconut butter sprinkles and red strawberry sprinkles. The ideas are limitless, so have fun with your decorating. You can always refer to the video for inspiration.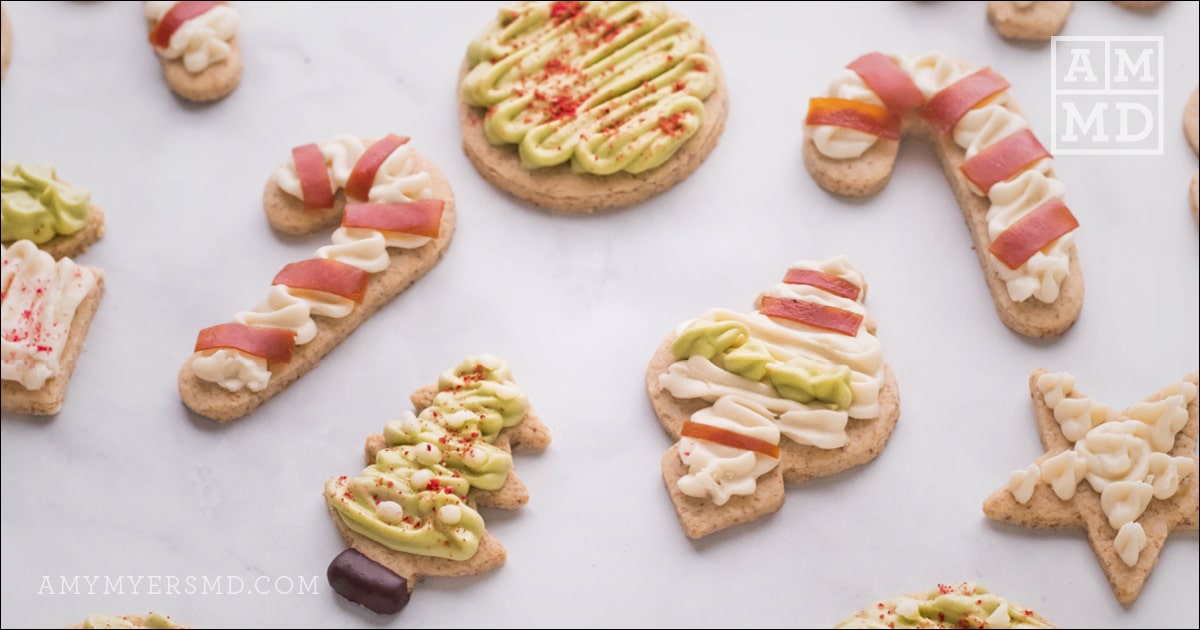 Frosted Gluten-Free Christmas Cookies
---
Ingredients
For the Gluten-Free Cookies
3/4

 cup 

180.00

 ml palm shortening

1/4

 cup 

60.00

 ml honey

1/4

 cup 

60.00

 ml coconut sugar

2

 tsp 

9.86

 ml vanilla extract

1

 cup 

240.00

 ml Cassava flour

1/4

 cup 

60.00

 ml arrowroot starch

1/2

 tsp 

2.46

 ml baking soda

1/2

 tsp 

2.46

 ml sea salt

1

 tbsp 

14.79

 ml gelatin
For the Red "Buttercream" Frosting
1/2

 cup 

120.00

 ml organic palm shortening (I recommend Spectrum for this recipe because of the color)

1/2

 cup 

120.00

 ml coconut cream canned

1/4

 tsp 

1.23

 ml alcohol-free vanilla extract
For the Green "Buttercream" Frosting
1/2

 cup 

120.00

 ml organic palm shortening

1/2

 cup 

120.00

 ml coconut cream

1/4

 tsp 

1.23

 ml alcohol-free vanilla extract

1

 scoop Organic Greens
For the Coconut Butter Sprinkles
1/4

 cup 

60.00

 ml coconut butter

2

 tsp 

9.86

 ml honey (lighter color preferred)
Instructions
Preheat oven to 350°F.

---

Using a hand/stand mixer or a rubber spatula, cream together the palm shortening, honey, coconut sugar, and vanilla extract in a large bowl. Set to the side.

---

In a medium-sized bowl, stir together cassava flour, arrowroot starch, baking soda, salt, and Gelatin until well combined.

---

Using your hand/stand mixer or a rubber spatula, slowly add the flour mixture to the shortening mixture, and stir together until all the flour is combined and the dough starts to form a ball. Stop the mixer and use your hands to form all the dough into one large, grapefruit-sized ball. Set dough on a sheet of parchment paper and sprinkle with a bit of cassava flour.

---

Dust a rolling pin with cassava flour to keep it from sticking to your dough. Using the rolling pin, gently roll out the dough into a 10" diameter crust. It should be about ¼" thick across the entire crust. If you get a crack in your crust, just pinch the dough back together and roll to smooth out.

---

Use your favorite, festive cookie cutters to make cookie shapes. Slide the whole piece of parchment paper on a cookie sheet and bake for about 9 minutes, until lightly golden in color. Remove from the oven and let cool completely.

---
Cream together palm shortening, coconut cream, and vanilla extract with a hand mixer or stand mixer.

---

Continue mixing, and add in Strawberry Lemonade Leaky Gut Revive® or Organic Greens for color until a soft and creamy frosting is formed.

---

Let frosting sit for 15 minutes in the fridge. During this time you'll notice some coconut water may separate from your frosting. Pour the liquid out of your frosting bowl, and mix the frosting again.

---

Divide frosting into individual bowls and stir in optional add-ins to flavor and color the frosting. You can add more or less depending on the color you want to achieve, but keep in mind these all add flavor to the frosting.

---
Stir together the coconut butter and honey. Add to a piping bag with a small round tip attached with a coupler, or fill a sandwich-size Ziploc bag with the mixture and cut a small piece from one corner to use as your piping bag.

---

Pipe small dots of your coconut mixture onto a sheet of parchment paper. The size and shape depend on your preference. I made small buttons for my sprinkles.

---

Carefully transfer the parchment paper to the refrigerator and chill for 5-10 minutes until the dots have solidified.

---

Remove from fridge and arrange on frosted sugar cookies for decoration.

---