AIP Pizzette
This rustic AIP Pizzette is very easy to put together for an easy lunch or dinner! A pizzette is a savory galette made with classic pizza toppings. This version has an AIP- and Paleo-friendly "nomato" sauce, crispy smoky bacon, and fresh basil. It's delicious, quick, and easy to make!
AIP galette dough
A galette is a traditional French pastry that has a rustic free-form shape instead of being baked in a pie dish. It is typically topped with fruit or berries before being baked, but it can also be served savory, like this pizza galette.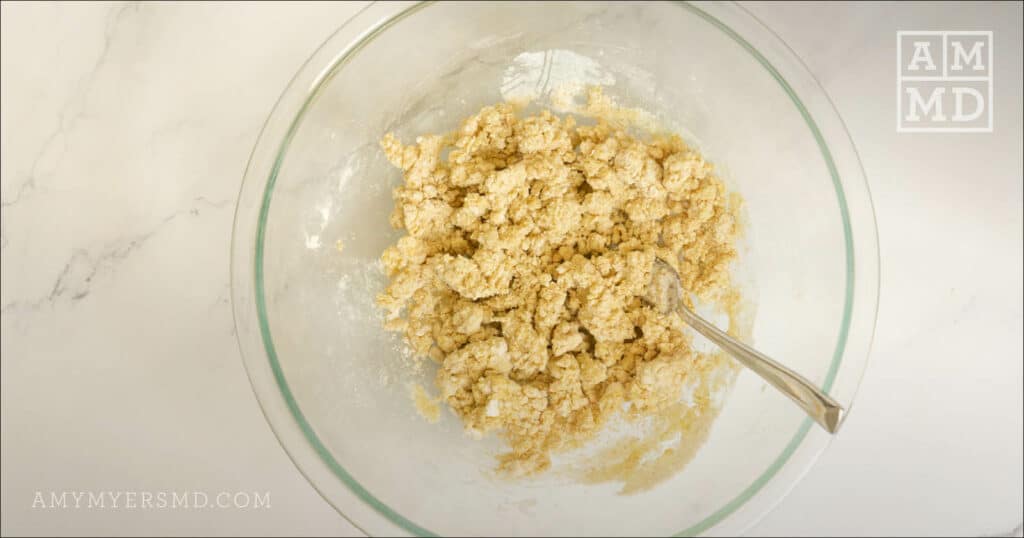 Dr. Amy Myers
August 19th, 2022
https://content.amymyersmd.com/recipe/aip-pizzette/
Traditionally, galette dough is made with wheat flour, but I think you'll love my gluten-free galette dough! It's made with cassava flour, tigernut flour, and tapioca starch. Since this is a savory galette, I add garlic powder, onion powder, and sea salt. The three flours mixed together help make a great light, flaky dough in place of wheat flour. These flours contain a lot of fiber and resistant starch, which help reduce inflammation in the gut, keep our digestive system healthy, and are beneficial for the "good" bacteria in our gut.
For the wet ingredients, I use olive oil and water to help make a smooth dough that is easy to work with. The olive oil gives this dough a savory Italian-style flavor and helps make it light and flaky when baked. Olive oil is loaded with healthy monounsaturated fats and antioxidants, making it a great heart-healthy choice.
To make this galette dough, you'll mix all the dry ingredients together, then add the olive oil and water and stir with a fork until you get a shaggy rough dough. Then use your hands to combine it all together and make a smooth dough ball.
You can roll out the dough into one large galette or two smaller galettes. Once the dough is rolled out so that it is about ¼-inch thick, use your hands to fold the edges over and press down gently.
Pre-bake the dough for a few minutes, then add the toppings and finish baking!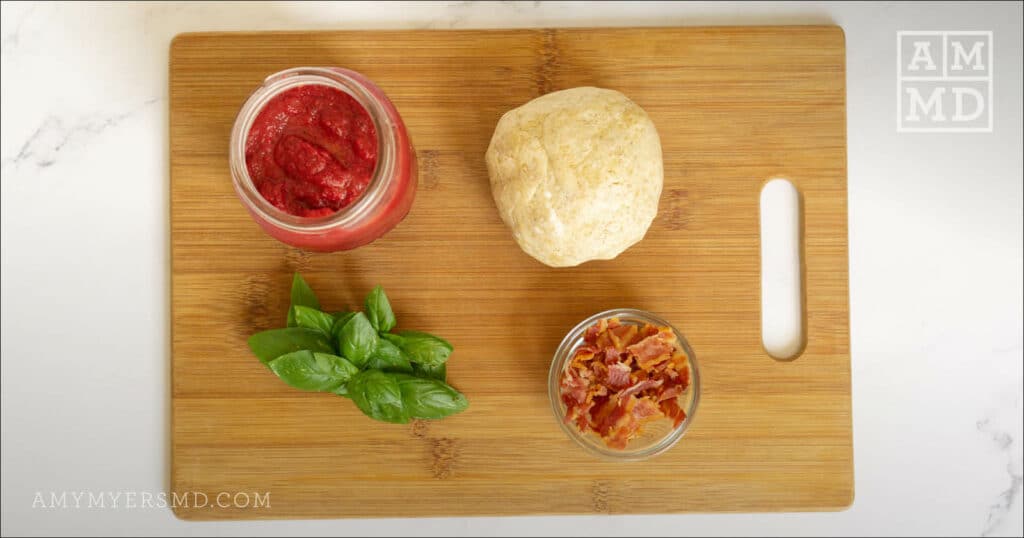 Dr. Amy Myers
August 19th, 2022
https://content.amymyersmd.com/recipe/aip-pizzette/
AIP pizzette toppings
This pizza galette is loaded with simple and delicious toppings: an easy no-mato sauce, crispy fried bacon, and fresh basil leaves. I love galettes because the folded over dough means I can pile on the sauce and toppings without them spilling over.
The nomato sauce is made by cooking together carrots, beets, onion, and a few seasonings, then pureeing it together into a sauce that resembles tomato sauce in texture, feel, and savory flavor without any of the nightshade ingredients. This sauce is loaded with nutrients and vitamins from all the veggies: vitamins A, C, fiber, and potassium. All these nutrients help support a healthy immune system, a healthy digestive system, and healthy blood pressure.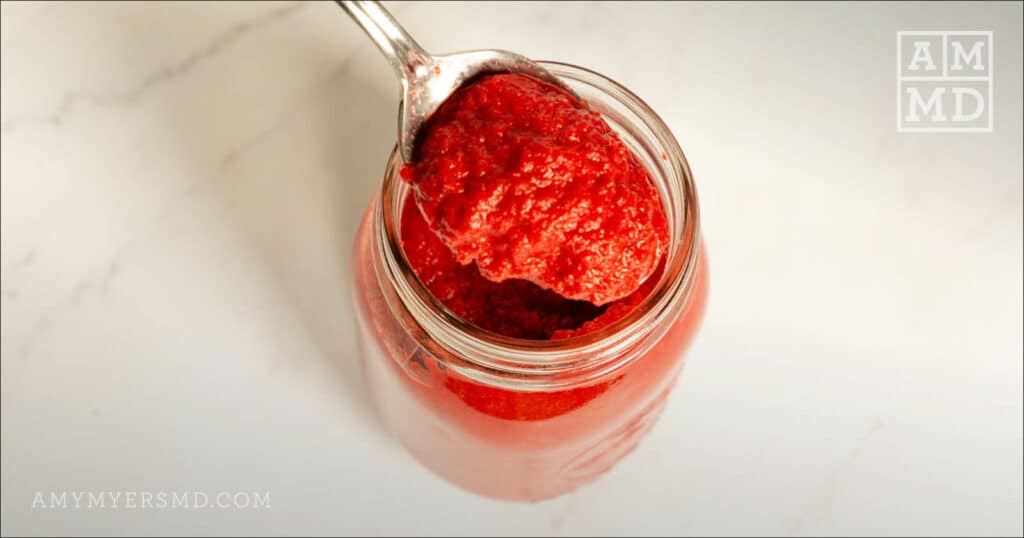 Dr. Amy Myers
August 19th, 2022
https://content.amymyersmd.com/recipe/aip-pizzette/
I recommend making the sauce in advance and keeping it in the fridge until ready to use. The recipe below makes enough nomato sauce for several batches of this pizzette, or it can be used for other dinner ideas!
Make sure to cook the bacon before adding it to the pizzette because the pizzette does not cook long enough to cook the bacon.
I like to add half the basil leaves to the pizzette before baking so that their flavor combines with the sauce, and then garnishing with the rest of the fresh basil leaves after to enjoy the pizzette with fresh basil on top.
What to serve with a pizza galette
This pizzette is great with an Italian Chopped Salad on the side, or try it with a Summer Asparagus Salad!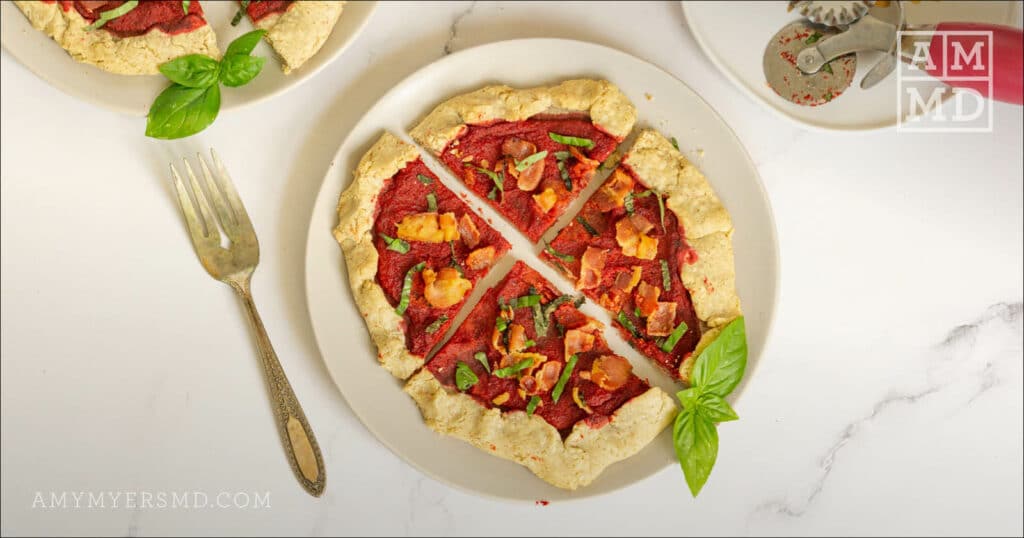 Dr. Amy Myers
August 19th, 2022
https://content.amymyersmd.com/recipe/aip-pizzette/
More topping ideas
If you want to try different versions of this AIP pizzette, try any of these delicious topping ideas:
Baby spinach, added before baking
Fresh baby arugula, added after baking
Thinly sliced red onion, added before baking
AIP cooked crumbled sausage, such as chicken sausage
Roasted broccoli
Alfredo sauce instead of nomato sauce (get the recipe from this chicken and broccoli alfredo bake)
More AIP pizza recipes
Try these other delicious gluten-free pizzas:
AIP Pizzette
---
Servings
2 galletes (4 servings)
Ingredients
For the nomato pizza sauce
1/2

yellow onion diced

3

cloves garlic minced

1

tbsp

14.79

ml olive oil

1/2

tsp

2.46

ml dried oregano

1/2

tsp

2.46

ml dried basil

1/2

tsp

2.46

ml sea salt

1/2

tsp

2.46

ml ground black pepper

2

carrots small, peeled and diced

1

beet root peeled and cut into small cubes

1

tsp

4.93

ml apple cider vinegar

1

cup

240.00

ml water
For the pizzette:
1/2

cup

120.00

ml Cassava flour

1/2

cup

120.00

ml Tigernut flour

1/2

cup

120.00

ml tapioca flour

1/2

tsp

2.46

ml sea salt

1/2

tsp

2.46

ml garlic powder

1/2

tsp

2.46

ml onion powder

1/4

cup

60.00

ml olive oil

1/2

cup

120.00

ml water cold

1/3

cup

80.00

ml "nomato" sauce

4

slices cooked bacon

1/4

cup

60.00

ml fresh basil leaves thinly sliced
Instructions
In a medium saucepan, add the diced onion, minced garlic, and olive oil. Sauté for 5 minutes over medium heat, stirring frequently and not allowing the onion to burn.

---

Stir in the oregano, basil, sea salt, and pepper, and mix well.


---

Add the diced carrot, beet, apple cider vinegar, and water, and bring to a boil. Lower the heat and simmer for 10-15 minutes, or until the beets and carrots are fully cooked and easily pierced with a fork.

---

Carefully transfer to a blender and puree until desired smoothness.

---
Preheat the oven to 400 degrees Fahrenheit.

---

In a bowl, sift together the three flours. Add the rest of the ingredients and mix well with a fork until a shaggy dough forms. Then use your hands to form a smooth ball.

---

Divide the dough in half and roll out two rustic circles. Fold the edges over to form the crust of the galette.

---

Bake the galette crust for 8 minutes at 400F.

---

Carefully remove from the oven and top with a few tablespoons of "nomato" sauce, crumbled bacon, and half the sliced basil leaves.

---

Bake for another 8-10 minutes, or until the crust is golden brown. Add the rest of the sliced basil leaves on top, slice into quarters, and serve warm.

---