Sweet Potato Casserole with Streusel Topping
Sweet potato casseroles don't have to be off limits when you're following an AIP or paleo diet! This Sweet Potato Casserole with Streusel Topping is so full of flavor and made gluten-free, dairy-free, refined sugar-free, and AIP- and paleo-compliant! It makes an amazing Fall dinner or Thanksgiving side dish, and is a favorite with kids and adults alike.
AIP sweet potato casserole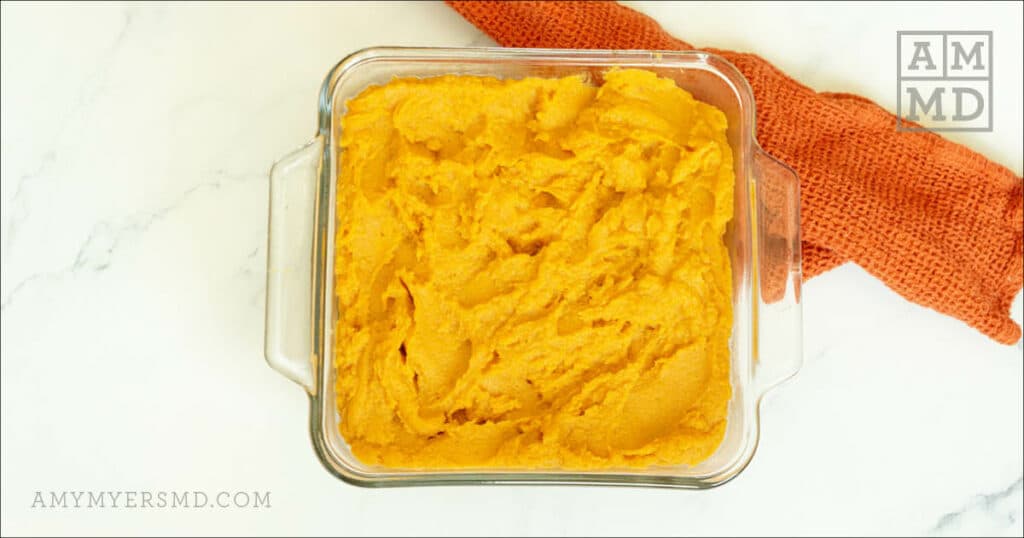 Dr. Amy Myers
November 18th, 2022
https://content.amymyersmd.com/recipe/aip-sweet-potato-casserole/
Traditional sweet potato casseroles are loaded with refined sugar and dairy butter, and have all kinds of gut-irritating ingredients in the toppings, such as wheat flour or marshmallows made with sugar. This AIP sweet potato casserole is made without any of these ingredients, making it AIP-compliant while still being absolutely delicious!
This sweet potato side dish has a base of mashed sweet potatoes seasoned with maple syrup, coconut oil, cinnamon, and nutmeg. The maple syrup enhances the flavor of sweet potatoes while being a great natural sweetener that is full of B vitamins, vitamin C, iron, calcium, and potassium. Coconut oil makes the sweet potatoes taste rich and fluffy, and contains medium-chain triglycerides (MCTs). MCTs help us feel full, promote calorie and fat burning, and boost good bacteria in the gut. Cinnamon and nutmeg are seasonings that pair really well with sweet potatoes while adding cancer-preventing antioxidants to this dish.
All of these nutrients, combined with the health benefits of sweet potatoes, make this a great side dish that we can feel good about! Sweet potatoes are not related to nightshade white potatoes and are loaded with beta-carotene and antioxidants, vitamin C, vitamin B6, fiber, manganese, and potassium. All these nutrients are good for the body. Beta carotene supports healthy vision, vitamin C promotes a healthy immune system, and fiber helps promote gut health. Additionally, manganese is good for the metabolism, and potassium is important for healthy blood pressure.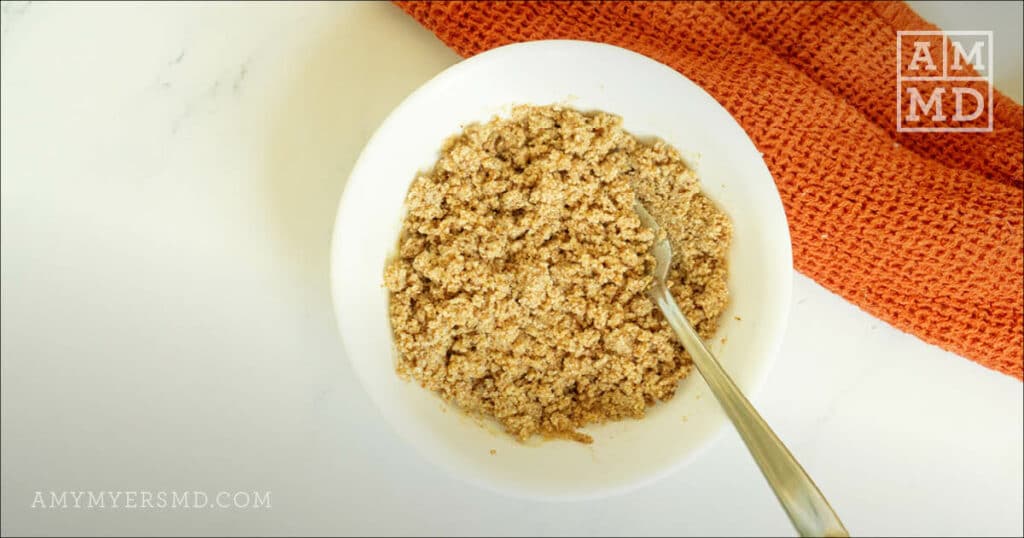 Dr. Amy Myers
November 18th, 2022
https://content.amymyersmd.com/recipe/aip-sweet-potato-casserole/
Gluten-free streusel topping
This AIP sweet potato side dish is made by topping mashed sweet potatoes with a gluten-free streusel topping. You'll know its done baking once the dish is heated through and the streusel topping is crispy and golden brown.
The streusel topping is very simple to make with just a few ingredients. Simply combine coconut flour, coconut oil, coconut sugar, with a little cinnamon and a pinch of salt in a small bowl and mix until it is crumbly. Sprinkle the streusel topping over the mashed potatoes and after just 20 minutes of baking your sweet potato dish is ready!
Make-ahead sweet potato dish
For this recipe, both the mashed sweet potatoes and the streusel topping can be made up to a day ahead. Just keep them separate in the fridge until you are ready to sprinkle the streusel topping on top and bake.
What to serve with AIP sweet potato casserole
Serve the casserole warm as a side dish with your favorite salad or protein. It goes great with this Fall Harvest Salad and Herb Roasted Turkey for Thanksgiving.
This casserole reheats really well in the microwave or the oven, so it makes great leftovers!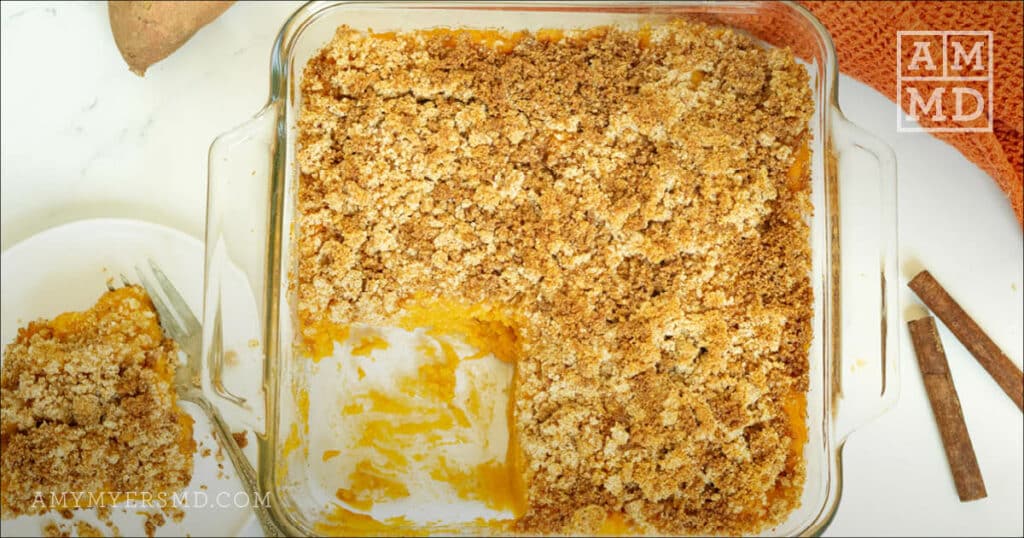 Dr. Amy Myers
November 18th, 2022
https://content.amymyersmd.com/recipe/aip-sweet-potato-casserole/
More sweet potato recipes to try
Sweet Potato Casserole with Streusel Topping
---
Ingredients
For the sweet potatoes:
2 1/2

 lb 

1135.00

 g sweet potato peeled and diced into 1-inch cubes

3

 tbsp 

44.36

 ml maple syrup

3

 tbsp 

44.36

 ml coconut oil

3/4

 tsp 

3.70

 ml sea salt

1

 tsp 

4.93

 ml ground cinnamon

1/2

 tsp 

2.46

 ml ground nutmeg
For the streusel topping:
1/2

 cup 

120.00

 ml coconut flour

3

 tbsp 

44.36

 ml coconut sugar

3

 tbsp 

44.36

 ml melted coconut oil

1/2

 tsp 

2.46

 ml ground cinnamon

1

 pinch sea salt
Instructions
Place diced sweet potatoes in a large pot filled with water. Bring to a boil and cook for 15-20 minutes, or until the sweet potatoes are completely tender.

---

Preheat oven to 350F while the potatoes are cooking.

---

Prepare the streusel topping while the potatoes are cooking: combine the streusel ingredients in a medium bowl and mix well with a fork until the mixture has small clumps. If it is too wet, add a little coconut flour. If it is too dry, add a few drops of melted coconut oil.

---

Drain the water from the cooked sweet potatoes, then add the rest of the sweet potato ingredients (maple syrup, coconut oil, sea salt, ground cinnamon, ground nutmeg). Mash the potatoes until completely smooth, and combine with the seasonings.

---

Transfer mashed sweet potatoes to a 2-quart or 2.5-quart baking dish. Sprinkle streusel topping over the top.


---

Bake at 350F for 20 minutes. Serve warm.


---