Antioxidant Wellness Tea
Enjoy a mug of this lemon-flavored Antioxidant Wellness Tea on National Tea Day, which is on April 21! It's so easy to make from scratch with just a few antioxidant-rich ingredients that give this tea a lot of flavor. The perfect way to wake up every morning or to unwind in the evening. This homemade decaf tea is a great option for those who are avoiding caffeine, and it is AIP- and Paleo-friendly.
Antioxidant tea
This tea is made with just a few ingredients, but each one is a powerful antioxidant that also gives this tea lots of flavor. This tea contains cinnamon, cloves, turmeric, and fresh lemon juice. Cinnamon is a spice that has antiviral, antibacterial, and anti-inflammatory properties. It is loaded with powerful antioxidants called polyphenols. In addition to that, it has a wonderful warming flavor.
Fresh ginger also has medicinal properties and can help treat nausea and stomach discomfort, and contains an antioxidant called gingerol. Ginger gives this tea just a little bit of spice.
Turmeric contains curcumin, which is one of the most powerful antioxidants in our diet. Turmeric also has anti-inflammatory properties. It is responsible for the beautiful yellow color in this tea.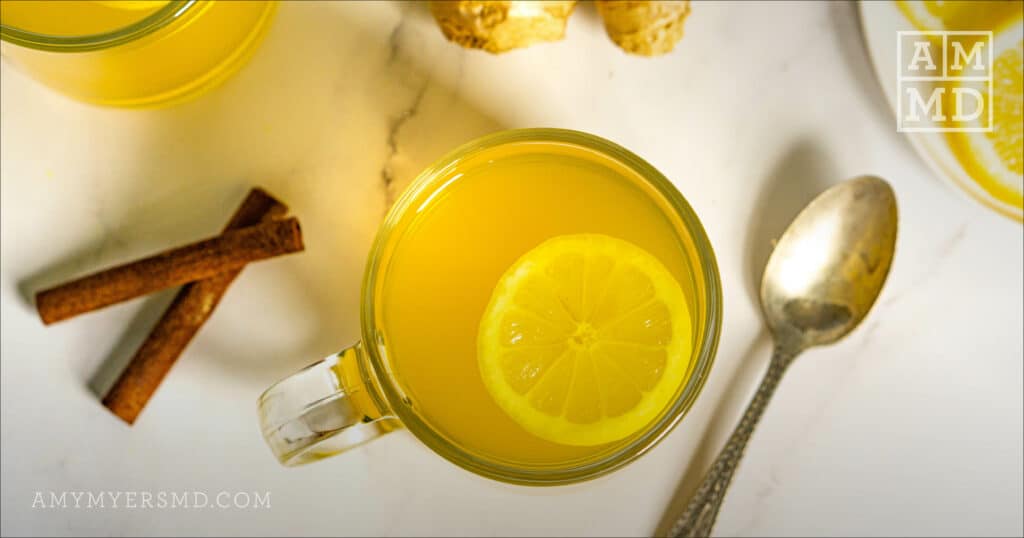 Dr. Amy Myers
April 15th, 2022
https://content.amymyersmd.com/recipe/antioxidant-wellness-tea/
Cloves contain an antioxidant called eugenol, which reduces inflammation in the body and helps prevent arthritis. If you're not sure if you like cloves, you can start with just 1-2 pieces the first time you make this wellness tea. The clove flavor is not strong in this tea, so I usually use 4-6 pieces of dried cloves.
Fresh lemon juice gives this tea a nice lemony flavor. Like all citrus, it contains vitamin C, which helps keep our immune system healthy and keeps us well.
You can sweeten the tea with a touch of honey, which is a natural sweetener that is healthier than refined sugar because it does not cause as much of a blood sugar spice. Honey also has antibacterial properties and has been used for centuries to help soothe sore throats.
All the antioxidants in this tea help our bodies fight free radicals and may help prevent cancer. Because of all the health benefits of the ingredients in this tea, it's a great tea recipe to drink daily to stay well, and can be especially comforting and healing if you're coming down with a cold.
How to make decaf wellness tea
Dr. Amy Myers
April 15th, 2022
https://content.amymyersmd.com/recipe/antioxidant-wellness-tea/
I make this tea in a small saucepan. I usually make 2 cups at a time. I drink the first cup hot, and then cool the other one and enjoy it over ice later in the day or the next day.
To make 2 cups of tea, start with 2.5 cups of water because some of the water will evaporate as the tea brews. Add a cinnamon stick, a few pieces of dried cloves, and a few slices of fresh sliced ginger to the water. Bring to a boil, and simmer for 5-15 minutes, depending on how much of spicy ginger flavor you want.
Remove from heat and stir in ground turmeric and lemon juice. The reason I add the turmeric later instead of simmering it is that curcumin degrades at high temperatures, and I want this tea to have as many antioxidant properties as possible.
To serve this tea hot, you can either pour it directly in a mug, or pour it over a coffee filter or an unbleached paper towel to strain out the extra turmeric and spices.
To serve chilled, allow to cool to room temperature and pour over a glass of ice.
This tea will keep well in the fridge for up to 3-4 days and can be scaled up to make a large pitcher of antioxidant wellness tea to enjoy anytime.
I hope you love this tea as much as I do, and that you make it regularly and not just on National Tea Day!
More healthy teas to try:
Ingredients
2.5

cups

600.00

ml water

1

cinnamon sticks

5

whole cloves

1

inch piece ginger root peeled and sliced

1

tbsp

14.79

ml lemon juice

1/4

tsp

1.23

ml ground turmeric

1

tbsp

14.79

ml honey (optional)
Instructions
Add the water, cinnamon stick, cloves, and sliced ginger to a small saucepan. Simmer for about 10 minutes, or longer if you want a spicier flavor.


---

Remove from heat and stir in the lemon juice and ground turmeric.


---

Serve hot as is, or strain out the turmeric and spices by placing a paper towel or a coffee filter in a colander and carefully pouring the tea into a mug, catching the turmeric and spices in the paper towel. Serve hot or chilled, garnishing with lemon slices and adding honey to sweeten, if desired.

---