Aperol Spritz Mocktail
Light, refreshing, delicious—this Aperol Spritz Mocktail is a favorite drink year round but is especially good in the winter when citrus fruits are in season. My version of aperol spritz is made with fresh grapefruit and orange juice and a very easy rosemary infusion, without any refined sugars or inflammatory ingredients. This is a great drink for entertaining because the juice mixture can be made in advance. All you have to do is pour it over ice and serve!
Dr. Amy Myers
December 16th, 2022
https://content.amymyersmd.com/recipe/aperol-spritz-mocktail/
Aperol spritz mocktail
Aperol spritz is typically made with aperol, which is an alcoholic bitter aperitif. Aperol has an intense orange flavor with woody and herbal scents and a touch of pleasant bitterness. If you're avoiding alcohol, aperol is not an option for you. But don't worry, I have you covered with this AIP-friendly virgin aperol spritz!
I recreated an aperol spritz mocktail with fresh orange and grapefruit juice, as well as a quick homemade sugar-free, alcohol-free rosemary infusion. The orange juice gives the aperol its characteristic orange flavor and color. The grapefruit juice adds natural pleasant bitterness. The rosemary adds woody herbal tones that elevate this mocktail beyond just a mixture of citrus juices.
To make the nonalcoholic rosemary infusion, simply steep a sprig of fresh organic rosemary in ¼ cup of boiling water for 5 minutes. If you want extra rosemary flavor, use a muddler or a fork to carefully crush the rosemary leaves and have them release their juices.
Make sure to cool the rosemary infusion before adding it to the drink, so it doesn't melt the ice quickly. Tip: I place the rosemary infusion into an ice bath or quickly cool it down.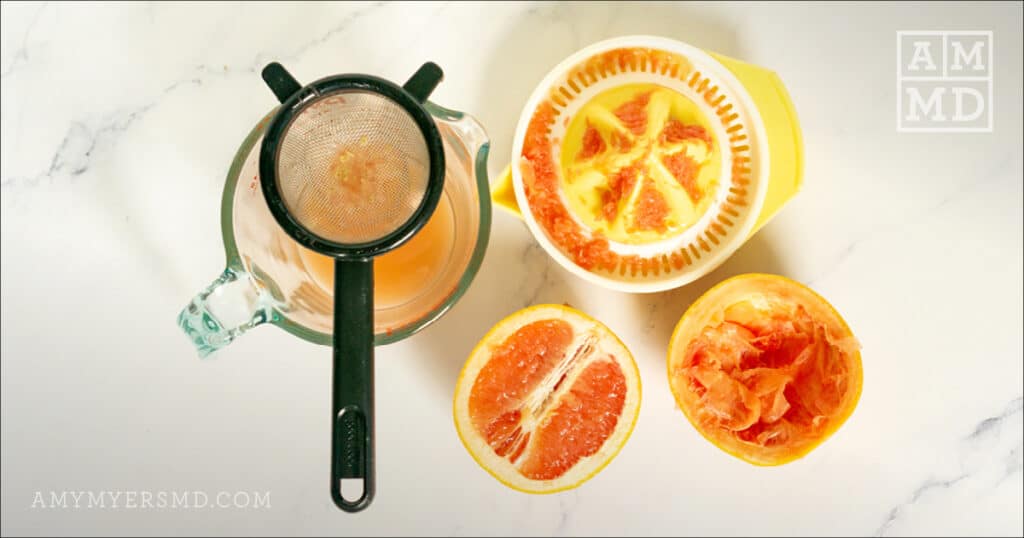 Dr. Amy Myers
December 16th, 2022
https://content.amymyersmd.com/recipe/aperol-spritz-mocktail/
This virgin aperol spritz is not only tasty, but it's very healthy too! Orange juice and grapefruit juice have a lot of vitamin C, which is a powerful antioxidant that helps keep our immune systems healthy and helps prevent aging. These juices may also help prevent kidney stones because they contain citrate. In addition, citrus juices contain flavonoids that have anti-inflammatory properties.
I recommend getting organic oranges and grapefruit for this drink to get the most health benefits.
You can always adjust the flavors of this drink to your liking: use different types of oranges for different flavor profiles, stir in a little honey into the rosemary infusion if you like sweeter drinks, use more or less grapefruit juice to adjust the bitterness.
Make sure to double check that you are not on any medications that interfere with grapefruit juice before enjoying this aperol spritz!
Make-ahead mocktail
You can make the mixture of orange juice, grapefruit juice, and rosemary infusion in advance and keep it refrigerated. When it's time to serve drinks, simply pour the juices over ice with sparkling water.
I do not recommend adding sparkling water to the juices in advance because it will get flat over time. For the freshest, spritz-iest drink, pour the sparkling water fresh into your glass.
This recipe can be doubled or tripled, depending on how many drinks you want to make. Cheers!
More mocktails and cocktails to try
Ingredients
1/2

cup

120.00

ml fresh squeezed grapefruit juice (about 1 large grapefruit)

1/2

cup

120.00

ml fresh squeezed orange juice (about 2 large oranges, plus orange slices for garnish)

1

sprig organic fresh rosemary (plus extra for garnish)

1/4

cup

60.00

ml boiling water

1

cup

240.00

ml unsweetened sparkling water or seltzer

1

cup

240.00

ml ice cubes
Instructions
Combine the rosemary and boiling water in a mug or heat-safe bowl. Let steep for 5 minutes, then cool completely (you can place it in an ice bath).

---

Combine the grapefruit juice, orange juice, and rosemary infusion in a 2-cup measuring cup or bowl.

---

When ready to serve, divide the juice mixture between two glasses with ice, add ½ cup sparkling water to each glass, and garnish with fresh rosemary and orange slices.

---