AIP Apple Bacon Burger with Sweet Potato Fries
Juicy, flavorful Apple Bacon Burgers and Sweet Potato Fries make the easiest, most delicious dinner. The burgers cook while the sweet potato fries are roasting in the oven, and the whole dinner comes together in about a half hour. Both the burgers and the sweet potato fries are gluten-free, AIP-friendly, and suitable for the paleo diet.
Healthy protein-rich burgers
I use lean ground beef for these burgers because the apple and bacon gives the burgers flavor and juiciness without needing any extra fat from the beef. Instead of extra fat, the burgers are loaded with lean beef protein, which helps build and repair muscle tissue. Beef also contains a lot of iron, which helps prevent anemia, as well as zinc, selenium, potassium, and phosphorus, which are important nutrients for keeping our immune system healthy, regulating our hormones, and protecting against heart disease.
These burgers also have a little cooked crumbled bacon added to them, for a nice smoky flavor and a little extra protein.
Adding apples to burgers
I absolutely love these apple bacon burgers because they are so flavorful and are made with just a few simple ingredients. For this recipe, I grate an apple and combine it directly with ground beef and crumbled bacon to make burgers. The apple gives the burgers a subtle sweetness and lots of juiciness.
You can use any kind of apple you like for these apple burgers. Granny smith apples will add juiciness without adding too much sweetness. Using a sweeter apple will add a little sweetness to the burgers, similar to how breakfast sauce made with maple syrup has a natural sweet flavor.
How to make apple bacon burgers
To make these burgers, just combine grated apple, cooked crumbled bacon, ground beef, salt, garlic powder, and onion powder in a bowl. One pound of ground beef makes 4 large burger patties, so after mixing everything together, form 4 patties with your hands.
Cook the burgers in a pan or on the grill until they are cooked to your liking.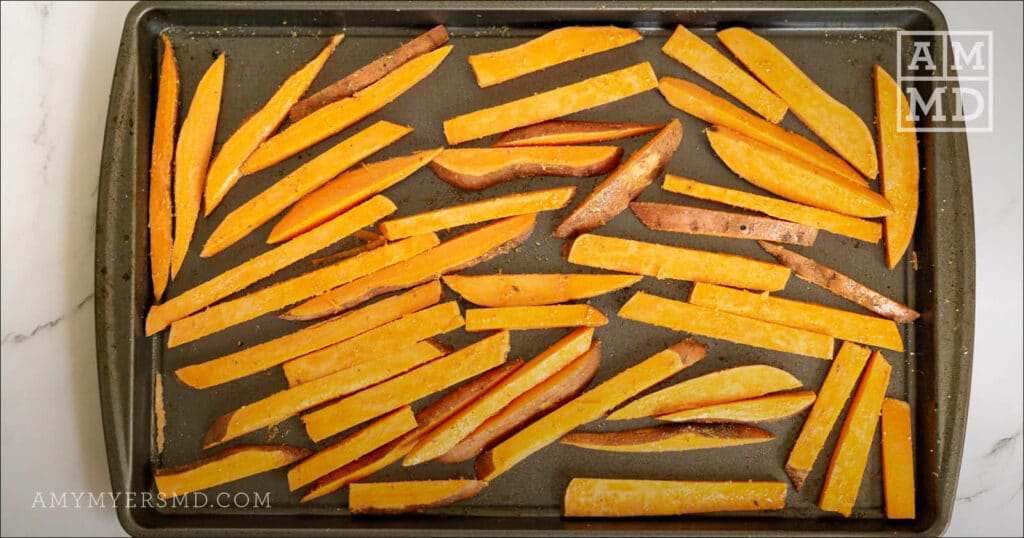 Dr. Amy Myers
May 6th, 2022
https://content.amymyersmd.com/recipe/apple-bacon-burger-with-sweet-potato-fries/
apple bacon burgers
Sweet potato fries
Sweet potato fries are the perfect side dish for these apple bacon burgers. The sweetness of the fries goes perfectly with the smokiness of the bacon in the burgers.
The fries are baked in the oven instead of being fried, and lightly seasoned with the same seasonings as the burgers, making the prep for this whole meal really easy. Just sea salt, garlic powder, and onion powder and some olive oil is all you need for flavorful sweet potato fries.
Sweet potatoes are a great AIP-friendly alternative to French fries because sweet potatoes are not part of the nightshade family, which means they are not inflammatory. Sweet potatoes are rich in beta-carotene, which is an antioxidant that converts to vitamin A in the body and supports healthy vision and a healthy immune system. They're also high in fiber, which helps you feel fell and keeps our digestive system regular.
Between the fiber-rich sweet potatoes and the protein-rich burgers, this is a great AIP dinner that is family-friendly and so delicious. I recommend starting the sweet potatoes in the oven first, and then cooking the burgers while the sweet potatoes roast. This way, the whole dinner comes together in about a half hour.
More burger recipes to try
AIP Apple Bacon Burger with Sweet Potato Fries
---
Ingredients
For the burgers
1

lb

454.00

g organic grass-fed lean ground beef (94% or 97% lean)

10

slices organic uncured bacon cooked

1

apple

1

tsp

4.93

ml sea salt

1

tsp

4.93

ml onion powder

1

tsp

4.93

ml garlic powder
For the sweet potato fries
2

lb

908.00

g sweet potato

2

tbsp

29.57

ml olive oil

1

tsp

4.93

ml sea salt

1

tsp

4.93

ml onion powder

1

tsp

4.93

ml garlic powder
Instructions
Start with the sweet potatoes: Preheat oven to 400 degrees Fahrenheit.


---

Cut the sweet potatoes into ½-inch wide strips. Toss the sweet potato with the olive oil, sea salt, onion powder, and garlic powder on a large baking sheet and arrange in a single layer.


---

Bake at 400F for 15-20 minutes, or until the sweet potatoes are fully cooked.


---
Chop or crumble 6 slices of cooked bacon (reserve 4 slices for later). Peel and grate the apple on a grater.


---

In a large bowl, combine the ground beef, crumbled bacon, grated apple, sea salt, onion powder, and garlic powder. Mix well to incorporate the apple and bacon pieces into the ground beef.

---

Divide the ground beef into 4 equal parts and shape into burger patties. Cook the patties over medium-low heat for 4-5 minutes per side, or until the burgers are browned and cooked through to your liking. Serve warm with sweet potato fries.


---