Bacon-Wrapped Stuffed Chicken
While it looks and tastes restaurant quality, this Bacon-Wrapped Stuffed Chicken requires only a few basic ingredients and comes together in under an hour. The flavors from the filling pair perfectly with bacon and chicken. Figs and onion balance out the salty, savory taste of bacon, and round out the taste of this delicious meal with a side of well-seasoned broccoli. This sheet pan stuffed chicken meal is AIP, Paleo, and it's also low carb! I have no doubt that everyone at the table will enjoy this recipe for Bacon-Wrapped Stuffed Chicken.
What is in Bacon Wrapped Stuffed Chicken?
My Bacon-Wrapped Stuffed Chicken sheet pan meal is made with wholesome ingredients that easily fit into various diet plans. Here are some of my favorite ingredients that you will find in this dish:
Bacon & Chicken
These two proteins may be the most important part of this dish. Both provide ample amounts of nutrients and a ton of flavor! Bacon adds dietary cholesterol and both monounsaturated and saturated fat to the dish, all of which are necessary for your cells to function properly. It also offers B vitamins, selenium, phosphorus, and other minerals. Plus, bacon tastes delicious, and gives the chicken an appealing, crackly, shiny dress to wear.
Now, let's get to the big boy — chicken breast is an amazing source of lean protein. Pasture-raised chicken breast lends this meal Vitamin E, more B vitamins, and amino acids. It's a hearty, comforting favorite for all ages and meal plans.
Figs
This tasty fruit is a great source of fiber, Vitamin B6, potassium, and antioxidants. I opted for dried figs in this recipe. However, I love that this fruit is so versatile, and if it's the right season, fresh figs are a delicious way to give this recipe a fresh twist with a new texture for the filling.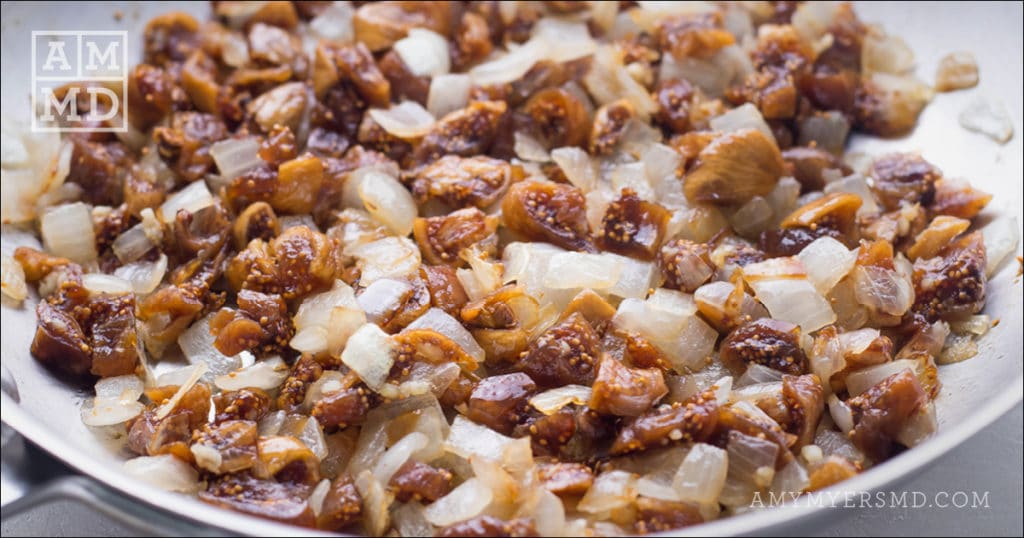 Broccoli
Broccoli is a cruciferous vegetable that can support detoxification and provide significant amounts of fiber, Vitamins C and K, and minerals. While this green veggie serves as your side dish, it doesn't take a side seat, and easily meets the challenge of battling bacon for your #1 favorite food on the plate.
How to Make Stuffed Chicken
This impressive sheet pan meal is fairly easy to make. Start by preheating your oven to 375 degrees Fahrenheit and preparing your ingredients. Saute onion, figs, and garlic until the onions are browned and translucent.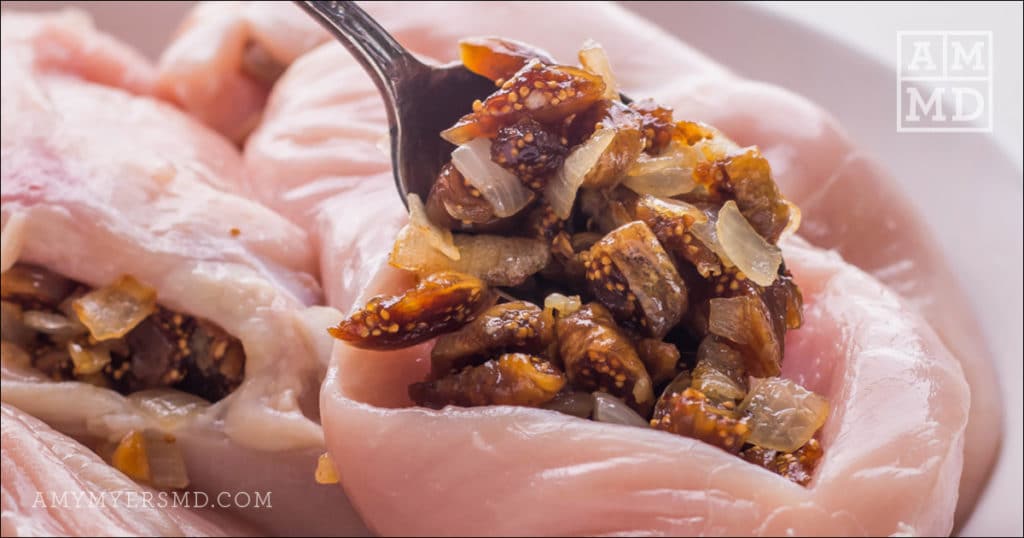 Now it's time to prepare the chicken. Use a sharp knife to cut from the top of the breasts to the bottom, being sure not to cut through to the other side. Sprinkle with just a small amount of salt (the bacon will add more salt to this dish) and stuff the breasts with a few tablespoons of the sautéed onion and figs.
Wrap each breast with 2-3 strips of bacon, overlapping the ends and securing with toothpicks. Bake for 20 minutes.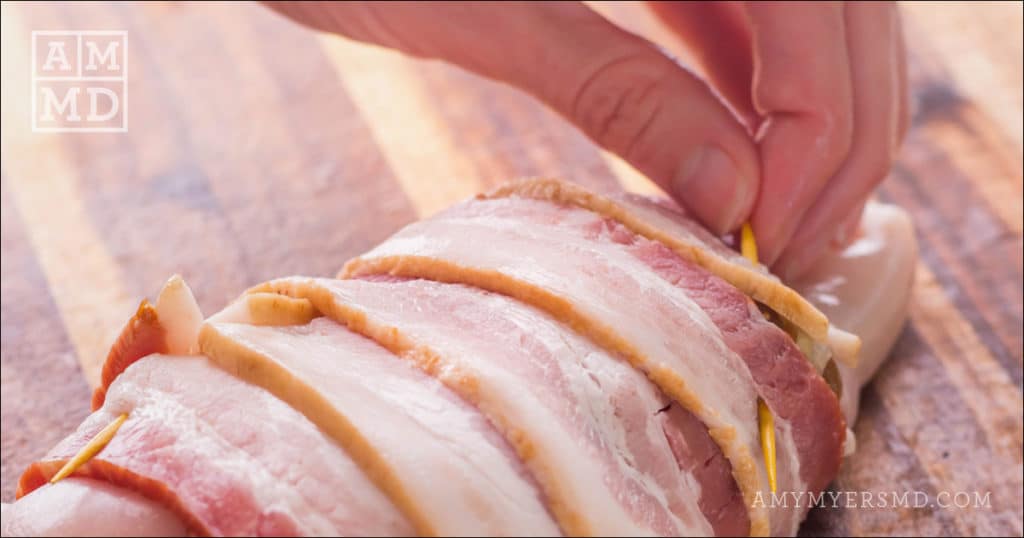 During the first 20 minutes of baking time, you'll prepare the broccoli. Cut broccoli into small florets and prepare the lemon garlic sauce by mixing melted coconut oil, garlic, lemon juice, and salt. Pour the lemon garlic sauce over the broccoli. Carefully remove the baking chicken breast from the oven and arrange the seasoned broccoli around the chicken on the sheet pan. Return the pan to the oven.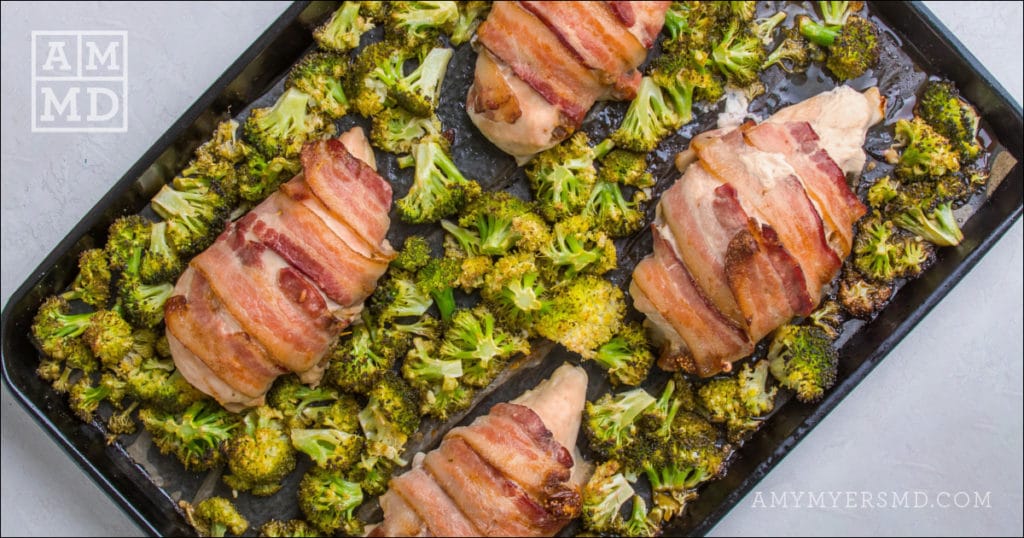 Bake for an additional 20 minutes, or until the chicken's internal temperature reads 165 degrees. If you want to crisp up the bacon more, remove the broccoli from the pan and set the oven to broil. Broil until the bacon is sizzling or to your desired doneness. Once the bacon is done to your liking, take the wrapped chicken out of the oven. Remove toothpicks and serve.
A note on substitutions: I believe that broccoli pairs best with this dish, because it takes on the flavors of the chicken and bacon. However, you can substitute almost any vegetable for the broccoli. Starchy vegetables may need to be added to the sheet pan earlier in the cooking process to ensure they are cooked all the way through.
Other Options to Serve with Bacon Wrapped Stuffed Chicken
This sheet pan meal is ready to serve on its own for a low carb, flavorful dish. However, you can serve alongside other starchy vegetables such as sweet potato to increase the carbohydrate count.
You can also roast other vegetables on the same sheet pan, such as asparagus or squash. Just be sure to adjust the cook time so as not to overcook the vegetables.
Can You Freeze Bacon Wrapped Stuffed Chicken?
Yes, you can. Because these Bacon Wrapped Stuffed Chicken Breasts are made without cheese, the texture won't change very much if you freeze it. Allow the chicken to cool completely before sealing in an airtight container and placing it in the freezer. They should keep for up to 3 months in the freezer.
How to Reheat Bacon Wrapped Stuffed Chicken
These stuffed chicken breasts taste best when reheated in a warm oven. If you're ready to prepare them straight from the refrigerator, reheat chicken breast in a 350 degree oven until warmed through, about 10-15 minutes. If you're reheating from frozen, it may take 20-30 minutes to completely warm through.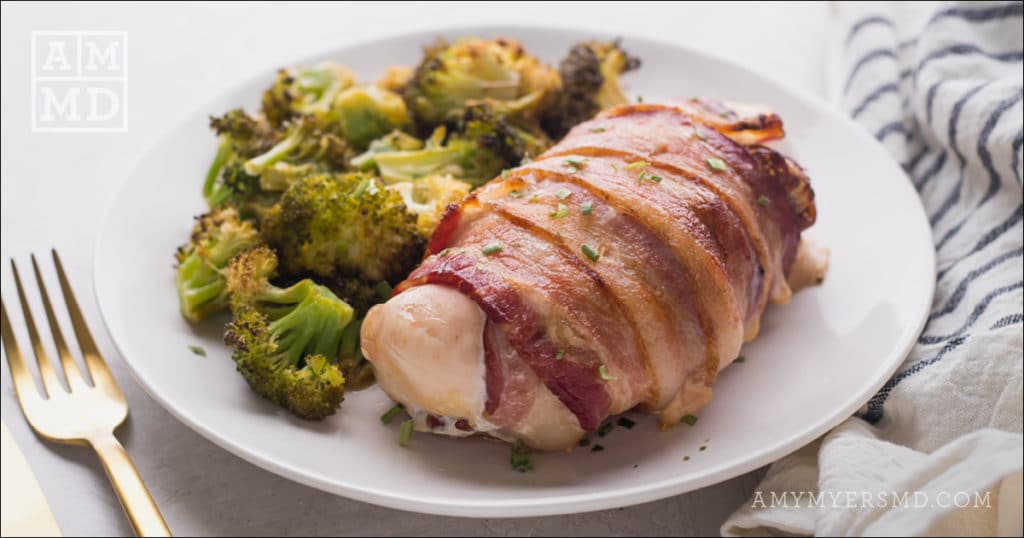 Bacon-Wrapped Stuffed Chicken
---
Ingredients
3

Tbsp

44.36

ml coconut oil divided

1

yellow onion chopped

7

figs fresh or dried, chopped

2

cloves garlic minced

4

chicken breast boneless, skinless

20

slices nitrate-free bacon approximately 1 lb

1

lemon

4

cups

960.00

ml broccoli
sea salt to taste
Instructions
Preheat oven to 375 degrees Fahrenheit.

---

Heat 1 tablespoon of coconut oil in a skillet over medium heat. Once melted, add the chopped onion, sprinkle with ¼ teaspoon salt, and sauté until the onion begins to brown, about 10 minutes.

---

Add chopped figs to the skillet, and cook for another 3 minutes.

---

Add 1 clove minced garlic to the fig and onion mixture, and cook for 2 minutes. Remove skillet from heat.

---

With a sharp knife, carefully cut a pocket into each chicken breast. Cut into the side of the breast, starting from the top of the chicken breast to the bottom, being careful not to cut through to the other side. Use ¼ teaspoon salt to sprinkle on the chicken.

---

Stuff each pocket with a few tablespoons of the fig and onion mixture.

---

Use 2-3 strips of bacon to wrap around each chicken breast, overlapping the edges slightly. Use toothpicks to hold the bacon in place. I used about 3 toothpicks for each chicken breast.

---

Place each Bacon Wrapped Stuffed Chicken Breast on a rimmed baking sheet lined with parchment paper and bake for 20 minutes.

---

While the chicken is baking, prepare your broccoli. Trim the stalks if desired, and cut the florets into equal-sized pieces. Place cut broccoli in a medium-sized bowl and set aside.

---

Melt the remaining 2 Tbsp of coconut oil In a small bowl. Add ¼ teaspoon salt, 1 minced clove of garlic, and the juice of 1 lemon. Stir to combine. Drizzle the mixture over your broccoli. Stir to coat evenly.

---

Remove your sheet pan from the oven after 20 minutes and arrange the broccoli around the chicken breasts. Place back into the oven for 20 minutes, or until the internal temperature of the chicken breasts reaches 165 degrees.

---

Remove the toothpicks from each chicken breast before serving with broccoli. Enjoy!

---