Cajun Shrimp and Sausage Pasta
This decadent Cajun Shrimp and Sausage Pasta is a delicious and fun taste of New Orleans that you can add to your weeknight menu without a trip down south. Although it's a healthy, real food recipe, no flavor is sacrificed. Trust me — I spent a lot of time in New Orleans, and the traditional flavors are near and dear to my heart. This recipe is easy, tasty, and AIP-compliant. It's a healthy, Southern comfort dish that's perfect for any occasion.
What Makes This Cajun Shrimp and Sausage Pasta Healthy?
This version of Cajun Shrimp and Sausage Pasta is an AIP and Paleo, healthified spin on a Southern classic. I've swapped out some of the ingredients to make this a dish you'll never feel guilty for eating. Here are some of the healthy swaps and tasty ingredients:
Squash or Gluten-Free Pasta
This recipe calls for gluten-free pasta replacements instead of traditional pasta. However, I prefer to use zucchini noodles or spaghetti squash (as pictured in the recipe photos). I love that "zoodles" or spaghetti squash provide an extra serving of vegetables in my diet, as well as tons of fiber, vitamins, and other nutrients.
If grains or legumes have a place in your diet, you can use gluten-free pasta such as brown rice pasta or chickpea pasta. If you're eliminating grains or limiting carbohydrates, then definitely stick to zucchini noodles or spaghetti squash!
Shrimp
Shrimp is a lean protein that is both delicious and healthy. I recommend using wild-caught shrimp for the best taste and nutritional value. Shrimp contains high amounts of selenium and iodine, nutrients that aren't widely available in other foods. This shellfish also has an optimal omega-3 to omega-6 fatty acid profile as well as antioxidants.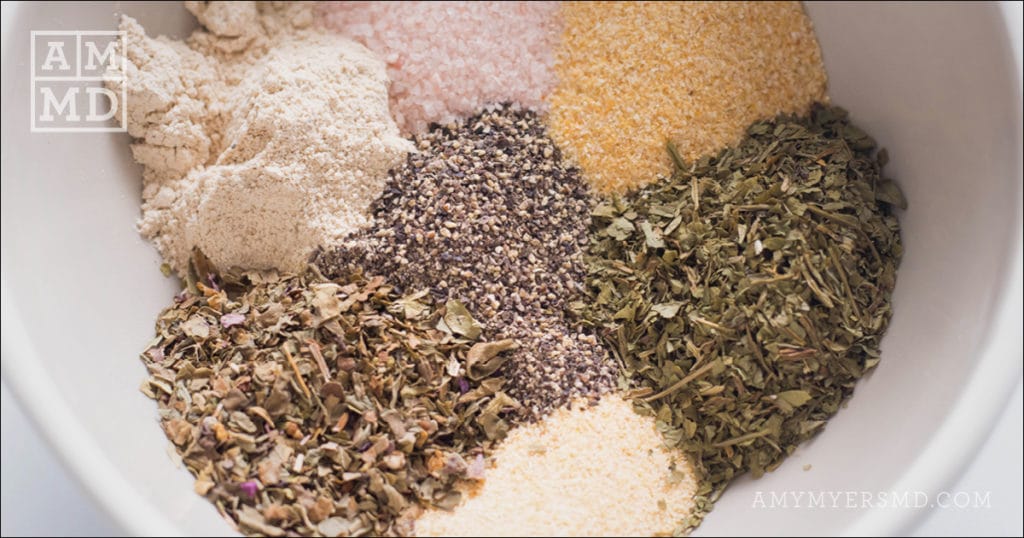 Cajun Seasoning
Don't underestimate the value of herbs and spices! Seasonings such as thyme and oregano provide nutrients including Vitamins C, K, and A, iron, and copper. Garlic and onion powder provide flavor in addition to supporting a healthy immune system.
How to Make Cajun Shrimp and Sausage Pasta
This is an easy recipe that comes together in about 30 minutes depending on the type of pasta you use. If you want to use spaghetti squash or zucchini noodles, you can save time by prepping your veggie-noodles ahead of time and reheating them when you're ready to make your meal. If you're using gluten-free pasta, you'll just need to boil the noodles while you prepare the rest of the dish.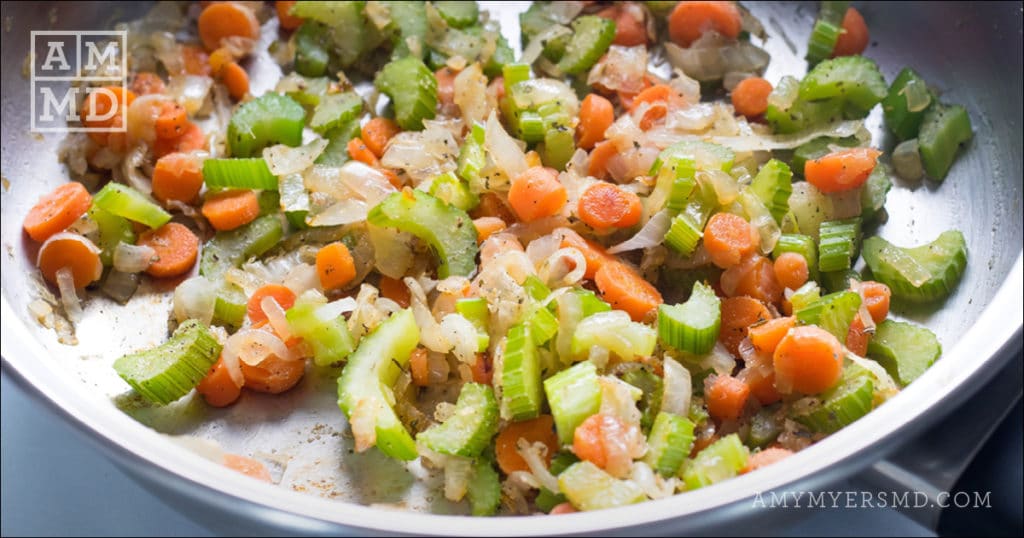 It's also helpful to get your vegetables and seasoning ready beforehand so that they're ready to go! You can always prepare enough Cajun seasoning to have some on hand for whenever you want to add some extra flavor to other meals.
When your pasta is reheating or cooking, heat one tablespoon of olive oil in a pan over medium heat. Cook your onions for about 6 minutes or until translucent, and season with one teaspoon of Cajun seasoning. Add the celery and carrot and cook for another 6 minutes or so until softened.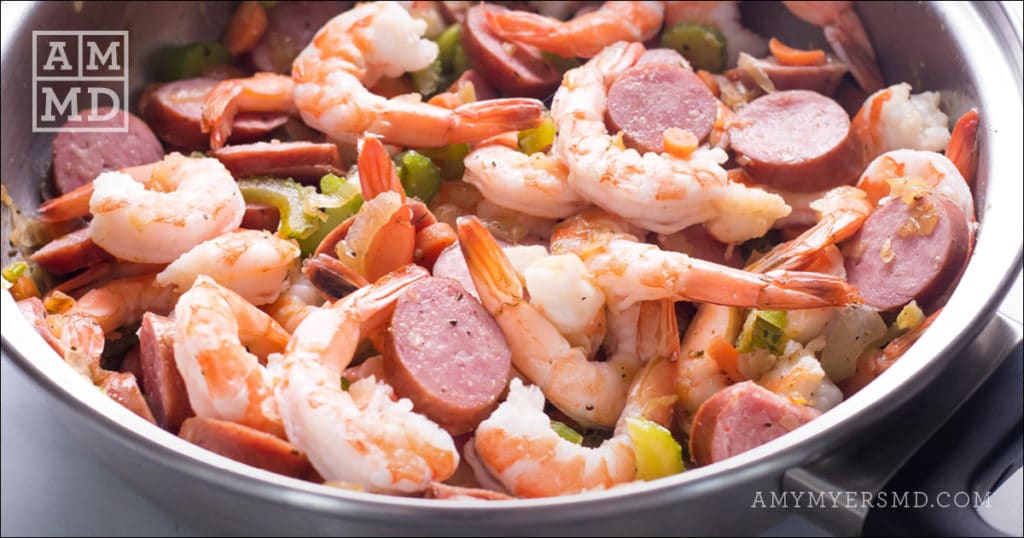 Now, add your sausage and cook for about 3 minutes, until lightly browned. Add your shrimp, garlic, and the remaining seasoning and cook for another 3 minutes until the shrimp are opaque.
Now it's time to prepare your sauce. Combine the coconut cream, remaining olive oil, salt, and pepper in a saucepan over medium heat until the sauce has thickened. Stir in nutritional yeast. Then you'll add your sauce to the shrimp and sausage mixture and stir to combine it with the sauce.
Top your pasta with the shrimp and sausage mixture and sprinkle with fresh parsley for garnish.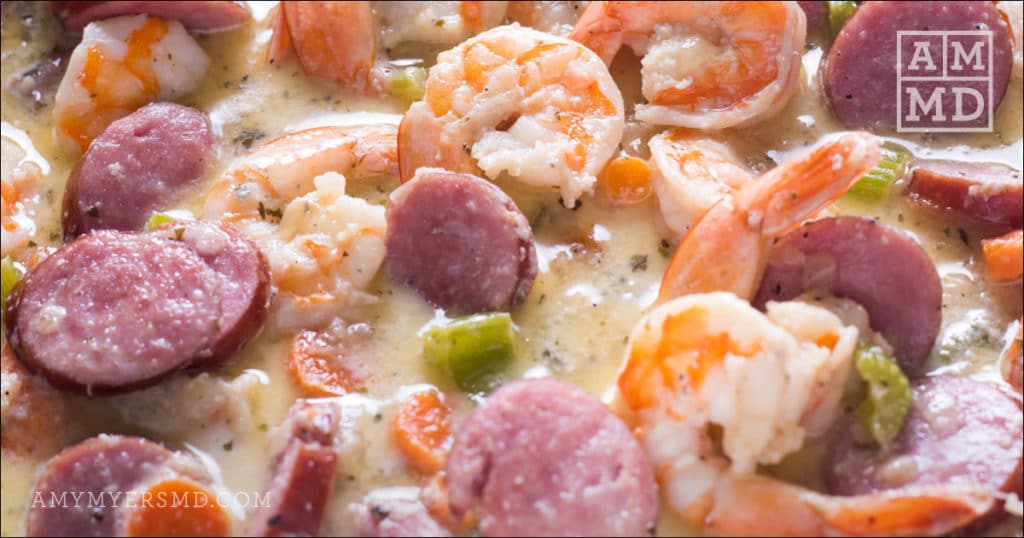 How Long Will Cajun Shrimp and Sausage Pasta Keep?
In the refrigerator, this Cajun Shrimp and Sausage Pasta will last for 3-4 days in an airtight container. Reheat this dish by warming completely through in a saucepan set over medium heat. You may need to add a splash of coconut milk or cream to thin the sauce out again and prevent it from becoming too dry.
I don't recommend freezing this Cajun Shrimp and Sausage Pasta because the texture may change. If you choose to freeze this dish, it's best to use gluten-free pasta instead of veggie noodles as they will retain a better texture. Alternatively, you can choose to freeze the shrimp and sausage component in the sauce and easily cook a new batch of pasta when you're ready to serve.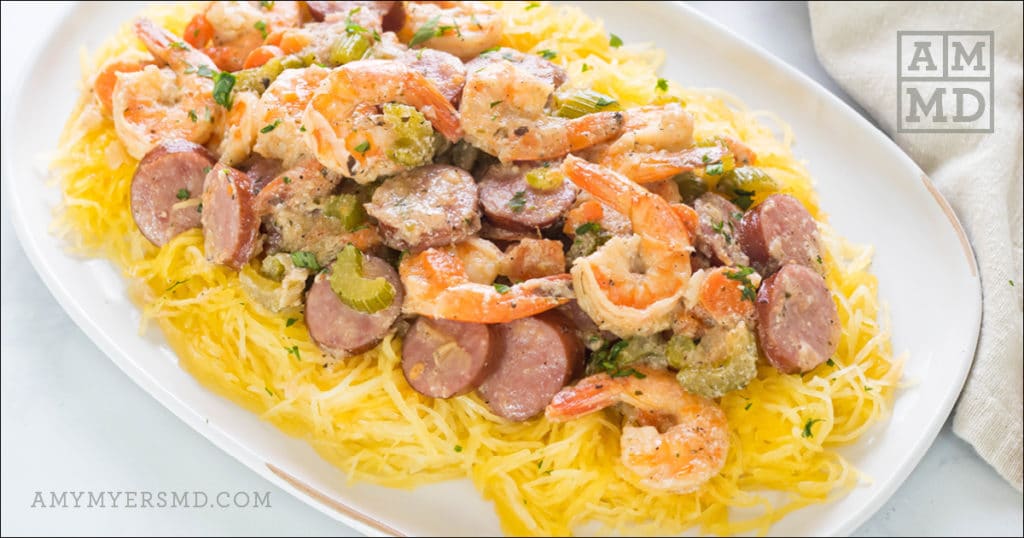 Cajun Shrimp and Sausage Pasta
---
Ingredients
3

Tbsp

44.36

ml extra virgin olive oil divided

2

tsp

9.86

ml Cajun seasoning (AIP recipe below)

1

yellow onion minced into approximately 1/2 cup

1

stalks celery diced

2

carrot diced for about 1/2 cup

8

oz

236.59

ml sausage cut into slices

1

lb

454.00

g jumbo shrimp peeled and deveined

3

cloves garlic

10

oz

295.74

ml gluten-free pasta choice (i.e. spaghetti squash, zucchini noodles, etc)

1

cup

240.00

ml coconut cream

2

Tbsp

29.57

ml Nutritional yeast (optional)

2

Tbsp

29.57

ml parsley chopped, for garnish
AIP Cajun Seasoning Blend
1

Tbsp

14.79

ml garlic powder

1

Tbsp

NaN

ml horseradish powder (for heat and spice)

1

Tbsp

14.79

ml sea salt

1/2

Tbsp

7.39

ml ground black pepper

1/2

Tbsp

7.39

ml dried thyme

1/2

Tbsp

7.39

ml onion powder

1/2

Tbsp

7.39

ml dried oregano
Instructions
Start by preparing your noodles. Depending on the type of noodle you choose and the method you'd like to cook it with, give yourself between 10-30 minutes to prepare them (the rest of the dish will take about 20-22 minutes, so plan accordingly). Use the oven or stovetop to soften zucchini noodles. Use an instant pot or oven to bake spaghetti squash. Or boil water for gluten free pasta.

---

While pasta is cooking, you'll prepare the ingredients for your dish. Melt 1 tablespoon of olive oil in a large pan over medium heat.

---

Add the onions and cook for 6 minutes or until translucent. Season with 1 teaspoon of the Cajun seasoning. Add carrots and celery and cook for another 6 minutes or until softened.

---

Add the sausage to the pan and cook for 3 minutes.

---

Add the shrimp to the pan with the remaining teaspoon of Cajun seasoning and minced garlic cloves. Cook for 2-3 minutes or until pink and opaque.

---

In a separate, medium-sized pot, combine the coconut cream, remaining olive oil, salt, and pepper. Cook for 3-4 minutes over medium-high heat or until sauce begins to thicken. Stir in nutritional yeast.

---

Add sauce to shrimp and sausage mixture and stir to combine.

---

Transfer pasta onto plates and ladle shrimp and sausage mixture on top of the pasta and sprinkle with fresh parsley to garnish.

---