Chicken and Broccoli Alfredo Bake
To me, a casserole of creamy alfredo, hearty vegetables, and chicken is the definition of comfort food. With this recipe for a Chicken and Broccoli Alfredo Bake, you can enjoy a comfort food classic whether you're following The Myers Way®, Paleo, or Whole30 diet protocol! It's gluten-free and dairy-free, yet this casserole isn't missing out on any rich and flavorful components. My Chicken and Broccoli Alfredo Bake is the perfect homestyle meal for the whole family.
Classic Comfort Food
A casserole is a classic meal that comes together quickly to fill a crowd of hungry folks. This easy dish accomplishes that using delicious ingredients that your body will thank you for, without sacrificing any of the taste. My Chicken and Broccoli Alfredo Bake uses fiber-rich spaghetti squash instead of fettuccine, and hormone-balancing coconut milk in place of the butter and cheese.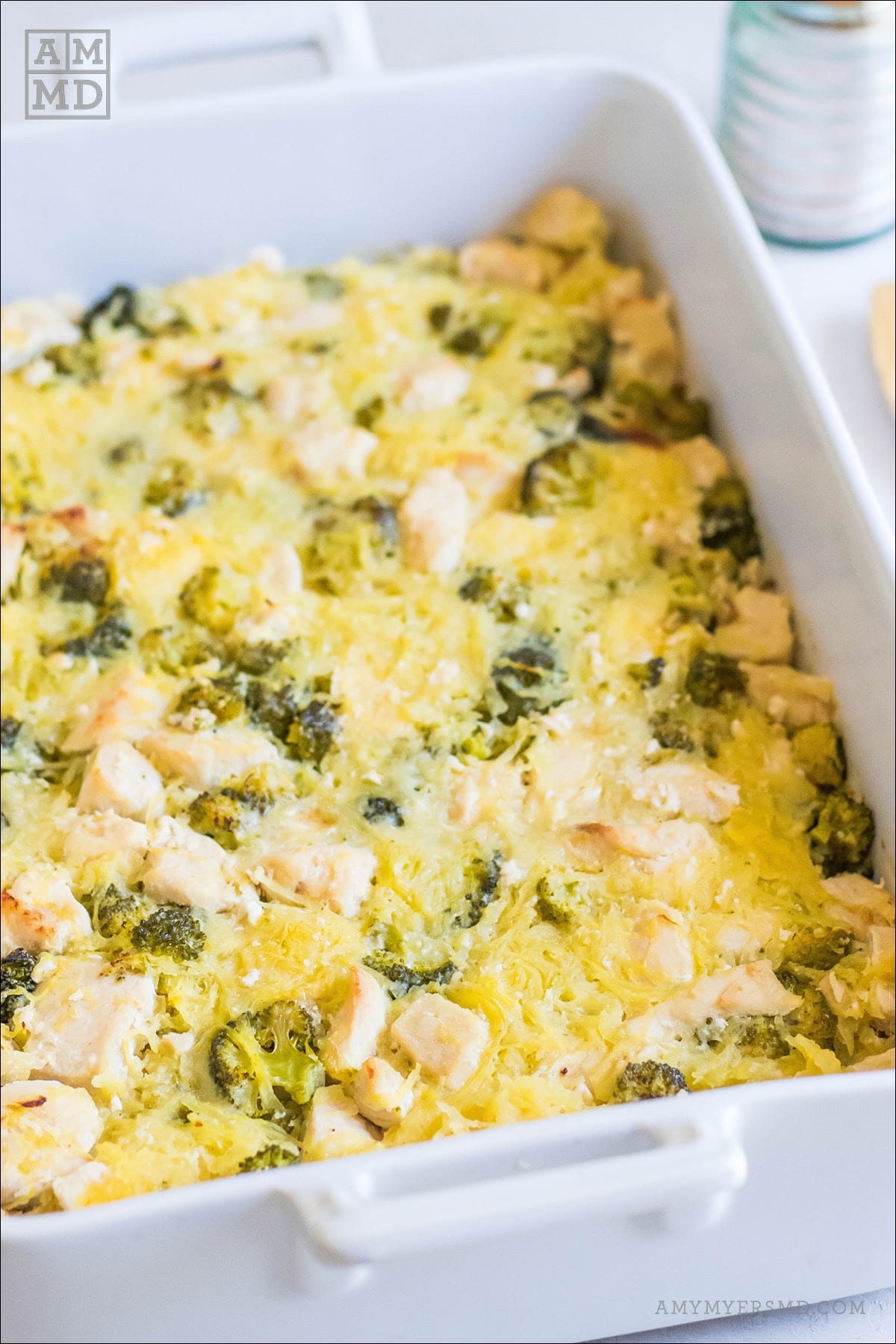 Baking Spaghetti Squash
I love using spaghetti squash in my recipes! It is so easy to prep, and the texture is perfect for any pasta dish. When the oven reaches 425 degrees, and the squash is sliced in half and deseeded, you can pop it in the oven and prepare your other ingredients. In just 40 minutes, you'll have a fantastic foundation for a delicious dinner.
Spaghetti squash is also a fun way to get the family in the kitchen. Once the squash is baked and cool enough to handle, get the kids involved and let them scrape the squash out of its peel with a fork. They'll have so much fun seeing the shreds of squash, and maybe they'll even appreciate the healthy, tasty dish that helped to make. Elle loves to get involved in the kitchen, and it's a wonderful way for her to learn more about the nourishing foods that keep her happy and full.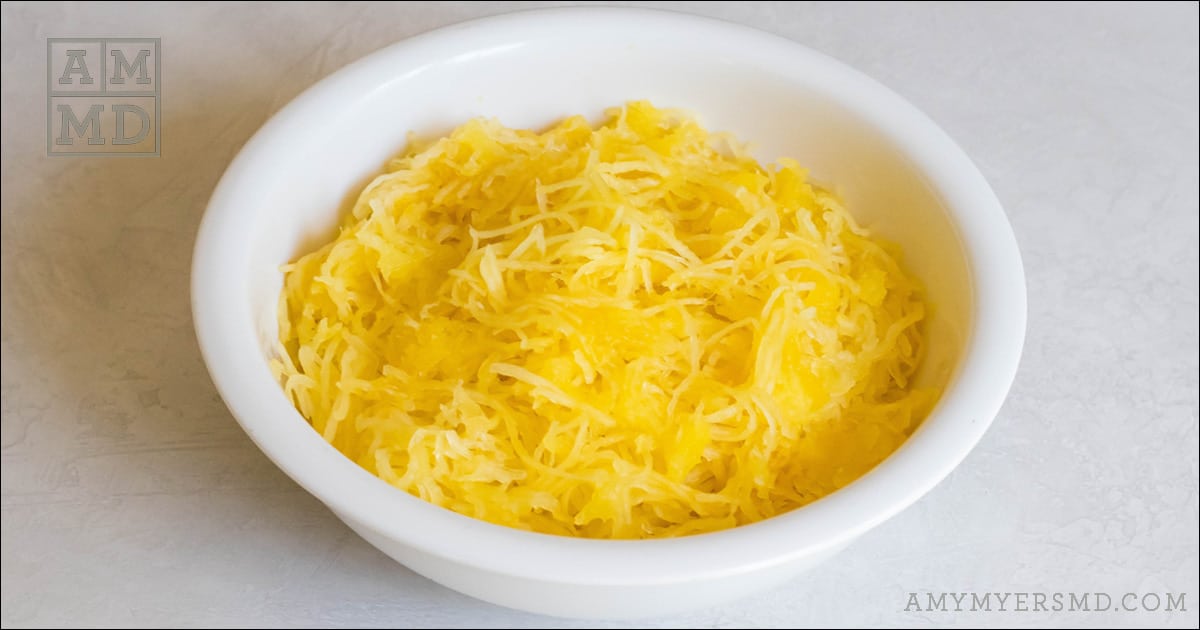 A Creamy, Dairy-Free Alfredo Sauce
While the squash is in the oven, it's time to get your alfredo sauce simmering. Full fat coconut milk serves as the base for the alfredo sauce in your casserole. Coconut milk is one of my favorite ingredients because it is incredibly satiating due to the healthy fats that keep your full. It also works well with many different seasonings.
In this recipe, I keep it simple with garlic, sea salt, and black pepper. These are what provide the flavor for a classic alfredo sauce and bring forward the savory tang of coconut milk. The tapioca flour thickens the sauce the way that regular white flour thickens a gravy. You won't miss any creamy texture in your alfredo bake when all the ingredients combine.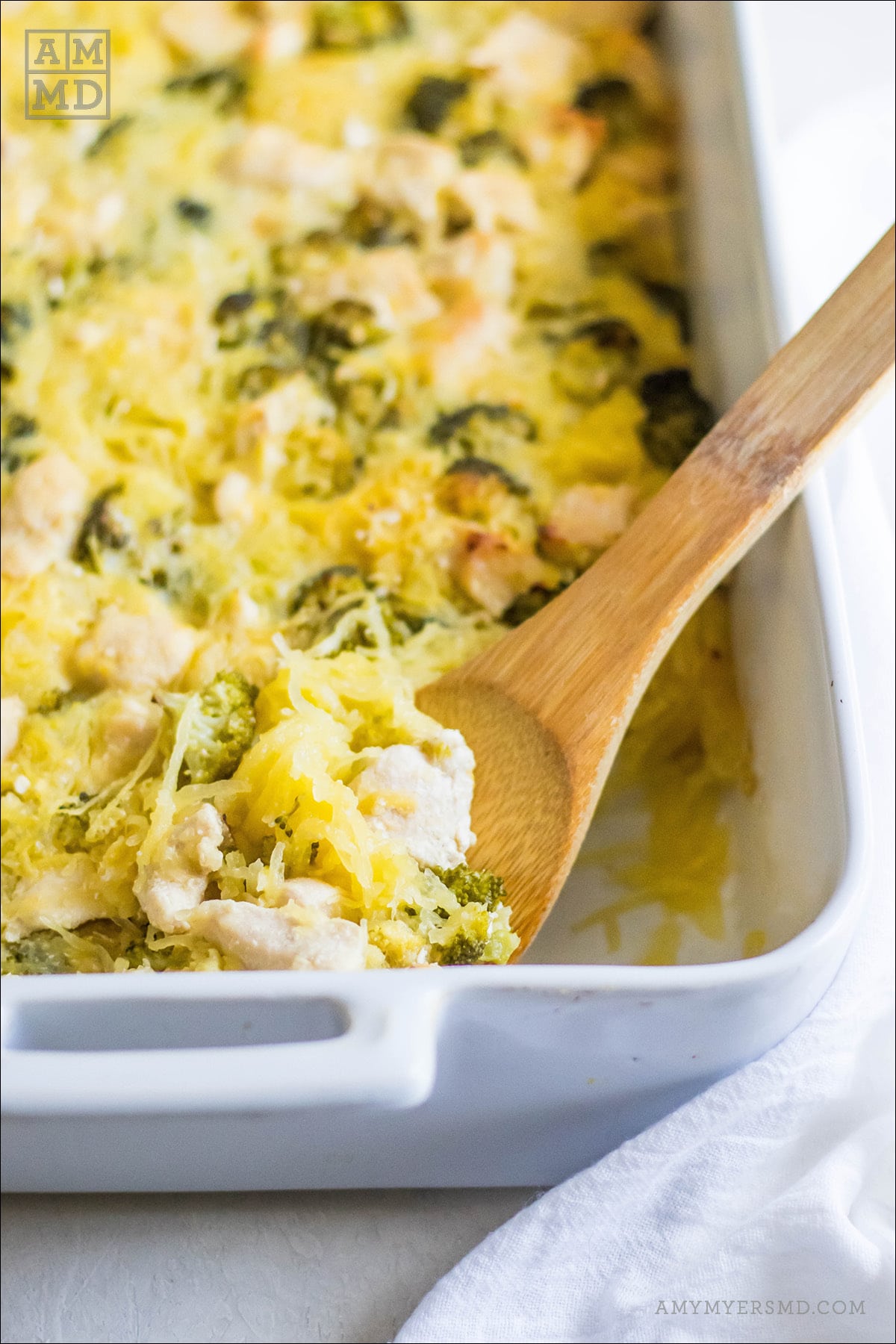 Customizable
I chose broccoli for this recipe because of the way it supports the body's detoxification pathways due to its high level of flavonoids and other phytonutrients. They're also an excellent source of fiber!
While you'll certainly be getting in some extra servings of veggies with spaghetti squash and broccoli, you can always swap out the broccoli with other vegetables, or even include more. I've made this Chicken and Broccoli Alfredo Bake using artichoke hearts and asparagus with great success! Other vegetables I recommend for this recipe are mushrooms, kale, and cauliflower.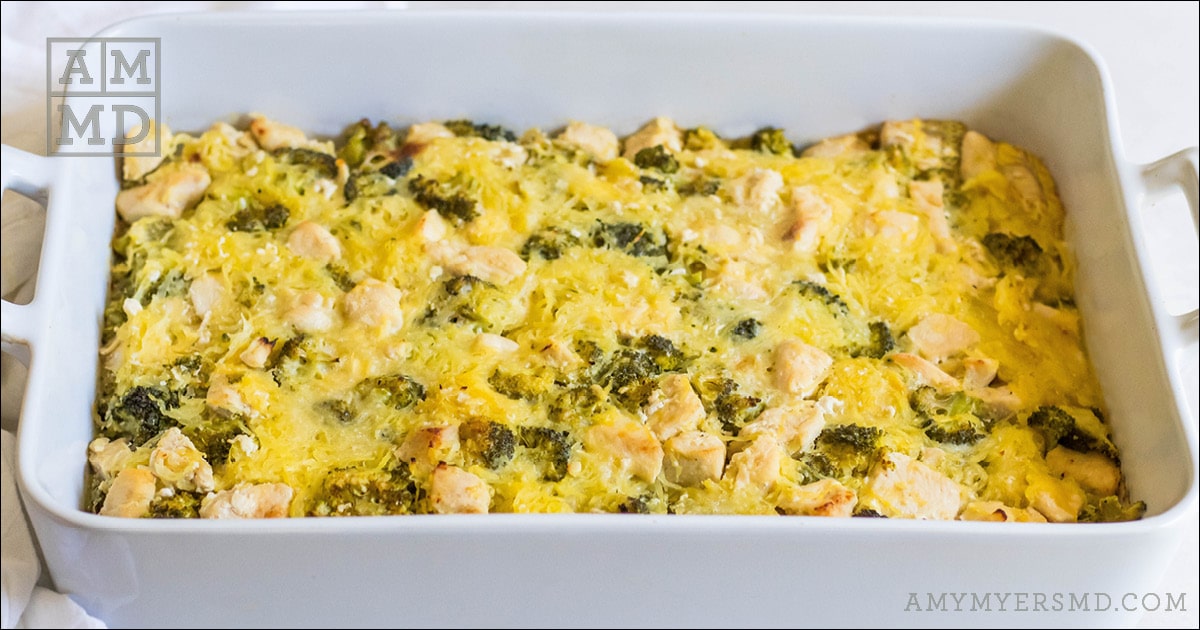 In addition to using your favorite vegetables, you can also customize the protein! Chicken is an excellent source of lean protein that I eat almost every day. However, sometimes you just need to switch up the recipe. You could try grass-fed beef or lamb, wild-caught white fish, or even a couple slices of chopped bacon. There are so many opportunities to make this classic alfredo bake your own.
Your family is going to LOVE my gut-friendly spin on this beloved comfort food classic! You can make a delicious weeknight dinner for the whole family, or prep this casserole ahead of time for a week of rich, hearty, and healthy lunches.
Chicken and Broccoli Alfredo Bake
---
Ingredients
1

spaghetti squash medium

1/2

spaghetti squash medium

1

tbsp

14.79

ml Avocado oil

4

chicken breast approximately 1 lb, diced into 1 inch pieces

13.5

oz

399.25

ml full fat coconut milk divided

3

cloves garlic minced

1

tsp

4.93

ml sea salt

1/2

tsp

2.46

ml ground black pepper

1

tbsp

14.79

ml tapioca flour

5

cups

1200.00

ml broccoli
Instructions
Preheat oven to 425 F. Slice spaghetti squash in half and scrape out seeds. Place face down on a lined baking sheet and roast for 30 minutes.

---

While spaghetti squash bakes, heat oil in a skillet to medium heat. Add chicken and saute until cooked through.

---

Measure out ¼ cup coconut milk and put aside. In a saucepan, simmer the rest of the coconut milk, garlic, salt, and pepper for 5 minutes.

---

In a separate bowl, whisk together the tapioca flour and the ¼ cup coconut milk. Add to the saucepan and stir until thickened.

---

Scrape out spaghetti squash into a 9x11 glass casserole dish. Mix in cooked chicken, broccoli, and alfredo sauce. Mix together until combined.

---

Place in oven and bake for 15-20 minutes. Remove from oven and serve.

---