Chicken Pad Thai
I absolutely love Thai food! In fact, Chicken Pad Thai was a Friday night staple for me in college. This recipe is an AIP-friendly spin on traditional pad Thai using coconut aminos, coconut milk, and sweet potato and carrot "noodles." Feel free to experiment and substitute the chicken with wild-caught shrimp, grass-fed beef, or pork.
Sweet Potato and Carrot "Noodles"
Instead of gluten-filled wheat pasta, this recipe uses spiralized or julienned sweet potatoes and carrots to create crisp "noodles" that work as the perfect base for this colorful dish.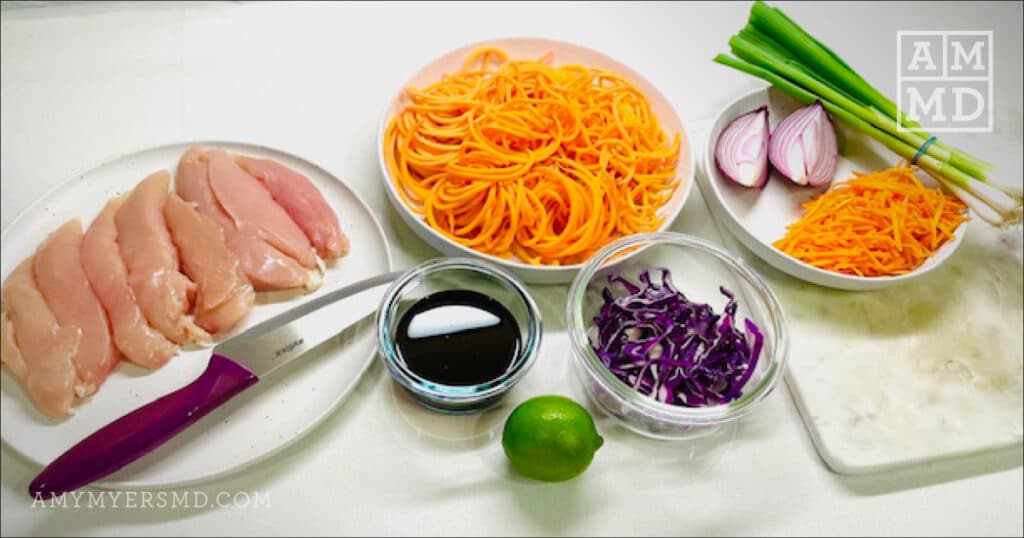 Dr. Amy Myers
July 30th, 2021
https://content.amymyersmd.com/recipe/chicken-pad-thai/
Raw ingredients for Chicken Pad Thai laid out on a table
Sweet potatoes are rich in vitamins A, B6, and C, as well as manganese and potassium. In fact, you may be able to reach at least half the recommended daily value of vitamin A with just one serving of sweet potato. That's because beta-carotene, the richly pigmented antioxidant that makes sweet potatoes so orange, converts to vitamin A in your body.
While we normally think of carrots as being great for our eyesight (and they are!), they can also provide lots of cardiovascular benefits. And because they're rich in antioxidants, they have cancer-fighting properties!
"Peanut" Sauce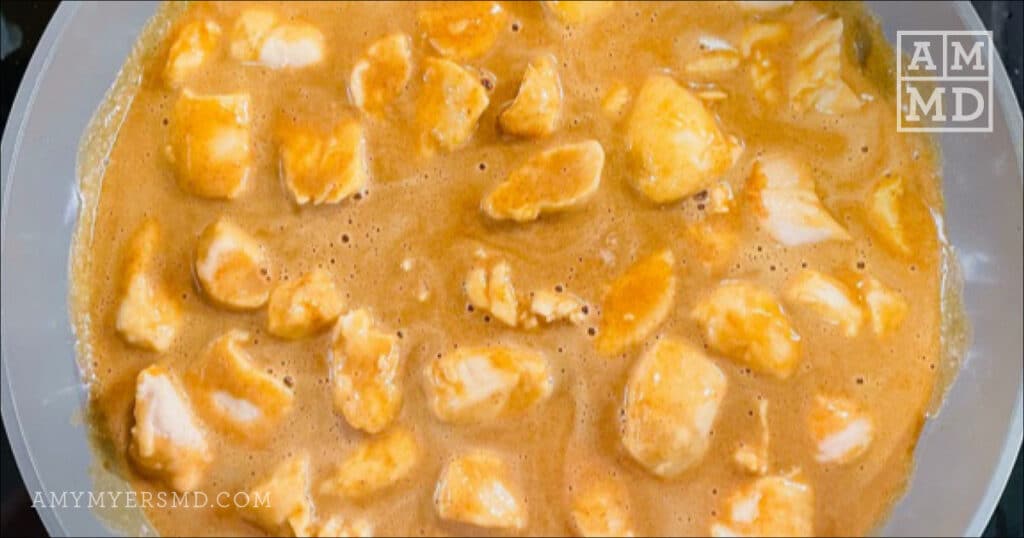 Dr. Amy Myers
July 30th, 2021
https://content.amymyersmd.com/recipe/chicken-pad-thai/
Chicken grilling in peanut sauce
The star of this delicious dish is the nut-free "peanut" sauce. This sauce hits all the marks for flavor, texture, and simplicity, and goes perfect with any chicken, shrimp, or pork dish.
It has a tigernut butter base, which is the perfect substitute for people who have a nut intolerance because they're not actually nuts! Tigernuts are a tuber that grows below the ground, however they resemble a nut in size, shape, and flavor. They're gluten-free, dairy-free, nut-free, paleo, and are a fantastic tool for maintaining a healthy weight.
To make tigernut butter, simply soak tigernuts in water and then puree with coconut oil and a little sweetener to make a delicious and creamy spread.
This Asian "peanut" sauce also incorporates the nourishing flavors of gut-healing bone broth. The nutrients in bone broth work to heal the mucosal lining of the digestive tract, reduce inflammation, promote sleep, and calm the mind — all great benefits for your thyroid and immune system. Plus, if you find yourself with extra after blending with the sauce, you can freeze the leftovers in small glass containers to enjoy later.
How to Make Chicken Pad Thai
This one-pan recipe is quick and easy to make. Simply saute onion and garlic with your spiralized "noodles" before adding the chicken to the same skillet to cook. While the chicken is cooking, whisk together the "peanut" sauce and combine it with the cooked vegetables. Garnish with cilantro, green onions, or lime wedges for an authentic Thai taste. Enjoy!
Ingredients
For the Pad Thai
1

Tbsp

14.79

ml Avocado oil

1/2

red onion chopped

1

clove garlic minced

1

sweet potato spiralized or julienned

2

carrot spiralized or julienned

1

lb

454.00

g chicken breast sliced into 1-inch pieces

1/4

cup

60.00

ml "peanut" sauce see instructions below

1/2

cup

120.00

ml Coconut aminos

1

cup

240.00

ml red cabbage thinly sliced

1/4

cup

60.00

ml cilantro chopped, for garnish

2

green onions thinly sliced, for garnish

1

lime quartered
For "Peanut" Sauce
1/2

cup

120.00

ml tigernut butter

1/4

cup

60.00

ml gut-healing bone broth

1

Tbsp

14.79

ml apple cider vinegar

1/2

Tbsp

7.39

ml honey

1/2

Tbsp

7.39

ml Coconut aminos

1/2

inch

1.27

cm ginger peeled
Instructions
In a skillet, saute the onion and garlic in avocado oil over medium heat until translucent. Add the sweet potatoes and carrots and saute until soft, approximately 5 minutes. Transfer the vegetables to a plate.

---

Add the chicken to the same skillet and cook, stirring frequently until cooked through, about 5 to 8 minutes.

---

While the chicken is cooking, whisk together the "peanut" sauce and coconut aminos in a bowl. Add the sauce and the cooked vegetables to the skillet. Add the cabbage and cook, stirring frequently for 2 minutes until the cabbage is wilted but still firm. Divide among 4 plates. Garnish with cilantro, green onions, and lime wedges.

---
Place all ingredients in a food processor or high-speed blender and blend until smooth, but thick.

---

Refrigerate in a glass container for up to 1 week.

---