Chocolate Cherry Keto Fat Bombs
One of the best easy and healthy snacks to make at home are fat bombs. They're especially great when trying to follow a low-carb, low-sugar diet to support your gut health and these Chocolate Cherry Keto Fat Bombs are no exception. Whether you're on a keto diet or moderately limiting your carb intake, these sugar-free fat bombs will crush cravings and give you an extra boost of brain-fueling energy. Plus, they're paleo and vegan, made with whole food ingredients.
Why Fat Bombs? How Are They Healthy?
These are called Keto Fat Bombs, but you don't have to follow a ketogenic or low-carb diet to enjoy them! They are intended to act as a high-fat snack or dessert, which will help keep you satisfied until your next meal. Especially when the source of fat is a medium-chain fatty acid such as the ones found in coconut butter, which are absorbed by your body faster than other sources of fat. This means your body uses the fats as a source of energy!
Those following a keto diet often prefer fat bombs to supplement their fat intake — if you're trying to reach a specific ketogenic macronutrient ratio, it can be tough to hit your target fat intake. Additionally, eating a low-carb diet means that you need to get your energy from another source — like fats! When you follow a low-carb diet a type of acid called ketones is produced in the liver. Your liver then sends the ketones into your bloodstream for your body to use as fuel. Fat bombs are a great addition to a healthy ketogenic diet to provide your body with additional energy to get you through the day.
Even if you're not on a keto diet, these Chocolate Cherry Keto Fat Bombs are still a great snack or dessert! They are chock-full of satiating fats that are absorbed easily (and quickly) by your body. They're also low in sugar because the chocolate is sweetened with stevia (I used this brand of unsweetened chocolate chips), and the cherries contribute their own natural sugars. It's low enough in sugar to make these a healthy option and provide some anti-inflammatory anthocyanins. You've probably heard about the antioxidant properties of cherries and blueberries. Well, anthocyanins are the flavonoids behind that property, and they also contribute the gorgeous, rich colors we see in cherries, blueberries, and raspberries.
How to Make Chocolate Cherry Keto Fat Bombs
Making fat bombs is not a labor-intensive project that takes time away from other important parts of your day. When you make fat-bombs at home, you're doing good for both your wallet and your health by avoiding processed snacks, so it shouldn't be a project that causes a fuss.
This Chocolate Cherry Keto Fat Bomb recipe will fit into any busy schedule. It requires a saucepan, a mini muffin tray, a knife, and a cutting board. It's a no-bake, no-fail, sure-fire way to satisfy your hunger.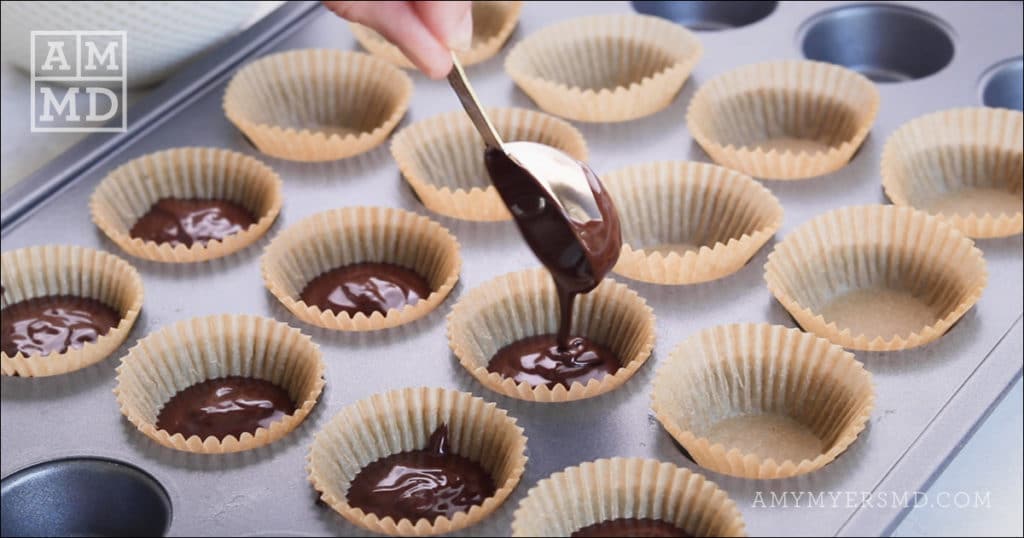 First, set out all your mini muffin liners. I recommend choosing an unbleached option to avoid chemicals and dyes. Then melt your chocolate chips and palm shortening together until smooth. You'll divide the melted chocolate to fill the bottom of all of your mini muffin liners. Once the melted chocolate is all divvied out, you can pop these into the refrigerator to harden.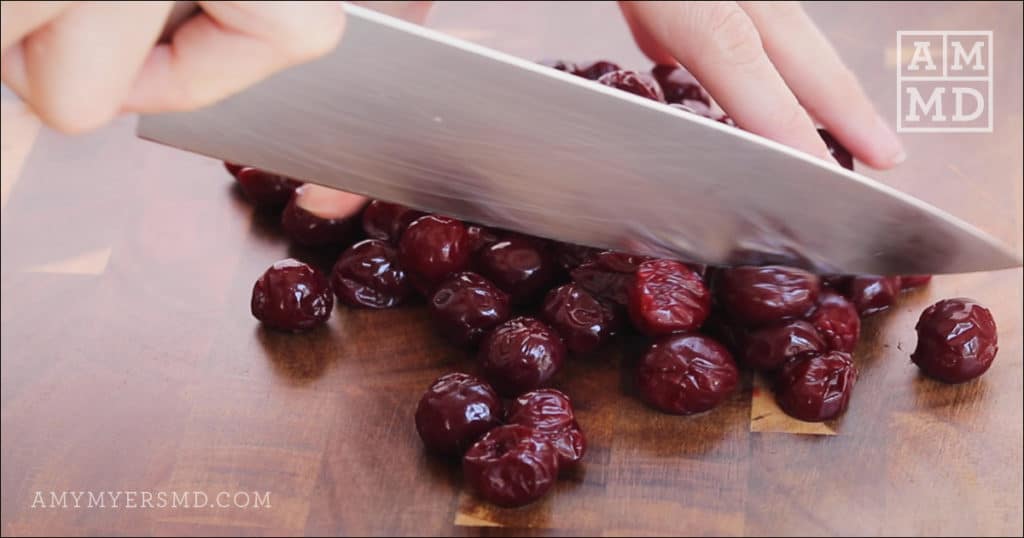 As your chocolate layer solidifies in the refrigerator, chop your frozen cherries and add them to a saucepan with water or cherry juice and The Myers Way® Double Chocolate Paleo Protein. The mixture will reduce over the stove until it's a beautiful, thick, jam-like texture. Seeing the deep red color and the smell of warm cherries and chocolate is absolutely mouthwatering. Once most of the liquid evaporates, remove the saucepan from the heat and let the cherry mixture cool slightly.
Retrieve the now solid chocolate bases from the fridge and add a bit of the slightly cooled cherry mixture to each of your muffin liners, on top of the chocolate layer.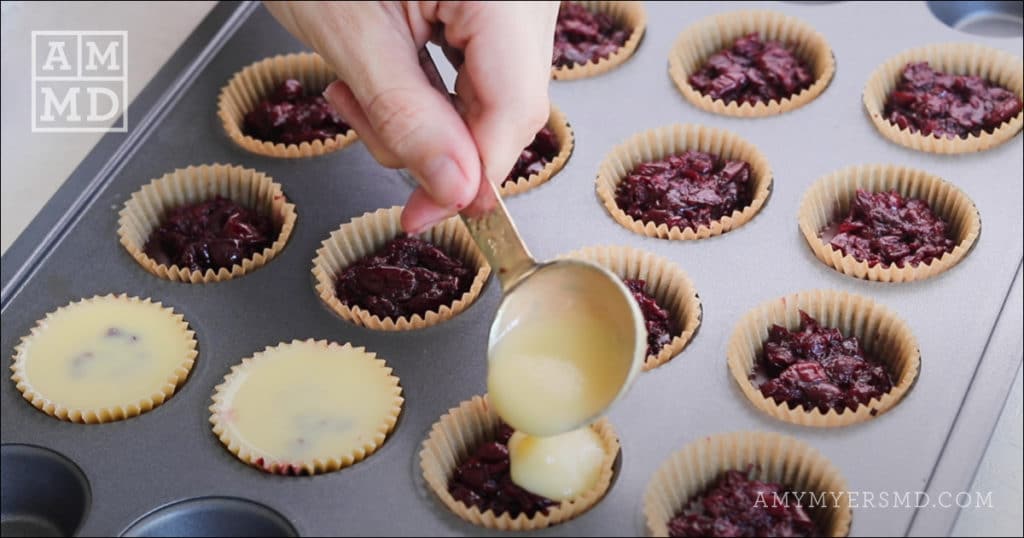 Finally, you will melt the palm shortening and coconut butter together until it's smooth. This is actually one of my favorite parts because the melted coconut butter smells so naturally sweet and delicious. Then you'll add the last layer to your Chocolate Cherry Keto Fat Bombs by pouring the coconut butter mixture over your chocolate-and-cherry layers. Refrigerate this until everything is well-solidified.
The end result is so pretty, I almost didn't want to eat them!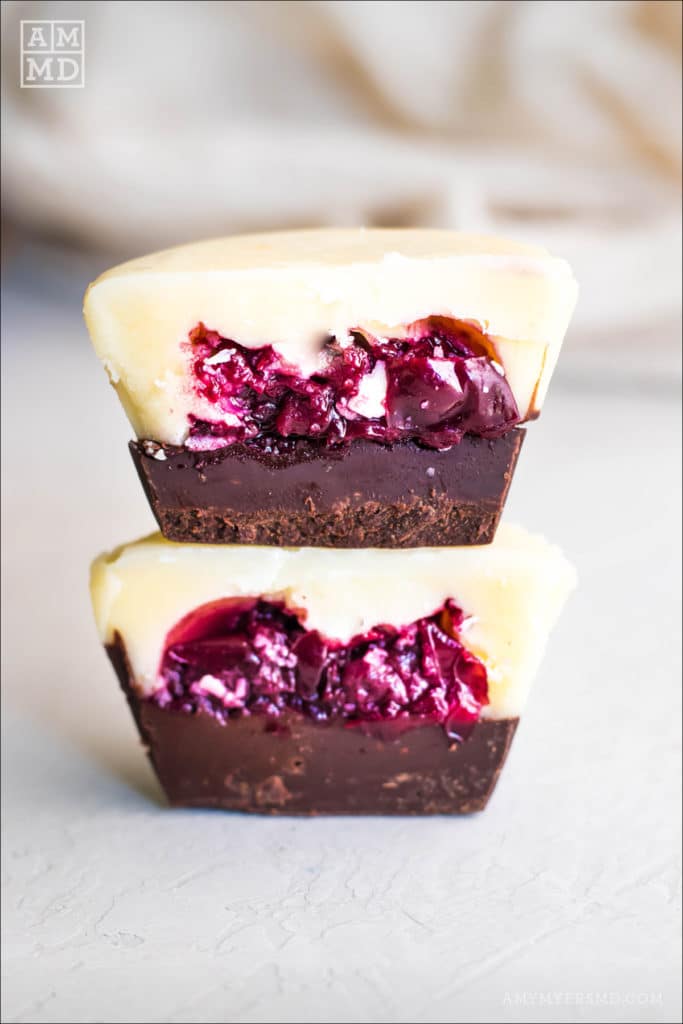 How to Store Chocolate Cherry Keto Fat Bombs
These Chocolate Cherry Keto Fat Bombs have a pretty long life if you keep them in the fridge. Be aware that they will melt if they're left out in the heat too long, but if they are allowed to sit at room temperature for a short amount of time, they'll soften to wonderful melt-in-your-mouth texture.
You can store them in a sealed container in the refrigerator for up to two weeks. However, I doubt you'll be able to keep from eating them all before even one week goes by! If you choose to freeze them, make sure they're in an airtight bag. Doing this will change the texture of the fat bomb, so they won't have the same melt-in-your-mouth quality. They'll still be delicious though! You can defrost them in the refrigerator for a deliciously cool snack that is perfect for any time of day.

Chocolate Cherry Keto Fat Bombs
---
Ingredients
Chocolate Base Layer
1

cup

240.00

ml chocolate chips

2

Tbls

29.57

ml palm shortening

30

drops Liquid Stevia (optional)
Cherry Filling
3/4

cup

180.00

ml frozen cherries thawed, chopped

1/4

cup

60.00

ml water or juice from cherries
Coconut Butter Top Layer
1

cup

240.00

ml coconut butter

1/4

cup

60.00

ml palm shortening
Instructions
Using the microwave or a stove top double boiler, melt together the chocolate chips and palm shortening, stirring occasionally. Once smooth, add liquid stevia (optional). Pour 1 tablespoon of melted chocolate into an unbleached mini muffin liner. Repeat until you have 16 muffin liners filled and have used all your melted chocolate. Refrigerate until solid.

---
While waiting for the chocolate to harden, chop your thawed cherries. Add to a saucepan along with ¼ cup liquid from the cherries or water and The Myers Way® Double Chocolate Paleo Protein. Bring mixture to a slow boil, then reduce to medium-low heat, stirring occasionally. Let the cherry mixture reduce down until most of the liquid has evaporated, about 10 minutes.

---

until most of the liquid has evaporated, about 10 minutes.
Add 1 rounded teaspoon of the cherry mixture on top of the chocolate layer. Try to position the filling in the center of the cup, and not to let it extend above the muffin liner.


---
Next, use the microwave or saucepan to melt together the palm shortening and coconut butter. Pour 1-½ tablespoons on top of chocolate and cherry layers, until the entire muffin liner is filled. Repeat until all muffin liners are completely filled. Refrigerate until the coconut butter has hardened.

---